With Christmas coming, it's time to start looking for gifts. If someone close to you is a gym junkie or fitness enthusiast (be it a weightlifter, powerlifter, bodybuilder, CrossFitter, and so on) then this is your chance to blow their mind. I've listed and priced out some pretty solid gift ideas for gym rats of all kinds. Surprise them with an addition to their gym and you'll be their favorite person for the whole next year.
Note: After checking out these 2013 gift ideas, be sure and look at some of my more recent gift guides:
Even if your budget isn't huge you can still pick up something small that will still be exciting to receive. Speaking for myself here, I still need some expensive items for my gym and until I get those, I tend not to buy a lot of the little things that I'd like. So I know I would be pretty excited to get some of those gifts randomly for Christmas.
So here are some great Garage Gym gift ideas – big and small. I'm just one man, so if my ideas fall short, add your ideas to the comments. If they seem reasonable, I will add them to this list of gift ideas.
---
Gift Ideas for Weightlifters #1 – Fractional Plates
The price on fractional weights was a tough pill to swallow for me. So much dough for only 5 total lbs. But they aren't cheap anywhere, so unless you think you can add 5 pounds to every lift indefinitely, you're gonna break down and buy these some day. Best price is on Amazon, and they are Prime eligible.
---
Starting Strength 3rd Edition
While normally these types of books are great for those new to lifting, I think this book should be owned by all lifters. Rippetoe goes into more detail about the physics of the lift and proper form then I personally thought was possible. This book is pretty much 340 pages of form and technique for the five big lifts: the squat, clean, deadlift, press, and bench. 150,000 copies is pretty respectable for a weightlifting book.
---
Concept 2 Rower
I hear time and time again garage gym folks pining over a rower. Guys especially. You've probably seen these at the Crossfit Games and at your local box gym. These are commerical rowers and they are the very best on the market. One of the best things about these is the price. You can have one of these in your home for under $900. Go to Rogue and read the specs and ask for a quote if you're interested.
I have an entire article dedicated to the benefits of rowing and why the Concept2 is the rower of choice for Crossfit and facilities worldwide. You can check that out here.
---
Programmable Gym Timer / Clock
Great garage gym addition for anyone, Crossfit fans especially. This thing has a clock obviously, a stopwatch, and programmable intervals. Customize your number of rounds, length of rest, and length of work. Bad ass clock with super bright 4″ numbers. It even comes with the remote (unlike the other clock out there)  Maybe I'll get one of these for Christmas. $269 direct from Rogue.
---
Plate Storage / Dumbbell Racks
Storage racks are one of those things that are really expensive, but don't actually help you get any stronger. That means it's a low priority on the list of things to buy for the ol' garage gym. Do some shopping around when it comes to storage. Some, like the picture above, are probably way too big for a garage gym. Check Amazon.
---
Arnold Schwarzenegger Poster
I'm totally kidding. Don't buy this as a gift. But seriously, this is a real thing. Click the picture and see for yourself. (This is one of those things that if you want it, you buy it yourself.)
---
Weightlifting Shoes
Rogue Fitness has the largest selection of weightlifting shoes anywhere. Adidas, Nike, Reebok, Inov and the Do-wins.
---
Gymnastic Rings
What can be said about gymnastic rings? A staple in any gym. Make sure if you get this for a gift, the recipient has something to actually hang them from. Available from most fitness stores. Word is that this was Rogue's first product.
---
Free Chipotle (this is not an ad)
Laugh all you want, lifters need food, and $1000 goes a long way at Chipotle. You can get double steak burritos for at least a month. Ok I'm not seriously suggesting a grand in burritos, but I'll wager any lifter would appreciate free food so any value will do.
---
Jump Rope / Speed Rope
Speed Ropes make great inexpensive gifts for fitness freaks. This particular model is #1 seller on Amazon. I personally get a hell of a workout with a $6 thing from Academy, but I think my next rope will be weighted as well. This one is good for folks up to 6'6″ tall. Be mindful of that when shopping for tall people. You can find a variety of ropes both cheap and quite expensive on just about any fitness site.
---
War Hammer
I'll bet your fitness enthusiast doesn't have one of these. Empty, this weights 14 pounds. Add sand or shot to the head to increase the overall weight to 28 pounds. What do you do with it? Beat the crap out of tires for a workout. Make sure the recipient of this gift has a tire to smash. (see below)
---
Tractor Tire
Crossfitters use these. I don't see why everyone shouldn't have one of these. What a great workout flipping these around is. You can also smash them with the Hammer from above. Look on Craigslist for these. Ask at farms or quarries, anywhere they have heavy equipment and tractors. You may have to pay to have it delivered but I've heard you can get them for practically nothing used.
---
Polar His and Her Heart Rate Monitors
Ok I don't think these are actually his and her by design. Sure seems that one is more geared for a man and the other for a woman, but what do I know. Polar is the industry leader in heart rate monitors. I can't actually recommend a model. Research them, as features vary quite a bit. Prices range from $30 to $300.
---
Battle Rope / Conditioning Rope
These ropes are a killer workout. I've heard them referred to as Battle Ropes, Strength Training Ropes, and those big ropes they have at the gym. Swinging these around is rough. Bulldog Ropes might actually destroy my theory about jumping rope being king of cardio. Length can vary from 30′ to 55′, as does the weight, obviously. $212 at Amazon or $250 at Rogue.
Check out my article on Battle Ropes if you get a minute.
---
High Velocity Fan
Pretty much no matter where you live, it gets hot for part of the year. If you gym doesn't have a fan, or only has a crappy $15 box fan, it's time for a new one. These metal fans work really well, and they can be wall mounted.  They can be had for about $60. This particular model is Prime eligible so shipping is free. I've seen this at Home Depot as well. It may not seem like an exciting gift idea for weightlifters but if you like in Texas like me, it's a great gift idea!
---
Bosu Ball
This is mostly a core training piece of equipment. Perform normal standing exercises on it, and it adds balance and coordination to your strength training. You can flip it over and use it that upside down as well. Go to bosu.com to learn more about how to use it and you can also buy it from them directly (but I think Amazon is cheaper, as per usual.)
---
Portable Post Landmine
No rack required to use this landmine. Two bumpers is all it takes, and you're off. Great for range-of-motion exercises like landmine press, and of course for landmine rows. Pivots 360 degree and can handle over 300 pounds. If you have a rig, you can buy models that attach directly to it as well.
---
A Garage Gyms T-Shirt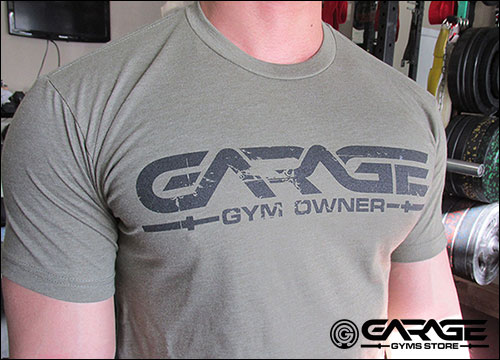 Nothing like bragging about owning your own gym while supporting a site that aims to help you further improve that very gym. =)
---
So there you have it – A list of gift ideas for weightlifters. I hope some of these seemed like good gift ideas to you. Again, if you want to add an idea, high-five one of mine, or even thumbs down one of mine,  go ahead and leave a comment. Thank you for reading my gift ideas for weightlifters article!
Again be sure and check out the 2014 Gift Ideas for Lifters guide (this page is from 2013!)