The Vulcan Elite is a 28 mm bushing bar designed specifically for Olympic weightlifting. It is the more affordable "training" version of the $600 Vulcan Professional Bearing Bar, with the biggest differences being the use of bushings instead of bearings, and of course, the price.
In terms of classification, the Vulcan Elite 3 is much like the American Barbell Performance Training Bar and the Rogue 28 mm Olympic Training Bar. All of these bars are 28 mm IWF-spec'd Olympic Weightlifting bars that utilize bushing systems rather than more expensive needle bearings and they are roughly $200-250 less than their needle bearing counterparts.
Update January 2018: Vulcan is now up to the Elite version 4.0, which is more or less the same premium piece of equipment as the 3.0. Matter of fact, all that has changed is the end cap is now machined, and the knurling was tuned again per customer feedback. 
---
What's New with the Elite 3.0
Not much changed in the 3.0 version of the Elite. There was a minor knurl change; more of a fine tuning to improve the grip, and the finish on the shaft was changed from the industry-standard bright zinc to a grippy, dense chrome. I don't have the previous Elite 2.0 so I can't make a "then and now" direct comparison of the grip, but I can say that the current 3.0 grip is very good; definitely superior to zinc, and even polished chrome in terms of feel (polished is prettier though).
---
Vulcan Elite 3.0 Olympic Bushing Bar Specs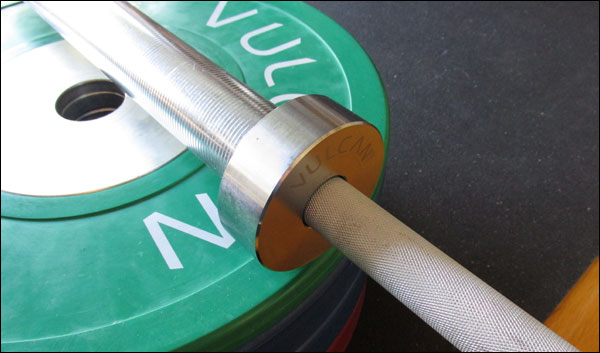 Here are the specifications for the Vulcan Elite 3.0 as found on the bar product description. Additional information is included, as I do tend to harass the manufacturers when I want to know something not offered.
20 kg (+/- 10 grams) men's bar, 28 mm chromoly (chromium molybdenum) steel shaft.
IWF-specification knurling, including a passive center knurl.
Bronze bushing system.
Semi-aggressive knurling. *
Grooved sleeves for Olympic friction plates.
Dense chrome shaft finish, hard chrome sleeves.
Lab-verified minimum tensile strength rating of 218,000 PSI.
Minimum yield-strength rating of 206,000 PSI.
Most elastic Olympic training bar on the market.
Lifetime warranty against bending or sleeve separation.
Price: $369 w/ free shipping.
* It's actually not all that aggressive. See the knurling section below and I'll explain.
---
Vulcan Elite 3.0 Knurling & Finish
The product description for the Vulcan Elite states that the knurling is semi-aggressive, and that each knurl has multiple contact points that make for a very secure grip. Personally I do not think that I would describe the knurling of the Elite as being "aggressive", and I've yet to hear anyone agree that it is aggressive in the traditional sense. It's a very good knurl; especially in combination with the galvanized feel of dense chrome, but sharp or coarse it is not.
It does need to be said that many manufacturers base their knurl ratings on their own line of equipment. That is to say, relative to other Vulcan bars the Elite is aggressive, but it's not so aggressive relative to what most of us really consider to be aggressive, like an Ohio Power Bar or NxG Competition Bar.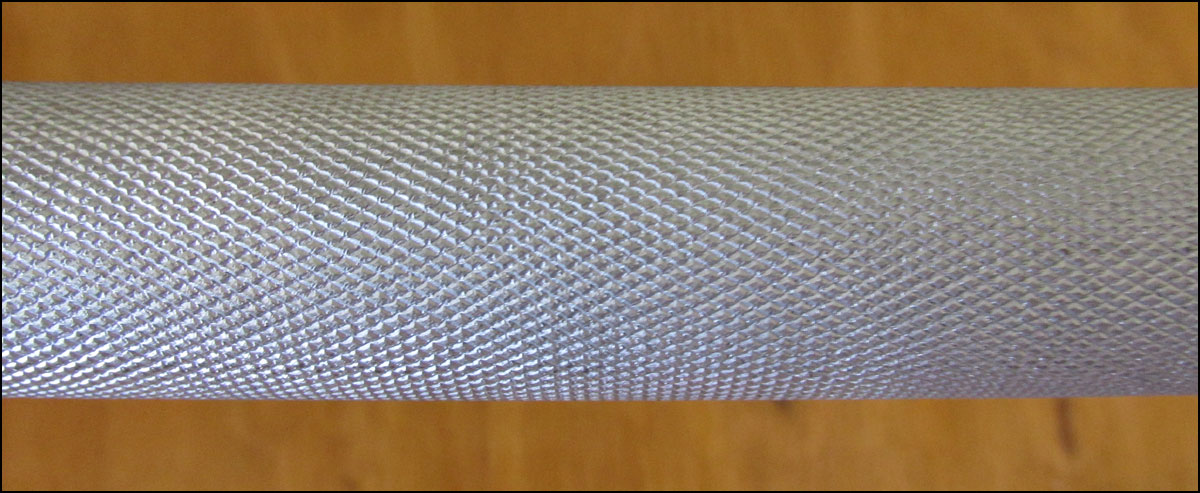 All-in-all, I think the combination of knurl depth and the unique finish makes the grip and feel great. It is secure and comfortable enough to use as a daily Oly trainer, but it wouldn't prepare you for an actual professional Olympic competition bar – and if you're used to an actual aggressive bar, this may feel underwhelming (at least in this sense).
---
Vulcan Elite Sleeve Rotation
The Elite's sleeve rotation is right where it needs to be; it spins well. It is a bushing bar, so it won't spin on the rack for 10-minutes like a needle bearing bar will, but that has never really been important anyway. What's important is the turnover during a lift, and that's as smooth as can be – reliable, yet not erratic.
Not only do the sleeves spin well, but there are also no indications of any other sleeve or rotation issues. The Elite is quiet when the sleeves are spinning, and there is no excessive or unusual noise when the bar is dropped. The sleeves exhibit no unexpected lateral play on the shaft indicating tight construction tolerances. I have no reason whatsoever to think or suspect that this bar would ever not spin well.
---
Vulcan Elite Elasticity (whip)
For the Elite, Vulcan used a very high-quality chromoly steel that has incredible reflexive properties. Simply put, the Elite 3.0 is both strong and whippy. One of the nice things about bars with insane whip like the Elite here is that they tend to exhibit that whip at slightly lower weights than would be considered normal, which makes them a nice choice even for those lifters that aren't putting up a lot of weight yet. When your weights do start getting up there, well you've already got a bar that whips like a professional Olympic bar that costs twice as much.
---
More On That Finish
The finish on the shaft is a very unique unpolished, dense chrome.. It's actually kind of dirty looking, and I've read a number of reviews where customers think the bar would be pretty if it had any other finish on the shaft. I thought it was pretty unique at first, but I have to agree now that it does indeed look pretty grungy. It has a nice feel to it; it's very sticky and easy to hold on to, but it could be better looking still I think.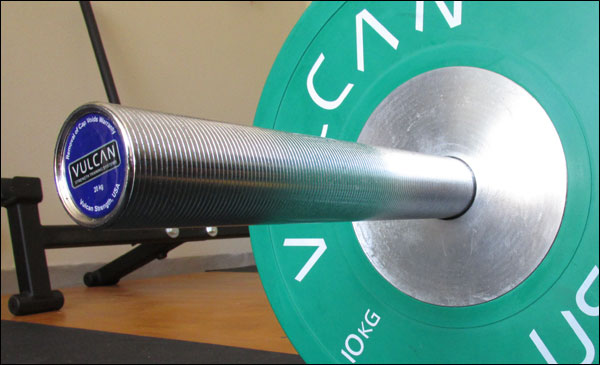 Fortunately the sleeves are standard polished chrome. Maximum oxidation resistance and a clean, professional look. Just keep those steel, box-store change plates away and you'll keep that chrome looking nice for a long, long time.
---
How Does the Elite 3.0 Compare to…
At the beginning of this review I listed out some other bars that would fall into the same bar category as the Elite. I'll discuss some of the subtle difference between the Elite and those other bars below.
Elite vs American Barbell Performance Training Bar
This is tough competition for the Elite 3.0 and 4.0, mostly because of price. At only $295 the American Barbell Performance Trainer is entirely finished in chrome, has a great composite bushing system, and is American made.
The Performance Trainer does lack the strength and whip of the Elite, and knurling is much more grippy on the Elite, but $70 (well $50 after shipping) is a huge price difference. I guess technically the AB is a more attractive bar because of all the hard chrome, but that probably shouldn't guide your decision-making process.
I think the Elite is infinitely better performance-wise, but I'd certainly take the AB over the Rogue if budget is a concern.
Elite vs Rogue 28 mm Olympic Trainer
Rogue is Rogue, and you can almost never go wrong with a Rogue product. The Rogue Olympic Trainer has the same American-made, 190k PSI shaft as the professional Rogue Olympic WL Bar (the Games bar), which means that the feel and whip of the Trainer will be the same. The technical specifications of the Rogue are great, it's made in the USA, and it has a reasonable price.
In terms of performance the Rogue 28mm Olympic Trainer does not compare to the Elite. The Elite has a better grip, better rotation system (oil-impregnated bushings versus cast), and it's both stronger and whippier. I'd take a chrome, whippy Elite over the zinc Rogue any day, and if I didn't want to spend $369, I'd go for the $300 AB Performance.
The Rogue Trainer is available in two finish options, but honestly it's more of a color option since both of them are entirely finished in zinc (either black or bright zinc). Like I said, the Rogue has the best price of any of these training bars at $325 for either finish, so I can see it being a contender if budget is important. As with every bar here, the Rogue has a lifetime warranty.
---
Vulcan Elite Review Summary
So there you have it. The Elite is a very nice bar at a reasonable price. Not the cheapest bar in its class, but easily the best
Feel free to ask questions or give your own feedback in the comments.
---