This is an in-depth review of the Vulcan Absolute Power Bar; the black oxide and raw steel variant (the other variant being entirely stainless steel). While the two Absolute Power Bar variants are similar they are also very different, so this review is not quite as relevant when it comes to the SS Absolute.
The Absolute Power Bar is a relatively new addition to the Vulcan bar line-up. It's a rather beautiful, high strength, IPF-spec'd bar that has all of the features that you'd expect from a premium powerlifting bar; like a strong, 29 mm shaft; black oxide finish over a moderately-aggressive knurl; grooved bare steel sleeves; and a 4″ passive center knurl. The Absolute has a couple of unique features as well.
The two notable and unique features of the Absolute consist of a much higher than average tensile strength shaft than other power bars (which I'll talk about more below), and a classy, laser-engraved Vulcan USA logo on the inside of the sleeve collars. The laser engraving is only a cosmetic feature of course, but it does give the Absolute a classy look.
Last Update: January 2018 – minor edits and corrections.
---
Absolute Power Bar Specifications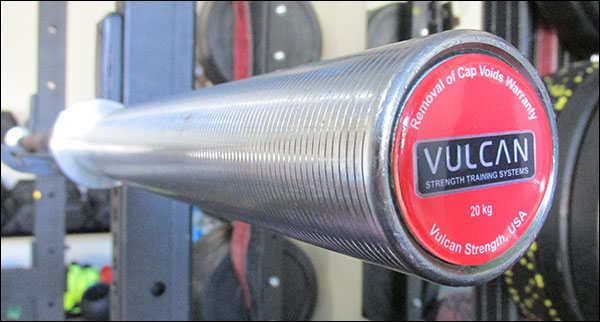 Here is a rundown on the Absolute's specs that you can refer to while reading this review, or when making comparisons to other bars. You can also find most of this information on the product page for the Absolute here.
IPF standard men's 20 kg bar, 2200 mm in length
IPF power marks with 4″ center knurl
Shaft diameter: 29 mm
Shaft finish: black oxide
Tensile strength: 221,000 PSI
Sleeve finish: none (bare steel)
Loadable sleeve length: 16¼"
Knurling: moderately aggressive
Rotation: bushing system
Warranty: standard limited lifetime
Price: $339 (includes shipping)
I want to draw special attention to the fact that the Absolute is a black oxide and bare steel power bar. While this is a very standard set-up for a power bar (black oxide + aggressive knurl makes for a great grip), I still like to remind folks that both bare steel and black oxide require maintenance. Without frequent oilings, this bar will definitely rust. Keep that WD-40 or 3-in-1 oil on-hand.
If this upkeep is bothersome to you and you have some extra money to spend, consider the totally stainless steel variant of the Absolute Power Bar. It is not only corrosion-resistant, it also has the strongest tensile strength shaft of any stainless steel power bar in existence. It sells for $549.
---
Absolute Review – Shaft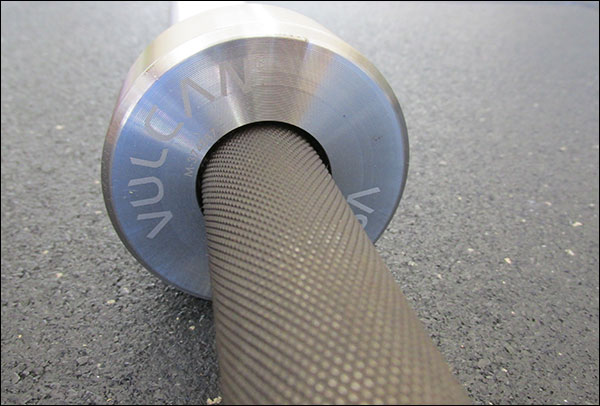 At 221,000 PSI, the Vulcan Absolute is currently the strongest and one of the stiffest power bars on the market. No other power bar in this price range even comes close. *
* edit: this is no longer true, though it's still higher than most – and it's much less expensive than those with higher tensile strength.
To give you an idea of what is considered normal for a power bar, the Texas Power Bar is rated at about 186k PSI, all of the American Barbell power bars are rated at 190k PSI, and the Rogue Ohio variants and the Westside power bars are all rated at 205k PSI. You can get a 215k PSI power bar if you're willing to spend $849 on the Performance Power Bar, but I can't make a good case for why you would need to do that.
Don't get me wrong, I'm not saying that tensile strength is the be-all, end-all of bar specs, but it is an important factor with power bars. Strong, rigid shafts are less likely to flex and whip at heavier loads, and when it comes to the bench press, squat, and most accessory barbell movements, whip is not needed nor is it desired.
---
Absolute Review – Sleeve Rotation
The sleeves of the Absolute Power Bar spin on bushings, and the spin is minimal at best. The sleeves do spin, of course, but they do not spin excessively or as freely as you would expect of say a CrossFit or Olympic weightlifting bar.
If this were any other kind of bar I'd worry that the spin was insufficient, but for powerlifting this is pretty great. Plus, based on personal experience with half a dozen other Vulcan bars, I can only assume these tighter sleeves were an intentional move to eliminate erratic spin during the slower, heavier, big-3 lifts.
In other words, the slower sleeves are a perk in this case.
---
Absolute Review – Knurling

The knurling is what makes the Absolute one of my favorite new bars. The knurl pattern is moderately aggressive, but without being uncomfortable or overly sharp. I would say that it has just a hint less bite than the Ohio or Texas power bars, but not by enough to weaken the security of the grip.
As most of you already know, black oxide combined with a good knurl makes for a fantastic grip. Matter of fact, I've been favoring the Absolute to my American Barbell Super Power Bar lately, which is quite the compliment to the Vulcan considering both the stainless steel shaft and nearly $600 price tag of the Super.
To summarize though, I consider the knurl of the Absolute to be aggressive, just not quite super aggressive. Knurling is completely subjective, I realize this, but it's really damn good knurl as far as I'm concerned.
---
Absolute Review – Elasticity
As you would expect of a 29 mm power bar with a 200,000+ PSI rating, the Absolute has pretty much no elasticity at all to it. Matter of fact, to say that the Absolute is stiff and rigid is quite the understatement. When the bar is sitting in the rack loaded for squats or bench press, it takes over 400-pounds before the Absolute even begins to display any noticeable flex. Put 400+ pounds on your WOD bar and it starts to look like a bow.
---
Absolute Power Bar Review – Finish
As already mentioned, the Absolute's 29 mm steel shaft is treated with a black oxide finish. Black oxide is simply a conversion coating that offers mild corrosion/oxidation resistance while at the same time improving the appearance of the steel. Black oxide is favorable to black zinc for barbells because it doesn't diminish the quality and feel of the knurling like zinc (and chrome) finishes do. However the downside to black oxide versus other finishes is that it can and will still rust if not maintained (oiled and cleaned.)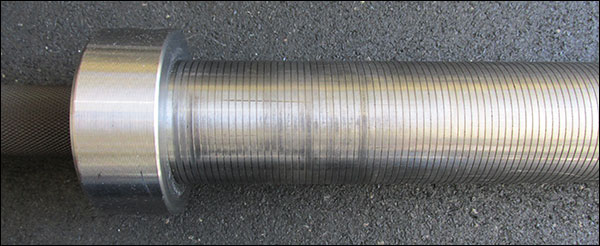 The sleeves of the Absolute have no finish whatsoever; they are raw steel. Believe it or not, because of how seldom your hands and body will come in contact with bar sleeves, even raw sleeves are easier to keep rust-free than a black oxide shaft. The image above is my Absolute, and although you can see markings from loading discs, there is no rust present. I have cleaned rust off of the shaft of my Absolute at least a half a dozen times, but not once have I had to remove rust from the sleeves.
Cleaning and oiling can be a pain in the ass sometimes, and there is something to be said for chrome finished bars that don't require this kind of maintenance and upkeep, but if a natural, secure feeling is important to you when you're moving the big weights, you either need to get used to having to oil your bar from time to time, or bust out the big bucks for some stainless steel.
---
Absolute Power Bar vs Ohio Power Bar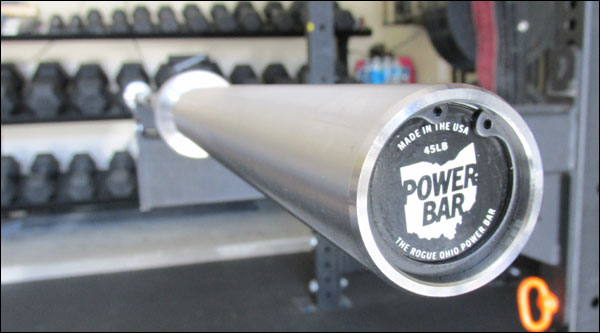 There is no denying that the bare steel Ohio Power Bar is a steal for the price. $250 plus shipping for a super rigid, 205,000 PSI power bar is a great deal, and the knurl on the Ohio is definitely top-notch. It's a great power bar, and that $250 price tag works out to be about $60 less than the Absolute to your door.
So what's different between the Ohio Power and Absolute Power? The Ohio will start to flex at lower weights. It's not a dramatic difference, but the stronger you are the more this may matter to you. Also the sleeves of the Ohio Power spin almost as well as an Oly bar, which would be great if it wasn't a power bar. Finally, the black oxide shaft of the Absolute is a bit easier to maintain and keep rust-free than the bare steel Ohio, though there is a zinc Ohio Power Bar for only $25 more.
So the question is if I had neither bar but had to buy one, which would it be? That's a tough call! If budget wasn't an issue, definitely the Absolute. If budget was an issue, I'd be happy to save the $60 and train with the Ohio Power. At the end of the day, both are great values, and both are more than enough bar for pretty much all big-3 lifters.
---
Absolute Power Bar vs American Barbell Power Bars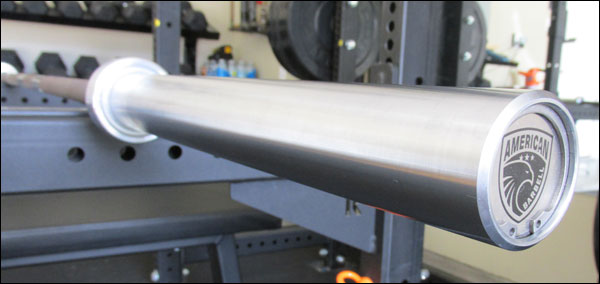 American Barbell currently offers two different power bars; the basic AB Power Bar for $295 and the stainless steel Elite Power Bar for $450. Both of these AB power bars are nice, well refined pieces of equipment – they look great, they're durable, and they have rust-resistant finishes. However, performance-wise, the Vulcan Absolute just shames the AB power bars.
American Barbell power bars have overly soft knurl, and the shafts are only rated at 190k PSI – a rating more appropriate for a WOD bar than a power bar. Couple the soft knurl and average steel with the higher price of AB's bars and there is just little justification to buying an AB power bar save for the low-maintenance finishes (which, don't get me wrong, is a nice perk.)
I find that in the powerlifting world, raw steel and black oxide is not only acceptable, but also preferred to the oxidation-resistant finishes like zinc and chrome. This fact makes the chrome-finished American Barbell power bar less appealing since it comes at the cost of knurl quality; or overall grip security. Of course the stainless steel Elite does offer a more secure, natural grip despite the weaker knurl, but the $450 price tag is off-putting to most folks.
---
Absolute Power Bar vs Vulcan Elite Power Bar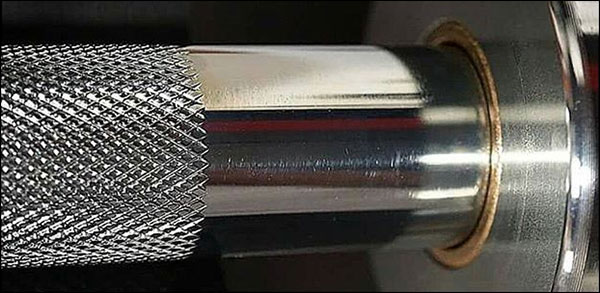 The Vulcan Elite Power Bar is an interesting power bar. It's one of the only power bars with a bright zinc finish – no chrome, no oxide, no bare steel. It's a super rigid, 196,000 PSI bar. Not quite as high as the Absolute or the Ohio, but still somehow stiff as a board even when loaded to the hilt.
The Elite is odd in that it has dual markings, but that doesn't really change the performance of the bar one way or another. The knurl is much the same between the two, but when it comes down to it, for only a $30 difference between the Elite and Absolute I have to favor the Absolute. The exception would be for people who live in extremely humid regions and are willing to forego a little tensile strength for a oxidation-resistant, zinc finish.
---
Absolute Power Bar vs the Texas Power Bar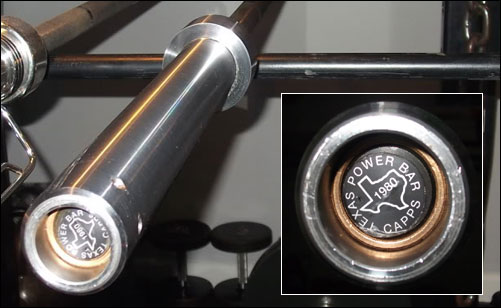 Ah the classic Texas Power Bar. This is another alternative to the Absolute that you may be considering. Tried and true, the TPB is much like the Absolute in that it has a black shaft and raw steel sleeves. The knurl of the TPB is super aggressive, and the shaft is up there in terms of rigidity.
Save for the pinned sleeves I have no issues with the Texas Power Bar. It's known to hold a lot of weight, stay straight, and stay together. You do have to make damn sure you buy an authentic Buddy Capps TPB if you're going to buy one though, so keep that in mind if this bar is on your list.
---
Vulcan Absolute Power Bar Review Summary
I dig the Vulcan Absolute – it's a top tier power bar at a reasonable price. No, it's not your only good power bar option, but it is one of the better options – at least in my opinion. All of the specs are great, it isn't missing anything, and it doesn't have anything that it shouldn't have. It's a solid power bar, and it's been my go-to bar ever since I got it; replacing some very good and expensive bars. Check it out here.
---