You probably wouldn't think that there was a whole that could be done to improve upon the rubber hex dumbbell short of just lowering the cost, right? That is to say, assuming that you select a reputable brand (one that permanently affixes the heads to the handles) they are a very affordable and durable dumbbell without much in the way of issues or complaints. The head shape is user-friendly, weight accuracy is better than cast iron, the ergonomic handles aren't amazing but they are acceptable, and most importantly, the price is right.
Of course rubber-coated hex dumbbells aren't perfect by any means. The partially knurled, chrome-plated handle leaves a little to be desired in the grip department, and the bulkiness of the heavier units is a bit excessive, and maybe even slightly unwieldy. Considering that the alternatives include either adjustable dumbbells or the unreasonably priced commercial units, these issues seem minor and totally worth overlooking.
Be that as it may, some companies are still trying improve upon this dumbbell design. About a year ago Rep Fitness released a version of the rubber hex dumbbell that replaced the old ergonomic handle with a straight knurled handle, making it feel a bit more like a commercial dumbbell. Is it an improvement? Many think so, but I think the handle diameter needs to be tuned a bit on the middle-weight units before this can be considered a great product. Prices are reasonable on them though, and that's a plus.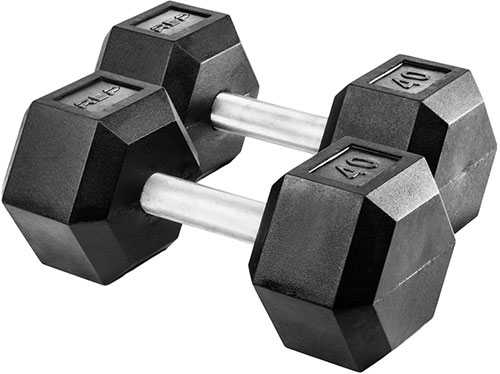 Enter Vulcan Pro Hex Dumbbells
Vulcan recently attacked both the handles and the overall size and shape of the units when designing their new Pro Hex Dumbbells. After testing these out I've come to the conclusion that the Pros are officially the new, premium version of the hex dumbbell. What's different?
First, the handle is no longer chrome-plated steel with a partial knurl, it's now covered in a highly tactile, vulcanized rubber coating. Even though it may be hard to imagine (it was for me), this rubber coating is grippier and less slick than the ergonomic handles on other hex dumbbells, and infinitely more comfortable to the hands (and callouses.) These handles are still ergonomic, the rubber still has a knurl texture to it, but it doesn't feel anything like metal and it won't rust. It's surprisingly great.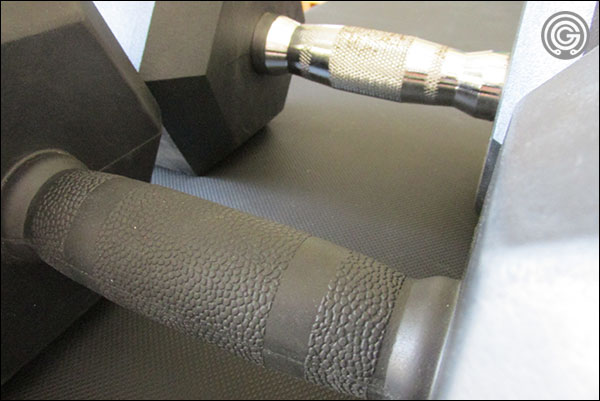 Second, Vulcan managed to make the Pro Hex Dumbbells more compact. Now clearly this doesn't matter on the smaller units, but there is a noticeable difference in size even halfway through the set; just look at my Vulcan 45's next to standard 45's below. By the time you get to 100-pound dumbbells, the size difference is 30%! This compactness is not just easier to handle, but it takes up less of that precious space in your gym.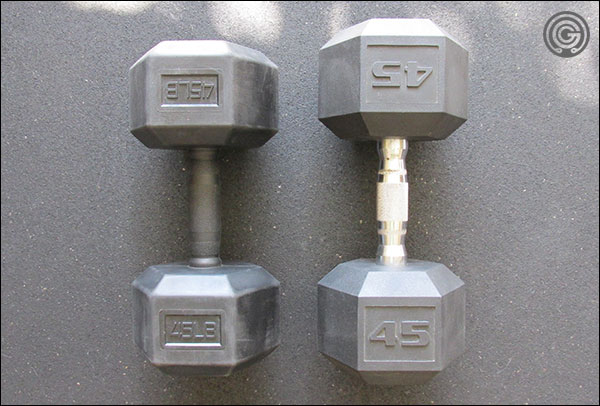 So it may seem like there isn't much that can be done to improve the rubber hex dumbbell, but it turns out that there is. It gets even better though, because these new Vulcans are still just as affordable as the classic rubber hex dumbbells. Read on!
---
Vulcan Pro Rubber Hex Dumbbells Specs & Features
Vulcanized rubber handles with highly tactile knurled surface replace steel handles.

Rubber will never loosen, peel, or detach from handles.
Grippier surface than chrome-plated steel.
Holds chalk better than chrome-plated steel.
No exposed metal means no oxidation issues.
Handles are still ergonomic and comfortable.

Accurate to within 1% of state weight.
No discernible odor, which is a nice change from most rubber products.
Up to 30% smaller than standard rubber hex dumbbells (30% at 100-lbs).
Heads will never depart or come loose from the handles.
Premium rubber compound is low-odor, and less costly than urethane.
Suitable for home gyms or commercial facilities.
Lifetime warranty for both private and commercial use.
The Vulcan Pro Hex Dumbbells are infinitely more comfortable in the hands than any other variant of the rubber hex dumbbell, of which I have pretty much all of them to compare the Vulcan's to; the cheap CAPs, the premium York & Rogue units, straight handled Reps, and the usual steel ergonomic handles. The Vulcan Pros feel fantastic. They do not irritate my calluses like knurled steel handles do and they truly are grippier than the decorative chrome plated steel found on just about all other variations.
---
Sets Only?
As it stands, Vulcan's Pro Hex Dumbbells are only sold in sets, not pairs. Obviously this is no good if you tend to only used three or four pair of dumbbells in your workouts, or if you were hoping to test drive a pair before committing to a full set, but it is what it is.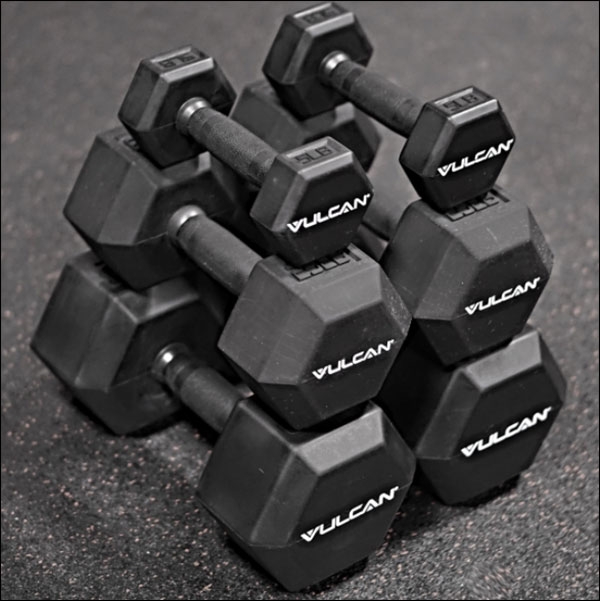 The good news is that the sets are priced really well. The basic set of Pros that contains all dumbbell pairs from 5-lbs to 50-lbs sells for $647 before shipping, which is only roughly $70 more than the same set of basic hex dumbbells from Vulcan. Matter of fact, the Vulcan Pros are actually $13 less than Rogue's set of standard hex dumbbells; as in, no rubber handles. In other words, pairs may not be an option, but the price point on sets is fantastic.
---
Vulcan Pros Compared to other Commercial Dumbbells?
There are definitely much fancier, more expensive dumbbells out there for commercial and institutional gyms, but not everyone has the equipment buying power of Lifetime Fitness or Gold's Gym. Who wouldn't prefer to own custom branded, urethane dumbbells in their gym rather than the hex dumbbells that are more commonly associated with home gyms? Sadly this just isn't in the cards for everyone.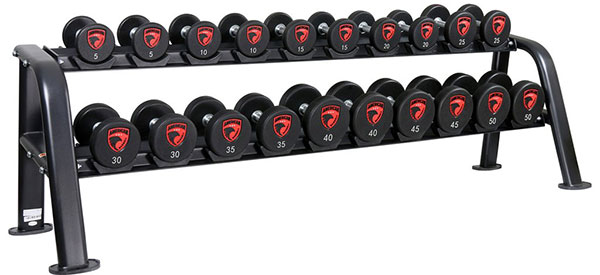 If you were to purchase all dumbbells from 5-lbs to 100-lbs, Vulcan's Pro set would cost you about $2440 before shipping and custom branding, or $1.16 per pound. Not bad at all right? Compare that to some of the premium commercial dumbbell options:
As you can see, there is a reason why folks prefer the Iron Grip and American Barbell (GP) dumbbells found at the commercial gyms; they cost anywhere from twice as much cash to five times as much cash. Hell they better be nicer than hex dumbbells for that kind of cash, right? Well they are, but that doesn't make them a necessity or even a good buy for you.

On the flip side, if you have a couple million to spend on equipment, then by all means load up on Rogue Urethane or American Barbell dumbbells for your gym. When spending $4000 on each Hammer Strength machine and $5000 on each treadmill, and when buying tens of thousands of pounds of Olympic weight plates, springing for premium dumbbells seems like nothing.
Smaller gyms and CrossFit boxes can't be spending $6000-$10,000 or more on a single set of dumbbells though. That's a enormous waste of funds when $2500 will get you the same amount of weight and just as good of a warranty. Saving even $3500 is equivalent to nearly four Concept2 Rowers for your gym, or a half dozen R3 power racks, or a couple thousand pounds of plates; not to mention what saving $10,000 would get you.
Now there is one drawback to Vulcan's Pro Hex Dumbbells, and that is that as of right now there are no units beyond 100-pounds. This isn't a major issue for some smaller gyms and CrossFit boxes, but mega and iron gyms will definitely require heavier pairs. If you want all your dumbbells to be of the same brand and model, the Vulcans aren't going to cut it.
---
Vulcan Pro Hex Dumbbell Review – Summary
I am sad that these aren't sold in pairs. These are the most comfortable dumbbells I've ever trained with and I would love to replace certain frequently-used pairs and even finish off my nearly complete collection, but I'm just too deeply invested already to start over with sets. Many of you will be in the same position; unable to incorporate these into your collection.
That said, for those who still need and are able to buy full sets, the Vulcan Pros are a great option. The pricing is better than many basic hex dumbbells and obviously better than other commercial brands, and the comfort level and durability of these dumbbells far exceeds the basic hex units. I highly recommend the Vulcan Pros for your garage gym or institution.
It's also worth noting that if you only own a few pairs of dumbbells so far, buying a full set wouldn't result in much of a loss on those existing pairs if you sold them on Craigslist. I've offloaded numerous pairs over the years for close to $1 per pound without much issue. You could easily do the same.
---
Have you had the opportunity to try Vulcan's Pro Hex Dumbbells? Did you like the handles as much as I did? Leave a comment and let us know, and please share this article.