As is the tradition, I have created a list of Christmas gift ideas for those of you that have a lifter on their shopping list. I've considered the CrossFitter, weightlifters, and the regular ol' gym rat. There's something for everyone!
The first section consists of fairly substantial gift ideas; $50 or more. In a few cases, much more. The second section consists of stocking stuffers; smaller gifts under $50 or so. At the very end of the article, I offer my personal assistance to those who are clueless about gear and training equipment but still need to find the perfect strength training gift for someone, and would love some help.
---
Grand Gift Ideas
Be warned, the following gifts have the potential to make everyone else's gifts look lame. I am not saying there is anything wrong with a holiday sweater or a Target gift card, but they just aren't the same as finding some new gear for the gym under that tree.
---
Vulcan Alpha Premium Bumper Plates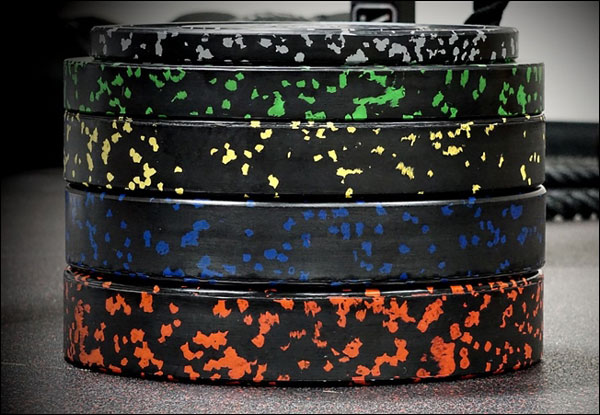 Vulcan recently launched the
Alpha Bumper Plates
. These are very similar to HI-Temps in that they offer a lot of the perks associated with crumb rubber plates, but they aren't crumb rubber. Alphas are a low odor, low bounce, and super quiet to drop bumper plate. They are thinner than HI-Temps (on par with virgin plates), and they bounce less than virgin rubber and
way less
than HI-Temps. The Alphas are quieter than both.
Prices for the Alphas are slightly better than for HI-Temps, and by all accounts they appear to be a better choice for the money. Again the Alpha plates are slimmer than HI-Temps, and they are even the full IWF 450 mm in diameter rather than being 17½" in diameter. You also get the unique color flakes embedded in the Alphas; very useful so you don't get the wrong plate by mistake (I'm totally kidding btw.)
This is the kind of gift I see someone buying for a family member that currently makes a lot of disruptive noise out in the garage gym. The 160-lb Alpha set is about $300, and the price gets better with bigger sets.
---
Isolator Fitness Meal Management System

If the person that you're gift shopping for is the meal-prep kind of person who carries their meals around in reusable food containers, brings many shaker bottles to work, and clearly has every calorie, macro, and supplement for the day planned out, then maybe a meal management bag would be a much appreciated gift.
The Isolater 3-meal bag ($79) pictured above should have more than enough food storage capability for most folks. It has insulated pockets that can keep stuff cold for up to 12 hours, six different leak resistant and stackable containers of varying sizes for prepared meals, and additional storage for supplements, shaker bottles, snacks, utensils, and whatever else one could possibly require for the day.
This is a thoughtful and affordable gift for the serious macro tracker, but if storage for three meals doesn't sound like enough for the person in mind, there are a ton of other options out there. Gym bags, backpacks, and briefcases all exist for the travelling macros. See some more of them here.
---
American Barbell SS WOD Bar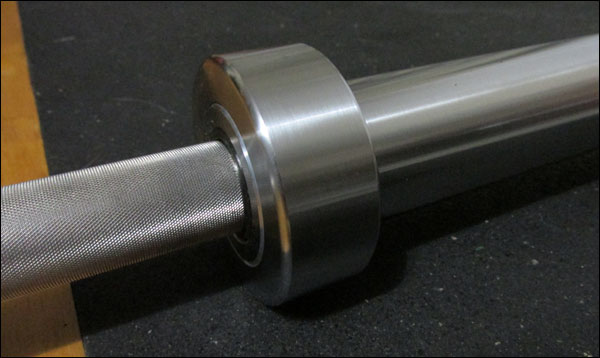 Still the best priced multi-purpose bar on the market, the American Barbell SS WOD is a 190k PSI stainless steel Olympic bar with hard chrome sleeves for only $299. This bar is a pretty safe bet for any strength trainer, and no doubt a home run for a CrossFitter.
Much like standard raw steel bars, stainless bars offer an incredibly secure grip unlike any finished or treated bar. Stainless steel has a huge advantage over raw steel though, and that's the ability to completely resist oxidation. The SS WOD will not rust, nor will not fade.
The bar itself is 28.5 mm in diameter and is built to all the standard IWF specifications for length, weight, and sleeve diameter. The 190k shaft is strong and it offers a nice balance of whip and rigidity that's great for going from the clean & jerk to the back squat to the bench press without needing to switch bars. The SS WOD also has a composite bushing system which means plenty of sleeve rotation for those cleans and snatches.
Stainless steel is generally very expensive and the low price of this bar is only temporary, so get it while you can. Whether for yourself or as a gift, it's a hell of a deal either way.
Update: this bar is no longer offered. Sorry!
---
Rogue Ohio Power Belt & Ohio WL Belt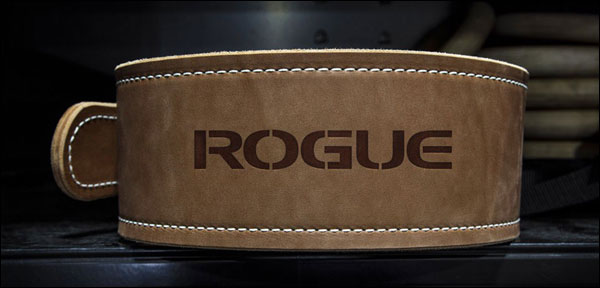 It's probably already too late to order a custom suede power belt in time for Christmas, but it's not too late to get one of the two Rogue Ohio leather belts.
Both the Ohio Power and Ohio WL belt are 10 mm thick, 4″ wide, vegetable-tanned leather belts with single-prong buckles. The Ohio Power Belt maintains 4″ width all the way around as is typical of a power belt, and the Ohio WL Belt is still 4″ wide in the back, but tapers to 2″ in the front. This difference in width is to help eliminate the risk of making bar contact to the belt during the Olympic lifts.
Both of these are beautiful belts; very classic both in design and color, and hand-made to last. They both have seamless steel rollers on the buckle, reinforced stitching, a Rogue logo on the back of the belt, and come in a multitude of sizes to help make sure you get a good fit around the waist. The Power Belt is $108, and the WL Belt is $115; both are made in the USA.
***If you are ordering this for a gift, note that the sizing for lifting belts is NOT the same as a person's pant size, but rather the distance around their mid-section; at the belly button. 
---
Bose Soundlink Mini Bluetooth Speaker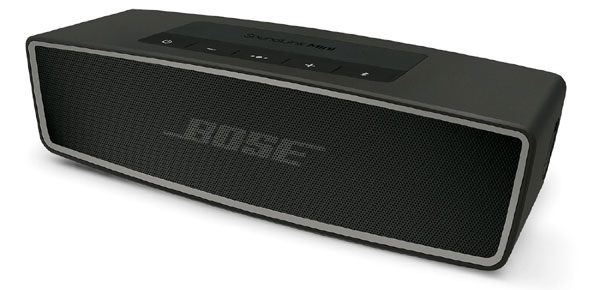 Good ol' Bose with their tiny but loud speakers. I bought one of the Soundlink Speakers for my gym last year because a) I hate headphones of any kind in the gym, and b) I didn't want to commit any space for a stereo. I think I made a good choice.
It's a Bose, so it's unnecessary expensive, but after I reluctantly paid for mine and got it set up, I couldn't have been more pleased. The system has lots of bass and the music is crystal clear, so no sound quality issues. It plugs in to the wall or a USB source, but it will also run for like 10 hours on the rechargeable battery, so it can be taken outside on nice days. Way, way better than dealing with headphones when squatting.
Let me tell you that this little guy is plenty loud for a garage gym. Even with a 36″ metal high speed fan blasting I don't need to crank it; and I train to black metal. Not something you play on low volume.  $199 everywhere. Check out the like 800 reviews on Amazon. I'm not alone in my opinion.
---
Rogue Adjustable/Utility Bench 2.0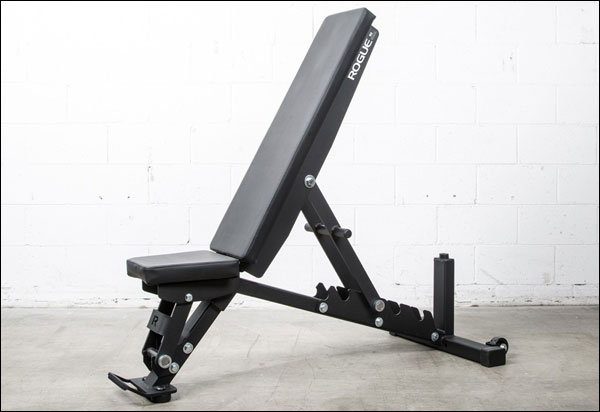 If you know someone that still only has a flat utility bench in their garage gym, the Rogue Adjustable Bench 2.0 would make a pretty killer gift. There are plenty of new compound and accessory exercises that you get access to with an adjustable bench, but the big ones are the incline bench/bell press, and the seated shoulder/military press.
I like the Rogue 2.0 for a couple reasons. First because they've reduced the gap between the seat and the backrest; not a big deal when the bench is angled, but a pretty big deal when the bench is being used as a flat bench. Also the Rogue has a handle and wheels for easy mobility, one of those things that seems "meh" until you don't have it and you have to manhandle a 100+ pound bench around the gym.
The 2.0 is adjustable from 0 degrees to 85 degrees. The indestructible frame is made with 2″x3″ 11-gauge steel, and it's a Rogue, so it's made in the USA. This would be an awesome thing to find under a tree. -$545
---
Nike Metcon Training Shoes

I'm not going to get too into this because I've done so a number of time already, and we all know about the Nike Metcons by now. I'm just going to tell you that inventory is much better and it is far more likely that you will find them in the color and size that you want this year. Go here to see what's available.
---
Stocking Stuffer Gift Ideas
These may not all fit into a stocking, but I'll keep them around $50 or less.
---
Ranger Panties – Squat Shorts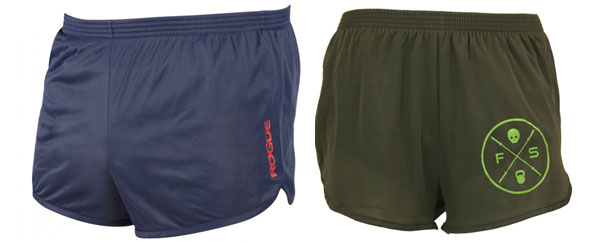 Good old Ranger Panties. Ranger panties are men's nylon shorts that have about a 2″ – 3″ inseam; shorts that are perfect for leg day. They are short enough to comfortably go deep, but long enough to cover the downstairs mix-up. The fabric stretches, which is exactly what you want in the squat, but they are too short to get hung up on anything. You can't ask for a better pair of shorts for leg day; save for your underwear (please don't.)
You can find Ranger panties at Rogue in four colors (green, black, grey, and blue). Search for them on Amazon too!
---
Light Reading Material, Rippetoe-Style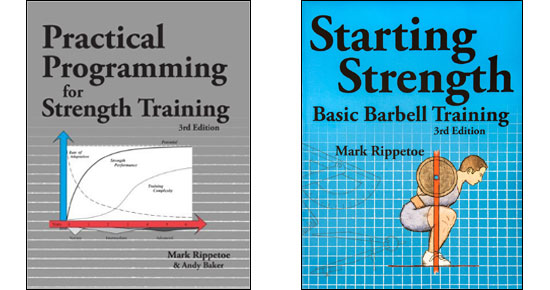 I'm always recommending Starting Strength by Mark Rippetoe. I think it's an amazing book not only for novice lifters who want to learn proper execution of the major barbell lifts and get on an easy to follow, linear program that all but guarantees immediate gains, but also for experienced lifters who want to get educated on the physics and mechanics of the lifts. Everyone should own a copy of this book.
For this Christmas list, I also wanted to include Rippetoe's other best-selling book, Practical Programming for Strength Training. Where Starting Strength left off, this one takes over. I only recently picked up this book, and I'm about halfway through and already know it has a place right next to Starting Strength on my bookshelf. I'll steal the summary from Amazon…
"Practical Programming for Strength Training 3rd Edition addresses the topic of Training. It details the mechanics of the process, from the basic physiology of adaptation to the specific programs that apply these principles to novice, intermediate, and advanced lifters."
I highly recommend both of these books. They both have perfect 5-star reviews and for the size of them and the amount of information they contain they are a steal at about $20 each.
---
B&D 6″ Orbital Buffer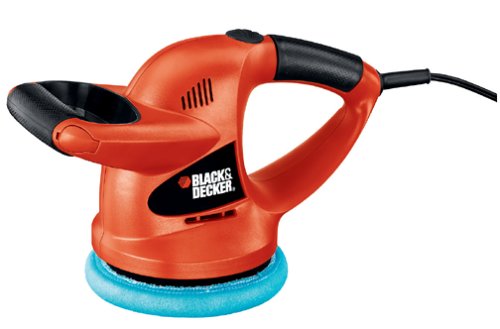 I was going to suggest a foam roller, but everyone already has at least one foam roller; probably more. Besides, there is something better than a foam roller, and it actually costs a lot less money than most of today's fancy rollers. Yup, it's a simple 6″ car polisher.
I've only known about using orbital polishers for myofascial release for about a year now. It only took about two or three sessions with my coach's polisher before I ordered my own for the house. I cannot even begin to tell you how satisfying this $30 piece of hardware is to use on the hamstrings, glutes, quads, lats and well pretty much everywhere. Check out this article to get some more info on this technique. There is a video there as well.
---
OSO Pro Barbell Collars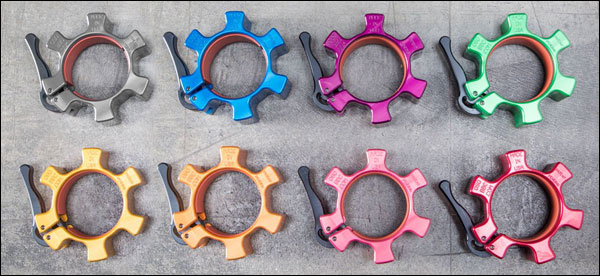 OSO Collars are all the rage in garage gyms right now. They are very unique barbell collars made with Billet Aircraft Aluminum and offered in a multitude of metallic colors. They have a rubberized lining that helps both to grip the bar and protect the bar from scratches, and a secure locking mechanism that should last for ages. They don't do anything that that other collars don't do, but for a few bucks more than Muscle Clamps or Lock Jaws, why the hell not, right?
You can get OSO collars almost anywhere. Rogue, Amazon, and many more sell the original OSO Pro Collar in varying colors. Prices and color options are all about the same no matter where you go (about $50), so it's kind of a wash. Go with who you know.
There are a few other variations of the OSO Collar that you can find at Rogue and Amazon. There are OSO Axle Collars designed for specialty bars that have 1.9″ tubing, Elite OSO Collars that have a bit of weight to them for accurately determining your total on the bar, and even OSO Mighty Collars which are basically economy collars ($27) that don't look as neat and only come in grey.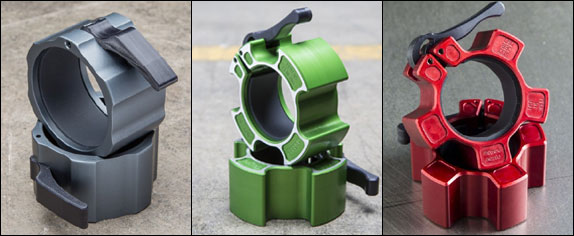 ---
Optimum Nutrition Whey Isolate

You can almost never go wrong when giving the gift of protein. The only real effort that this gift requires is picking a flavor, but it almost doesn't matter anyway because no serious athlete is going to not consume whey because they wish it was a better flavor. Remember, macros = money, so it'll get used. In any case, vanilla, chocolate, and banana are the most popular flavors and pretty safe bets.
Optimum Nutrition is a stand-up company. They're not the only ones, but it happens to be the one I like. If you go with a different brand, just avoid the generic stuff that you'd find in like a pharmacy or a Wal-Mart.
---
Captains of Crush Grippers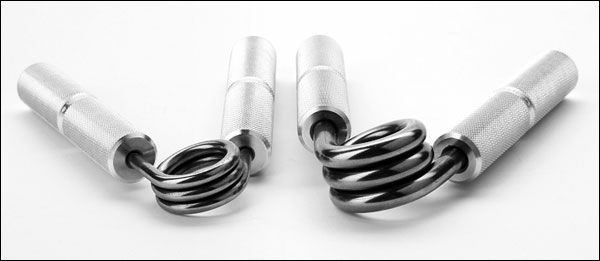 Training the forearms is often overlooked by folks who do a pretty good job of training everything else. This is despite the fact that they can't pull a heavy deadlift set without straps, or do heavy farmers carries for more than a few meters without their grip failing. Forearms are not going to grow if they're not trained, and grippers are the fast track to a stronger grip and manly arms.
The Captains of Crush Grippers start at 60-pounds of resistance, which most people should find relatively easy. They go all the way up to 365-pounds, which you (yes you) cannot even budge. There are a total of 10 of them with the biggest jumps being towards the end. Each gripper is about $20, but you can save by buying them in sets of three, or as a full set of 10. Each time you move up to a new gripper, it feels like putting another plate on the bar.
---
Need Help Picking Out a Gift?
Read this.
---
I hope this has helped. Don't forget to keep an eye on my post that tracks Black Friday and Cyber Monday sales for equipment dealers. As soon as I know, you'll know. As always, I appreciate any shares. They help me grow.
---