A weight bench is one of the first pieces of equipment you should buy when setting up a garage gym. A bench is not only needed to perform the barbell bench press and its many variants (which is all the reason you should need to own one), it's also useful for loads of other common movements such as skull crushers, dumbbell rows, dumbbell flyes, and so on. When it comes to prioritizing your new equipment purchases, don't simply think of the utility bench as an accessory; consider it a necessity.
You don't just want any bench, you want a high-quality bench. Remember that a bench not only has to support your weight, but also the weight of whatever you are lifting. As you get stronger, the load that the bench needs to safely support goes up. You need a bench that can handle your gains; a strong and durable bench that will remain stable under any load.
Safety is not the only reason to buy a high quality bench, comfort is worth considering as well. If you've ever purchased a cheap, economy desk chair you know how uncomfortable cheap padding can be even after light usage. When you have 200+ pounds pushing your back into a foam covered piece of plywood, do you want to be on a $50 bench with ½" of dime-store padding, or a well-constructed, 2-3″ thick pad of high density foam?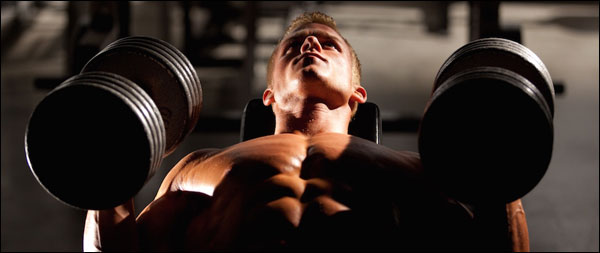 Now that I've given you a few things to consider let me give you the rundown on a handful of benches that are likely to meet your criteria. I will cover standard flat utility benches and a small selection of adjustable incline benches. I won't discuss any of the extremely low-end benches in this article. The goal here is to help you equip your gym with affordable but durable pieces of equipment that keep up with your progress year after year, and $40 box-store benches don't meet that criteria. Hey you don't have to drop $400 on a bench but you probably shouldn't buy something that costs less than dinner for two at Chili's.
(For referencing purposes, view the current IPF equipment specs here.)
Last Update: January 2018  – minor revisions;  added Vulcan Adjustable Bench, and REP FB-5000.
---
Rogue Flat Utility Bench 2.0
Manufactured by Rogue Fitness in Columbus, Ohio, the updated Flat Utility Bench 2.0 is available in black, black, or black. The single piece steel frame is built with very strong 11-gauge, 2″x3″ steel and this bench has a weight capacity of more than 1000-lbs. The pad is high-density, firm Neoprene, and the pass-through legs are angled slightly outwards to improve stability (and it does improve stability). It weighs in at 40 pounds, is 18″ high, and has a footprint of 47″ x 14″.
I own this bench, and one of my favorite things about this bench is that the cushion is a full 12″ wide. Sure that's supposed to be the norm, but far too many other mid-range (and even commercial) benches are going with narrower 10-11″ cushions to save a few bucks on foam and vinyl, and that's not how it should be.

Along with all of the improvements that came with the 2.0, Rogue still managed to knock a few bucks off the price. The Rogue Flat Utility Bench sells for $179 and comes completely assembled via UPS. It has a solid 5-star review and it should be near the top of your list, if not the top. This bench is all pros and no cons.
---
---
Rep Flat Utility Bench
The Rep Fitness Flat Bench is made of 11-gauge, 2″x2″ tube-steel and has been tested up to 1000-lbs. At $129 with free shipping, this seems like a decent deal. Well it's certainly not a horrible deal, but with the entire frame being 2″ square tubing rather than 2″x3″ and each part being bolted together rather than welded, it doesn't offer the same level of stability as the fully welded, beefier benches.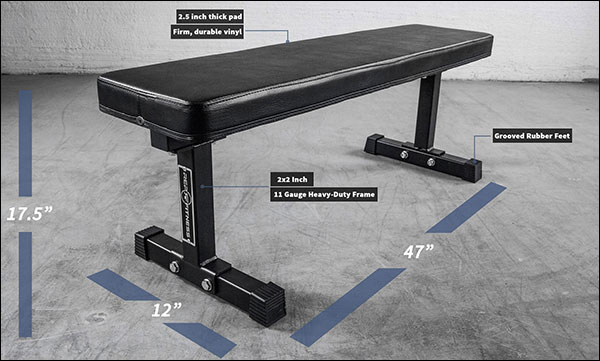 The Rep Bench does have great sizing dimensions. The pad is 47″ long and the ideal width of 12″. The foam is 2½" thick and the distance from the ground to the top of the pad is 17½ inches. The frame is warranted for 10-years, but sadly the padding is only warranted for 30-days. I suspect that the pad will last longer than 30-days, but that short of a warranty does not impress me much.
This bench does have a lot of positive feedback so it's certainly not going to be a disaster or anything like that. I like the Rogue and Vulcan benches more than this one for the money (remember you pay shipping from Rep), but the closer you are to Rep the better the deal.
---
---
Vulcan 3×3 Flat Bench
As an absolutely fantastic alternative to the $255 Rogue Monster Bench, Vulcan also offers a beefy 3″x3″ 11-gauge bench, only it's far less expensive at $199 – with shipping included! It's not as over-engineered and massive as the Rogue Monster Bench, but it's not going to fail even the strongest and heaviest of lifters.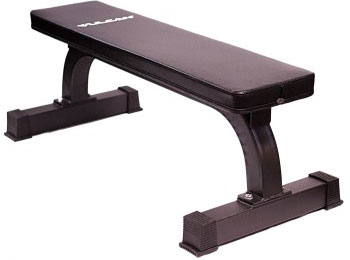 The Vulcan 3×3 Bench has a wide 21″ stance and rubber feet for added stability. It has a heavy-duty 2½" pad that measures 12″ x 47″, and that pad sits 17½" off the ground. This is a very nice bench for the money. Actually, it's an amazing bench for the money – very stiff competition for the Rogue and American Barbell benches, and a no-brainer upgrade from the CFF and Rep benches. Go Vulcan!
---
---
CFF Flat Utility Bench
The CFF Flat Utility Bench has an 12-gauge box-steel frame – the base is 2″x2″ steel and the frame itself is 2″x3″. The bench has a total load capacity of about 700-pounds which is fine for most people, but stronger-than-average lifters will probably want to find a bench with a higher max capacity. The height is great at 18″, the pad is tolerable at 11″, but the length runs super short at only 43″ (versus the normal 47-48″.) Reviewers say the foam padding leaves a lot to be desired, which is a bummer.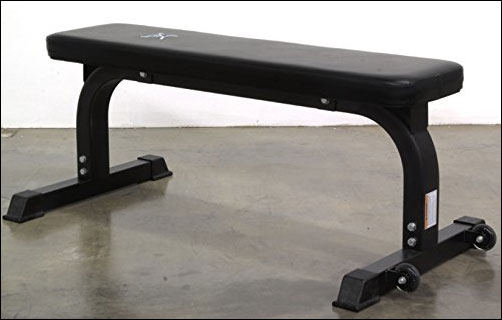 The CFF Utility Bench has wheels for easy mobility and rubber feet for better stabilization on uneven surfaces. It's not a bad bench, but at the end of the day it is a very middle-of-the-road utility bench, and fairly overpriced. $150 is just a few bucks shy of the 11-gauge Rogue Utility Bench; a bench with no real load capacity, no frame bolts, and an unmatched pad. I don't really recommend the CFF weight bench at this price point.
---
---
York Barbell ST Flat Weight Bench
Manufactured by York Barbell, the York ST Flat Bench is offered in white or silver. It has a strong 2″x3″ frame, high-density foam padding, and load-bearing rubber feet. This bench can handle some real weight, but it's of a very bizarre size. At only 40″ long, 10″ wide, and sitting 19″ off the ground, I have no clue who this bench was designed for.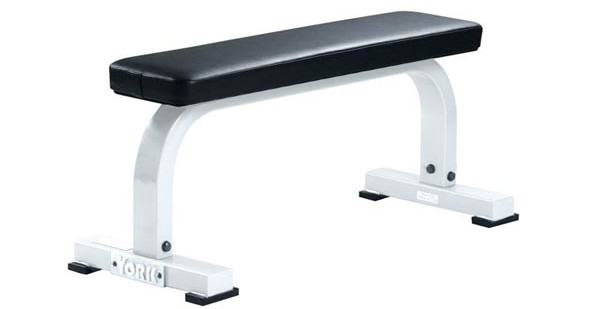 I just don't see recommending this bench to many people. You'd have to be looking for a super small pad for some reason, but I don't know what that reason would be. The price is okay at $189 since the build is near-commercial, but there are better deals out there for sure.
---
---
American Barbell Flat Utility Bench
The American Barbell Utility Bench is pretty solid. It is a bolt together unit just like the Rep bench, but it has a wider, more stable stance and beefier steel. I think this is a contender in the market at its current price of $175; a very reasonable upgrade to the Rep and CFF benches, but I do not believe that it offers everything that the Rogue Utility Bench does for the same $175. I think the American Barbell bench would be an auto-buy for most folks if it were $25 less or so.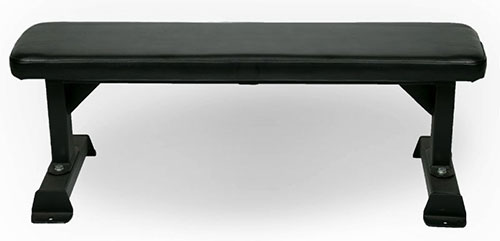 This bench weighs in at 60-pounds. It has a 2½" thick pad that is 48″ long and 12″ wide, and the pad height is pretty standard at 18″. The reviews for the American Barbell Flat Bench are not many, but they are overwhelmingly good. Sadly this is not American-made.
---
---
Rogue Monster Utility Bench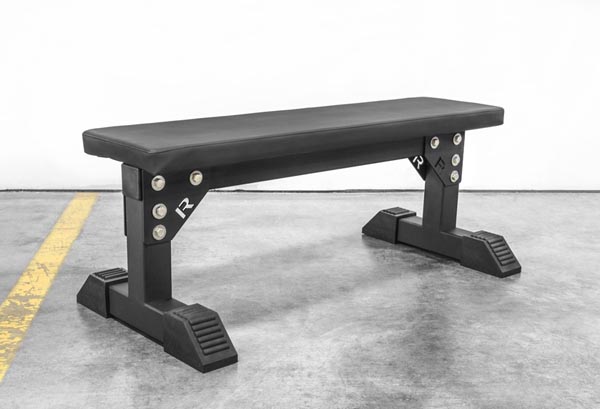 American-made by Rogue Fitness, the Monster Utility Bench is a heavy-duty utility bench made with massive 11-gauge 3″ steel. It has an extra wide 24″ footprint with giant rubber feet which are great for uneven surfaces; ridiculously stable. It is available with the normal 12″x47″ Neoprene pad (found on the Rogue Utility Bench) or the Thompson Fat Pad for $30 more.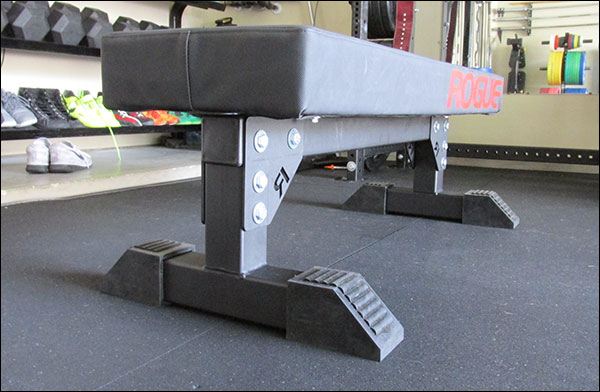 The Thompson Fat Pad is larger at 14½" x 50″, and due to the extra thickness the pad is further off the ground (19¾".) If you're a real big dude or veteran powerlifter, the Monster Bench with the Donnie Fat Pad is absolutely the bench for you. FYI, for about $40 you can customize the height of this bench frame to bring it back to 18″ with the Fat Pad (see above image).
Regardless of which pad you choose for this bad boy, this is one beefy bench, and the last flat bench you'll ever buy. It's $255 for the standard pad and $295 with the Fat Pad (making it the cheapest way by far to acquire a Thompson Fat Pad.)
---
---
Rep FB-5000 Flat Utility Bench for Fat Pads
This is a newer, beefier bench frame from Rep Fitness that I like a lot more than the simple 2″ x 2″ bench from above. This bench has hardware holes that line up perfectly with Rogue benches, which allows you to attach a Thompson Fat Pad or the newer Rogue Competition Bench Pad. The beauty of this frame over say the Rogue Monster Bench is not only that it's less expensive, but it's also sized to account for the extra thickness; or height; of the newer, thicker pads. In other words, you can toss on a Fat Pad and still be under 18″ off the floor.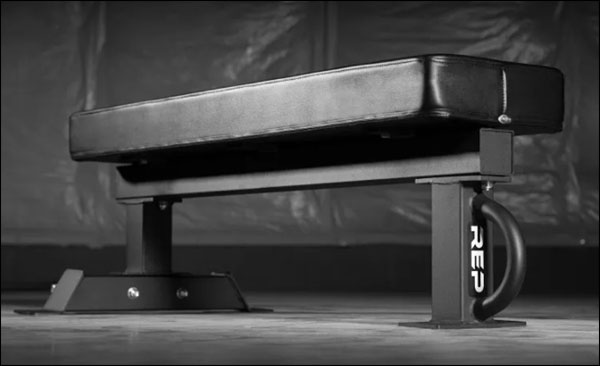 The default included pad for the FB-5000 is 12″ wide, 48″ long, and 17″ from floor to top of pad. This is a great size as is, and if you add the Thomson or Rogue Comp Pad, you're still only 17.5″ off the floor; still within IPF range. Rep Fitness intends to offer a copy-cat version of the Thompson for a $50 up-charge. I don't know how this will compare to the original Fat Pad, but time will tell.
This is definitely one of Rep's best releases, and the price just can't be beat at $119. That's assuming you're not too far from Rep that shipping gets ya though.
---
---
Titan Fitness Flat Utility Bench
The Titan Utility Bench is probably about as cheap as you should allow yourself to get. At $119 it is very inexpensive, but it doesn't feel much different than any other cheap, Chinese bench you can get for half the money in a box store. If budget is a serious concern of yours then you may find this is all you can afford, in which case try to make it work for as long as you have to until you can afford something better; something more supportive/comfortable.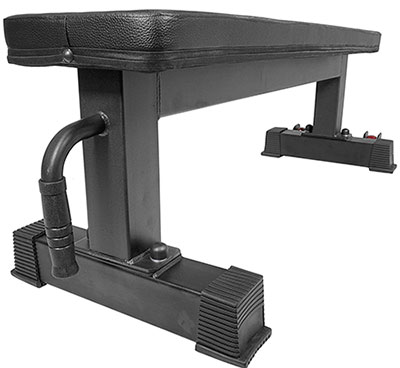 Some common complaints are this bench not sitting level, the vinyl being razor thin, and the pad being much narrower than the 12″ it claims to be. I'm also fairly certain that this bench is made from 14-gauge steel, so that 1000-lb capacity is probably quite optimistic, but even at half that it will be enough for the average bench presses. This is definitely imported – for those of you who try to buy American.
I strongly recommend Rep Fitness over Titan Fitness for those with limited budget. Rep still imports, but their prices are competitive and they tend to design superior products that are more durable and comfortable.
---
---
Legend 3100 Utility Bench
Legend Fitness makes commercial-grade gym equipment, and all Legend equipment is made to order; which means there is a lead time. Waiting sucks, but the upside is that your bench will be any color you want. There are 16 frame color choices, and about 90 upholstery color choices. If you're really hardcore, you can have logos embroidered on the cushions of your Legend Fitness gear.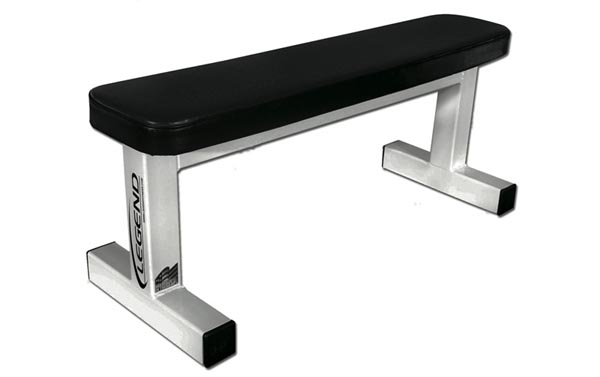 The 3100 Utility Bench is 19″ high, 45″ long, and weighs about 56 lbs. It uses thick, high density foam in the cushion and it is very comfortable (I know!). I think default width is 10″, but 12″ is an optional upgrade. In my experience, the best price on Legend gear is by buying direct from Legend. This bench will run you about $349 before freight (and it will be freight – as in LTL).
Would I recommend commercial equipment for a home or garage gym? Not usually, and certainly not in the case of a simple, flat utility bench. $349 + shipping is a complete waste of money, I'd say.
---
---
Any clear flat bench winners?
I like the Vulcan Utility and Rogue Utility bench the most. Both of these units are strong, stable, supportive, comfortable, and 12″ wide. There are no max loads to be concerned with, and they are both very reasonably priced. After shipping, these two units cost just about the same so it's six of one, half a dozen of the other. However, the Vulcan is 17½" high which is within IPF spec, whereas 18″ is not (that's splitting hairs though).
The Monster Utility Bench with Fat Pad is a personal favorite, but it's not as cost-effective as these other two. I would probably avoid the CFF, York, and Titan bench for the reasons discussed in their respective sections.
---
---
---
Adjustable Incline Benches
Adjustable benches will set you back a little more cash than flat benches, that is assuming you buy one of a reasonably decent quality. Anything under about $200 in the adjustable world is pretty much garbage, and there is a pretty good chance you'll be disappointed in the stability, feel, and available settings of something that cheap.
It's helpful to have an idea of what angles you expect from your incline bench before you pull the trigger on one. My suggestion is to make sure that your bench has at least four or five settings ranging from 0º to about 85º. You won't actually need a full 90º setting as that setting puts your torso in a forward-leaning position; 85º is fine. Also consider the angle of the seat relative to the pad. The closer you get to having a perpendicular seat the better. Benches with seats that are always flat (or close to) it are the worst.
---
York ST Adjustable Incline Bench
This is the adjustable version of the York ST Bench (above). York's ladder system allows you to easily switch between the six different back positions. This bench is made of heavy duty steel with a powder coat finish, has wheels for easy mobility around the gym, and has high-density foam padding just like the flat ST. It is available in white or silver, weighs about 100 pounds, and is 57″ long by 19″ off the ground.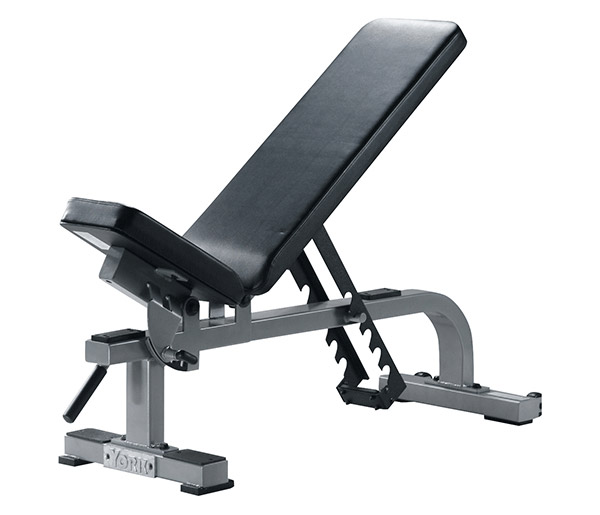 This isn't a bad incline bench for the price. It's nearly-commercial grade for about $399, it has ample position variety, and the seat creates a nice and secure angle with the pad so that you don't slide out or feel like you're sliding out. The handle and wheels are nice, and the gap created between pads isn't excessive.
You used to be able to pick this bench up at Rogue Fitness, but they've switched to only selling the flat variation of the ST. My guess is because they now manufacturer many of their own adjustable benches (many of which are in this guide.) You can still get it at a competitive price at Amazon. They offer the pictured bench in white, and a silver version with an alternate pad shape that I personally think is silly.
---
---
Rep Fitness FID Adjustable Bench
The Rep Fitness FID Bench is a fully adjustable bench. It has an 11-gauge steel frame, an easy to use adjustment ladder, and it sports seven total back pad angles ranging from -20º to +85º. This bench is heavy, strong, and rock-solid. It's also affordable.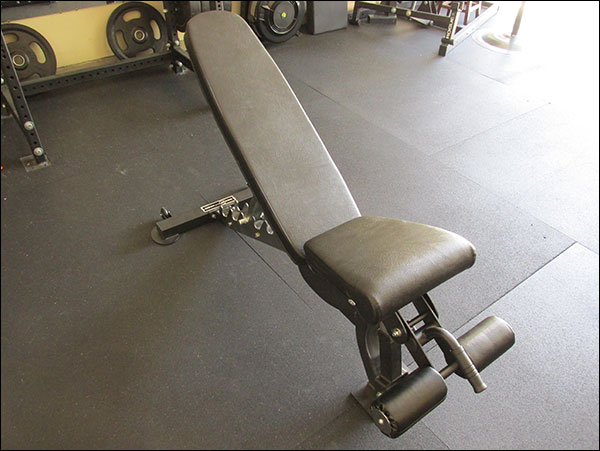 The Rep Adjustable Bench is sort of a jack-of-all-trades, master of none. I mean the price is incredible considering the variety of positions and the use of strong, heavy-gauge steel, but the bench doesn't really excel in the flat or incline positions. It has the typical seat/pad gap, the seat only comes up to about 20º, and there is only one decline setting. It's both versatile and functional, but you have to remember that this is a $300 bench, not $600.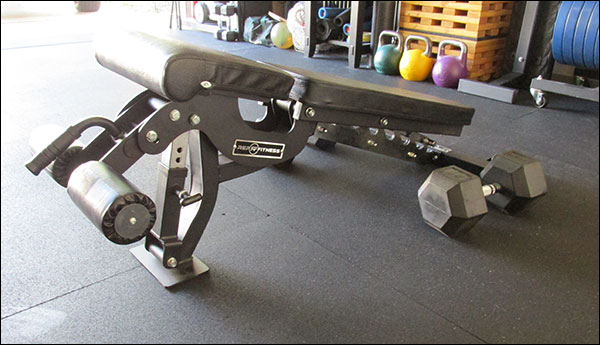 Truth be told I think this bench is a good value, and I don't question its durability (maybe the pads, but not the frame.) The single decline position is at least a good one (-20º), the flat setting is tolerable despite the gap, and it has the proper incline angles. The seat angle is a joke, but it can be made to work. You can spend a lot more and still have at least some of these issues. [full review]
---
---
IronMaster Super Bench
One of the most interesting and versatile adjustable benches on the market has got to be the Ironmaster Super Bench. This bench has the advantage of both a rectangular back pad and removable seat; two features that allow this bench to excel in both incline and flat positions. With the addition of the optional crunch attachment, the bench functions just as well in decline as well.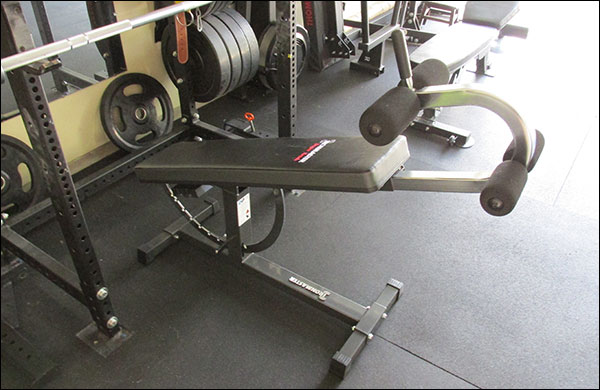 Another thing that makes this bench interesting is the method of adjusting the pad. It's as simple as pushing down on a metal lever with your foot. It's easy to use, sturdy, and out of the way when you're actually on the bench. There are 11 angles available ranging from 0º to 85º, and whether or not you have the crunch attachment or the seat currently installed dictates whether you're in decline or incline. Pretty simple!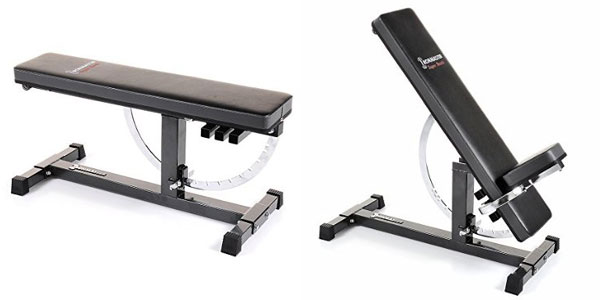 It's not all good news though. IronMaster has deviated from standard bench specs with the Super Bench, and serious bench pressers may want to steer clear because of this. When this bench is flat it sits a whopping 20″ off the ground. That's too high for leg drive unless you're either a monster, or you artificially build up the floor around your feet. Also, the pad itself is only 10″ wide, which doesn't provide enough surface area to dig in the lats and support the shoulders. This is not a powerlifter-friendly bench.
The Super Bench has a footprint of 17″ x 41″, and the pad dimensions are 10″ x 44″. It is rated for 1000-pounds flat and 600-pounds for incline. While not a commercial bench, it does have a good price and a lot of positive reviews on both Amazon and the IronMaster site, so I'd say most people are willing to overlook those shortcomings. $320+ [full review]
---
---
Vulcan Flat to Decline Adjustable Bench
Vulcan's new Flat to Decline Adjustable Bench is a fully commercial incline bench. The frame is made of strong 2″x4″ 11-gauge tube steel, and the adjustment slide is even beefier at ½" thick. The back pad adjusts to seven different positions from flat to 90º (including 85º), and the seat adjusts to five different positions.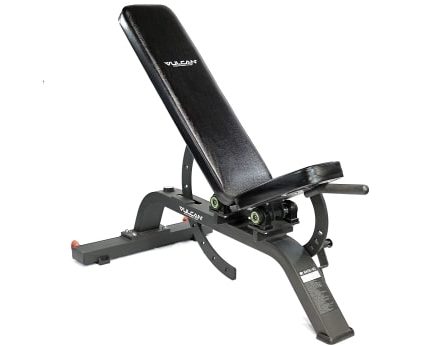 The Vulcan Adjustable Bench is 10″ wide x 54″ long when flat, and sits 17″ high. It weighs 96 pounds and has a handle and wheels for easy mobility around the gym. The Vulcan retails for $649; which is pretty hefty price for an incline bench, but this is one of the best commercial incline designs on the market; better than Legend even. This would definitely be your last incline bench purchase.
---
---
Legend Fitness 3103 Adjustable Bench
I own the Legend Fitness 3103 Bench; had it for going on five years now and I can tell you that it is a beast! The pad is mounted on an 11-gauge 3″ steel frame, and that pad is nearly 3″ thick and extremely firm and comfortable. It has a total of seven back angles and three seat positions. It weighs about 100 pounds and it's measurements when flat are 21″ high and 55″ long. The pad is 10″ wide by default, but it can be ordered with a 12″ pad as well. While amazing as an incline bench, I admit that I don't care for it when flat.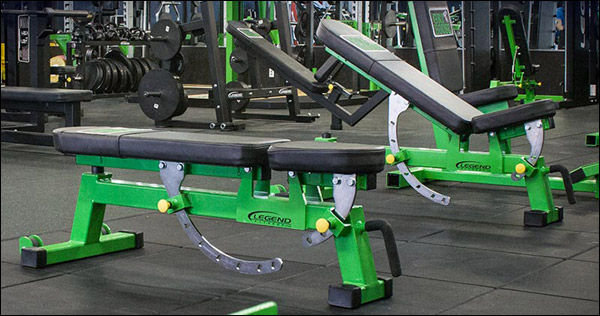 As with all Legend products, there are hundreds of possible color combinations that you can select from when ordering. Unfortunately there is also a lead time since it is made to order. Order directly from Legend for the best price. MSRP is $649, but you'll have to call Legend to get an actual quote.
---
---
Rogue AB-2 Adjustable Bench
The Rogue AB-2 has the most possible seat adjustments with 6 seat positions and 9 back angles that range from flat to 85 degrees. Made with strong 11-gauge steel just like all Rogue benches, the adjustable bench also has a handle and wheels for moving it around (nearly 100 pounds), load-bearing rubber feet, and a thick, firm pad.
The total length is 52″, and the height is 17.25″. This bench is a little too pricey at $815 if you ask me, but it is sturdy as hell. If you like this bench but not the price, see below!
---
---
Rogue Adjustable Bench 2.0
I guess the AB-2 Bench from above wasn't a very good seller considering that $800 price tag, so Rogue introduced the 2.0 at a much, much more affordable price.
The 2.0 doesn't have nearly as many positions as the AB-2, but it still has enough. There are six incline positions ranging from a flat 0° to about 85°, and the seat can be set in two positions; either flat or at an angle for incline positions. Both models have the rubber feet, wheels, and a handle for moving it around the gym.
One of the key benefits of this version other than the lower price is that there is practically no gap between each cushion. Nobody likes the large gaps in incline benches, and that's not a problem with the 2.0. As per usual with Rogue, this bench is made with 2″x3″ 11-gauge steel, and it measures 11.25″ x 17.5″ x 52″. $545
---
---
Any clear incline bench winners?
Ideally you want a commercial incline bench like the Vulcan Adjustable, Legend 3103, etc. These things have all the right positions, the best pads (quality of stitching, comfort, and support), and the strongest frames with no max capacities to ever worry about. The issue is, of course, the price of commercial equipment. Not everyone can afford it, even if they know it's the way to go for the long-term.
If you're on a budget and can't afford a $500+ adjustable bench, at least hook yourself up with something like the Super Bench or the Rep Adjustable. These two cost half as much as commercial, will last for many years, and although they don't have all the same bells and whistles as a commercial unit, they will get the job done. Whatever you do, don't buy some flimsy, rickety, 14-gauge piece of garbage from Wal-Mart or off Amazon.
---
---
Bench Guide Summary
There are a lot of options out there, and a wide range of prices when it comes to weight benches. You can spend less money than any bench that I've discussed here, but I'd think twice about doing so. If you want a stable, reliable, and safe bench under you, and you don't want to buy new benches every few years of your life, invest a little now and be done with it.
If you have experience with any of these benches that you'd like to share; either good or bad, please do. Or if you have had a great experience with a bench not covered here, bring that up as well. Leave a comment below. Thanks for reading, and please share this site with a friend (seriously).
---
---