I absolutely love the Ohio Powerlifting line; both the Ohio Power Bars and the Ohio Deadlift Bar. I have both of these beasts in raw, unfinished steel, and both of them are on my 'never sell these bars' list. The natural feeling of the raw steel combined with the deep, aggressive knurl makes for two incredible training implements, and that's before even considering how well they are priced.

That said, I am still a huge fan of stainless steel bars; especially stainless steel power bars. All the natural, grippy goodness of a raw steel without the upkeep and maintenance; it's a beautiful thing. Matter of fact, I typically favor my American Barbell stainless steel power bar over the raw steel Ohio Power Bar simply because I do not have to take a brush and an oily rag to it after I use it.
Enter the Stainless Steel Ohio Power Bar; a rust-free version of the most brilliantly knurled and reasonably priced power bar on the market. It has the same natural grip and hardcore power bar feel of the bare steel OPB, but now it's maintenance-free. Sure this adaptation of the Ohio Power Bar isn't the most affordable true power bar on the market like the raw steel version is, but Rogue still managed to undercut the competition.
---
---
Stainless Steel Ohio Power Bar Specifications
It should come as no surprise that the specs for the SS OPB are the same as they are for the existing 45-pound variants of the OPB. This is effectively just a new finish option. While normally I wouldn't bother reviewing a bar for a new finish, there was no way I wasn't going to buy this version of the Ohio Power Bar, so I may as well get a current review up, right?
45-lb men's powerlifting bar
shaft material: stainless steel
sleeve finish: chrome
shaft diameter: 29 mm
tensile strength rating: 205,000 PSI
knurl: very aggressive w/ IPF markings
center knurl: yes, and not passive
rotation: cast bronze bushings
whip: none; very rigid
loadable sleeve length: 16.25″
sleeve assembly: snap-rings
made in Columbus, Ohio USA
price: $395 + shipping
The bare steel Ohio Power Bar for $250 and the black/bright zinc Ohio Power Bar for $275 are both still available options, as is the IPF-certified 20 kg variant for $325.
---
---
Stainless Steel Ohio Power Bar Review
This is going to be a shorter review than normal, as I have already reviewed this bar twice; once with the bare steel Ohio Power Bar, and then again with the bare steel Ohio Deadlift Bar (which doesn't differ all that much in terms of feel.) I suggest reading those if you're on the fence in general about any of these Ohio Power Bar products.
---
Stainless Steel OPB Shaft
Well stainless steel is obviously a different material, but the shaft is rated at the same 205k PSI tensile strength as the steel versions. It has the same 29 mm diameter, same distance between the sleeves, and it's just as stiff. It's effectively the same bar as the bare steel Ohio Power Bar, only for the $145 price increase you get the uber feel without the rust.
---
Stainless Steel OPB Knurl
The knurling is also the exact same as all other Ohio Power Bar variants, which is exactly what you should want to hear because the knurl on the Ohio Power Bars is perfect; at least for the average powerlifter who is conditioned to the standard, aggressive powerlifting knurl. For moderately knurled stainless steel power bars we have access to the American Barbell Elite, so Rogue definitely didn't need to follow suit with another moderately knurled SS bar.

If you've never lifted with anything but the basic, multi-purpose WOD bars with their milder knurling, you might actually consider the American Barbell Elite Power Bar. However, if you like that deep, sharp knurl that sticks to the hands like glue, the SS OPB is for you.
---
Stainless Steel OPB Sleeve Assembly
Nothing has changed here either save for adding the chrome finish. The sleeves still have a 16.25″ loadable length, they rotate on a pair of cast bronze bushings, and the sleeve is held together with snap-rings. All very standard stuff for a powerlifting bar.
---
Bare Steel versus Stainless Steel – Price
When I announced the release of the Stainless Steel Ohio Power Bar on this site there was immediately some discussion about why it would cost $395 instead of $350 (the price of the normal SS Ohio Bar.) I don't know the answer to this as a matter of fact, but I am assuming that it has to do with a) the fact that the SS Ohio Power Bar is rated at 205,000 PSI tensile strength while the regular SS Ohio Bar is rated at only 195,000 PSI, and also b) this harder version of stainless steel is more costly to knurl.
It's true that knurling super hard bars destroys the special knurling tool much quicker, and in the case of the Ohio Power Bars that knurl is close to twice as deep as it is on the SS Ohio Bar, making it even more destructive to the tool. In other words, the bigger price difference likely has everything to do with the extra tensile strength of the shaft.
---
Rogue SS Ohio Power Bar vs AB SS Elite Power Bar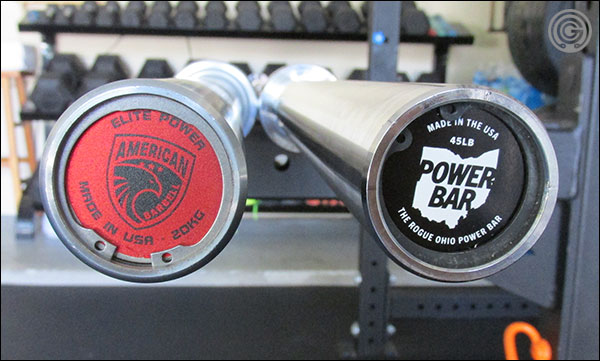 I tackled this question in my review of the Elite a week or so ago, but now that I have both of these bad boys in front of me I want to revisit it.
Both of these stainless steel power bars share the same general specifications being that they are both built to IPF specifications; 29 mm shafts, 50 mm sleeves, no whip, a center knurl, bushings, and so on. They both have stainless shafts and chrome sleeves, and both are even American-made. Lots of similarities.
They are also a little bit different. The Elite Power Bar has a lower tensile strength shaft at 190k PSI and a less aggressive knurling than the Ohio Power Bar, but it does feature high-load composite bushings instead of cast bronze bushings, a durable industrial hard chrome finish on the sleeves that will wear better than the Ohio sleeves, and a slightly tighter sleeve assembly that makes almost no noise when dropped or racked.
All that said, the Ohio Power Bar has more classic powerlifting-style knurling, the shaft did remain more rigid at heavier loads in my testing, and it has a slightly lower price.
I maintain the belief that both of these bars have their place. The Ohio Power Bar fills that typical power bar mold, while the Elite fills a void in the power bar market by offering a less abrasive knurl option for those who either cannot handle sharp bars, or simply don't want it. It's also worth noting that the Ohio Power Bar has the same knurl depth on the center as it does on the rest of the bar, whereas the Elite has a passive center knurl.
Power cleans, anyone?
Either way you go, you're getting a stainless steel powerlifting bar; a premium barbell with a fantastic grip regardless of knurl depth. A bar that won't rust unless you toss it in the Gulf of Mexico or take a steel grinder to it in a hurricane. A bar that arrives beautiful and stays that way year after year. Both of these bars will last forever.
---
Rogue Stainless Steel Ohio Power Bar – Review Summary
I have literally no issues with the SS Ohio Power Bar. Just like the standard SS Ohio Bar it offers performance, durability, and a superior feel, and all at a great value compared to the competition.
I believe that between the raw steel, stainless steel, and the IPF-approved Ohio Power Bar that this line of bars will ultimately become the most popular and common power bar line in America. You'll see it at more IPF meets, in your friends' garage gyms, and even in global & commercial gyms. Hell even the Ohio Deadlift Bar is becoming fairly commonplace.
Are there nicer power bars available? Of course there are, but feature for feature you just cannot beat OPB prices. In other words, you can spend more to get more, but you cannot spend less to get more.