I do not have to tell most of you garage gym and CrossFit affiliate & gym owners where to get durable rubber flooring for not a lot of cash. That's right, horse stall mats! Stall mats are easily your most affordable option for gym flooring; flooring that you'll never have to replace or service, mind you.
At $1.66 a square foot, stall mats are a steal. They're ¾" thick, super dense, laser cut, and sold in 4'x6′ sheets for only $40 each (Tractor Supply Co.). They are also relatively easy to acquire in person being that you are usually not very far from a TSC in this country – which means no shipping. You do not want to pay for shipping on these at 100 pounds per mat.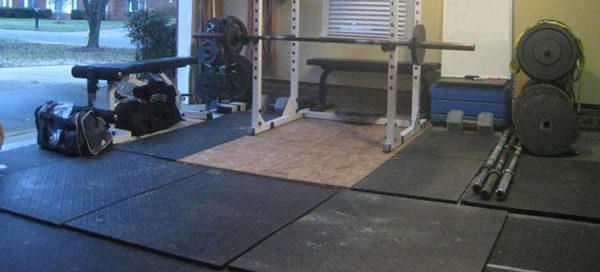 You've got two options when you get home with your new mats. You can throw them down where you want them and be done with it (like in the image above) or you can find a way to secure them to the foundation. Either way, you've got cheap, durable flooring. However; as many of you already know; if you do not secure them somehow you will spend a lot of time kicking and nudging them back into position. They will slip and slide around each time you perform any movement that ends with you or that loaded bar forcefully landing on the mats; snatching, power cleans, jumping, and so forth.
I am OCD when it comes to things like this, so I wasn't having that sliding around business. In this article I'll show you how I secured my mats to prevent any movement whatsoever. I'll also offer a couple alternatives to what I've done. Finally, I'll show you which method I use to cut my mats to fit the spaces and gaps left by my poor initial planning.
Keep in mind, if you've got enough heavy equipment sitting on enough mats, things won't move around nearly as much; maybe not at all. You can also cover the entire garage wall-to-wall with mats, in which case you'll only need to make cuts so that the final pieces will fit, not anchor anything down. Of course, you can also just build a platform (or buy one).
In other words, you do have options. Make sure you actually need to drill holes (and can, if you're renting!) in your floor before you actually do.
---
How to stop stall mats from sliding around
I'll be adding these two 4'x6′ stall mats that you see below. The width of my workout space is actually closer to 13 feet and these two mats only cover 12 feet, so there will be a 1-foot gap between the rear mat and the wall that I'll want to fill. I'll cut and use that spare piece off to the side there to fill that gap so it will look a bit more professional and uniform.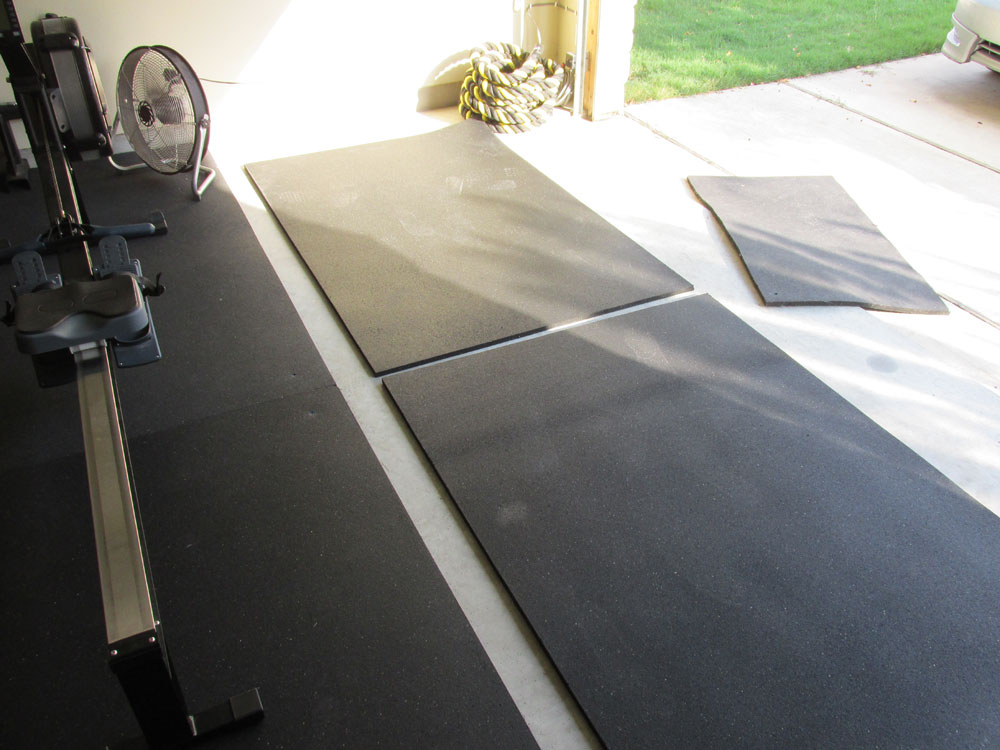 Let me first show you what exactly it is that I'll be doing to keep these mats in place so you can decide if it could be a solution for your gym. If not, and you just want to know how I cut my mats, just go further down the page and skip all this.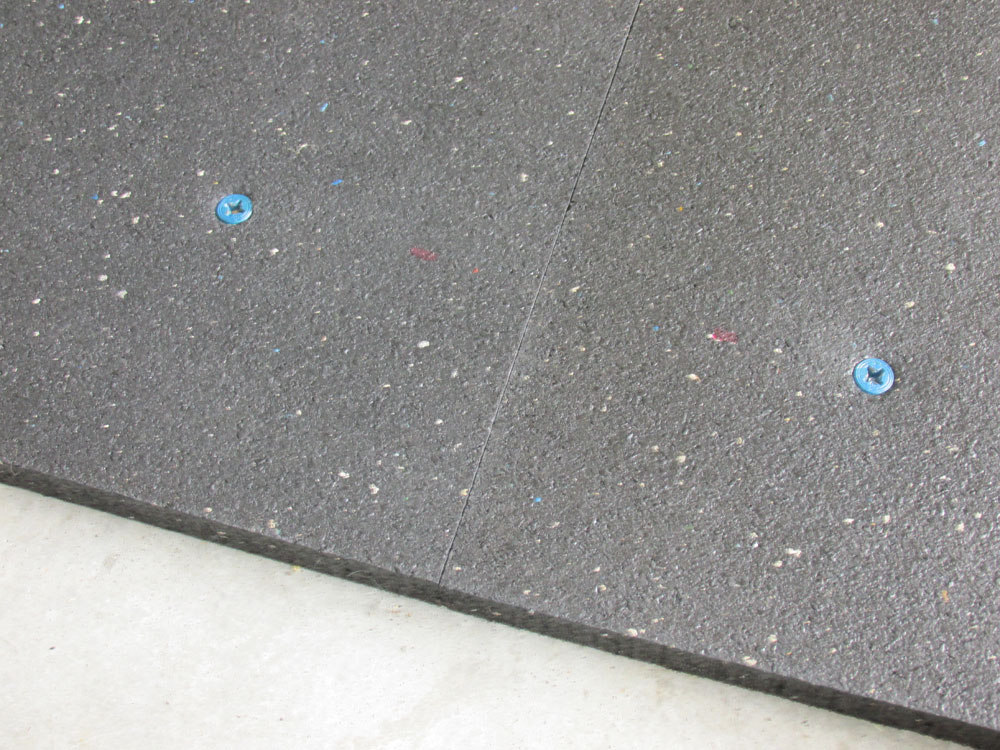 What you see here is two stall mats side-by-side, nice and flush. The blue screws are ¼" Tapcon concrete anchors inside small metal, zinc-plated sleeves, or spacers. The anchors combined with many mats up against one another completely eliminate any sliding and/or shifting of the mats. The picture below show the sleeve and the anchor.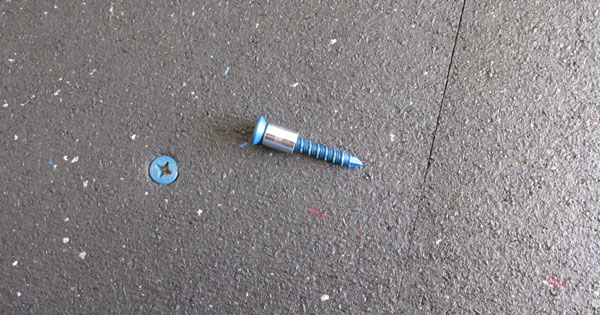 I only use anchors on the outer edge of my total workout space, and I don't use them when a mat is touching a wall. I also don't have any of these small anchors in the two mats that sit beneath my power rack because the power rack acts as a wall of sorts (see the image below.) Those mats already aren't going anywhere.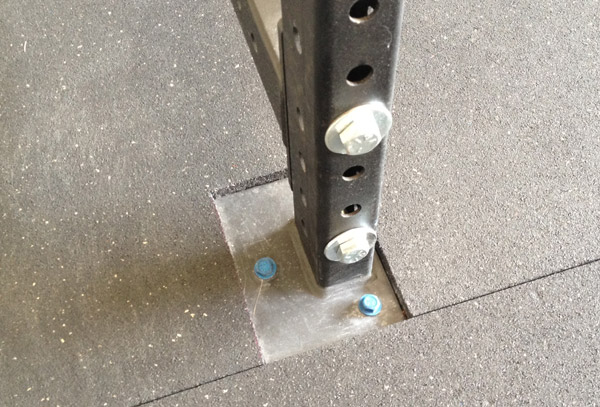 So that's what I'm doing; using small anchors to keep my flooring in place. No more kicking 100-lb mats back into position between sets, and no more dirt, dust, and crap that blows in from outside collecting in between the mat. It looks nice, stays cleaner, and looks far more professional than just letting them go where even they want to go.
If you're wondering what the steel sleeves are for, they are used for a few very important reasons:
They prevent contact between the rubber mat and the anchors. Why? They're screws, so they're sharp. Given enough time, these two rubbing together would probably start to shred the mat and begin to allow movement; defeating the whole purpose.
The sleeves are larger in diameter than the screws, and also smoother. This creates a much more ideal surface for the mat to be permanently pressed against. The larger and smoother the hardware, the less likely the mat is to tear and rip if a strong lateral force is applied to the mat (a bad barbell drop, jumping, etc.)
The sleeve actually prevents you from over tightening the anchor and tearing too deep into the mat. If you were to inadvertently tighten the anchor to the point that it was half way through the mat, you would have 50% less surface area to keep that mat in place. Also, with so little rubber under the head of the anchor, you'd probably eventually pull it all the way through and end up with the mat sitting on top of the anchor.
The screw head itself is a hair under ¼" tall. The sleeve I used is ½" tall, and the stall mats are exactly ¾" high (thick). When the sleeve is wedged into the mat it goes all the way in to the floor and leaves ¼" for the head of the anchor. The anchor cannot be screwed in any lower than just flush with the top of the mat, and you get all the benefits I outlined above.
---
Let's secure some stall mats!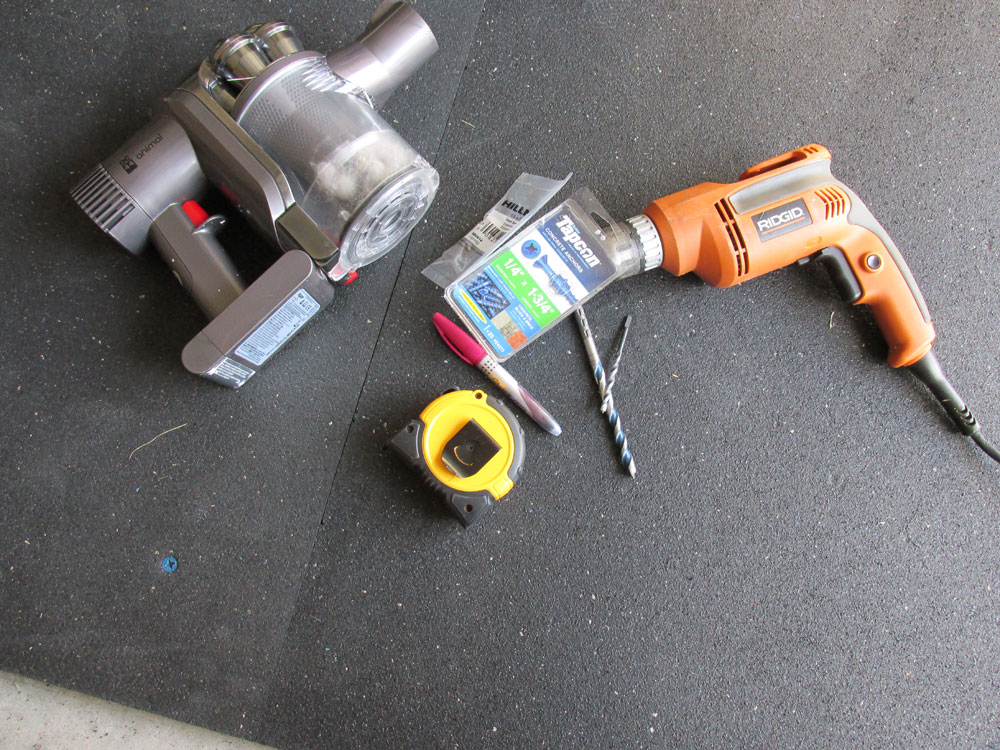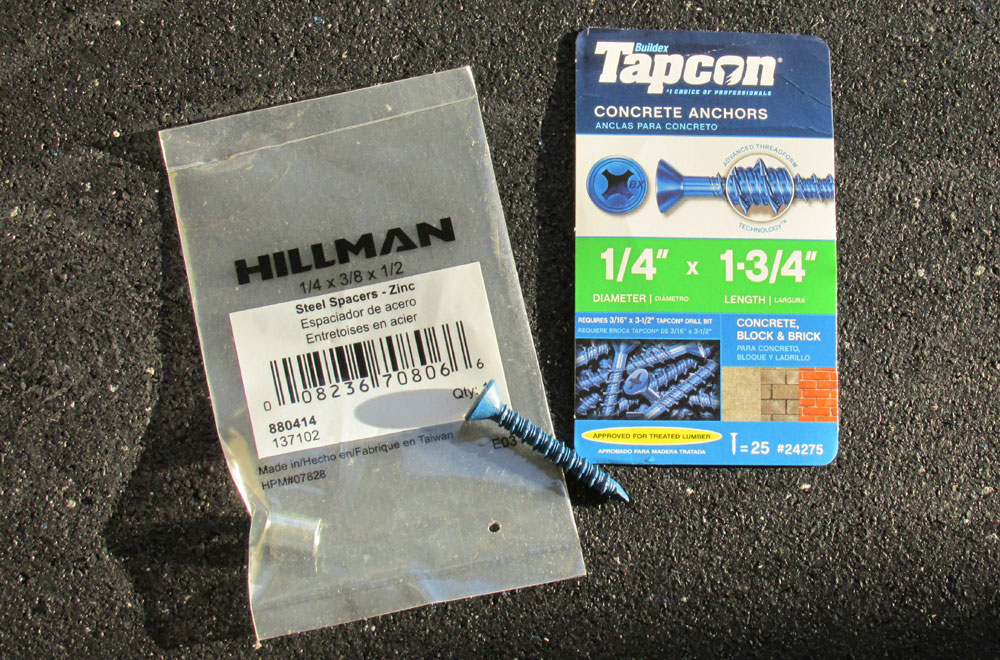 So you can see above (first pic above) that I have the stall mats lined up. You can see the new mat on the right and the existing mat that already has been anchored on the left.
Let me make something clear before I continue. I am not a professional installation guy or expert in home foundations. If you follow this guide and attempt this installation, you do so at your own risk. It worked for me, but I thought about it, asked questions at the hardware store, and took my time. There are other option, like here.
Here are the tools and hardware that I used. Yes, my medieval drill has a cord.
Drill (yes, a regular drill can handle concrete)
3/16″ x 3½" Tapcon drill bit
Measuring tape (for uniform holes among mats)
Sharpee or whatever to mark your hole, probably not black
Vacuum (must remove debris from hole)
1/4″ x 3/8″ x 1/2″ steel spacers (Lowes)
Tapcon ¼" x 1¾" Concrete Anchors
3/8″ drill bit (any variety, it's for the rubber)
I also apparently have a hair in my tool pile. I didn't need it.
Step 1 – Line up the Stall Mats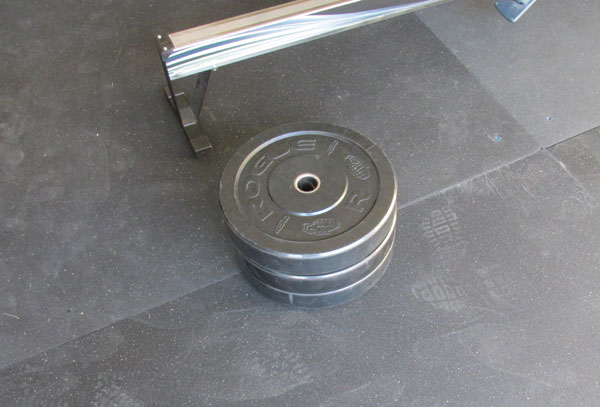 So step one is obviously line everything up how you want it and gather your hardware and tools. I personally throw a few hundred pounds of bumpers on the mats in different places to help eliminate any chance of them shifting while working with them. It seems to help but always double check that your mat is where you want it before you drill.
Step 2 – Mark and Drill
Mark where you intend to place the anchors on the mat itself. I centered mine 4″ from each edge on the corners, but that's just how I did it. You can do it however you want.
Let me repeat so you don't drill 80 holes in your foundation. You only need anchors on the outside edges. Mats that are surrounded by other mats and/or up against walls don't really need to be anchored; they've got no where to go and rubber horse stall mats are too heavy to move around vertically.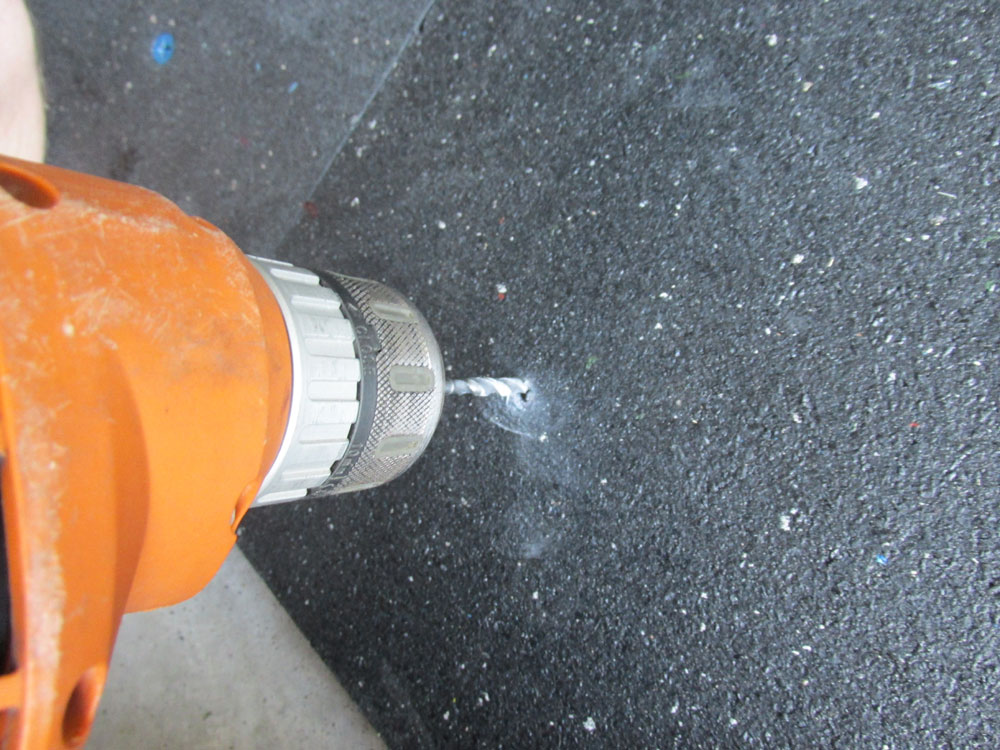 Once you decide where to drill, use the 3/16″ Tapcon bit to drill through the mat and into the concrete just enough to mark the concrete with the bit.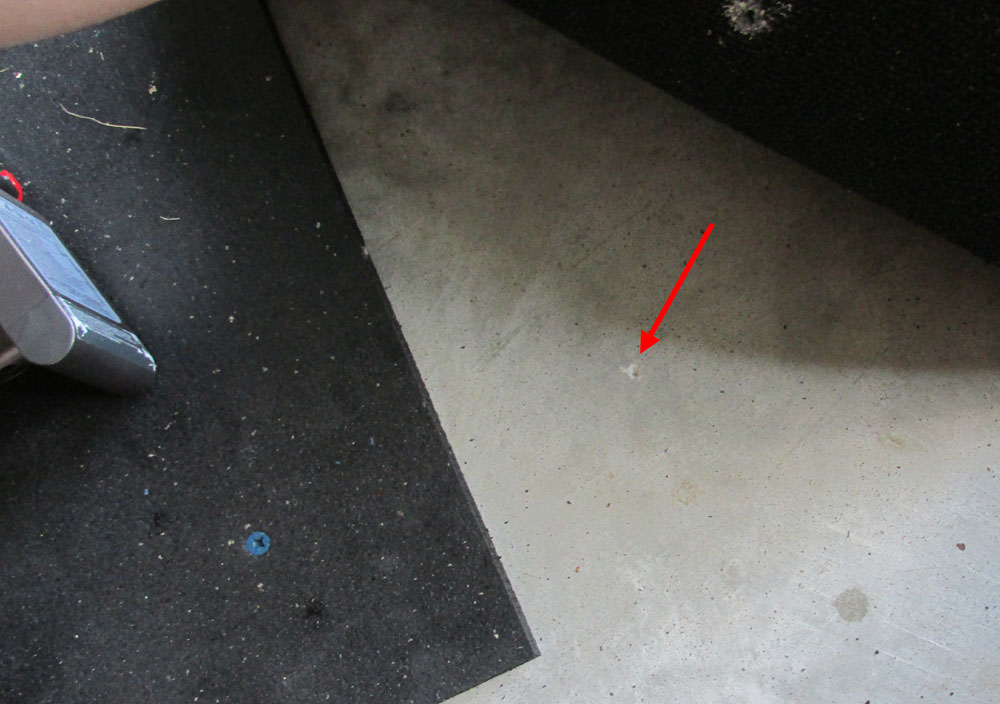 You see I barely scratched up the concrete with my first go through the mat. Once I have a mark, I hold up that corner of the mat so that I can see what I'm doing; I want to drill straight down, not at an angle. Even the slightest angle will make the head of the anchor not look flush with the mats (It's on OCD thing, and a tripping hazard).
You also need to be cleaning out the debris with your vacuum as you drill, and then again thoroughly when you're done drilling. Try not to drill any further than you need to; as there really is no point. Having said that, you need to make sure you get all of the debris out of the hole or you'll have issues getting the anchor all the way in and you'll have to take it back out. Each time you take out an anchor, you weaken the holding power of that hole.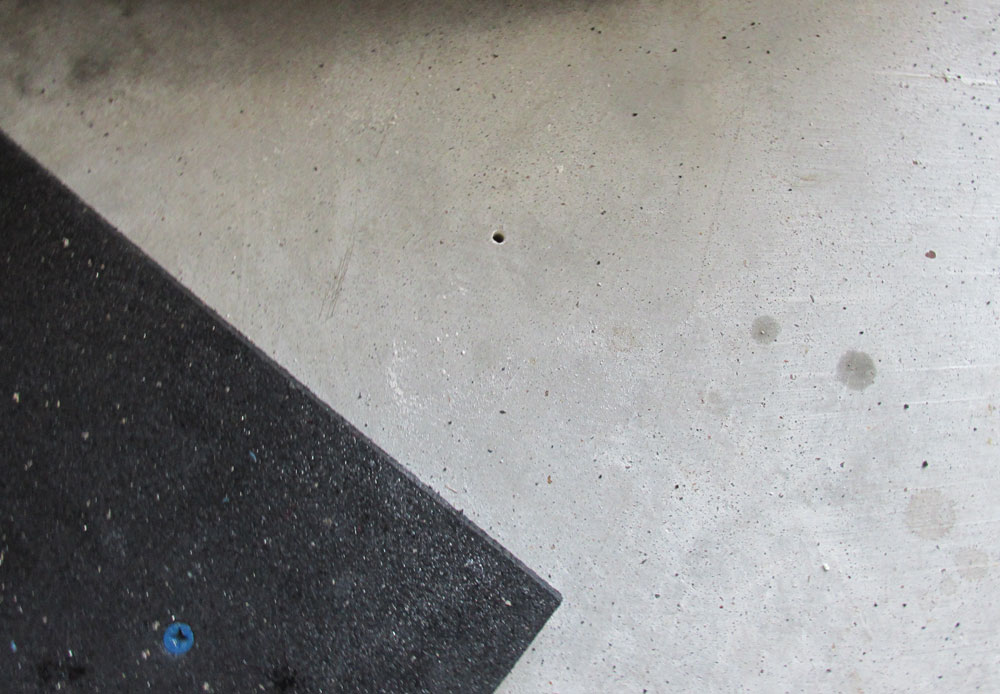 There's the hole. Tiny little thing, right?
Step 3 – Drill the Mat and Secure
Now that you've got the hole in the concrete, you need to make a bigger hole in the mat for the metal sleeve. I used a 3/8″ bit because it leaves a hole big enough to force the sleeve into, but not so big it's a loose fit.
Before you drill into the mat, make sure the small pilot hole that's already in the mat is still directly above the hole in the floor. In other words, double check that nothing shifted. You can do this by sticking the drill bit in there, or if your hole is close enough to the edge of the mat just pick it up a few inches and look through the hole.
If it's off a little, this is your only chance to line everything back up again because you can drill the large hole in the mat anywhere you choose over this existing hole. What I'm trying to say is that if the hole in the mat is off a hair from the hold in the floor, center the big hole over the hole in the floor, not the hole in the mat. Unless you let that mat move while drilling the first hole, there is no way you can be that far off. It shouldn't be a problem.
Once you drill your large hole, insert the metal sleeve into that hole and push it down until it hits the floor. The picture below is to show you, however as you'll notice I hadn't pushed it down all the way yet.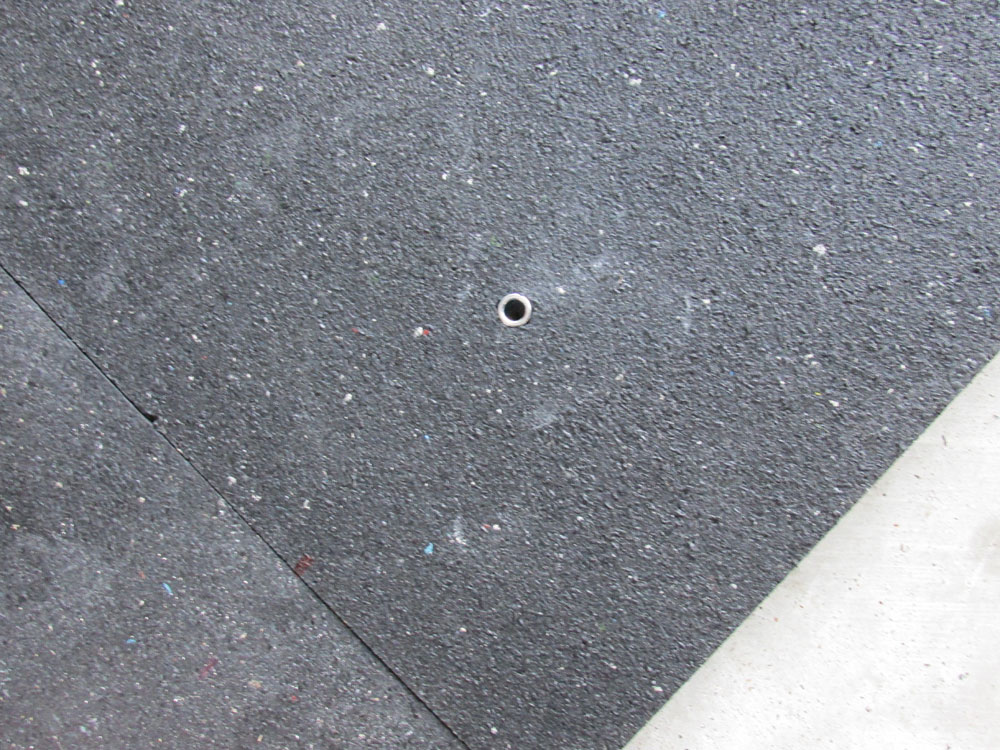 Now all that's left to do is tighten down the anchor screw. I suggest you do it by hand. Make sure you're using the right size Philips head driver. If you use the drill and you either didn't drill your hole deep enough or you didn't clean the hole well enough, that anchor will just stop and you'll strip the hell out of it. They're short screws, just turn it by hand. Resist the urge to be lazy and use the drill. Get some wrist exercise for this part.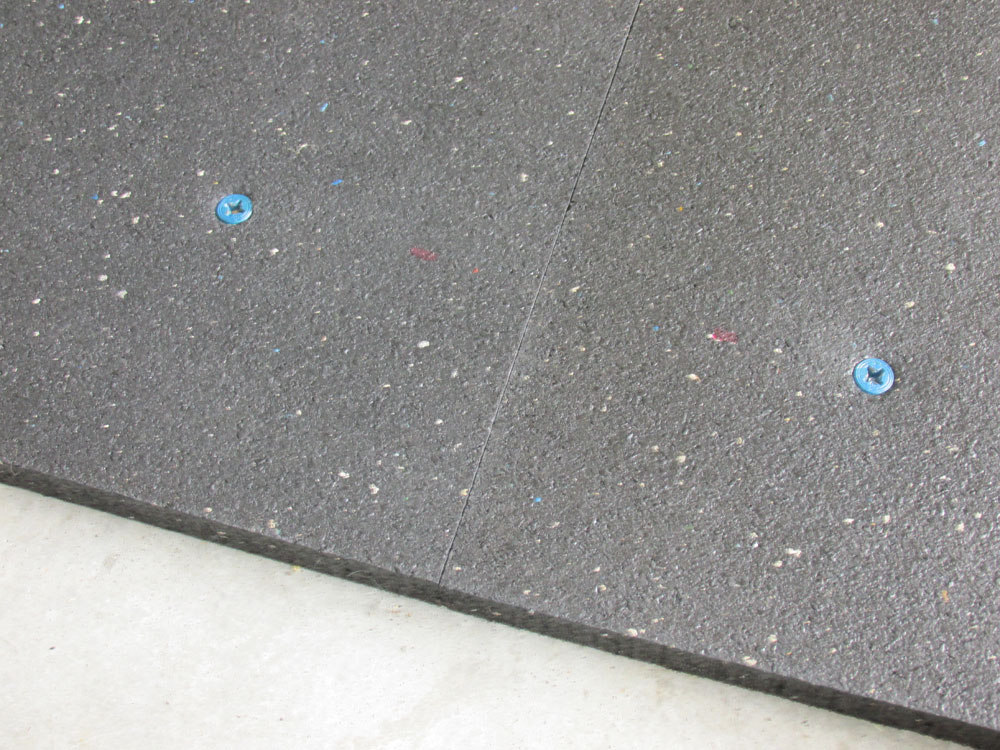 That's what it should look like when you're done. The mats won't move, you won't trip over the anchors, and your garage gym should look pretty damn professional right about now. If you ever move and want to fill the holes, Home Depot sells filler for concrete holes, and it's easier to fill 'em than it was to drill 'em (I didn't plan the rhyme.)
---
Alternative Method I
There is an alternative method, but it still requires holes in the foundation. That is to pick up some 1″ runner boards/trim boards (they are actually ¾"; lumber sizes are stupid) and then frame the entire area of your stall mats with these boards; much like a deadlift platform. If your mats come in contact with a wall and/or that elevated ledge that most garages have, well you wouldn't need anything for those sides.
Like I said, you'll still need to anchor those boards somehow. I see no reason not to use the same anchors that I used, but since I didn't go this route, maybe explain your project at the hardware store and see what they suggest.
---
Alternative Method II
There are rubber stall mats available online that are manufactured a little different than the completely flat bottomed mats you find at TSC. They have grooves cut into the underside for the purpose of adhering the mats to the ground using a commercial urethane flooring adhesive.
I know absolutely nothing about this process. I just wanted you to know it existed. You will need to put your Google skills to work if this interests you as I have no intention of tackling this method.
---
Cutting Stall Mats for Custom Fits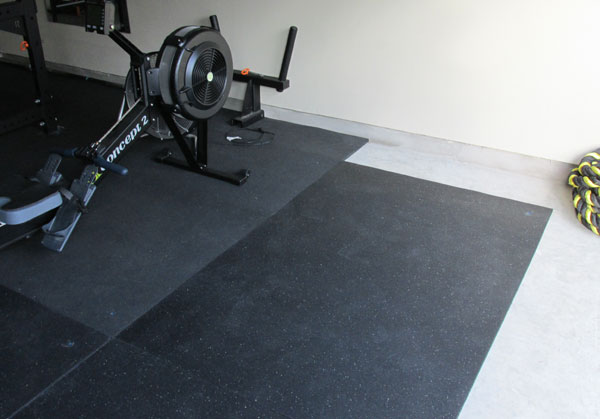 I mentioned earlier that when I got those two new mats secured that I'd still have a small section in between the mats and the wall that would need to be filled, and you can clearly see that space in the image above. Fortunately I have a scrap mat that I can cut up to fill this gap, and I'll show you how I do it.
The first obvious step is to measure the dimensions of the space you need to fill. I measure the distance from the mat to the wall on both sides of the mat because there is a chance they will differ slightly (stall mats are generally cut pretty well, but line enough of them up and small imperfections become larger imperfections). Once I get both measurements, I mark each side of the mat that I'll be cutting and then use a long level and marker to draw a line from one point to the other. This will be my cutting guide.
Interestingly enough, in my situation it turned out that the distance from the mat to the wall on the left side was 3/8″ greater than the distance on the right side. So had I just taken one measurement somewhere, the cut piece wouldn't have ended up fitting very well, if at all.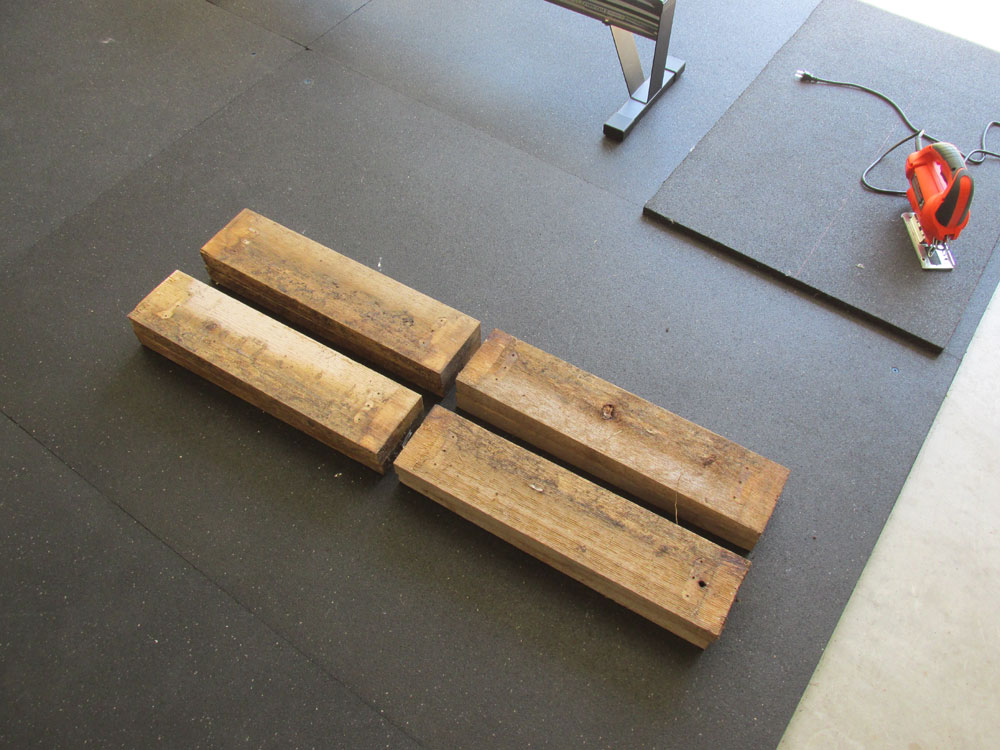 Cutting mats is just like cutting wood other than the obvious fact that mats are flexible and slightly more difficult to work with (not to mention they weigh a ton). For cutting mats, I use a cheap $40 jigsaw. Since a mat can't support itself on sawhorses like a piece of plywood can, I take some old 2″x6″ boards, stack them 2 high and create a platform with a small gap in the middle for the jigsaw blade to travel.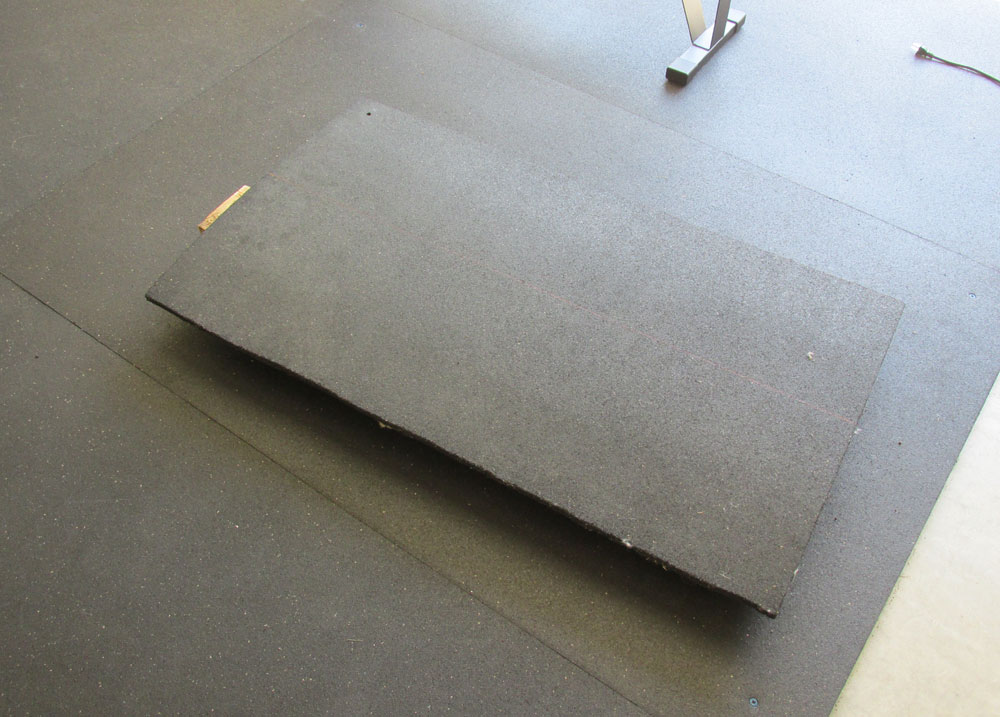 I've lined up my line (it's pretty hard to see in this picture, sorry) so that it travels along with the gap between my boards. The boards are close enough together than I have a nice, flat surface to cut with no play in the mats. This becomes more complicated and cumbersome when you're cutting a full size 4'x6′ mat, but as you can see, I've already dealt with that and am now down to this nice, workable size.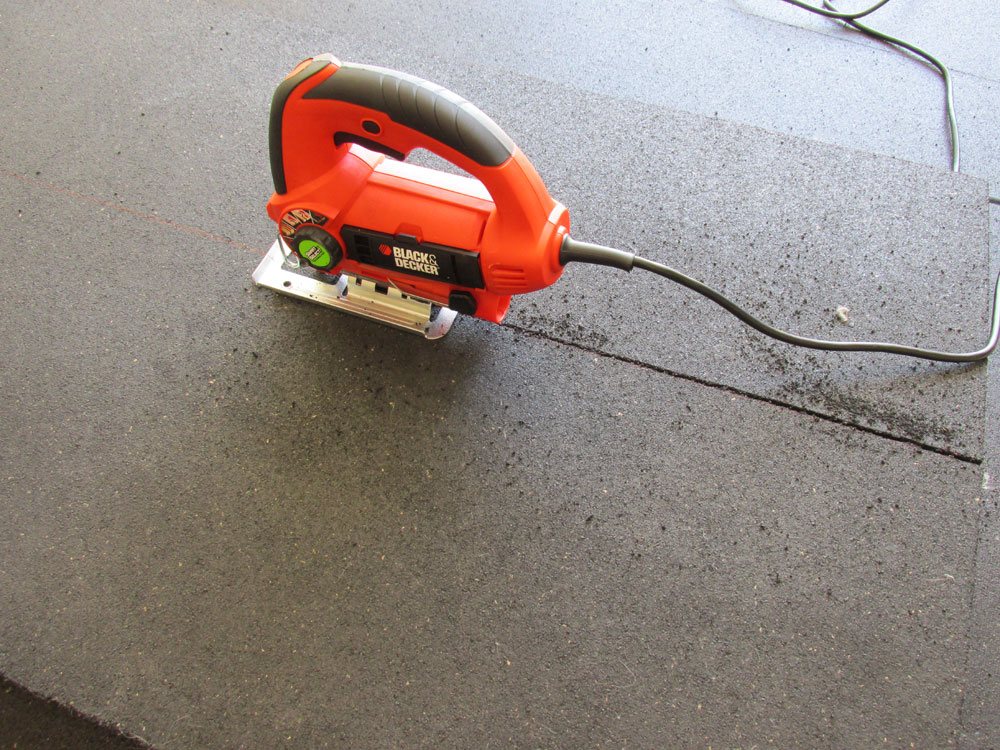 It's cut time. I've learned to take my time when doing this. Jigsaws have no problem making subtle or even sharp turns; especially when cutting something soft like these rubber mats. If you're OCD like me, I promise that your eye will catch even slight curves in your cut once you throw that mat down on the ground, so take it slow and steady. Thankfully, you can see that the line is straight and it should fit very nicely against the laser-cut edge of the full-size mat it will be up against.
Some thoughts…
If you have a large enough table saw and a friend to help you hold the mat, I can see how that could be a faster way to make very straight cuts in these mats. I don't have either =( Nah just kidding, but I don't have a table saw though.
Some people even use utility knives to cut stall mats, and I've even started doing that lately. You need a real utility knife though – something with a very sharp blade. Cheap box cutters aren't up to the task. I find the easiest way to cut long, straight lines is to use painters tape to mark your cut and track down the edge of that tape slowly on the first pass. Subsequent passes will cut deeper, and with less guidance.
---
The Finished Product
Boom! There's my cut piece. Perfect fit!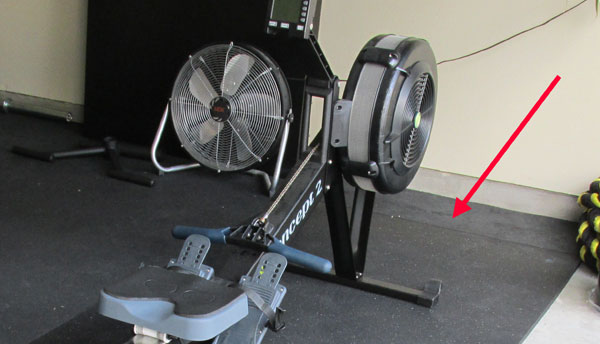 Here's a wider shot of my gym with the flooring finished and secured. The stall mats cannot go anywhere anymore. No more kicking!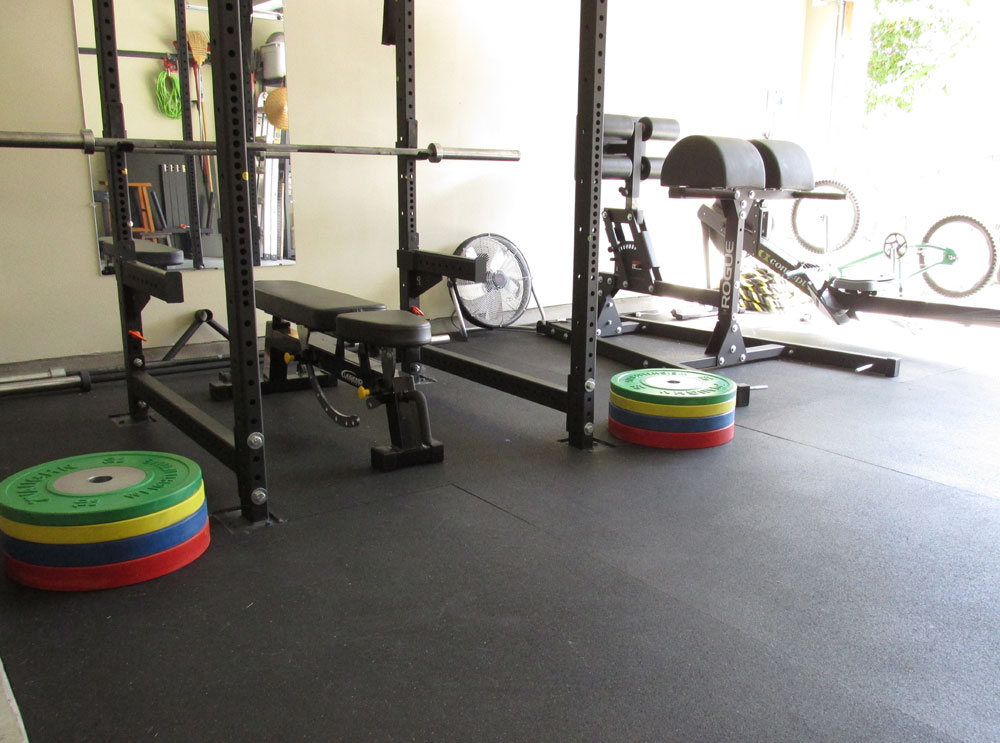 So yeah, there you go. I hope this has been helpful to at least someone. I also hope I didn't leave anything out! But hey, use the comments for questions. Share me please and thank you.
---