This is a full review of the Elite Power Bar by American Barbell. This bar is one of only two semi-affordable, IPF-spec, stainless steel power bars currently on the market. In this review I will not only cover the specifications and features of the Elite, I will also compare it to that other semi-affordable, IPF-spec, stainless steel power bar.
The Elite is a mid-range bar in terms of specifications, but as most of you already know the use of stainless steel does have quite an impact on overall cost; making it significantly more expensive than a finished steel bar with the same specs. That said, I'm still quite the big fan of stainless steel shafts, and I think that will be evident as you read this review (and this site in general). They feel better in the hands than any finished bar, and they also age better.
About the only time I think stainless is a bad idea is if purchasing it would put you in a tight spot financially, or if you're an absolute newcomer to barbell training. For more experienced lifters I think that stainless is a luxury worthy of consideration. If that's you, then read on.
---
---
Elite Power Bar Specifications

20 kg powerlifting bar
built to IPF specs
shaft diameter: 29 mm
sleeve diameter: 50 mm
knurling: moderate
center knurl: yes
shaft material: stainless steel
tensile strength rating: 190k PSI
whip: minimal
sleeve finish: industrial (hard) chrome
rotation: composite bushings
origin: USA
warranty: limited lifetime
price: $450
---
---
Elite Power Bar Shaft

The Elite Power Bar has a shaft made from precision-grade stainless steel with a minimum tensile strength rating of 190,000 PSI. While not an overly high rating by today's power bar standards, the premium grade of the stainless steel combined with the 29 mm diameter of the shaft makes for an acceptably rigid barbell.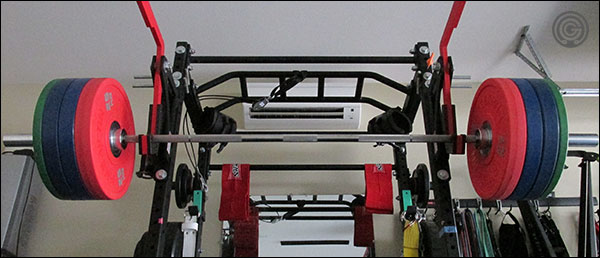 As I touched on in the intro, stainless steel is still considered a premium material for a bar. It has a very natural, grippy feel to it that's rivaled only by raw alloy steel, but unlike raw steel it offers almost total oxidation protection. Stainless requires practically no maintenance, can be cleaned quickly and easily without any risk of damaging the bar, and it will last and look good for a lifetime.
The only drawback to stainless steel gear is pricing. Stainless is not only a more expensive material to use, but also more expensive to work and machine (knurl). Prices are lower than they were a few years ago though, thanks to more competition.
---
---
Elite Power Bar Knurling
It'll probably come as little surprise to most of you that the knurl depth is pretty shallow; very moderate. I am fairly certain at this point that all AB bars have the exact same knurling. The consistency is nice (in a sense) but it's not ideal when you offer multiple bar types. Olympic WL bars, powerlifting bars, and WOD bars benefit from different types of knurling. But alas!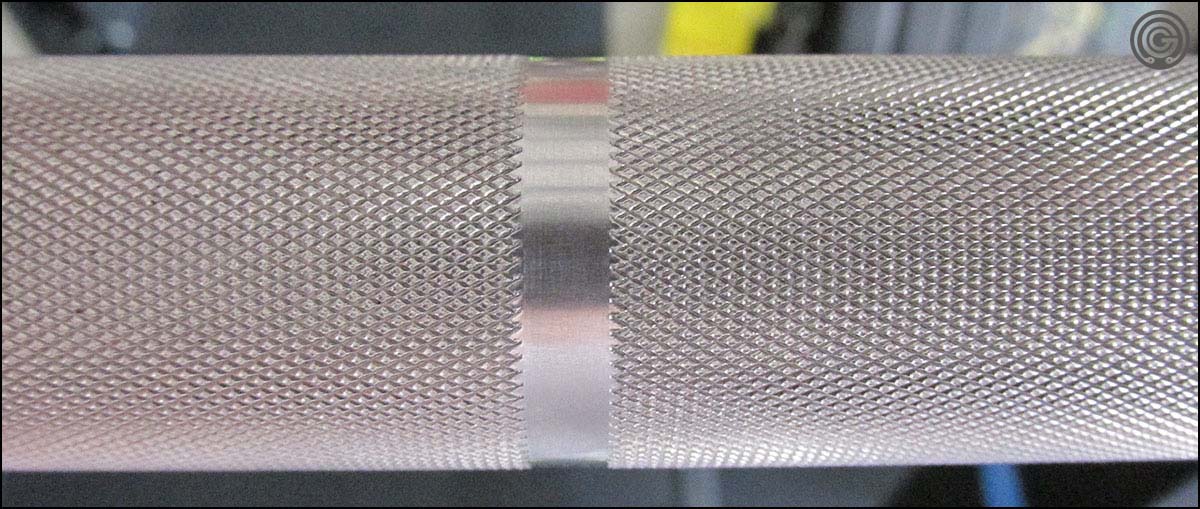 This is a stainless steel bar so luckily the knurling depth is less crucial than it is with coated bars. Overall grip quality is superb while remaining extremely comfortable for longer sets. I don't see any disadvantages of the moderate knurl when it comes to bench press or squat, but I think it's merely acceptable for the deadlift (not at all bad, just not perfect.)
The Elite is great for those who just don't want a razor sharp bar, but who still put up or are on track to put up some decent numbers. It's also a good choice for less experienced lifters who may just not be ready for full-on aggressiveness. It's actually perfect that the Elite is an option in the power bar market since most other high-end power bars are quite aggressive, and there are those folks who just don't want or need that regardless of what's "typical".
---
---
Elite Power Bar Sleeves
Each sleeve of the Elite Power Bar rotates on two high-load, composite bushings. American Barbell uses industrial, premium bushings for their bars; bushings that are meant to handle thousands of RPMs at much higher loads than your bar will ever see. These things are not only solid, but the assembly tolerances are so tight that I think it's safe to say that American Barbell also makes the quietest bushing bars in America.
The sleeves are affixed to the shaft via snap-rings. There is really nothing noteworthy about this, as this type of assembly is simple, effective, and very common.
The finish on the sleeves is a fairly thick coat of industrial hard chrome. This is another area where American Barbell shines, as this hard chrome is 'above and beyond' those of a more decorative nature. Hard chrome is very resilient, and the thickness of it makes it even more so. One of the extra benefits of this thick layer is a nicer fit of the plates on the sleeves. The plates move around less, and make less noise on the bar. It just feels nice and tight; like the rest of the bar does.
---
---
Elite Power vs Stainless Steel Ohio Power
Both of these stainless steel power bars adhere to IPF standards, so you can expect most of the specs and features to be the same. They are both 29 mm bars with stainless shafts, chrome sleeves, and bushings.
They are also quite different. The OPB has cast bronze bushings, very aggressive knurling, and a higher tensile strength shaft (205k versus 190k.) The American Barbell Elite has high load composite bushings, moderate knurling, a more resilient, industrial chrome finish, and seemingly tighter sleeve tolerances.
I believe both of these bars are winners, and they each have their place. The Rogue OPB is more appropriate for those who like a super aggressive knurl, and the Elite is for those who want something a little more low-key; more suitable for longer sets or virgin hands.
Normally I'd praise the aggressive knurling of the OPB; considering that we're talking about power bars and all; but these bars are both stainless steel, and stainless offers one hell of a grip on its own. If these bars were finished in zinc or chrome then the moderate knurl of the Elite would be less appealing; but they're not.
In any case, I call this a tie. The AB Elite is a higher quality barbell overall with it's high-load bushing system and industrial chrome, but the OPB is more of a classic power bar with the sharp knurling, and it has a more attractive price. Each bar suits a different lifter, yet they do so equally well.
---
---
Elite Power vs the classic Super Power Bar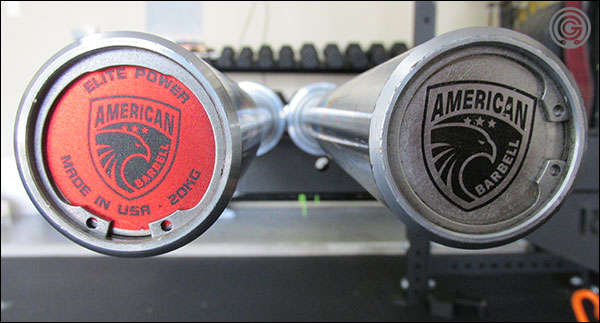 I've praised American Barbell's retired Super Power Bar time and time again on this site. It was one of my favorite bars when I got it, and it remains a favorite to this day. When I'm not in the process of testing a new bar (which has not been very often lately), it's one of my first choices for my training.
When AB still offered the Super Power Bar, it sold for $595 because it was not only one of the only stainless steel power bars available, but it was also heat treated; a process that left the stainless steel a darker color, a color that turns like a bluish, purplish color in certain lights. The coloration was beautiful.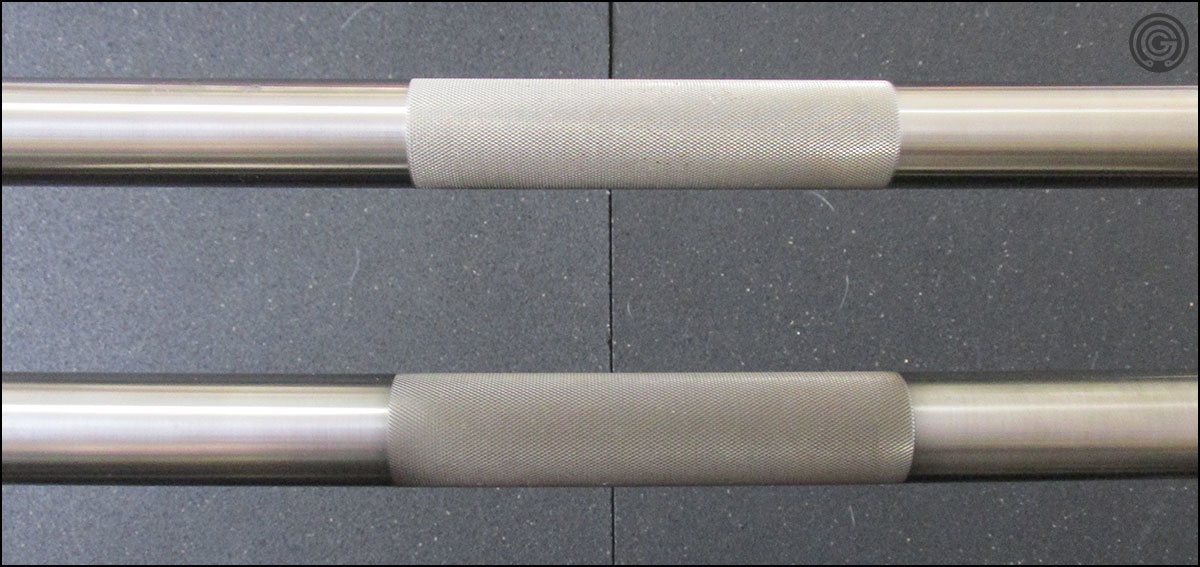 I bring all this up because the Elite Power Bar is very reminiscent of the Super. They have a very similar feel to them. There's a minor difference in diameter (the Super was 28.5 mm), but they have the same shaft material, same sleeves, and the same knurling. Sure the heat treatment changed the color of the Super, but it didn't impact how it felt in the hands. In any case, the point is that the Elite is a very close and less expensive substitute for the Super.
---
---
Elite Power Bar Review – Summary
I'm of the opinion that American Barbell produces some of the nicest bars in the world, and the Elite is no exception. It's made with superior materials, the specifications are exact, and the finished product is well-refined. While normally I find American Barbell's milder knurl to be the biggest drawback of their barbells, the Elite is actually filling a void by being one of the only moderately knurled power bars worth a damn, and the only one with an unfinished, stainless steel shaft.
The only other real drawback to the Elite is the price. We're definitely paying a premium for the industrial components, stricter assembly tolerances, and stateside manufacturing. All of these expensive features do add life to the bar, and they also make for a very quiet bar, but not everyone has a money tree in their backyard.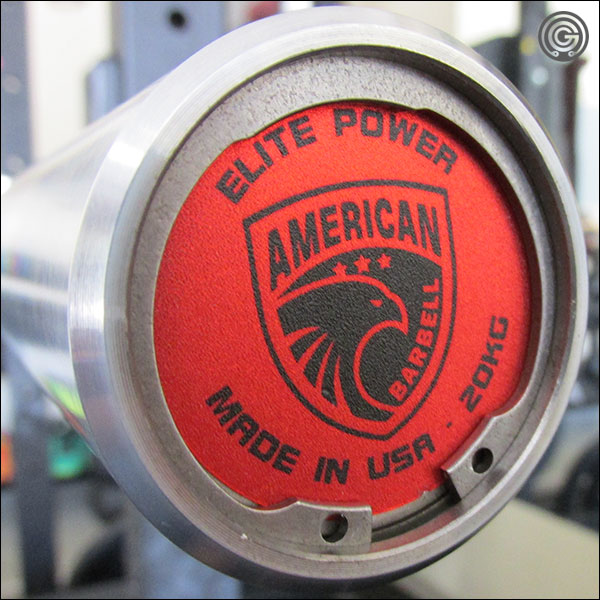 Who should spring for the Elite Power Bar? Well again, any current or aspiring powerlifter who wants the luxury of stainless steel, but who doesn't want a cheese grater for a power bar. I also believe the Elite makes a perfect gym bar. It has the durability, performance, and warranty needed for a multi-user facility, while also having a knurling that's compatible with just about any lifter. Novices will like it, intermediates will love it, and even elite athletes will be able to get a good grip on the stainless shaft.
I personally give the Elite Power Bar 4.5-stars. I'd make it 5-stars in a heartbeat if the price ever drops to $400. It's current product page rating is a 5-star average with 23 total reviews. Only one reviewer gave 4-stars, the rest are 5-stars. Pretty solid. Check it out!