Are you looking to add some dumbbells to your home or garage gym? Do you prefer a full set of fixed dumbbells? or maybe some adjustable dumbbells? Do you care if they're new? Let's see if I can help you find the right dumbbells at the right price for your gym.
Last update: Nov 18, 2017 – added Vulcan Pro Hex Dumbbells + minor edits.
---
Used Dumbbells For Sale!

Buying fixed dumbbell pairs can get expensive. The cheapest way to build out your own set will always be by finding them second-hand. You won't be able to be as picky about brands and your pairs probably won't all match, but you can save some serious money. Here are some suggestions:
Craigslist should be your first stop. There are always tons of listings for used equipment to be found on Craigslist. People get that exercise bug, buy some equipment, then after a couple months of not using it they turn around and sell it for 50-75 cents on the dollar. Their weakness saves you cash! Be sure and check surrounding cities if you have no luck locally. You may find the deal of the century just a short drive away.
Most major cities have used sporting good stores. Play It Again Sports is one example that has locations all over the US and Canada. If you don't have one of these specifically, I'll bet that you have something! Just do a Google search to see what's in your area. Be mindful of pricing vs. new prices – unlike Craiglist sellers, these stores have overhead.
You can also find strength training & fitness related discussion boards that have equipment categories (bodybuilding.com, crossfit.com, nerdfitness, etc). Often times you'll see people trying to sell off equipment at good prices. The likelihood of them being anywhere near you is slim to none, obviously, but it is an option.
As a last ditch effort to find some used dumbbells in your region, you can try the classified ads in your newspaper, look for garage and yard sales, and also look for auctions of closing fitness boxes. Hey, it happens; I've seen these auctions before. Also, eBay has a classified ads section that you can search locally as well.
---
New Dumbbells for Sale – Fixed Dumbbells
So no luck with finding used dumbbells? No problem, let's go over new dumbbell options.
There are two ways you can buy new dumbbells for your garage gym. You can buy them in pairs as you need them, or you can buy them in sets. Sets are typically all of the dumbbells from 5 lbs to 50 lbs in 5 lb increments (pair of 5's, 10's, 15's, and so on), then an additional set that covers the 55 lb to 100 lb dumbbells.
Please note, unless you're buying a commercial set of dumbbells there is no reason to buy a set other than just the convenience of getting them all at one time and being done with it. There are practically no savings (sometimes literally no savings) for buying them all at one time. Additionally, sets don't include 2½-lb increment units within that 5-50 pound range. I suggest that you buy them as you need them and don't buy the ones you'll never use; that's how you really save money on dumbbells.
Iron Hex Dumbbells

Probably your cheapest option for filling up the garage gym with fixed dumbbells is to buy iron hex dumbbells. This is what you commonly see in chain sporting goods stores and on Craigslist, and there is literally nothing at all special about them – a no-frills product.
While definitely affordable (especially if you did find them used), some drawbacks include a lack of knurl, sharp flashing from the casting process, wildly inaccurate weights, and rust build-up. These should also not be dropped or tossed around since they have no rubber or urethane coating.
I actually recommend avoiding cast iron dumbbells if buying new. They really aren't much cheaper than the rubber-coated hex dumbbells, yet they are as different as night and day in terms of grip comfort, noise, aesthetics, and potential damage to flooring and feet.
---
Rubber-Coated Hex Dumbbells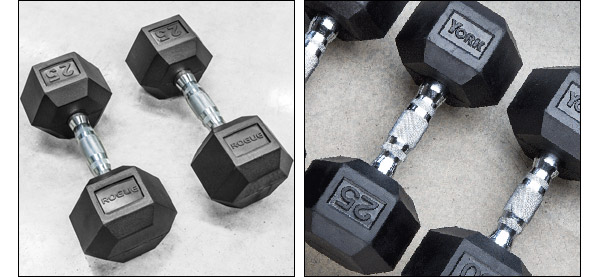 Rubber-coated hex dumbbells are probably your best option when it comes to decent, new dumbbells. They have semi-knurled, ergonomic handles; making them far more secure in the hands than iron hex dumbbells (no sharp flashing either). The rubber coating makes them a bit safer for dropping, and also eliminates most rust issues. These are just an all-around better product than iron hex units.
Like any other product in the world, there are varying levels of quality available. The issue is that identifying which are bad is impossible to do visually because the difference is in how the heads are affixed to the shaft; which we cannot see. All models have heads that screw onto the shaft, but the heavier-duty styles have a metal pin passing through the head and shaft that prevents loosening. Cheap brands just tighten up the head and hope for the best (like in the image below – clearly no pin in this one).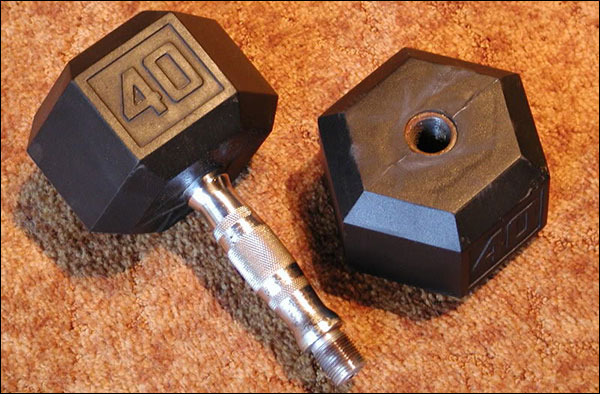 Since we can't see the assembly method of each brand, my advice to you is to consider the brand and retailer in question. If you're in a Wal-Mart looking at Gold's Gym or CAP Barbell dumbbells, you'll probably be disappointed later by loose heads. However, buy from Rogue, Vulcan, or some other reputable dealer that specifically says that they use a special handle construction, then you can be confident your dumbbells will last. The difference in pricing is negligible really. Buy quality; buy once.
To give you an idea on costs, here are prices for 25-pound pairs from four brands that offer the premium version of rubber hex dumbbells. There are no doubt others, but these are the ones I know of:
Alternatively, Rep Fitness offers hex dumbbells with straight handles instead of the typical ergonomic handle. These are actually priced pretty damn well so long as shipping to your area doesn't break the bank.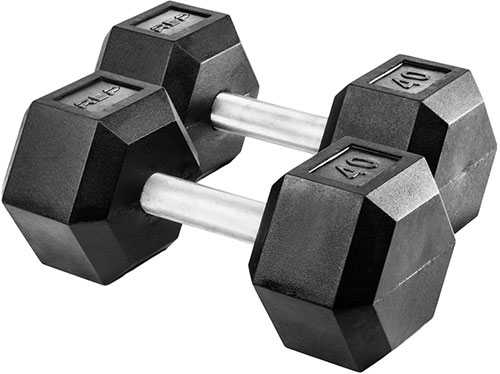 Amazon
 has some pretty good prices on dumbbells, but Amazon is not much different than walking into a box-store in terms of brand options – and you'll be hard pressed to find any claims of durable handle construction. Rep is currently the way to go for hex dumbbells, in my opinion, because of the competitive pricing and straight, knurled handles. Vulcan raised their dumbbell prices recently; knocking them out of the top spot.
---
Vulcan Pro Hex Rubber Dumbbells
Vulcan's new Pro Hex Dumbbells are much like standard hex dumbbells, but instead of the knurled bar they have vulcanized rubber handles with a highly tactile knurling surface. They are made from a rubber compound very similar to their competition bumpers. The rubber is applied to the steel handle using a proprietary process that makes it impossible to detach from the handles during any gym or workout use. The rubber will never loosen, peel or chip from these dumbbells.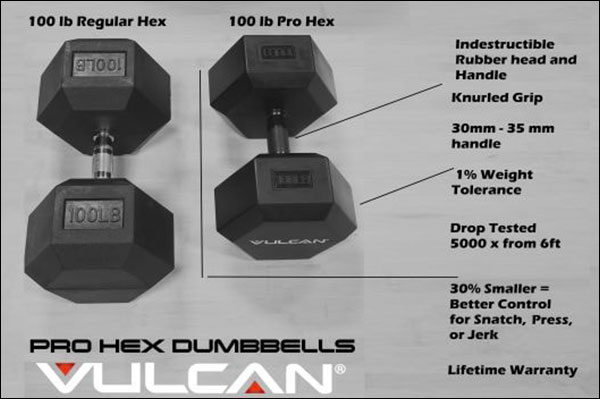 I personally have a pair of these new dumbbells and I love them. Now I have far too many pairs already to try and make a set of these, but if I had to start over I'd definitely consider going this route. The rubber is not slippery at all; very grippy. I feel like I get just as good of a grip, but the rubber makes them more comfortable – especially on my calluses that never seem to go away!
Vulcan's Pro Rubber Hex Dumbbells are new, and so far are only sold in sets. Vulcan says they will be available in pairs as well though.
---
York Legacy Dumbbells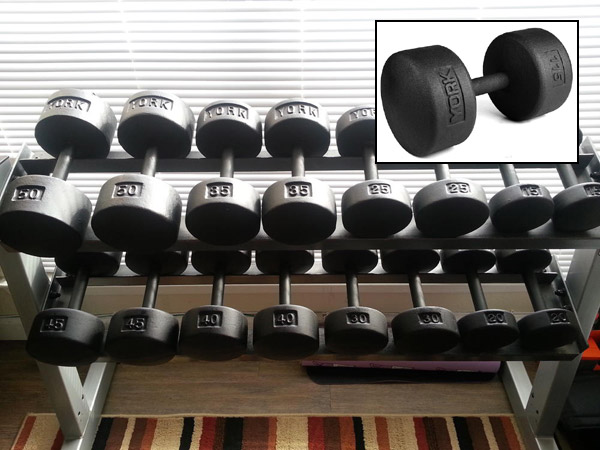 York Legacy Dumbbells are a recreation of York's original dumbbells; hence the name. These are black iron dumbbells with a knurled 33 mm handle that is permanently embedded into the heads. These are really cool and they're about the same price rubber hex dumbbells. So if you wanted to step up the coolness factor of your dumbbells without spending more, this is probably the product for that. These are not rubber though; keep that in mind.
Using the same example as I did for the rubber hex dumbbells to give an idea of price, a pair of 25 pound Legacy dumbbells is $70 (before shipping) from Amazon. What a score that would be to find these used locally!
---
Rogue Urethane Commercial Dumbbells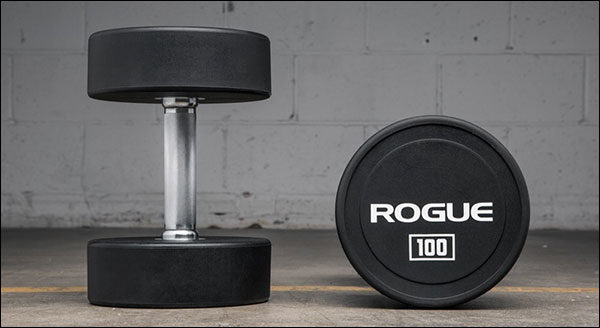 Well these are amazing, but who can afford them?
Available from 5 to 150 pounds, Rogue's Urethane Dumbbells are probably about as nice as you'll get for fixed dumbbell pairs. They are compact, fully welded, accurate, and they have flat heads and a nice handle diameter. I just don't see dumbbells this expensive happening in a garage gym though. To give you an idea, the 25-pound pair sells for over $150. Pretty neat though!
Rep Fitness offers these same Urethane Dumbbells but they only sell them in sets. The set pricing is hard to compare because Rogue's prices include all the shipping, and Rep's are currently out of stock so I can't get a sample shipping quote.
---
Plate-Loaded Adjustable Dumbbells
Standard Adjustable Dumbbells – Threaded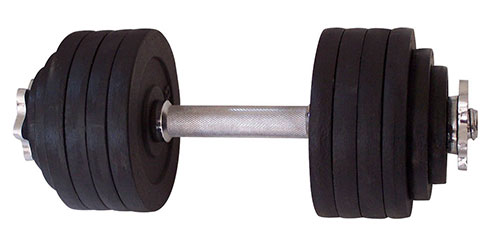 There's an endless variety of plate-loaded, adjustable dumbbell sets that use standard-size (1″ hole) weight plates on a threaded shaft. These are inexpensive compared to other adjustable options, pretty simple to use, and in most cases just about any weight can be achieved (assuming you have the plate variety.) All that said, I don't particularly care for this style of adjustable dumbbell, and I'll tell you why.
For starters, 1″ plates are otherwise useless in our gyms. No serious lifter has a standard-sized barbell in their gym, or 1″ plate storage trees. Why buy new weight plates for a single application?
Secondly, plate-loaded, threaded dumbbells always have a portion of the shaft protruding from the ends. While this is fine for curls and lateral raises and such, any of the pressing movements that start with dumbbells resting on the thighs will be very uncomfortable. Think about the weight of each dumbbell pushing a 1″ steel shaft into your thighs, and then think about actually kicking into it for a lift off. It sucks.
In addition to those two reasons, there are few other minor issues I have with this style of dumbbell. It time consuming to change the weight of both dumbbells (four total changes between both units), the spinning collars are not known to stay on very well during the course of a set, and since everything is just steel and cast iron, the whole product is susceptible to rust. Sure they're cheap and they work, but every time you pick them up you'll wish you had something better.
Rogue Loadable Dumbbell Handles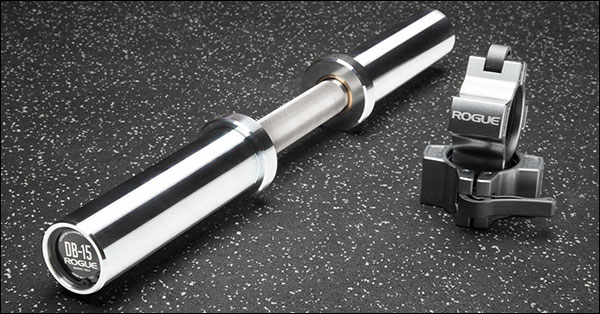 Rogue offers two different plate-loaded dumbbell handles that are in almost every way superior to the threaded dumbbell handles previously discussed. They are also far more expensive. So what makes them better?
For starters, Rogue uses the same 190k PSI, 28.5 mm shaft for their dumbbell handles that they use for their Ohio line of barbells. They also apply the same knurling. They have multiple finish options available (currently stainless steel and black zinc), and you can buy them as either 10-pound (DB-10) or 15-pound (DB-15) handles.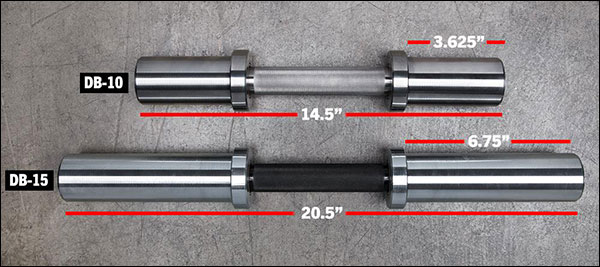 The sleeves are the standard Olympic 50 mm in diameter, are finished in bright zinc, and they are free to rotate around the shaft on a pair of cast bronze bushings. The 10-pound handle has 3.625″ sleeves, and the 15-pound handle has longer 6.75″ sleeves.
You've probably figured out by now that these dumbbell handles are about as nice as they come. They are basically little Ohio Bars for your hands. Unlike the previous product, these use the Olympic-size plates you already own – which means any additional plates you buy for the handles work with all your other bars as well. Also unlike the previous product, these will not rust.
The drawback? The 15-pound handle is pretty big at 20.5″ in total length – a bit unwieldy for certain movements. And while the 10-pound unit is more compact at 14.5″ in total length, it has limited loading capacity (about 60-pounds per handle depending on collars used.) Also, the same issue with the shaft stabbing your thighs is true for the Rogue handles, though to be fair, the weight is distributed over a larger area since the sleeves are nearly 2″ in diameter. Finally, there is the price. Without any weights you're looking at $135 per handle regardless of weight, $145 per handle for stainless steel.
Worth it? Well compared to the adjustable handle options you'll see below, just maybe. I mean $270 for a pair plus the cost of some steel change plates isn't that bad for something that will not only get used, but will also last a lifetime. Like I said, the plates are also useful for our other lifts. Not bad at all.
---
Adjustable Dumbbells For Sale!
Powerblock Elite 90 Pound Adjustable Dumbbells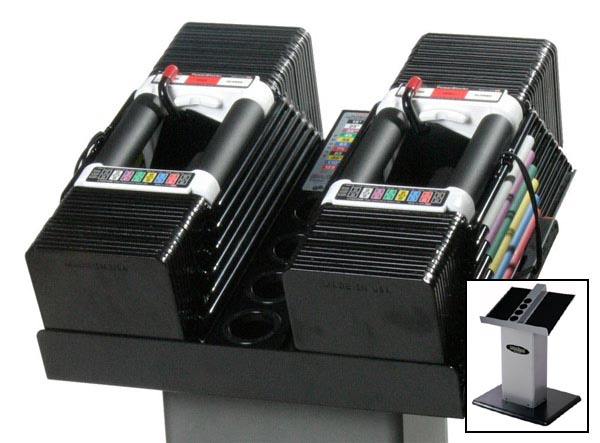 As adjustable dumbbells go, the Powerblock Elite set is quite popular. Each dumbbell has 28 weight settings from 5 pounds up to an impressive 90 pounds. They have a 10 year warranty and a 5-star review on Amazon based on 44 total reviews. Not too shabby considering that not much has to be wrong with a product for it to be blasted with bad reviews on Amazon. There is an optional stand for the set as well.
The product description claims this replaces 2565 pounds worth of dumbbell pairs. If you're not too far along in a standard dumbbell collection this may be the way to go. It's a bit costly upfront but it is cheaper than buying even a fraction of the available weights in standard dumbbell pairs. Price? Approx $550 for the pair. There is also a 5-45 pound adjustable Powerblock.
Ironmaster 75 pound Adjustable Dumbbells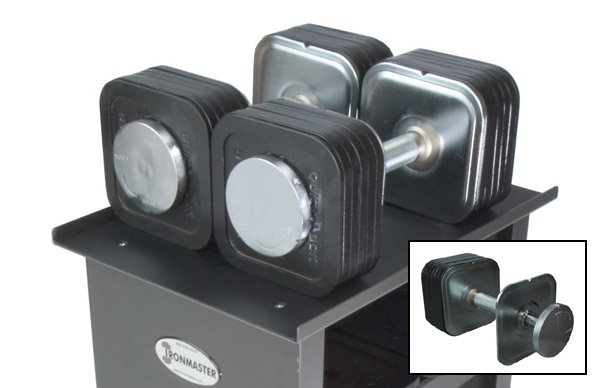 Another well regarded option for adjustable dumbbells is the Ironmaster 75 pound adjustable dumbbell set. It comes with a stand so you don't have to pick the weights up off the ground, and each dumbbell can adjusted from 10 to 75 pounds in 2½ pound increments.
This isn't as quick and easy to change the weight as it is with some of the other adjustable dumbbells, but it is balanced like a true dumbbell. There is an additional package you can buy to raise the max weight to 120 pounds per dumbbell. Price? $529 + shipping; includes the stand. Limited lifetime warranty.
Bowflex SelectTech Adjustable Dumbbells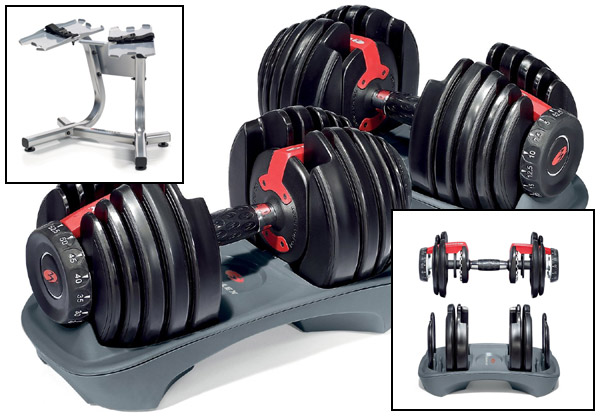 This is probably what most people think of when they hear adjustable dumbbell since you can find these in the stores. I'd personally rather have the Ironmaster set from above, but this set has nearly 1000 primarily good reviews on Amazon so obviously people like these dumbbells.
The price is way lower than the last two adjustable dumbbells I just showed you, but the warranty is only two years. You'll save some money up front, but you may not get the same life out of them; I don't know. There is an optional stand that looks pretty damn fancy. Each dumbbell is adjustable from 5 to 52½ pounds. No way to add to that like the other two. Price? $299 with free shipping.
Edit February 2017: There was a previous version of this product that was recalled for safety reasons (CPSC link). I seriously doubt this issue exists five years later, but on the off-chance any of you try to buy this product used I thought you should be made aware.
Words of Wisdom about Adjustable Dumbbells
Read the reviews! Keep in mind that if you have to send something this heavy back to the seller on your nickle, you'll not be pleased. Triple-check that the price you see if for a pair and not just a single dumbbell. I'm serious, some companies sell them as single units. Lot's of complaints about that in reviews. You'll be pissed off when only one shows up at your door.
So I hope this helps. If you did find this at all helpful, consider sharing this article. Thanks and good luck!