In this review I'll mostly be covering the Cerakote Bella Bar 2.0 because that's the bar that I have in front of me, but since both the Bella and the Ohio are unchanged save for the "new" Cerakote finish options, you can safely apply anything relating to the Bella's Cerakote finish to the Ohio Bar as well. So in a way this is two reviews; one for the Bella Bar itself, and the other for Rogue's application of Cerakote.
Worth mentioning is that this is my first official women's bar review. Can you believe that? I kind of feel like a turd for not having reviewed a woman's bar before. I believe I'll start doing them more often going forward.
---
Table of Contents
---
Bella Bar 2.0 Specifications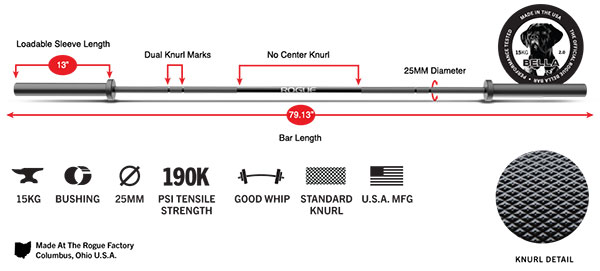 weight: 15 kg
shaft diameter: 25 mm
sleeve diameter: 50 mm
loadable length: 13″
tensile strength: 190,000 PSI
rotation: cast bronze bushing
knurl depth: Rogue standard (mild/moderate)
knurl marking: dual IPF/IWF
center knurl: none
finish: Cerakote
origin: Columbus, OH USA
price: $275
The original Bella Bar in black/bright zinc is still available for $215, and it remains one of the most popular, low-cost women's WOD bars on the market. If you find that you like the Bella Bar 2.0 but don't really care to pay the premium for Cerakote, by all means grab the original zinc variant.
---

Cerakote was first used as a barbell finish about a year ago on American Barbell bars. AB first applied Cerakote to two different bars; the Mammoth Power Bar in a Savage Stainless Cerakote, and the California Bar in a Black Graphite Cerakote. They have since expanded the Cerakote option to their Training Bar, where there is a good dozen color options.

Due to the popularity of Cerakote on these American Barbell bars; the grippy texture and color options; Rogue has followed suit with a multitude of their own Cerakote Bars (Bella, Ohio, and Operator Bar… so far). So what is Cerakote?
Well Cerakote is a thin, polymer-ceramic composite coating. It's said to improve a number of physical performance properties of steel; including hardness, impact & wear resistance, corrosion resistance, and chemical resistance. When used on barbells, Cerakote is more or less a colored alternative to industrial chrome.
That said, Cerakote will resist impacts and oxidation better than chrome finishes. It also has the advantage of being more grippy than zinc and the lesser (decorative) chrome finishes when the Cerakote is mixed for a matte finish (Cerakote can be mixed for a matte or high-gloss finish). This improved grip combined with superior resistances make Cerakote's use on a barbell shaft very attractive.
Now American Barbell only applied Cerakote to the shaft, but Rogue is applying it to both the shaft and the sleeves. Cerakote holds up very well on the shafts, but how it will do with plates being slide across it day after day is still yet to be seen. It seems resilient enough so far, but only time will tell.
---
---
---
Bella Bar 2.0 Review – Features
Let's talk specifics; like whip, knurl, rotation, and finish options.
---
Bella Bar Whip
The Bella has a 190,000 PSI shaft that's only 25 mm in diameter, so it definitely has some flex to it. Being that I'm only accustomed to training with a larger diameter 20 kg men's bar, and also the fact that I don't have a collection of women's bars in the gym, I am unable to make much in the way of comparisons without just making shit up – and I don't do that.
That said, I've handled so many different 28.5 mm multi-purpose bars of slightly different tensile strength ratings that I feel confident saying that the Bella will feel about as elastic as any other 15 kg multi-purpose, dual-marked WOD bar that you've ever handled; especially if it was another Rogue bar.
---
Bella Bar Knurling & Feel
Disclaimer: knurl preference is subjective, and I favor aggressive knurling. Also this bar is 25 mm and I'm a monster. Remember that as you read this.
The Bella Bar 2.0 uses Rogue's standard knurl pattern; knurling that is of a moderate depth and with no sharpness to it. While normally this knurl feels decent enough (people generally seem to like Rogue's middle-of-the-road knurl depth), on the Cerakote Bella here that knurl feels very mild. I don't know to what extend Cerakote can diminish the texture of knurl, or if knurling on Rogue's 15 kg bars is just generally milder, but to me it just feels soft.

Now I have a strong feeling that the way this bar is knurled is exactly where the majority of female CrossFit athletes want their knurl to be. With chalk, holding onto the Cerakote Bella Bar for long, high-rep sets won't be a problem at the weights typically being used in WODs. Also keep in mind that Cerakote is actually quite grippy, so knurling doesn't have to be as aggressive to still be secure.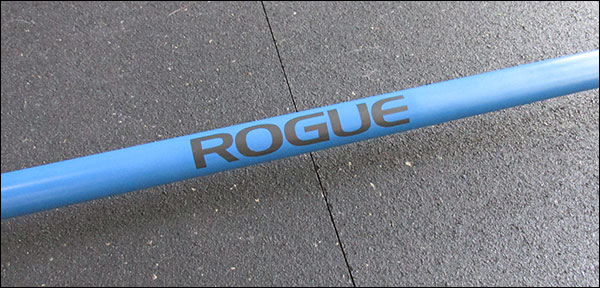 Like most women's 15 kg barbells, there is no center knurling. There is a big logo though.
---
Bella Bar Sleeve Assembly
The Bella Bar 2.0 has a sleeve assembly that's no different from any other Rogue bushing bar. Each sleeve rotates on a pair of bushings, and the sleeves are attached to the shaft via a horseshoe collar and snap rings. In the case of the Bella, the bushings are cast bronze.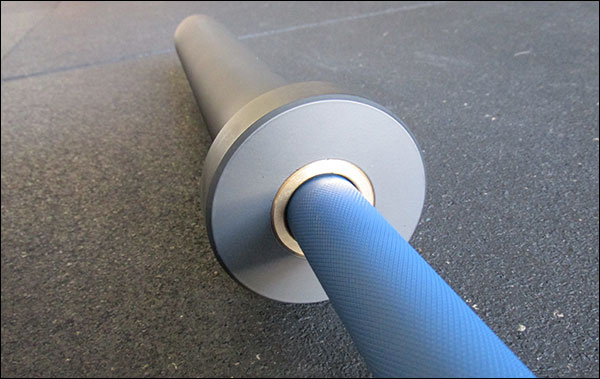 This whole configuration is typical and adequate for multi-purpose/WOD bars. Sleeves spin smoothly at light to moderately heavy weights, and the design is maintenance-free save for infrequent lubricating of the bronze bushings once or twice a year. Very reliable build.
The Bella Bar is a loud bar to drop and even set down unloaded. If noise was a concern to me, this would not be my preferred bar.
---
Bella Bar Finish & Color Options
At the time of this writing there are four different Cerakote color options for the Bella Bar 2.0 (in addition to the original zinc Bella Bar). Those include: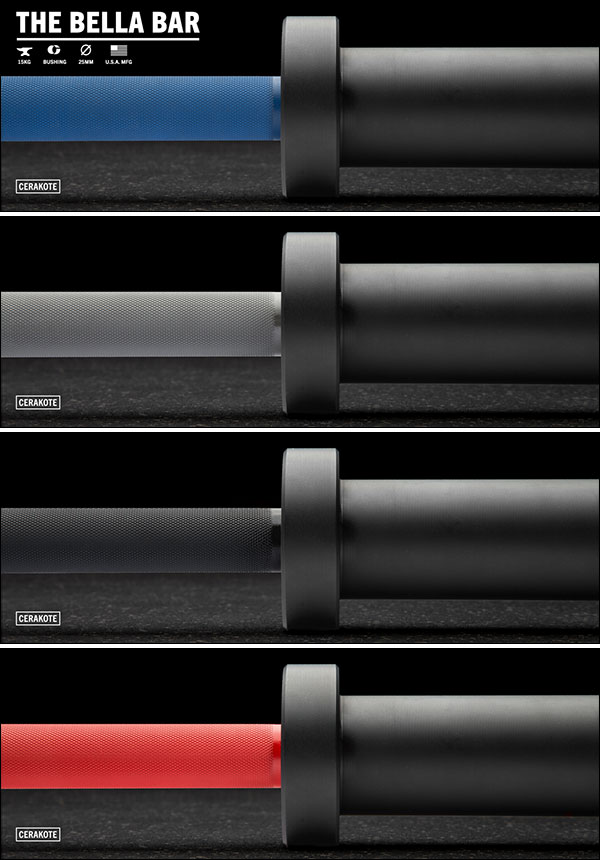 All the Cerakote Bella Bars are $275, whereas the Zinc Bella Bar is only $215. This makes it pretty clear that Cerakote is one of the (if not the) most expensive finish options available. If it turns out that Rogue's current Cerakote bars sell really well, we can probably expect to see more bars offered in Cerakote, and possibly more color options as well.
---
What About the Cerakote Ohio Bar
Other than adding Cerakote as yet another finish option for the Rogue Ohio Bar, the bar is completely unchanged. It's the same 20 kg, 28.5 mm, bronze bushing multi-purpose barbell that it's always been. So now, there are no less than seven different finish options for the Rogue Ohio Bar without even counting its cousins; like the Rogue Operator Bar.
The Cerakote Ohio Bar has the same four ceramic color configurations as the Bella Bar 2.0 plus one more; a black Cerakote shaft with chrome sleeves. All Cerakote Ohio Bar variants are $325 which really isn't all that much more than the original black zinc and black oxide variant. Only the SS Ohio Bar is still more at $350, but the SS is a superior bar anyway; at least in my opinion.
If I were to purchase a Cerakote Ohio Bar I would probably lean towards the black shaft & chrome variant. We already know how well chrome holds up on sleeves, but how Cerakote holds up on sleeves has yet to be seen. Plus a black shaft that won't fade like zinc or oxide and bright chrome sleeves seems much more classy to me.
---
Bella Bar 2.0 Review – Summary
The Bella Bar is and always has been a hell of a value. The $215 base price for a 190k PSI bronze bushing bar is incredible, and even when paying the premium for a Cerakote finish the price is still under $300.
There is a reason why the Bella Bar is one of the most popular women's bars among home gym owners and CrossFit boxes. No other 15 kg bar offers this level of versatility, longevity, and performance at this low of a base price. The only real drawback is the loudness of this bar when dropped, but you'd pay more for a quieter bar.
Now I do think that adding $60 to the price simply for the sake of having color negates that previous statement somewhat considering that Cerakote doesn't enhance performance in any way, but fancy finishes are a luxury after all. $215 or $275; 5-star bar either way.
---