Is your garage gym too dark and gloomy at night? or during the winter when you don't dare open that garage door and let what little warmth there is out? Can you see the hash marks on your barbell when you lay down to bench inside your power rack? Can you spot rubber hex dumbbells against the black flooring?
Most garages have only a single light source by default; a single 100w socket in the center of the garage. Even if you have a garage door opener with a light fixture, I'll bet it sits about 10″ from the garage light, which as you know doesn't really help to illuminate the space all that much. For very little cash and time you can make your gym as bright as you want, and in this article I'll give you a handful of DIY ideas on how to do exactly that.
---
TriLight 3000 Lumen LED Bulb Replacement
Not the cheapest method to brightening up a garage gym; especially if you have more than one light socket in your garage; but it's definitely the easiest.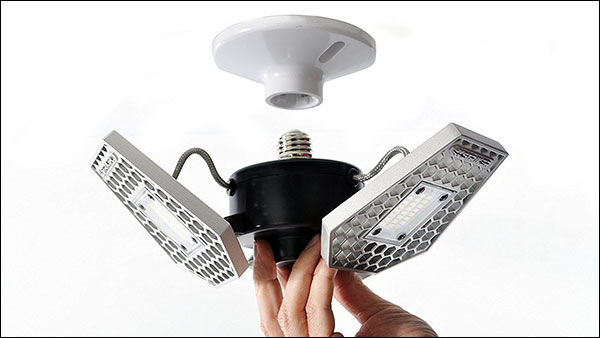 The TriLight is a multi-directional LED fixture that simply screws into a standard light socket. It offers nearly four times the output as a 60w bulb (3000 lumens versus about 800 lumens), and does so while only drawing 25 watts. It has a sensitive motion sensor that is less useful in a garage gym than a normal garage that you don't spend any time in (other to get in and out of your car), but that feature can be disabled.
The Trilight sells for about $115 per light which is obviously pretty expensive for a light bulb, but it is bright and it requires no wiring or drilling. Besides the price, one other drawback to this product is that it won't help you brighten up areas that weren't getting light before. That is, if you have a single bulb socket in your garage that leaves dark areas behind equipment and such, this won't be much help. You'll need to explore other options if that's a problem.
3 adjustable aluminum LED heads
1000 lumens per head (3000 total)
uses only 25w
optional motion sensor
4½ star overall rating
---
Florescent Lighting Ceiling Fixtures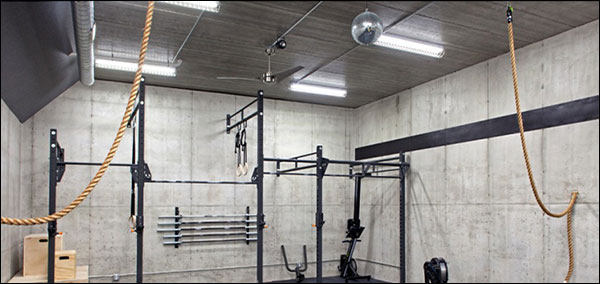 Linear florescent lighting is probably the first thing most people will think of when it comes to adding more light to a garage gym. Florescent fixtures are inexpensive, and they can be picked up just about anywhere like Lowes, Home Depot, Amazon and Grainger. They come in a number of configurations ranging from 24″ to 96″ long, and can contain any number of bulbs per fixture. They are also very simple to install.
For most garages, one 48″ long, double T8 florescent bulb fixture per bay will be more than enough lighting. To really brighten the whole garage up, a pair of fixtures per bay (like in the above image) would work well. For as low as $24 per fixture you can buy something simple like the Lithonia Lighting 3348 Two-Light Fluorescent Ceiling Fixture. This particular unit is a T8 utility wraparound with an electronic ballast (preferred for cold garages) and an acrylic prism diffuser. It's cheap, bright, and easy to install.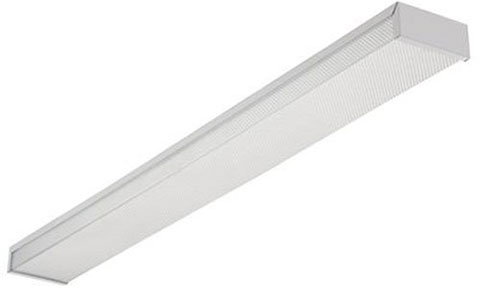 Of course this particular unit is just an example. There are fixtures without protective wraps, there are some that house four 48″ T8 bulbs per fixture rather than two, and even some that hang from the ceiling rather than being installed flush to the ceiling. Make it a point though to buy fixtures with T8 electrical ballasts rather than regular magnetic ballasts if your garage ever gets below about 50 degrees.
Two-bulb units use about 32w; or ~16w per bulb. 48″ T8 replacement bulbs cost approx $3 each and have a lifespan of 20,000 hours or more. Kelvin ratings vary from 2800 to 6500 or more, and you can expect to get from 2000 to 3000 lumens. Depending on your garage set up and the particular style of fixture you go with, wall mounting is also possible. This makes for an easier installation while also making bulb replacement easier.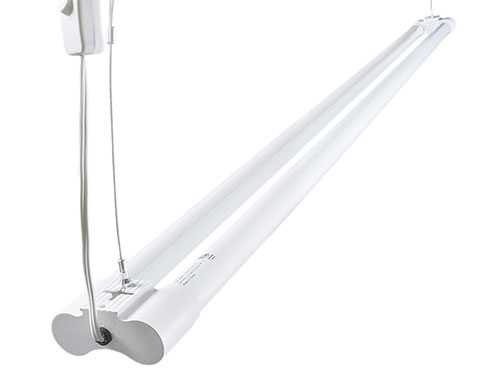 You can also avoid wiring altogether with a plug-in version. Installation is easier, but you get fewer placement options since you need to be near an outlet.
---
LED Wraparound Ceiling Lights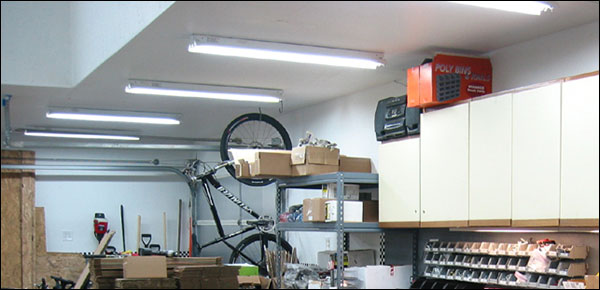 As an alternative to linear florescent lighting, LED wraparounds provide great light, are just as easy to install as florescent fixtures, and use very little energy – and all while eliminating the need to replace bulbs. Matter of fact, considering how affordable LED fixtures are these days it is almost a no-brainer to go with them over florescent (not to mention incandescent). Consider these drawbacks of florescent bulbs:
Florescent bulbs contain mercury.
Florescent lights give off UV light.
Frequent switching on and off shortens the lifespan of a florescent bulb.
Florescent bulbs are inefficient at lower temperatures.
Safe disposal of florescent bulbs requires you to take them to a recycling center.
The Hykolity 4FT LED Wraparound flush ceiling light is just one of many options out there. At only $45 per 4-foot section it's a pretty solid example of how cheap it can be to brighten up your garage with LED light.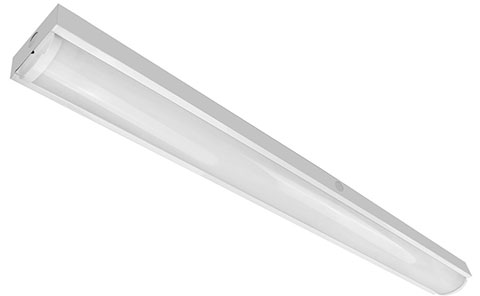 This particular unit uses only 40w but produces 4200 lumens at 4000K. If you replaced your single incandescent 100w bulb with this you'd be looking at a 60w savings for about 3x the light (4200 lumens versus about 1600 luments.) If you installed one over each bay of a two-car garage you'd still have a 20w savings for 6x the light; not to mention light now coming from two 4-foot long sources rather than a single bulb in the center of the garage.
The wiring and installation is pretty straightforward. Adding junction boxes and/or conduit is simple, but if you can't or simply don't want to do it yourself, an electrician could wire this up for you in 20 minutes. Worst case scenario you have to pay for an hour of their time.
---
Get Complicated – Add Recessed Canister Lighting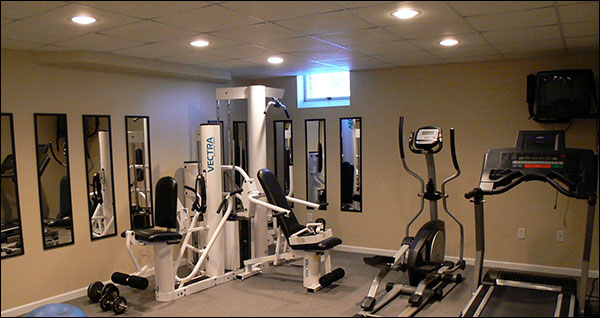 Probably the most complicated option in terms of something to retrofit into a garage would be recessed canister lighting. Canister lighting allows you to efficiently light up nearly every square inch of your garage gym. It's actually pretty inexpensive to do if you can pull off the installation yourself, but it will require a good amount of time and patience.
If you're going to take on the task of installing recessed lighting, you'll definitely want to go with LED lighting. You can buy a dozen 15w recessed lighting fixtures for under $100 and get about 1100 Lm out of each. You can buy 13w fixtures for even less and still get a good 800 Lm out of each unit – about the same as a 60w bulb. If you don't need many units then the cost will obviously be less.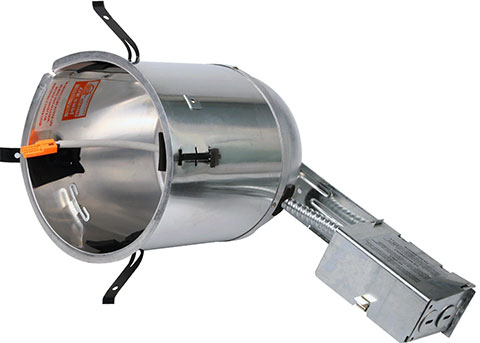 You'll also need to buy the housing cans as well, and those run about $8 each. Add in the wiring and the proper size drill bit, and you're looking at anywhere from about $150 to $300 depending on how many fixtures you intend to install. Because of the low wattage you can generally run a string of these guys on a single line without needing to do anything special in terms of the electrical.
There are a bunch of guides and videos online to help you do this install yourself. It's really not hard, just time consuming, and it takes a bit of planning to not destroy your ceiling in the process. Canister lighting looks great though, and if you have the budget for an electrician to do the wiring and installation then go for it. Personally I think most people could pull off this installation, but I do suggest watching/reading some of the guides made by electricians before you get started.
---
Track Lighting
Track lighting is an okay option if you have extremely high ceilings that give you plenty of distance between yourself, your moving equipment (overhead presses, for instance) and the hanging canisters. It's probably not ideal for any garage with ceilings that are less than 9′ high; which is like 98% of us. We already can't put things overhead near the garage door opener; why add more crap to avoid above us?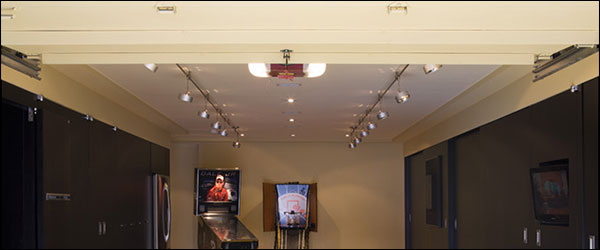 Track lighting isn't much harder to install than any other fixtures and they do allow you to focus the light however you want, but that's not really important in a garage gym. Unless you're taking a shitload of selfies or you're showing off expensive wall art or something (I dunno), I just don't see this being the best option. I say skip the track lighting.
---
Stylish Lighting?
All the lighting examples I gave are obviously more about function than design or style. The fact is that there are many alternatives to lighting up your gym. You can hang fancy fixtures made of stainless steel or brushed nickel to make your gym look cool, or you can spend a small fortune on something like the Big Ass Garage Light and have no less than 13,000 Lm blasting out of a single fixture. The options are endless.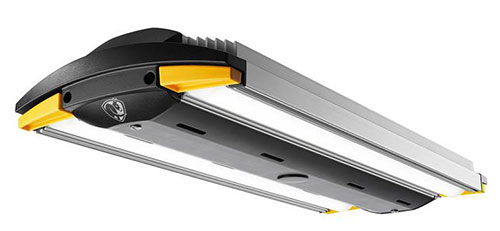 For most of us though, adding a couple 4-foot wraps or a single TriLight to our garage gym will give us all the light we need. Sure it goes without saying that you'll place them in such a way that you get perfect lighting for those gym selfies, but you don't need to spend a grand to pull that off.
---
Garage Gym Lighting – Summary
When in doubt call an electrician.
I recommend paying attention to a few things when shopping for lighting hardware:
energy consumption/total wattage of your preferred solution.
brightness (Lm) and color of light (K) of your preferred fixture.
lifespan of bulbs and their replacement costs.
operating and starting temperature (if applicable).
special wiring requirements.
customer reviews. always read those reviews.
Have a solution not mentioned here? Leave a comment. Please share me!