Are you in need of some new bumper plates for your garage gym, CrossFit gym, or Olympic training center but you don't know which brand or even which type of bumpers to buy?  Well you have come to the right place!
Whether you are just getting started and buying your very first bumper plate set, looking for an upgrade to your existing bumpers, or you just need access to more weights in light of all your new gains, I can help. I have scoured the net for the best brands & set prices for basic black bumper plates, training bumpers, and competition WL discs. I've considered bumpers from all the major manufacturers and found what I believe to be the best prices on the most durable bumpers on the market. Let's get started!
For a primer on bumper plates, including the difference in the types of bumpers, the advantages of bumpers vs steel plates, and average prices per pound by brand, see my original bumper plate guide.
---
Best Bumper Plate Sets – Table of Contents
---
Basic Black Bumper Plate Sets
The contenders: HI-Temp, Rogue HG 2.0, Vulcan, American Barbell Sport, Rogue Echo, Rep Fitness, FringeSport, and XF bumper plates.
Brands left out – but not forgotten: There is no shortage of other basic bumper brands – Kraiburg, Again Faster, Ader, York, Pendlay,  and all the small CrossFit shops that get their names stamped on versions of these very same bumpers.
In an effort to keep this basic bumper plate section even remotely easy to read,  brands not offered in sets, redundant brands with higher prices, brands with inferior/no warranties, and brands known to be of poor quality (box-store brands like VTX, RAGE, CAP, etc) have been left out or even omitted from this post.
Weight sets: I've priced out the following sets – 160-lbs (pairs of 10's, 25's, and 45's), 260-lbs (pairs of 10's, 15's, 25's, 35's, and 45's), and the 340-370-lb range (included plates vary slightly in this range). There are many other sets of varying weights and plate combinations available but these three are the most common and therefore the easiest to compare.  This should be more than enough to give you a solid idea of how each brand is priced.
Specifications: When it comes to basic black bumpers, these brands are all very similar; some are even made in the same factory. With the exception of HI-Temps, all these plates are the IWF standard, 450 mm in diameter plates with 50 mm steel inserts (HI-Temps are 17.5″, or 444 mm.) When shopping other brands avoid plates with brass or bronze inserts; buy plates with steel or stainless steel inserts only.
The width of each size can vary slightly by brand.  Most are generally in the same ballpark, but the crumb rubber brands (XF and HI-Temps) are super thick. Avoid these if you need to stack some decent weight on the bar. Below I'll summarize each brand and discuss what (if anything) makes them unique.
◊ ◊ ◊
The HI-Temps are significantly thicker and more resilient than the virgin rubber brands, but they produce more bounce. They're also one of the few bumper options suitable for outdoor use (the other being the colored Vulcan Alphas).  They're also one of the only brands made in the US of A. Drawbacks include a higher cost and a slightly smaller overall diameter than pretty much every other single plate on the market (17.5″ vs IWF 450 mm).  Hi-Temp plates are also more susceptible to insert separation than virgin rubber plates.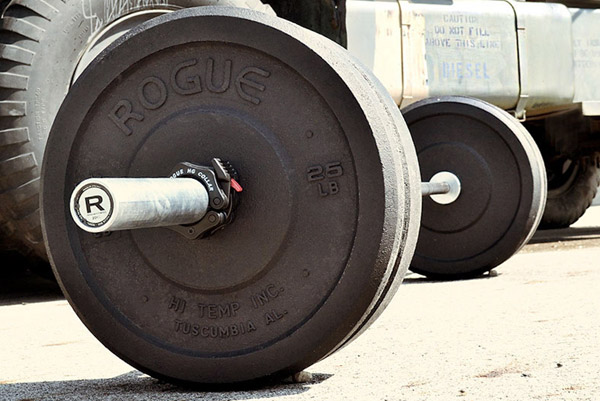 Vulcan Strength bumper plates are currently my favorite plate available. Not only are they priced competitively (especially in large sets), but the plates themselves have a number of design innovations that improve their durability so that you never have to replace them.
While there are many, the most important improvement is the inclusion of steel rebar to the insert (image below). So now not only is the plate molded around the insert, but the rubber also gets molded around this rebar as well. This update pretty much eliminates any chance of insert separation. In the image below, you can see a cross-section of a Vulcan 10-pound plate. Even with half the plate cut away, the insert still won't come out of the plate.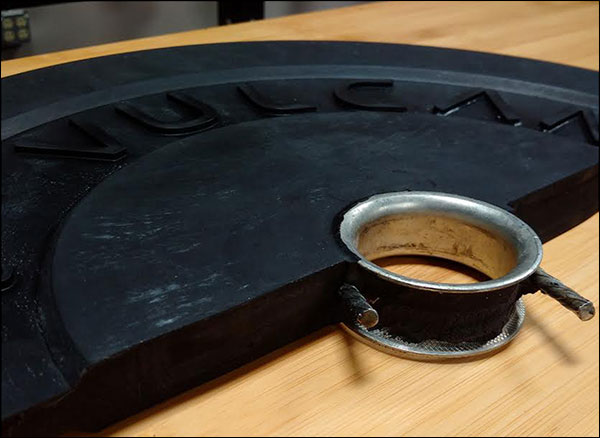 The combination of this improved durability, competitive set pricing, long warranty, and low bounce make the Vulcan plates about the best choice for CrossFit and Olympic training; in both garage gyms and busy CrossFit affiliates.
Update: Vulcan's black bumpers now have white lettering. The plate is the same though.
Rep Fitness Bumpers sport Vulcan's hooked insert and thin profile disc design, and prices look surprisingly low on the surface, but Rep Fitness doesn't include shipping rates into the cost like most other vendors. This isn't necessarily a bad thing to do site-wide, but if there is one product that this backfires on it is bumper plates, as most companies sell these at near break-even prices or even a loss just to get your business. Rep does not. So get a shipping quote for your area and maybe the Reps are good deal.
Note: if you're ordering more than just plates, the overall cost to ship your order will be very low relative to other vendors. Don't rule out Rep because they don't do embedded shipping.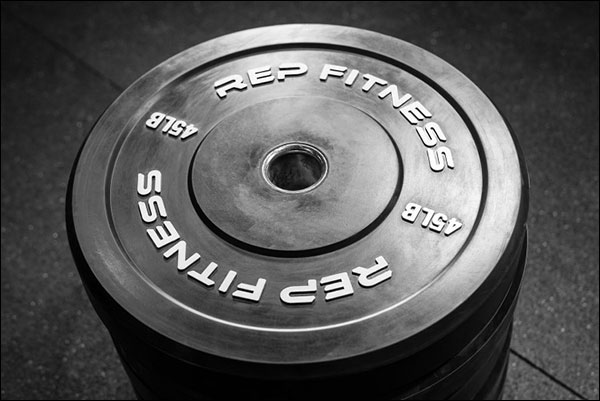 FringeSport Bumper Plates are Vulcan and Rep's biggest bumper competitor. They offer the same innovative bumper plate, a large set variety, and free (embedded) shipping. They also offer their basic bumpers in black, black contrast, and IWF colors – lots of variety!
FringeSport also matches everyone else's warranty on heavy plates but gives a full year on their 10's and 15's. They even pay for return shipping if you ever actually have an issue. It's also worth mentioning, for the sake of comparison shopping, that Fringe Sport plays pricing games in the sense that their bumpers are always on sale, so the "regular price" is going to be higher than the actual price you pay. The issue I take with this is that there is no reliable price to give you guys, so in my list(s) below I have just used their regular price. Be sure to click over to Fringe to see what the real price is, it may be less (it's ridiculous, I know.)
The American Barbell Sport Bumpers are AB's version of the black bumper plate. These have a competitive starting price, and like most dealers the cost does include shipping on sets. Unfortunately, these plates don't feature the design enhancements of the Vulcans and they actually cost slightly more. They're nice-looking plates and they will last, but ever since the prices were raised 5-10% they aren't nearly as competitive. [review]
The Rogue HG 2.0 is the standard basic black bumper model. This is the plate design that most of us are familiar with, and the ones you see in most CrossFit boxes (the previous HG plates had the grenades on them). The HGs were recently improved and are now similar in appearance to the Vulcan version, but unfortunately the Rogue plates do lack the anchored insert. I have no problem with these plates, but they are best for lifters looking to add some big plates to an existing collection, as the 10's and 15's are not the most durable around.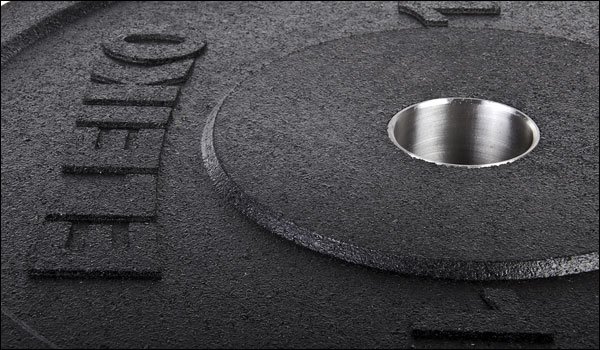 The Eleiko XF's are by far the thickest bumpers available, and also the most expensive.
Set variety is non-existent, as XF plates are only offered in a 370-pound set or 100 kilogram set. You'll have to buy pairs if you want less weight, but I don't recommend building a set of any brand of bumpers in pairs. An unfortunate drawback to these (aside from pricing) is the fact that the steel inserts are not seamless like other plates, and the seam will do a number to the finish of your barbell. That said, these are some the quietest plates on the market, so if that noise dampening is important to you, these may be the plates for you.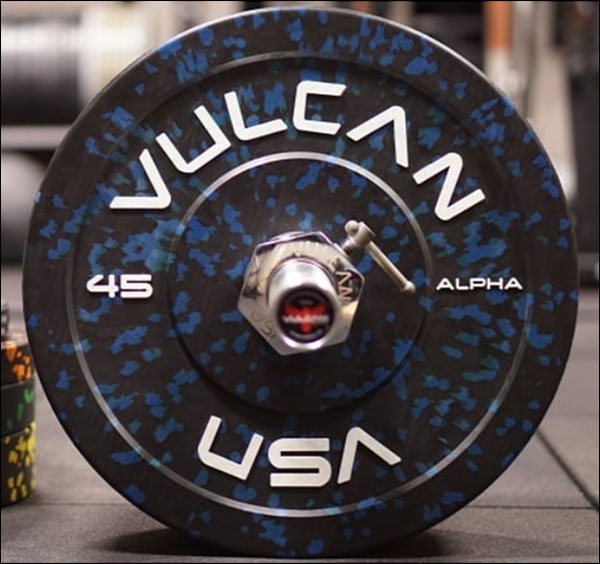 Alternatively, the Vulcan Alphas are just as quiet as the XFs,  but they are colored so they aren't in this list. That said, Alphas are less expensive, thinner, and the inserts don't have a damaging seam. If noise is an issue in your home/garage gym or affiliate I strongly suggest looking into the Alphas if the XF's are out of your pricing comfort zone. You can also read a review of the Alphas here.
---
160 lb Bumper Plate Sets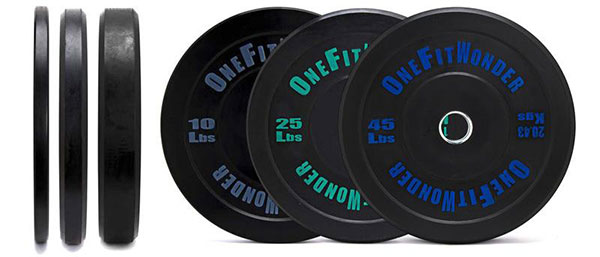 The 160-pound set is the smallest available set and it contains a pair of 10's, 25's, and 45's. This set is small, and I'd suggest at least the 260-pound set if you are starting from nothing. Having said that, this is the one set that just about every merchant offers so I have included it here for comparison purposes. Just remember – the larger the set is, the less you pay per pound, and the more time you have before you need to add more weight to that set.
* requires the purchase of two other '3-ships-free' items to receive free shipping.
---
260 lb Bumper Plates Sets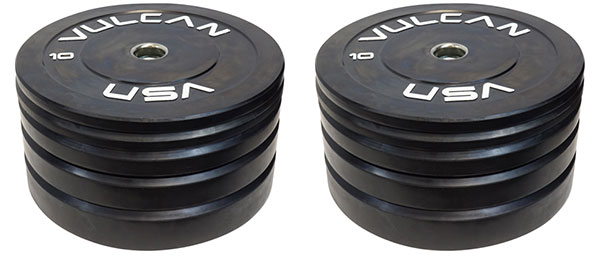 The 260-pound set is a well rounded intro set that includes pairs of every plate from 10-lbs to 45-lbs (10's, 15's, 25's, 35's, and 45's). The Vulcan's currently have the best pricing, and they are also the more innovate and durable model. If you plan to toss around your 10's or 15's around alone on the bar I would definitely go with this design. If not, then the durability of the smaller plates matters not (though Vulcan does still have the best price).
* requires the purchase of two other '3-ships-free' items to receive free shipping.
---
350(ish) lb Bumper Plates Sets

These bigger sets are not as easy to side-by-side compare as the previous two – due to the difference in total weight and difference in plates offered in the packages. They range from 340-lbs to 370-lbs depending on the vendor, but in all cases these are the most economical (cost per pound) sets offered. Free shipping is available to various parts of the country from all of the listed vendors below except for the XFs and Reps.
---
---
---
Basic Bumpers in Kilograms (KG)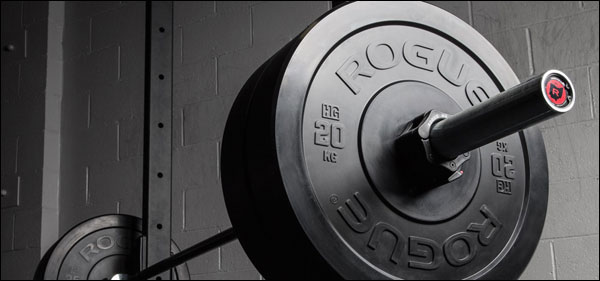 Finding basic bumper plates in kilograms is not as simple in the United States as it is in the rest of the world, but selection has gotten better. Rogue offers black HG plates in kilograms, Vulcan offers colored basic bumpers in kilograms, and American Barbell offers both.
---
---
---
Basic Color Bumper Plates

Colored basic bumpers are a compromise between basic black plates and Olympic training and competition discs.  Getting IWF colors on your basic plates raises prices somewhat, of course, but no where near what professional, large-hub discs cost.
The Alphas are the real leaders of this group – although the colors are speckled rather than solid. Alphas are quieter than basic bumpers, can be used indoors or out, have all the same durability features of Vulcan's black plates,  and they blow other basic colored bumper plate prices out of the water. Read my review on Alphas here if they are on your radar.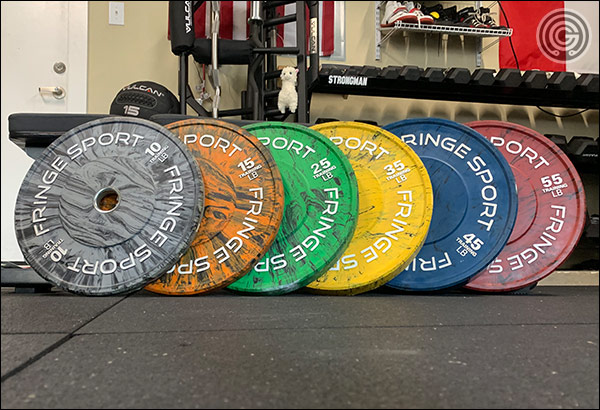 Fringe Sports Savage Bumper Plates are a uniquely-colored alternative to Alphas if you do not care about the indoor/outdoor advantage. Rather than being speckled, they have a sort of tiger-stripe color effect. They are built just as well as Fringe's other basic bumper styles. I have a review of the Savage Bumper Plates that you can read here.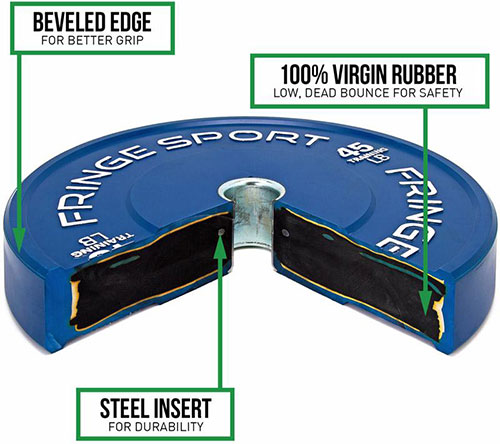 The Rogue Echos are regularly out of stock because they are a good plate for private, non-commercial use, but it's not as durable a plate as the Rep, FringeSport, and Vulcan options. FringeSport and Vulcan both offer their solid-colored plates in bulk, which is the way to go if you're looking for a lot of colored plates for a gym or box. American Barbell Shields are very unique, but also a bit on the expensive side.
---
---
---
Olympic Training "Competition" Bumper Plate Sets

Olympic Training bumper plates are the non-certified version of Competition bumper plates. They have a much larger steel hub than basic bumpers have, they're color-coded, and they offer a dead bounce when dropped.  Weight tolerances are much stricter than they are with basic bumpers. In the USA, training bumpers are easily found in both kilos and pounds with Rogue, American Barbell, and Rep Fitness all catering to the Imperial market.
The term competition plate is kind of a catch-all for large hub bumper plates despite the fact that almost none of them are actually certified for competition. Typically speaking only those manufacturers with certified equipment have legitimate training plates, as they are their un-certified, un-calibrated version of their certified competition plates.  In other words, calling a plate a comp plate while not paying for certification basically makes it a training plate.  So if and when you see "competition plates" in this training section, you know why.
◊ ◊ ◊
Training Discs – 140 kg / 320-lb Sets
The 140 kg set includes a pair of 10's, 15's, 20's and 25's. The 320-lb set includes a pair of 25's, 35's, 45's, and 55's.
You'll see that Rogue and FringeSport has the best pricing on large hub discs, but as a rule you should always double-check Vulcan for a sale, and get a quote from Rep too. American Barbell also frequently runs a sale so always check them out as well.  If you like the smaller hubs, you'll want to look at the American Barbell Trainers for kilos,  and any of the Urethane plates.
* frequently on sale so check for lower price.
Rogue almost always has a multitude of basic, training, and competition bumper plates in the Closeouts section of their website, including used plates from the 2017-2018 CrossFit Games.
View this post on Instagram
---
---
---
Competition Bumper Plates Sets
While I initially did price out all of the major brands and multiple weight sets, I have decided not go into too much detail with the competition bumpers since so few people want or need them. However, in order to give a general idea of prices for some major brands I will list the current prices for a handful of 140 kilo sets and then provide links for each so that you may research them further if you would like.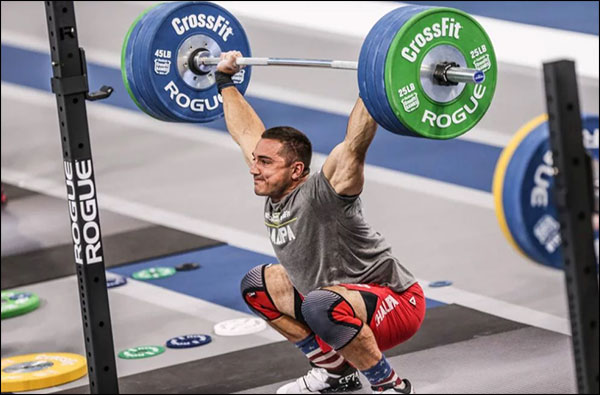 If you are in need of equipment for an event,  research very thoroughly which styles/brands are approved for your event. If you are not an event organizer, do NOT pay the premium for certified discs. You aren't getting a better disc you are merely paying for that manufacturer's annual IWF dues.
140-kg Competition Bumper Plate Sets
The 140 kilo sets include a pair of 10's, 15's, 20's, and 25's. Standard Olympic plate colors are green (10's), yellow (15's), blue (20's), and red (25's).

† certified by the International Weightlifting Federation (IWF) ‡
‡ again, non-event organizers need not pay the premium for IWF-certified discs – ever! 
♦ ♦ ♦
If you have any feedback about any of these bumper plates, please leave a comment. If you feel I neglected a particular brand that should have made this list, I welcome comments on that as well. Tell me which brand, and why it should be here. Please share me!
---