This is a review for the Vulcan Professional Olympic Bar, one of the most competitively priced high-performance Oly bars on the market. Priced at only $599, the Pro boasts a ton of premium features including high tensile and yield ratings, great whip, smooth spin, and a beautiful, industrial chrome finish. While it should be obvious that this is a lot of bar for the money, most lifters are still going to want to know how well the Vulcan Professional compares to the heavyweights.
Well I've had my Vulcan Pro for a couple of months now and I am already convinced that it holds its own against the more expensive IWF Olympic bars. It offers the same level of performance and the same quality of components, yet the price is much more accessible. No detail of the Vulcan Pro appears to have been overlooked or half-assed, and I believe this bar is a compelling alternative to the $700+ mainstream Olympic WL bars.
Of course this is just my opinion. I'm still going to thoroughly examine and comment on this bar feature-by-feature so that you may draw your own conclusions about the Vulcan Pro.
---
Vulcan Professional Olympic Bar Specifications
20 kg IWF-spec men's bar
28 mm shaft diameter
high whip
medium to moderately aggressive knurling
passive center knurl
50 mm sleeve diameter – micro grooved
lab-verified tensile strength rating of 241,000 PSI
lab-verified yield strength rating of 223,000 PSI
industrial chrome finish (hard chromium)
8 German precision needle bearings
lifetime warranty
$599 shipped
There is also a 15 kg women's variation of the Pro available for $579, and it too is manufactured to IWF specifications. You can view the women's Pro here.
Who is the Vulcan Pro for?
The Vulcan Professional Oly is a high-performance, competition-worthy bar. It's perfect for unsanctioned weightlifting events big and small, and as an intermediate to elite-level Olympic training bar. Experienced CrossFitters who intend to transition into the sport of Olympic weightlifting could also benefit from owning this bar, as it's better than any multi-purpose WOD bar, and it will never need to be replaced or upgraded as your dedicated Oly bar.
---
Specification & Performance Details
Sleeve Assembly: The Pro has one-piece, chrome finished sleeves. The sleeves are attached using snap-rings, and the length of the sleeves are micro-grooved to help keep rubber change/friction plates in place when used without/outside collars.
Rotation: The Vulcan Professional is assembled with four precision German needle bearings per sleeve. Sleeve rotation is smooth, quick, and consistent (demonstrated in above video.)
The use of eight to ten total bearings is pretty standard for premium Olympic WL bars, and the use of German needle bearings is a solid indication that the bar was designed to very high standards with both durability and performance in mind.
Knurling: The knurling of the Pro is said to be aggressive in the product description, but in reality it's more of a medium knurl. For comparison purposes, it has a little more bite than the Rogue Euro, but it's not nearly as sharp as IWF Competition Bar.
The Vulcan Professional is grippy enough for max-effort singles, but where it really shines is in a training environment. Its lack of excessive sharpness lends itself better to doubles and triples (or more) than the aggressive IWF stage bars, and it does so with no other sacrifices to performance. That is to say, you get all the performance of a competition bar, only with a milder knurl.
Remember that knurl preference is subjective. What I call medium will be aggressive to others. Just keep in mind that I get to handle a large variety of bars and I feel very confident about shying away from 'aggressive' and leaning towards 'medium' when describing the Vulcan Pro's knurling. 
Elasticity: The Vulcan Professional has reflexive properties that are more akin to the higher tensile strength bars like the 205k WerkSan and the 215k Comps than lower tensile strength bars like the 190k Rogue Oly or SS Professional. You won't find the Vulcan Pro to be very springy at low weights like many of the lesser training bars, but it's still whippy as hell once you hit that 100-120 kg threshold. Vulcan clearly built this bar to accommodate experienced lifters; not beginners.
If your Olympic lifts are still on the lower end and you want to experience some flex in your bar, look at the Vulcan Elite instead of the Vulcan Pro. The Elite will not only display whip at lighter weights, but going that route will cost you hundreds of dollars less (and still take your training well into the intermediate zone.) Just FYI, the whip of the Elite is out of this world for a $369 bar. Just a super fun bar.
Finish: The Pro is finished sleeve to sleeve in bright, beautiful hard chrome. Unlike many manufacturers that use nickel chrome or decorative chrome and simply call it hard chrome because you won't know the difference, the Pro is the real deal – true industrial chromium.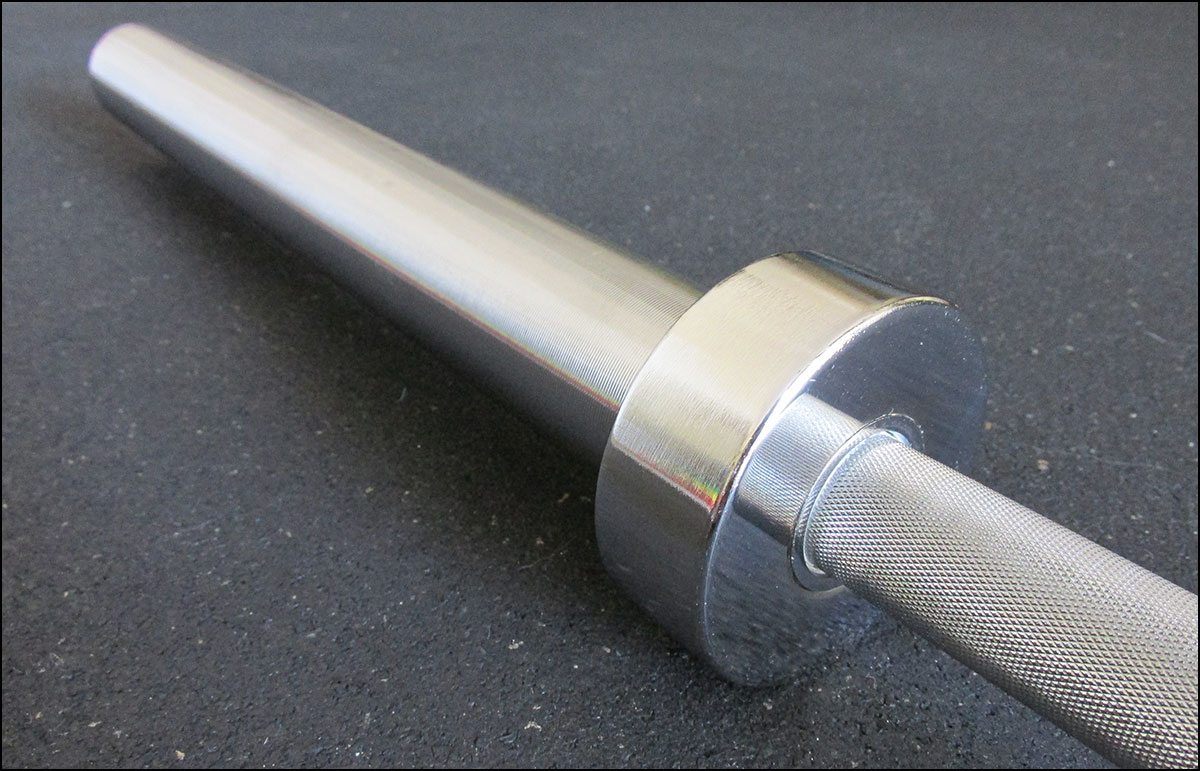 A classy looking finish is great, but the true purpose of having a quality chrome finish is to protect the steel from oxidation/corrosion. High-quality finishes like hard chrome last much longer than decorative finishes, and that equates to a better looking bar that will require almost no maintenance.
Another benefit of having a quality finish is the feel. True chrome isn't slick like decorative paints and zinc finishes, so it helps with your grip rather than weakening it. I realize that chalk is kind of a given in Olympic lifting regardless of knurl and finish, but the better the overall grip, the less time spent with your hands in the bucket.
Vulcan recommends using something like the V-Lock Rubber Change Plates instead of cast iron change plates as a way to increase the life of the finish. This is good advice for any bar, as cast iron is about the surest way to destroy sleeve finishes. V-Locks are amazing plates – I have them in both pounds and kilos – but whatever rubber change plates that you already have will do just fine.
Price Comparisons
Below is a chart comparing the price of the Vulcan Professional Bar to various other premium Olympic bars. The prices given for the IWF brands are for the training bars, not the competition stage bars. You can expect to pay anywhere from $100 to $200 more for the competition variants.
The Rogue Euro is actually awaiting IWF certification approval. It will be interesting to see what happens to that $695 price tag if and when that is finalized. I'm guessing that the price will either go up, or there will be a second "Competition" Euro.
Drawbacks?
In terms of performance, reliability, and value there are really no cons or drawbacks to even talk about. Between development and revisions, nothing about this bar has been overlooked. It has strong steel, great whip, quality components, and a beautiful, durable finish. Obviously I can't complain about the price – it's more affordable than pretty much all of its competition.
It's conceivable that athletes that are beyond conditioned to the sharpest of competition bars may find the Vulcan Pro to be too mild for their taste, but that's a knurl preference thing. No bar has knurling that 100% of people are going to be happy with, so it's hardly a drawback in the typical sense.
Revisions?
On the off chance you've come across a used Vulcan Professional, it might help to know that older versions of this bar didn't have the micro grooves in the sleeves; the sleeves were just as smooth and shiny as can be. The current version of the Pro does have grooved sleeves though. Just FYI!
Vulcan Professional Olympic Bar – Summary
I've owned probably half a dozen different Vulcan bars over the years and every one of them has lived up to my expectations. From the economical multi-purpose bars like the Vulcan One and Vulcan Standard to the higher-end Olympic bars like the Elite and Absolute, they all offer a lot of bang for the buck. The Vulcan Pro is no exception.
Would I recommend the Vulcan Professional Bar? Absolutely – the Pro offers the same level of performance as the expensive IWF Olympic bars without the added expense of an IWF sticker. The Pro even meets all the requirements to be an IWF-certified bar, but we should probably celebrate the fact that it's not because of what the presence of that sticker would do to the cost. There is no shortage of high-dollar, certified bars anyway, so it's nice to have the quality, reliability, and performance of an IWF bar in a more affordable package.
Do you already own the Vulcan Pro, or have access to it in your gym or training center? Leave a comment and tell us what you think of it.
---
† Image credit to Justin F. from his review of the Vulcan Professional Bar back in November of 2015. That review can be found on the WLForums here. He did a great job on that review btw.
Trivia: can you find the Vulcan pun?