Have you decided to incorporate some kettlebells into your training? Thanks in large part to CrossFit, kettlebell training is quite fashionable these days. It's not that kettlebell training is brand new or anything, but I do think that it is fair to say that kettlebell usage and sales has surged as a direct result of CrossFit.
It's for good reason though. The kettlebell has a been a great tool for increasing strength for some time. Even before CrossFit, many knew the kettlebell could be used to strengthen the legs, back, shoulders, and core. Hell, it was already its own sport. It was really just a matter of time before the kettlebell joined the strength training implement arsenal alongside the bar and dumbbell.
There isn't a whole lot you need to know about the kettlebell itself; it's a cannonball with a handle. And while you should seek out guidance on how to safely use them, the process of selecting bells that you will both be happy with and get years of use out of is simple. Having said that, don't just rush out to the nearest Academy or Wal-Mart and buy a kettlebell. I said there isn't much to know, but there is still some stuff to know.
In this article I'll first cover what to look for when kettlebell shopping, and then I will offer up some recommendations based on that. I will include brands, styles, pricing, and some pros and cons.
Last updated December 21, 2017 – added a table of contents and Onnit licensed Star Wars Kettlebells; made some minor edits to grammar.
---
Kettlebell Guide Table of Contents:
---
Kettlebell Guide – Handle & Grip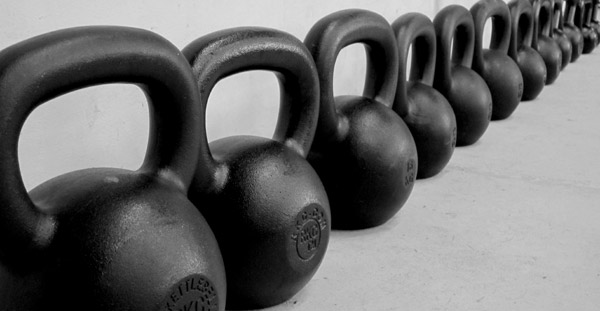 Handle Seam (Flashing)
The process of casting a kettlebell leaves flashing (think of it as a seam) across the middle of the underside of the handle. This flashing needs to be filed down before the kettlebell is coated or finished so that there is a nice, even surface to hold on to. The cheaper kettlebell manufacturers will make no effort to remove this sharp seam, and your hands will suffer for it (and very likely bleed from it).
Before you buy any kettlebell make certain that this flashing was filed down. Run your hand around the entire handle, especially underneath. You won't have to worry about this when it comes to kettlebells from reputable companies like Vulcan, Onnit, and Rogue, but if you're looking for kettlebells in chain sporting good stores or box stores, take a good look. Honestly, I do not suggest buying equipment from chain stores, but if you must at least you now know what to look out for.
Handle Diameter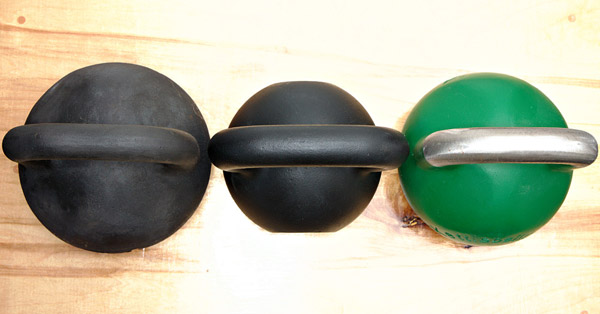 Depending on the size of your hands, you may want to pay special attention to the diameter of the handles. Not all vendors publish this number on their websites or packaging but most do. Expect decent kettlebells to have handle diameters starting at about 30-31 mm and go up to around 38 mm for the heaviest units. Cheaper kettles can have super narrow handles that are nearly impossible to hold on to during kettle swings and are total junk for snatches; so you probably don't want that.
Most basic kettlebell handles will get thicker as the weight goes up. Competition kettlebells will generally have a uniform handle diameter regardless of the weight (33 mm). These are more expensive per unit but if you want consistency, comps are the way to go.
The real point here is to avoid kettles that have really skinny, cheap handles. Just like with the flashing issue this won't be a problem if you avoid the cheap box store brands like CAP Barbell, Gold's and whatever brand they're selling at Target and Wal-Mart.

Handle Width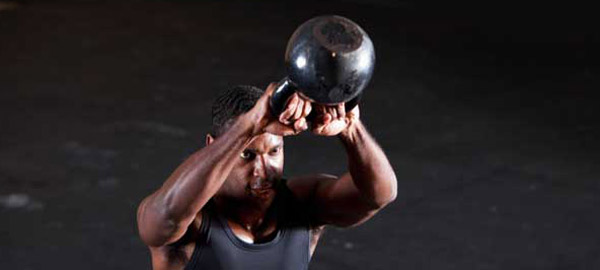 For some movements you will need both hands to be able to fit inside the handle opening without it being too tight or uncomfortable. While the handles do tend to get wider as the weight of the bell goes up, some manufacturers like Rogue or Onnit make kettlebells that have handles that extend out past the diameter of the ball in a V shape for the small bells (see image directly below). If you have larger hands you may want to consider one of these brands.

Going back to the competition kettlebells, they also have a consistent handle size among all weights. So if you're willing to spend the extra money on competition kettlebells, you can be sure the handle opening is large enough for two hands regardless of weight.
---
Kettlebell Construction Methods
There are two methods typically used to make a kettlebell: one piece casting or two piece assembly. The latter method involves attaching the handle to the ball, and is not as strong or secure as the one piece casting. You don't want the weighted ball to come flying off the handle during a swing. I'm pretty sure that flying cannonball is going to destroy whatever it hits no matter how light it is for a kettlebell.
---
Kettlebell Base
If you intend to do any movements that use the kettlebell as a ground fixture like renegade rows, handstands, or mounted pistol squats, you will want a kettlebell with a completely flat bottom. This shouldn't be an issue with a reputable kettlebell brand, but some of the cheap brands don't sit flush on the ground; rather they wobble about. If you buy from a brick and mortar store, check for this. If you're not sure of an item you see online, read the reviews.
---
Kettlebell Surface Finishes

There are a few different finishes available for kettlebells. The main options you'll run into is enamel, vinyl, powder coating, and bare steel. Black powder coating is what the nicer basic kettlebells (like those from Rogue) will have. It's a great finish for grip; both with and without chalk.
Bare steel is what the competition kettlebell handles will have, and it happens to be my own personal preference. Enamel is ok, but vinyl coating is not really recommended and is most commonly found on the lesser quality brands. The kettlebell on the left in the above picture is a CAP. It's very shiny and cute, but it's junk.
---
Stated Weight
A large problem with the mega equipment companies that import cheap kettlebells, weight plates, and dumbbells into the States is the inaccuracy of their products in terms of stated weight. I've heard of CAP dumbbells and weight plates that were off by pounds. Not grams and not even ounces; pounds! I've had cheap bars and plates myself that were as much as 10-12% off stated weight. It's ridiculous.
Owning equipment that deviates so far from the stated weight may be fine if you're a novice dealing with only 5- and 10-lb weight plates. So what if they're 8 ounces off, right? I assume you care about your training though, and if you rep a 24 kilo kettlebell you would likely want to know that it was 24 kilos and not just 21 kilograms. Stick with reputable companies if you care; buy garbage if you don't.
---
Some Suggested Kettlebell Brands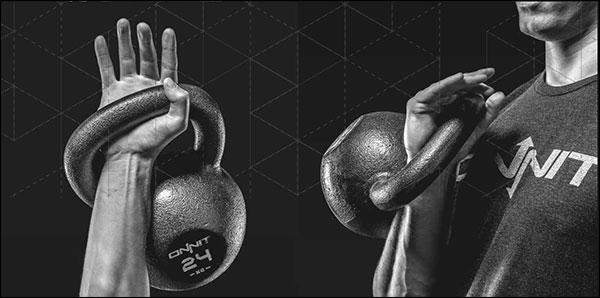 Here is a listing of kettlebell brands that you can trust without having to worry about any of the above-mentioned issues. All of these manufacturers offer accurate, seamless, and well-balanced kettlebells. No seams, no welds, no bullshit.
---
Vulcan Training Kettlebells
Vulcan's Training Kettlebells
are unique for a couple reasons. For starters, they are steel rather than cast iron, which means they are of a higher quality and more evenly balanced. Secondly, like competition kettlebells, they are all uniform in size regardless of weight. This uniformity allows for quick and easy progression between weights, and it also means you can get both hands in even the lightest of kettlebells.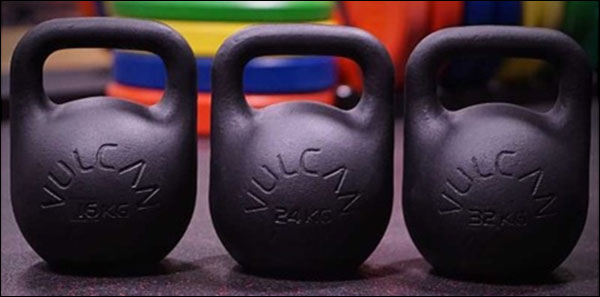 When you get right down to it, the Vulcan Trainers more closely resemble comp kettlebells than other training bells. You get just about all of the advantages of competition kettlebells – only no color scheme, but a more reasonable price. They are powder-coated, have a height of about 11″, a diameter of 8.2″, and the handles are 35 mm in diameter. They are available in 4 kg increments from 8 kg to 32 kg. Winner winner.
The Vulcan Trainers have a perfect 5-star rating (based on 44 reviews – and counting.)
---
Onnit Chip-Resistant Kettlebells
Onnit is one of the bigger kettlebell players in the fitness industry, and kettlebells are Onnit's primary training implement at the Onnit Academy in Austin, TX. In other words, to say Onnit knows kettlebells in an understatement.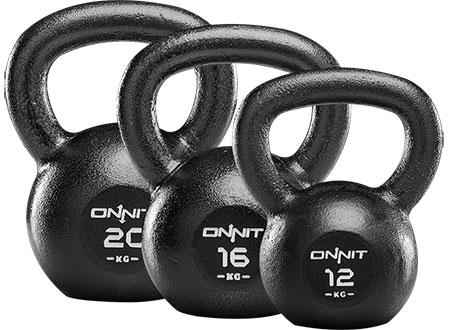 Onnit's new line of Chip-Resistant Kettlebells are a balance of economy and performance. They use the same casting design that they've been using successfully for some time now, but the new finish is a chip-resistant coating that stays grippy for longer without irritating the hands. Handle clearance still allows for optimal bone stacking in snatch and press lifts, and the obtuse shape of the handle is great for work gripping the horns.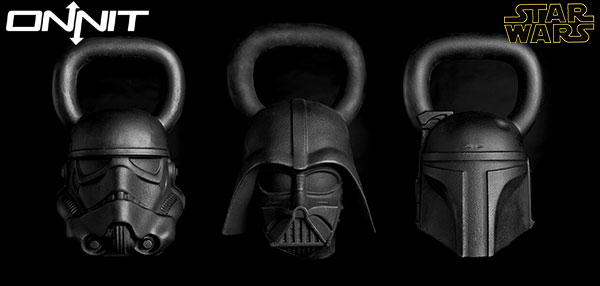 Onnit also has what I have to assume is the largest selection of high-quality but silly shaped kettlebells; including licensed kettlebells from big franchises like Marvel and Star Wars. Yes these are functional kettlebells, but I can't help thinking of them as novelties. Check 'em.
---
Rogue Kettlebells & Monster Kettlebells
Rogue's Kettlebells
are also very nice and consistent kettlebells. They too are finished in a black powder coat save for the colored stripe around the base of the handles (for quick and easy weight identification). They are offered in 17 different sizes/weights ranging from 9-lbs to a massive 203-lbs (approx 4-92 kg).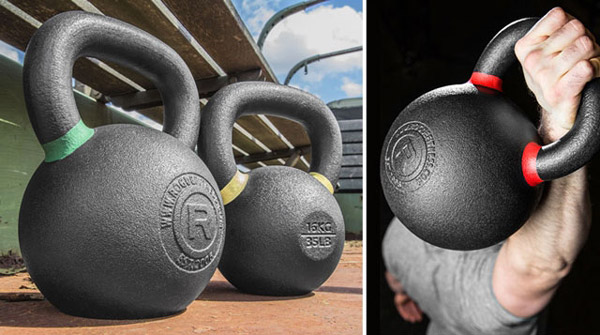 Rogue uses high quality ores rather than scrap irons, and their finishing process leaves a seamless, smooth surface that is free of defects. They are one-piece castings with a wide, flat base and the powder coat holds chalk very well. These are both functional, classy, high quality kettlebells, and they sell for very reasonable prices (starting at $22.)
---
American Barbell Pro Kettlebells
American Barbell Dettlebells
are colored coded around the base of the handles just like the Rogue kettlebells. They are cast iron with a textured, chip-resistant surface that works well with pr without chalk, and a large, flat base for extra stability and ground clearance during swings. They also sport the American Barbell logo; easily the coolest logo in the industry.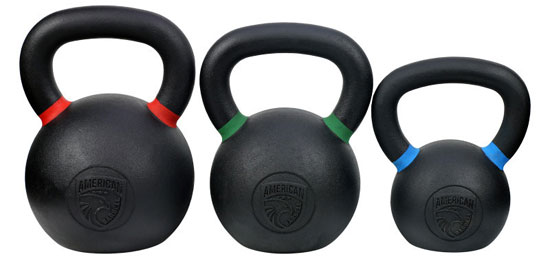 These are sold in kilograms (2-48 kilograms), but the weight in both kilograms and pounds is etched into the backside of each kettlebell so you get the best of both worlds. Prices start at $22, and they are pretty consistent with Rogue pricing. It's a wash between the two.
---
Vulcan Absolute Kettlebells
Vulcan Strength is one of the leading sponsors of the sport of Kettlebell Lifting, and they are serious about their kettlebells. The Absolute Comp Kettlebells are proof of that. Rather than pumping out just another kettlebell and then having a price war with everyone else, Vulcan puts some serious time and effort into the R&D of their Absolute kettles. The Absolutes are made entirely with high quality steel. They are guaranteed to not crack or dent for life, they won't as easily as painted kettlebells, and there are no toxic chemicals used as either fillers or in the powder coat finish. I have a couple of these Absolutes and they are the bomb.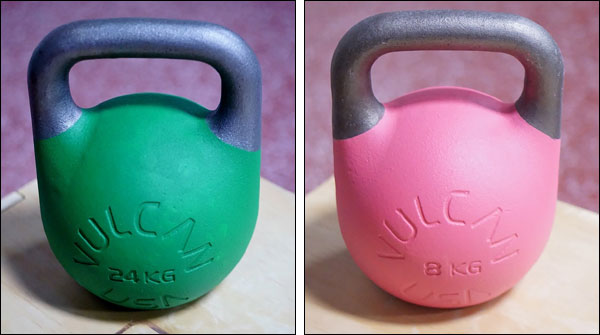 Vulcan publishes a lot of technical information about these kettlebells on their product page; much more than I can fit here. If you're serious about the quality and performance of your competition kettlebells, this is definitely a unit you should look into and read more about.
Like the Vulcan's Training Kettlebells, these have a flawless 5-star user rating.
---
Rogue Competition Kettlebells
The upgrade to Rogue's standard kettlebells, Rogue Comp Kettlebells are available from 8kg to 48kg, and all kettlebells share the same base diameter (5½"), height (11.1″), and handle diameter (33mm). This allows for smooth transitions when moving up with weight.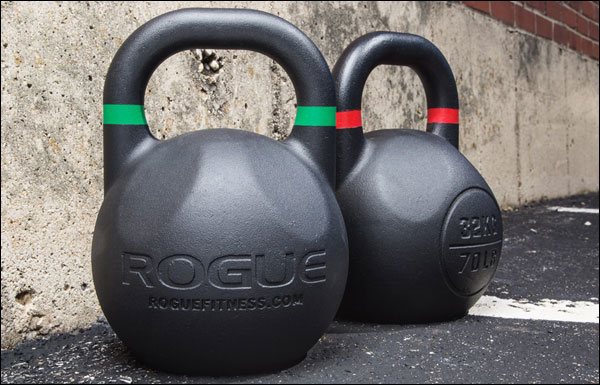 Rogue's comp kettlebells have a smooth, blemish-free surface with a matte black powder coated finish and four, specially contoured flats; which reduce friction and discomfort during overhead presses, cleans, and snatches. Rogue also included the color-coded bands.
Prices range from about $48 (8 kg) up to about $300 (48 kg), so they are much more of an investment than non-competition kettlebells. Like the American Barbell kettlebells, Rogue included the weight in both pounds and kilograms on the backside of the bell.
---
Ader Pro Grade Kettlebells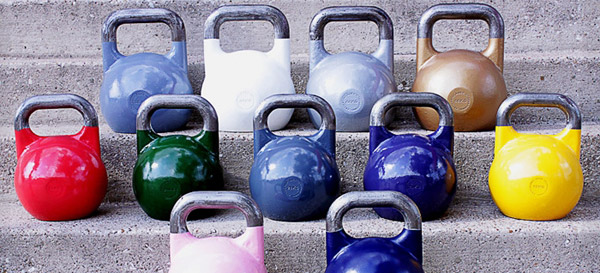 These are old school versions of the competition kettlebell. With so many other high-quality options out there with tons of thought having gone into the design and handle shape, these have fallen out of favor. That said, if you're old school and want classic-shaped competition bells, Ader is still an option.
---
Thompson Fatbells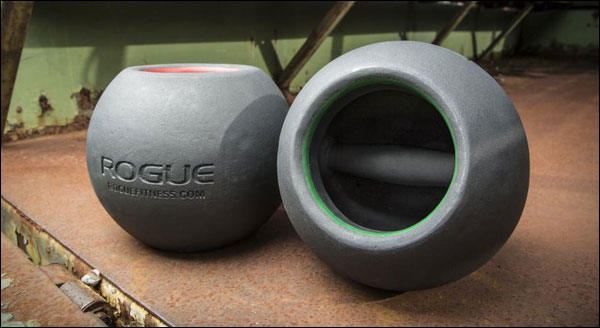 Brand new and already a huge hit, these weighted fist bells are the brain-child of powerlifter Donnie Thompson, and man are they badass. They are called Fatbells, and as you can see the handle has been moved into the bell itself as a way to balance out the implement. The result, as Donnie explains it himself, is the "perfect geometric shape for maximizing optimal performance," as your hand and the Fatbell essentially act as one. The center mass design allows athletes to improve the efficiency and balance of every press while also reducing the common kettlebell safety risks.
Thompson Fatbells are available in 15 different weights and sizes ranging from 9-pounds to 150-pounds (good luck with that). Prices range from $24 to $195 plus shipping. Look at the product page for individual sizes, measurements, and various applications.
Even as a brand new item the product page is already piling up with positive reviews, and many weights and sizes are frequently out of stock because of their popularity. You might have to request in-stock notifications to catch certain sizes, but they're worth the wait. Very cool product.
---
Some Honorable Mentions:
RKC Dragon Door Russian Kettlebells – Very popular kettlebells. The RKC Dragons are slightly more expensive than the Rogue's, but some people swear by them. They're one of the few quality kettlebells available for sale on Amazon, which means often times there are deals on shipping for Prime members.
Ader Kettlebells – These are the non-competition Ader's. Another popular option for basic kettlebells. They are solid, reliable, no frills kettles. These can be found from many retailers and are available in sets with free shipping from Rogue.
---
Kettlebell Guide – Final Thoughts
There are tons of kettlebells on the market. Many more than I can review here. However, I am confident that I have given you enough information to make an informed decision when shopping for kettlebells.
There are also fun-shaped kettlebells. Those where the hull is not ball, but rather is cast to be a zombie, demon, clown, or even Boba Fett. These are neat, but check for all the same things that you would with a standard kettle. Also, some of those custom kettles have very sharp features, so be careful with them.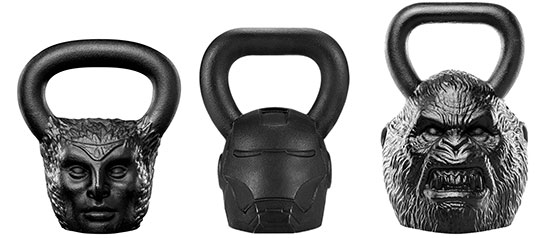 If you made it this far down the post, it must have been helpful? Please consider giving a like or a share to your preferred social media site. You may also want to check out the Onnit Kettlebell Resource page for all things kettlebells.
---