This is the much-anticipated review of the Rogue Euro Olympic Bar. First let me apologize to those of you who been patiently waiting to read this review. I feel pretty bad about having announced the Euro and XF review a couple months ago only to not get them completed in a timely manner. I won't get too into it, but suffice it to say that I had an injury that prohibited me from thoroughly testing bars, and since I don't write fiction there was simply nothing that I could do about it other than let things heal. Again, sorry for the delay, and thanks for your patience.
Last update: January 2018 – revisiting for accuracy.
---
Rogue Euro Olympic Bar Review: Intro
I'm going to summarize the review here in the beginning rather than at the end so that you can get an idea of what I have to say without having to read all 2000+ words if prefer not to. If you're seriously considering this bar and you want more detailed info, then read on. Here we go.
The Euro has just about the smoothest spin of any bearing bar on the market. You can spend more cash and probably still not get rotation like this.
The Euro performs much like the NxGs, and it has many of the same attributes (high tensile strength, great whip and spin, and flawless finish), but the difference in knurling is night and day.
This is Rogue's best Oly bar to date, and it's without a doubt an upgrade to the Rogue Olympic WL Bar; though I don't know if it has anything to do with being "European."
While expensive, the Euro will make the ideal training bar for many lifters. There aren't many bars that I'd consider shelling out more cash for unless I had to have an IWF bar, wanted a harsher knurl, or maybe preferred stainless steel.
This bar meets all IWF-standards, and if Rogue is going to seek certification on any bar, it'll be this one. If the Euro actually does get a sticker, expect the price to head north.
For training, the Euro could conceivably replace the NxG Performance Trainer or any of the IWF training bars like the WerkSan, ZKC, etc, but the lack of aggressive knurling and sticker make it a weak replacement to the competition versions of these bars.
The Euro is beautiful. The finish is flawless, the knurl is consistent, & even the end caps look flashy. It looks exactly like what a bar in this price range should look like.
---
Rogue Euro Specifications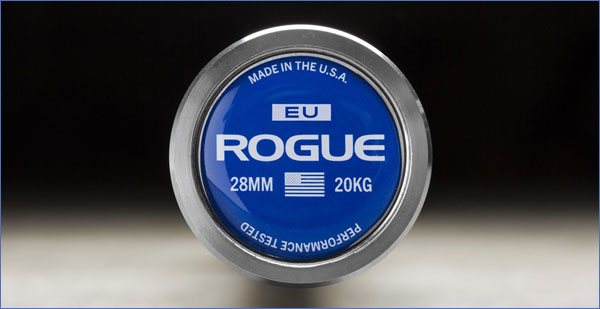 These specifications are direct from the Euro's product page. Rogue does not offer me any data beyond what they already publish online, so sadly I cannot offer you the yield strength or other bits and pieces that I can sometimes get from the other vendors/manufacturers.
IWF-spec'd bar, 28 mm shaft, 20 kg men's Olympic bar
Needle bearings (5 per sleeve)
Friction welded sleeves
Polished chrome finish (both sleeves and shaft)
Moderate knurl (Rogue's standard knurl) with passive center
Olympic hash marks
EU steel shaft with min. tensile ttrength rating of 215,000
Above average elasticity
16¼" loadable sleeve length (~413 mm)
Made in Ohio, USA
Lifetime warranty
$695 including domestic shipping
---
Rogue Euro Review – European Steel
I've actually got very little to say on the subject of the "European steel." Despite my efforts, I was unable to dig up anything factual regarding the superiority of EU steel over US steel for barbell manufacturing. Other than the anecdotal statement in the Euro product description regarding EU bars and whip, there was nothing explaining how or why EU steel is superior for this application. It may very well be the best steel in the history of everything, but I just don't know, so I can't really say anything else about it.
Having said that, the shaft is 215k PSI; exactly the same as NxG. It's a massive upgrade to the 190,000 PSI shaft used for the Euro's predecessor. No matter where the steel comes from or where it also could have come from, it's a damn nice shaft, and that's all that really matters.
---
Rogue Euro Review – Sleeve Rotation
The Euro has incredibly smooth spin; it's both consistent and surprisingly quiet. In addition to paying close attention to turnover, I rack tested both the rotation of the sleeves around the shaft (loaded and unloaded) and the shafts ability to rotate freely within the sleeves. In all cases, rotation was nothing short of impressive.
Even though the Euro has a very free spin, it's not erratic. It doesn't over-spin, nor does it have the even more bothersome issue of briefly reversing direction after coming to a stop. Truthfully you should never experience that pendulum effect with a new bar. Sleeves should only want to settle or "correct" in this fashion if there is a bend in the shaft, a bar bearing, or perhaps a very imbalanced bumper loaded. Still, I check for that stuff since I'll inevitably be asked about it.
You may be tempted to tell me that having a barbell set to spin while sitting in a rack says absolutely nothing about how a bar performs during a lift, and I'd be inclined to agree with you. However, spin tests can actually make spotting problems with a bar much easier.
In the case of the Euro video above, there were no problems to be found, and that makes the video rather boring. The bar goes from a full spin to a complete stop without any abrupt changes in speed, hanging, or catching. It spins well for not being loaded up, but it does not spin all afternoon. The shaft is dead straight and it's obvious that the bearings are all seated correctly and working perfectly. Yeah, pretty boring. For $700 it better be boring.
The only real unknown in terms of the Euro's rotation is how well the bearings will hold up over time. I don't mean will it still spin a year from now, I mean will it still spin 10 or 20 years from now. Unfortunately I cannot test for that, I just have to put my faith in the R.
---
Rogue Euro – Knurl
While there are clearly many similarities between the Euro and the IWF training bars, I can safely say that knurling is not one of them. Rather than going with the usual semi- to super-aggressive knurl pattern typical of most elite training bars, Rogue opted to tone their knurl down a little and go with something a tad milder and more refined.
You can see that these two knurl patterns (above) are like night and day. Both offer secure grips, but they feel completely different in the hands. While technically the Euro is bit more comfortable to hold on to for longer, I wouldn't suggest that this comfort alone makes the Euro superior to the NxGs. Then again, I'm also not going to tell you that the NxG knurl is better than the Euro's. Arguments can be made for both of these knurling patterns, and you alone can decide which one would better suit you.
I look at it like this. The classic, aggressive knurl on training bars is not only very secure at high weights, but it has the added benefit of preparing you and your hands for the IWF bars (the Comp bars). Milder knurls like what's on the Rogue Euro still offer a firm grip, but make for much more comfortable long training sessions – though it may require more chalk over the length of your session. If you don't train for competitions, then there isn't any reason to be uncomfortable during your workouts. Also, who doesn't use chalk anyway?
If you've already adapted completely to aggressive bars, you might find bars like the Euro to feel insubstantial despite their adequate holding power. That is to say, it just won't feel the same to you. If that's the case, why change? Go with what you know.
And not that it matters, but if it were my decision to make I'd have slapped the same exact knurl that's on the Chan Bar or SS Ohio onto the Rogue Euro. I think that would have been perfect for this bar; a nice compromise between the current 'standard' knurl and the typical uber-aggressive knurls. Not that anyone asked me (wah wah).
---
Rogue Euro – Whip
The Rogue Euro is a whippy bar; definitely above average in terms of elasticity. There is an obvious springiness to it that makes it feel exactly like the premium piece of equipment the price implies. Considering that we pay a premium price for it, this is good news. The Rogue Euro is whippier than any other Rogue bar, and this includes the original (190k) Rogue Olympic WL bar.
---
Rogue Euro – Finish
The Euro is completely finished in polished chrome, and in my opinion this bar is simply beautiful. It may even be more attractive than my previous favorite, the American Barbell Pro SS. Maybe; I don't know – tough call.
There's not much that I can say about the finish from a technical standpoint. It's basically a flawless finish. I can find no imperfections on my personal Euro, and the few reviews that have been left all seem to indicate that the reviewer is more than impressed with the bar's aesthetics.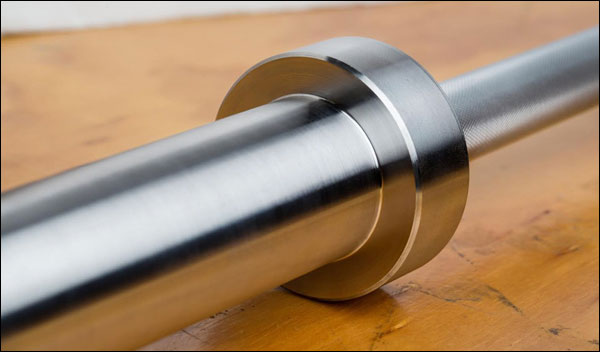 Above I included one of Rogue's pictures of the Euro rather than a picture of my own Euro simply because my camera doesn't do this bar justice, and even though this Rogue picture is probably touched up to some degree, it still very accurately portrays how beautiful it is in person. Its practically art – functional art.
---
Rogue Euro – Pros, Cons, and Summary
I really have no problems with the Euro. Construction is extremely well done, and the Euro exhibits none of the symptoms that would generally hint at shotty manufacturing or weak tolerances. There is no excessive lateral play in the sleeves, no alarming noises when the bar is dropped, and no undesired friction (grinding or catching) in the sleeves. There are no red flags at all.
Matter of fact, the Euro has pretty much everything that I would expect from a nearly $700 premium Olympic barbell. The spin is flawless, the whip is great, the polished chrome finish is consistent and beautiful, and it's warranted for life. Additionally, this bar has some of the less important but still nice-to-have features like micro-grooved sleeves for change/friction plates, knurl that extends to the collars, and even the presence of the passive center knurl. Oh, and shipping is free, so the price is the price.
The only thing that might bother some of you is the medium knurl. Again, I think the knurl on the Euro is adequate, but that doesn't change the fact that this bar is still milder than the majority of the other Olympic training bearing bars. Those of you who have already adapted to and come to terms with cheese grater knurling may not even want anything softer. I still think that bars with moderate knurl like the Euro can make a great training bar for those long sessions, but I'm certainly not going to suggest that you go against your gut. $700 is an expensive experiment.
At the end of the day I think Rogue did an amazing job with this bar. As someone who has always thought of Rogue as the leading CrossFit equipment supplier and a mere dabbler in the actual sport of Olympic weightlifting, I am happy to see them make a bar that indicates that they can do way, way more than dabble. If your only exposure to Rogue is their basic bushing bars and some bumpers, then you're in for quite the surprise with the Euro.
As always, if you own the Rogue Euro and want to contribute some of your own feedback or thoughts, feel free to do so in the comments. Also, social shares are appreciated greatly.
---