So you're setting up a garage gym and in need of some flooring? Or perhaps you're already set up with a gym and you're tired of working out on a concrete slab? Sounds like it's time to explore some garage gym flooring options. High-quality, durable flooring protects your homes foundation and your expensive exercise equipment, and even more importantly than that it can do wonders for you and your joints!
So what's the best flooring option for your garage gym? Well if you've ever stepped foot in a commercial gym or CrossFit box (as I'm sure you have), you've seen the super dense, seamless rubber flooring they have installed. This is probably the best flooring option when it comes to both durability and aesthetics, but it's typically more expensive than the average person wants to spend. So while I will definitely cover the commercial flooring options, I will also explore some more affordable gym flooring options as well.
Last updated: December 2017
---
Garage Gym Flooring Option 1: Commercial

Let's first look at the commercial flooring I was just talking about; the type of materials that you would find in a global gym or nice CrossFit affiliate. If money is of no issue, commercial gym flooring is about as nice as you're going to get. Expect to spend anywhere from $3.00 to $8.00 per square foot for this type of rubber flooring. If you want it installed professionally expect to spend even more.
Regupol Aktiv
There is one particular commercial option that is priced on the lower end of the commercial pricing spectrum but is still tough as nails. It's called Aktiv by Regupol. It is offered in a ton of colors and a couple of different thicknesses, and it is sold on rolls rather than as tiles. As far as specific pricing goes, it's about $2-3 per square foot but most retailers require you to ask for a quote to get a specific price. You can pick this up at Rogue, or any of a number of flooring shops both locally and online.
You can also buy a tiled version of Aktiv flooring called Aktivlok. I've seen pictures of the tile version as well and it looks seamless once installed. I'm sure its just as nice of a product as the rolled version. Also prices are more readily available without asking for quotes (it sells for about $3-$4 per square foot; not too bad for such a high quality product). Definitely ideal for DIY installations in smaller spaces.
There are countless other rolled and tiled commercial options out there. I would suggest looking in your area for a dealer or contractor and getting some bids; if for no other reason than to get an idea of what you should be paying for professional installs. You can always turn to the Internet, but not all of the high ranking dealers are reputable. Do your research.
---
Multipurpose Rubber Tiles
Rogue sells 24″x24″ multipurpose rubber tiles that are 1½" thick for about $34 each. These are fairly expensive at about $7-$8 per square foot, but they are twice as thick as just about any other option. Rogue uses these very same tiles for both their 4'x8′ deadlift platform and their 8'x8′ Olympic lifting platform.
I don't like the size of these for laying a permanent floor unless you plan to secure them in place somehow, but these are great for making platforms and for some other odd jobs like deficit deadlifts, raising box height for box squats, and as a super thick catch pad for atlas stones. Each pad weighs about 27 pounds and they can be purchased either individually or in packs of various sizes.
---
Garage Gym Flooring Option 2: Stall Mats
This next option is literally just as good of an option for a garage as the above-mentioned commercial flooring, but for a hell of a lot less money. Believe it or not, it's horse stall mats. They are ¾" thick 4'x 6′ rubber mats that run about $40 each (only $1.66 per square foot). You can cover some serious square footage for not a lot of money by using these mats. 
My own garage gym is outfitted with these stall mats and I absolutely love them. They are thick, durable, affordable, and they both lay flat and line up when set side by side. I also like that they're relatively easy to cut. I've had to cut up mats to get them flush against the wall, and I've cut holes for the feet of my power cage so that I could anchor it directly into the concrete (image below). I personally outlined the holes with a Sharpee and then cut with a jigsaw, but I've seen videos of guys just dragging a box cutter around the feet of a rack.
As I mentioned, these stall mats are extremely durable. Walk into almost any CrossFit box and you'll see stall mats rather than commercial flooring. Why? Simply because they work. I drop loaded bars and heavy hex dumbbells on these mats on a daily basis, and have done so for years with not one rip, tear, dent or any other damage to the mats.
They also hold their shape. If you bunch four or six of them together in a rectangle, they all line up (look at the nice line where the mats meet up in the picture above). Mine have never warped or deformed, and they're in a garage where they are exposed to the extreme Texas heat and then winter cold. Admittedly, our winters have nothing on you Northern people, but you get my point.
Before you run off to buy some of these, you may want to know that they are quite heavy. Each mat weighs in at about 100 pound, so get help from a friend when you pick these up at the store (Tractor Supply Company has them for $39.99). You can find these online, but because of the weight, I suggest you grab a truck and go pick them up yourself and save a small fortune on shipping. You should be able to find these at any feed store if you don't have a TSC nearby. I have an article where I talk about working with these mats here.
If you absolutely have to have these shipped and you're okay with 1/2″ thick mats rather than 3/4″, XMark sells these for about $90 shipped on Amazon. It's not ideal, but it's not awful considering their weight.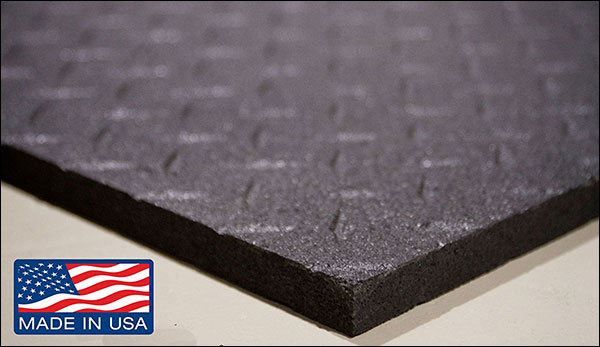 A little advice when looking for these online. If the price is too good to be true, look closely at pics to make sure they aren't super cheap. The cheap mats probably won't be cut straight, probably won't be as dense, and may even be completely or partially foam instead of rubber. Be mindful.
---
Garage Gym Flooring Option 3: Interlocking Rubber Tiles
Finally there is the super economical option. CAP Barbell makes ½" thick interlocking foam tiles that you can purchase from local sporting goods stores like Academy or Dicks, or even online at Amazon. It's cheaper than any other option presented so far, but you get what you pay for.
If you're going to be dropping loaded barbells, kettlebells, or dumbbells consistently, you may want to avoid these. There are numerous reviews on Amazon about how horrible these are when used for weightlifting. Other complaints include being unable to jump on them because they come apart, tiles not lining up no matter how you turn them, and some tiles actually being different heights. Personally, you couldn't give me a CAP product, but despite the low-quality these are still a popular item.
The hardware stores also sell versions of the interlocking vinyl or rubber tiles. The online reviews are hit or miss, and the specs don't look all that great for the price (they seemed thin). Still, another option for you to consider.
---
Gym Flooring Options Summary
The lightweight interlocking mats or tiles seem more suitable for putting under a treadmill or elliptical; something that doesn't move around much, but still benefits from being off the foundation. For explosive movements with bumper plates, especially movements where a failed rep means dropping the bar like the Olympic lifts, I would at the very least go with the heavier duty mats like the horse stall mats.
If you've installed garage gym flooring that wasn't mentioned here and you love it, leave a comment and tell us about it. I'd love to offer more viable options for new visitors.