This is a review of the Elite Weightlifting Bar – an Olympic training bar that's manufactured by one of the most established and experienced bar manufacturers that you have probably never heard of; a Taiwanese company called Gymway.
Gymway has been producing mid-range and high-performance, private-label bars for many years now; longer than most of today's popular, USA-based manufacturers have even been in business. That is to say, the name may not ring any bells, but Gymway is not at all new to the game.  As a matter of fact, there are already a couple of reviews here on Garage Gyms for Gymway bars. Hell, you may already even own a Gymway bar and not even know it!
Personally I like their bars, and it's interesting to see them put their own branding on a small collection of products. I have zero doubt that I'll work their products into the review mix here and there, starting with the Elite, and likely moving on to their power bar.
In any case, we're talking about the Elite Olympic Bar today, so let's get started.
---
Gymway USA Elite Weightlifting Bar Specifications
20 kg men's weightlifting bar
28 mm shaft diameter
adheres to IWF specifications
tensile strength: 216,200 psi *
yield strength: 206,900 psi *
rotation: bushings
shaft finish: chrome
sleeve finish: chrome (oxide and manganese are available)
sleeve texture: none
loadable sleeve length: 16¼"
sleeve assembly: proprietary
whip: average
knurl: mild/medium
center knurl: 4½" passive center
made in Taiwan
MSRP: $335 with $25 flat rate shipping in the lower 48
* Gymway actually has lab-verified tensile and yield strength ratings; which is why Gymway bars always tend to have very specific-looking figures associated with these two specs.
---
Gymway Elite Weightlifting Bar Review – Overview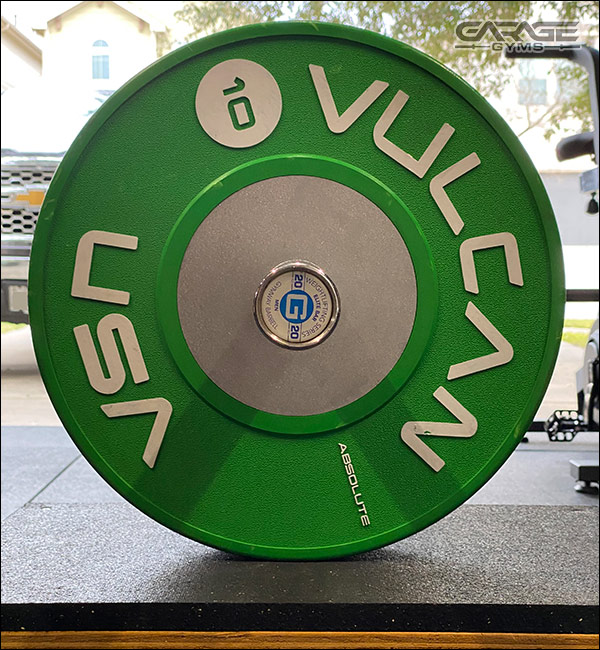 The Gymway Elite Weightlifting Bar is an Olympic training bar; a bushing-based, 28 mm bar intended to be used for training the snatch and the clean and jerk.
Olympic training bars like the Elite are designed and intended to be high-performance, cost-effective alternatives to the expensive needle bearing bars. The fact of the matter is that the vast majority of weightlifters don't benefit from their Oly bar having four needle bearings per sleeve versus just a pair of high-quality bronze bushings; so why pay for bearings?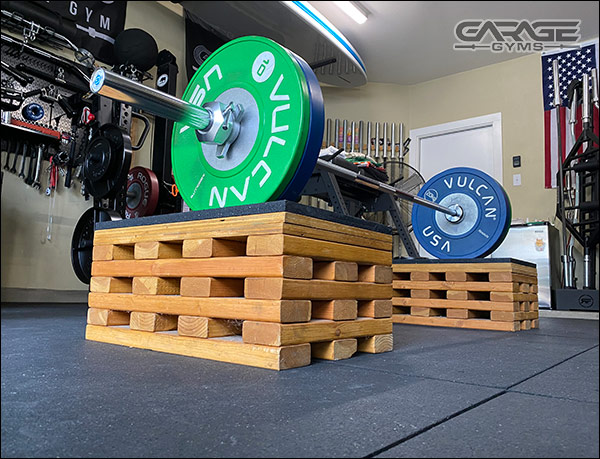 The Gymway Elite is a strong bar; and a versatile bar as well. Despite the fact that it's a 28 mm Olympic bar, it can still be purchased and used as your everything-bar. That is, there is literally no reason why a weightlifter (or CrossFitter) would have to have any other barbell in their arsenal. The Elite can handle both your Olympic lifts and your non-Olympic lifts (squat, rows, presses, etc.)
There is a common misconception that a bar needs to be a dual-marked, multi-purpose bar in order to move from the platform to a power rack, and that is just not the case.  So long as you don't have a personal problem with squatting or pressing a 28 mm bar with milder knurl than your typical power bar, there's zero reason why you couldn't squat and press with your Gymway Elite (or any good Oly bar for that matter.)  The Elite is not going to bend, warp, or break under the weight of a slow compound lift when it is capable of surviving years of 400-lb, explosive cleans.
All that said, this bar's primary purpose is as an Olympic training bar, and I'll be treating it as such throughout this review.
---
Gymway USA Elite Weightlifting Bar – Knurling
The Elite has what I would consider to be a very average knurling; very typical of what can be found on other Olympic training bars. I liken it to my old Euro and the Rogue 28 mm Oly Training Bar; and the American Barbell Olympic bars. Honestly, it could easily be compared to many of the 28.5 mm multi-purpose bars out there; bars that tend to err on the side of too mild rather than too coarse (the standard Ohio Bar, the Wonder Bar, and so on.)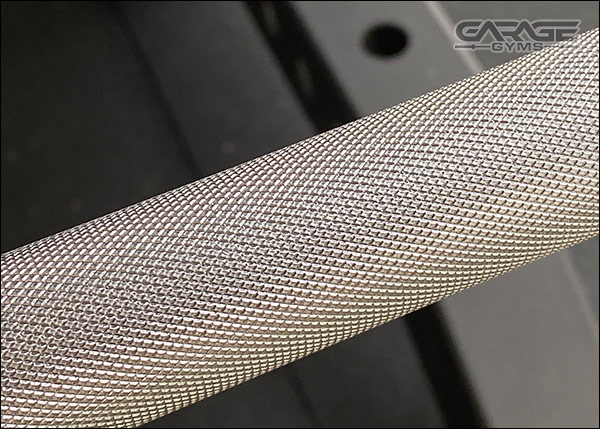 To put all that another way, the Elite is not an aggressive barbell. It's not the bar that you're gonna want for pulling heavy singles, rather it's more appropriate for triples, and/or sets of variations like hang cleans, power snatches, etc. I suppose the Elite would also make for a solid WOD bar as well,  and a WOD bar that would transition well from CrossFit to Olympic lifting better than a dual-marked, 28.5 mm bar would (since it actually has some flex to it).
I personally favor a more aggressively-knurled bar, but I don't want to be too disparaging in regards to the milder knurl of the Elite because mild knurl is preferred by a great number of athletes, and the knurl of the Elite is a good knurl, it's just not an aggressive one. Also keep in mind that 9 out of 10 bars that I review are power bars, so to say that I am accustomed to bars of a more aggressive nature would be quite the understatement.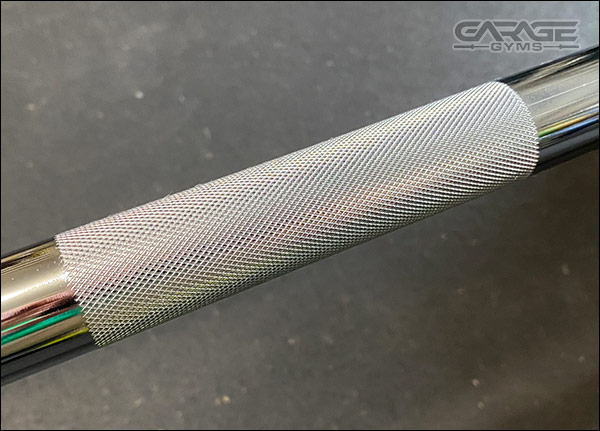 The Gymway Elite has a passive center knurl.
---
Gymway USA Elite Weightlifting Bar – Elasticity
The Elite has a very standard feel to it in terms of elasticity. It's not especially whippy, nor is it overly rigid. It's right where you expect the average 28 mm weightlifting bar to be.
Do you need an especially whippy bar? Are you pulling those kinds of numbers?  If so, then you probably qualify for a bearing bar as well. You should be looking to spend more $$ than the $335 this bar costs.
You can solve the lack of bearings issue with the Competition version of this barbell, but I'm guessing the shaft is identical to that of the Elite; meaning the elasticity would be the same.
---
Gymway USA Elite Weightlifting Bar – Sleeves
In typical Gymway fashion, the Elite Olympic Bar has a very impressive sleeve assembly. From performance to aesthetics, the sleeves are just spot on.
Sleeve Assembly & Rotation
Gymway uses a proprietary, bronze bushing-based rotation system on their bushing bars. What makes a Gymway bar different from all other bushing bars is the clever method they use to secure the sleeves to the bar shaft, and how this method leads to barbells with not only very tight assembly tolerances, but also a bar with less internal parts.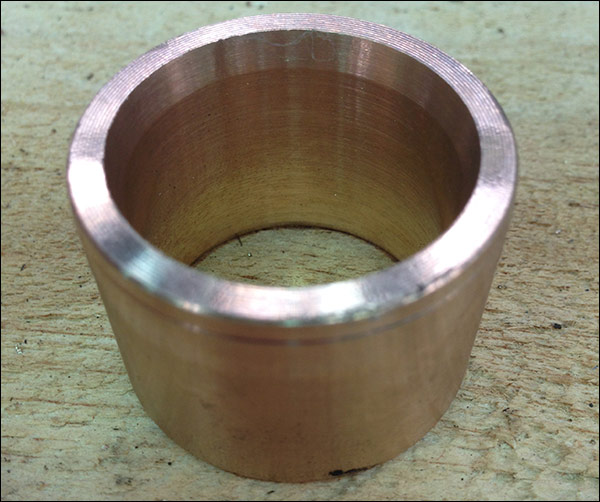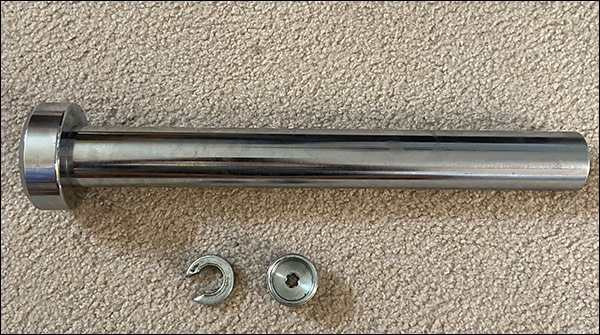 Gymway bars have no snap-rings pinning the sleeves to the shaft, so not only is it a more structurally-sound bar that can take being stored (and dropped) on its end better than your typical snap-ring bar, but it's also just a naturally quieter bar when dropped as intended.
Sleeve rotation on the Elite (and all Gymway bars that I have handled) is as good as [pick your favorite bushing bar]. It's smooth, consistent, and reliable.  As a matter of fact, sleeve rotation of your Gymway bar is probably something you'll never even really think about. It's funny how you don't really think about things when they are working perfectly.
It probably won't come up much, but maintenance is also easy. The Elite uses the standard pair of bronze bushings in each sleeve, so if the bar feels like it's slowing, just put a drop or two of 3-in-1 oil on each bushing and carry on with your session.
By the way, if you're wondering if you have a Gymway bar, you can often times recognize it either by a complete lack of snap-rings (or bolt), or more obviously by a star-shaped hole at the end of a rounded, steel end cap.
Sleeve Finish & Aesthetics
The Gymway Elite uses a standard chrome finish on the entire bar; including the sleeves. I think this is a satisfactory finish to use on sleeves and it should remain intact and oxidation-free for many years. it's also very easy to maintain and clean (I'll talk more about the finish in the next section.)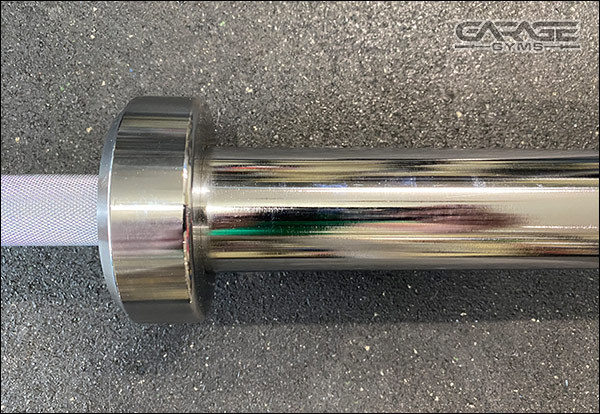 What really makes the Elite (and many other Gymway bars) stand out are the shoulders of each sleeve. Gymway uses a really nice looking, beveled sleeve shoulders rather than the standard square shoulders.  Additionally, Gymway laser etches the inside of the shoulders with branding and serial/model number information. You may have probably seen this on a handful of other bars, and I'm sure you'll agree that it really makes the bar stand out.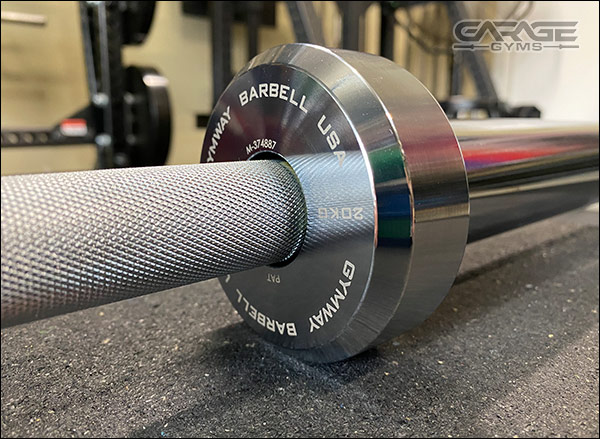 In any case, sleeve "attractiveness" is only worth so many points, but for what it's worth the Elite gets all those points; at least in my opinion.
Sleeve Texture (or lack thereof)
One of my favorite things about this bar is the fact that the sleeves have no texture; none of the irritating grooves that manufacturers simply love adding to their bars because they think that everyone is so opposed to using collars that our plates are just sliding off our barbells.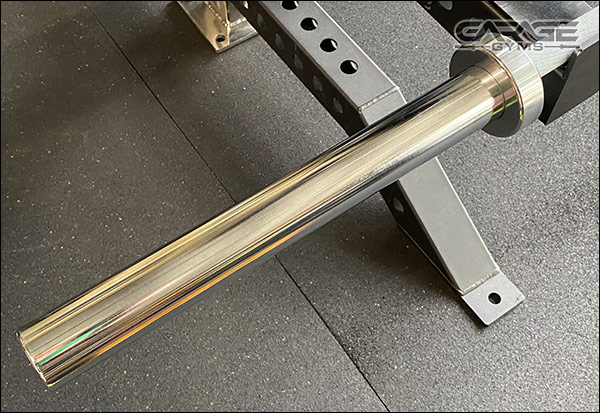 Sleeve texture makes loading and unloading bar sleeves a little more challenging that it has to be because if you don't slide the plates on perfectly straight, the edge of the insert can hit the tip of the grooves and can get jammed. Now this is not that big of a deal when the bar is in a rack because it's a lot easier to guide the plates across the sleeves, but when the bar is on the floor, and you're bent over trying to lift one end of the barbell up while simultaneously sliding the plate down the sleeve, well, it can be increasingly frustrating as you get tired and the bar gets heavier. Well Gymway left all this texture off of their Elite Olympic Bar.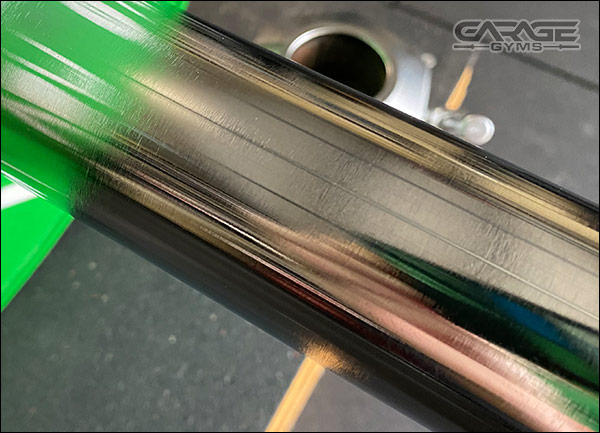 I realize that the performance of a bar trumps the minor inconvenience of sleeve texture on a bar, but if you can get the performance and not be inconvenienced, then why not, right? It should also be mentioned that texture-free, finished sleeves tend to age better than sleeves with the same finish (chrome, in this case) that are grooved. There's less friction, less wear and tear on the finish, and less surface area for oxidation to develop; not to mention a total absence of nooks and crannies for material to build up in.
Sleeve Summary
In summary, the Gymway Elite sleeves are smooth, quiet, resilient, texture-free, very pretty, and easy to maintain. I have zero issues with the sleeve assembly. They're golden.
---
Gymway USA Elite Weightlifting Bar – Finish
My Gymway Elite is completely finished in chrome.  Chrome is still a very common finish to have on barbell sleeves, and a slightly less but still very common finish to have on the shaft itself.
Chrome does a pretty good job of warding off oxidation, and it does so for a very long time in most environments. Oxidation can still build up in the deep recesses of the bar's knurling if the shaft isn't brushed out from time to time (nylon), but overall chrome is still pretty solid.
Chrome is fairly middle-of-the-road in terms of its feel and grippiness. It doesn't feel as solid and natural as stainless steel or Cerakote does, but it also doesn't feel as loose and slick as black zinc (another fairly common shaft finish).
The fact is that chrome is a pretty typical finish for Olympic training bars, and its use is part of what keeps the price of these bushing-based Oly bars down. Cerakote would make for a more expensive bar, and stainless steel would raise the price significantly.
Black oxide and black manganese are also offered. Both of these finishes feel pretty good in the hands, but oxide is barely effective at preventing oxidation so I'd personally skip that finish unless you keep your bar in a climate controlled, moisture-free gym. More credit can be given to manganese phosphate as it feels drier and grippier than chrome, but personally I'm not a fan of black finishes in a poorly lit garage gym, so I tend to pass on anything dark.
---
Comparable Bars to the Gymway USA Elite
As previously mentioned, the Elite falls into a class of 28 mm, bushing-based Olympic bars, and there are others that you may be considering alongside this Gymway.  Let's take a look at a few of the nicer options of those currently available.
Vulcan Elite V4 Olympic Training Bar
The Vulcan Elite V4 Training Bar is a high tensile strength, chrome moly Olympic bar with a higher-than-average amount of elasticity, and a very similar bushing system to the Gymway Elite.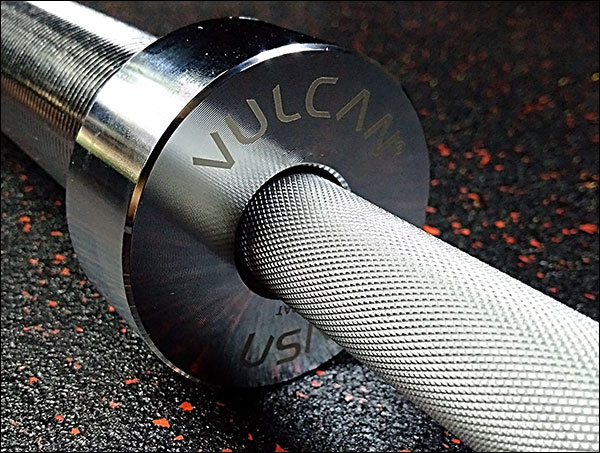 The knurl aggressiveness of the Vulcan isn't too dissimilar to the Gymway; maybe a hint or so more aggressive. The shaft is finished in dense chrome rather than polished chrome, so it feels a little different; more like a matte oxide. Dense chrome isn't at bright and shiny as a normal, polished chrome, nor does it age the same.
The sleeves of the Vulcan Elite are grooved, but it's not the usual texture; like what you see on the Rogue bars. Actually, the Vulcan Elite sleeves are gorgeous… for what that's worth.
The Vulcan Elite is slightly more expensive than the Gymway, but not by much, and when it comes down to bar performance, both bars are similar while still being different enough that they should both be considered. Do you want the extra flex in the shaft? Which finish would you prefer? Are the grooves going to bother you? etc.
Both bars are great. If you've narrowed down to these two then you're in a good spot.
American Barbell Performance Training Bar
American Barbell may very well be the best US-based barbell manufacturer out there. Their bars are ridiculously refined, beautiful, and quiet, and the high performance of these bars is immediately evident when you pick one up. The Performance Training Bar is no exception.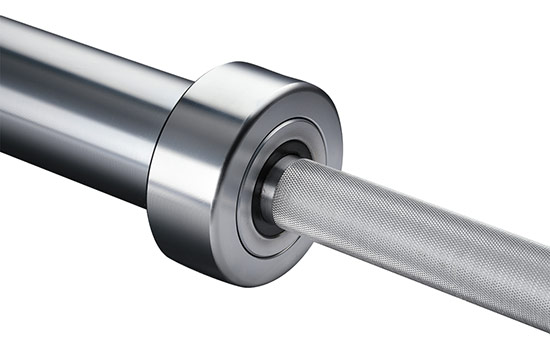 At $395, the Performance Training Bar is clearly more expensive than the Gymway despite having weaker shaft specs.  The knurl of the AB is about as mild as that of the Elite, but for reasons that are unexplainable it feels stickier and grippier.
Bar flex doesn't differ much between these two 28 mm bars, and you'd be hard-pressed to notice a difference. Rotation isn't much different either. Matter of fact, both of these barbell manufacturers excel when it comes to their bushing systems. They're both reliable, smooth, and going to continue to spin issue-free for a lifetime.
As with with the Vulcan Elite above, I like both of these bars. I think the price difference will make the decision easy for many because as far as how these two bars feel in practice; in the hands… it's not a huge difference.
Rogue 28 mm Training Bar
The Rogue 28 mm Training Bar is probably the most boring of these Olympic Training Bars. It does have the benefit of being offered in two Cerakote colors, which would be a fantastic thing for gripping power if the knurl wasn't so mild to begin with, but outside of that it's very run-of-the-mill in terms of specs.
Rogue bars are great bars.  The problem is that they offer so damn many of them, and only a few of them truly stand out in the market (and in their own line up).  This particular barbell is basically just a 28 mm Ohio Bar. The price is certainly nice at $325, and it'll most certainly get the job done for years and years, but it's not my favorite. An upgrade to either Elite bars (Gymway or Vulcan) is only a few bucks.
---
Gymway USA Elite WL Bar – Review Summary
I like the Gymway Elite a lot. It's a very nicely-spec'd and reasonably-priced Oly training bar from a well-establish and experienced manufacturer. I can absolutely see the Gymway Elite being a major equipment score for someone who is just starting to equip their home gym. It is an excellent bar to start your gym with or upgrade an existing bar to.
I think this bar is more than suitable for weightlifters and CrossFitters of all skill levels, save for heavy-weight veterans that stack reds for the clean & jerk.  Aside from the pros, I would only suggest steering clear of this bar if you prefer a bar with very aggressive knurling. The Elite has almost everything going for it except for aggressive knurling.
So yeah, two thumbs up from me; which I'm glad to be able to say because I think there are some real stinkers entering the market post-Covid. Good job, Gymway.
Gymway USA Elite Weightlifting Bar
Pros
Produced by a highly-experienced barbell manufacturer.
Superior tensile and yield strength ratings for the price.
High-tolerance sleeve assembly w/ no lateral play and no noise.
Very smooth and reliable turnover.
Sleeves are texture-free; there are no annoying grooves.
Beautiful beveled and laser-etched shoulders.
Very reasonable price.
Cons
The knurling is fairly mild. A little bit more bite to it still wouldn't make it an aggressive bar.
Chrome isn't the grippiest of shaft finishes; especially when combined with a relatively mild knurl.