This is a review for the Bridge Built Clydesdale Power Bar,  a new 29 mm power bar that is designed to stand out in the crowd by being finished in an antique brass Cerakote and gold zinc.
To many, the Clydesdale is a unique and beautiful bar. Positive feedback on the sleeve and bar shaft aesthetics has been overwhelmingly positive, and a great many people paid good money to order one on the day it was released; myself included. And why not? It's a golden power bar, and one from a manufacturer that already has a very good reputation for making some ingenious, premium strength equipment; such as the Phoenix.
Well, as interesting in appearance the Clydesdale may be; and it is indeed interesting; turns out that the Clydesdale is but a basic, mid-range power bar under that fancy, shiny coat and high price tag. It's a solid power bar with many good qualities; as I'll happily point out during the course of this review,  but I don't personally think this bar is priced appropriately ($399 + approximately $50 shipping) for its specifications and features.
In this review, I will go over all of the usual specifications, features and attributes of this bar. I will discuss knurling, sleeve performance, and the various finishes in appropriate levels of detail. Unfortunately, in this particular review, I'll also need to spend some extra time talking about both the costs associated with this bar, and some shipping-related shortcomings.
---
Clydesdale Power Bar Review – Table of Contents
---
Clydesdale Power Bar – Specifications
20 kg men's power bar
29 mm shaft diameter
tensile strength: 190k PSI
elasticity: none
rotation: bronze bushings
sleeve assembly: double snap-ring
knurl: moderately-aggressive
center knurl: moderately-aggressive
shaft finish: bronze Cerakote ceramic
sleeve finish: yellow zinc (gold)
loadable sleeve length: 16.25″
Made in USA
warranty: lifetime
price: $399 + shipping ($50'ish)
---
Bridge Built Clydesdale Power Bar – Bar Shaft
The Clydesdale has a standard 190k PSI tensile strength bar shaft measuring in at 29 mm. This is the average tensile strength rating for a barbell, but a somewhat low rating for a bar at this price point. 190k is not an unheard of rating for a power bar, nor is it a poor rating, it is just a little surprising considering this bar sells for $400.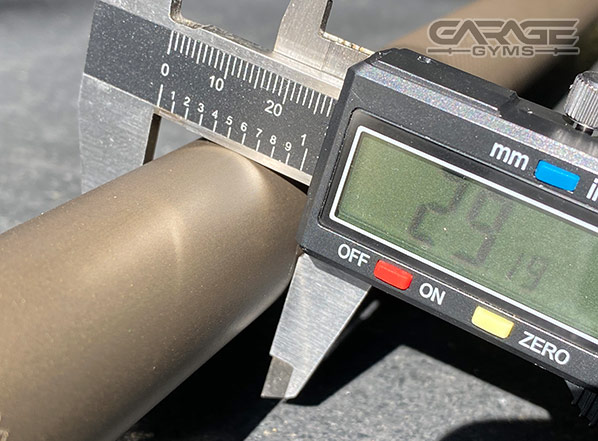 Having said that, the Clydesdale is a super stiff power bar.  Average tensile strength rating or not, this bar is still as thick and as rigid as they come, and that's exactly what most folks expect from their power bar. Zero flex, zero whip.
In other words, it could look better on paper, but the performance; in this case, the rigidity of the shaft; is there. No complaints.
---
Bridge Built Clydesdale Power Bar – Knurling
The Clydesdale Power Bar is advertised as an aggressively knurled power bar. I don't really think it's that aggressive of a power bar in today's market, but it's definitely not mild. If it had been up to me I would have labeled the knurl moderately-aggressive.  For those of you who have handled Fringe Sport's Lone Star Power Bar, the Clydesdale is not too dissimilar.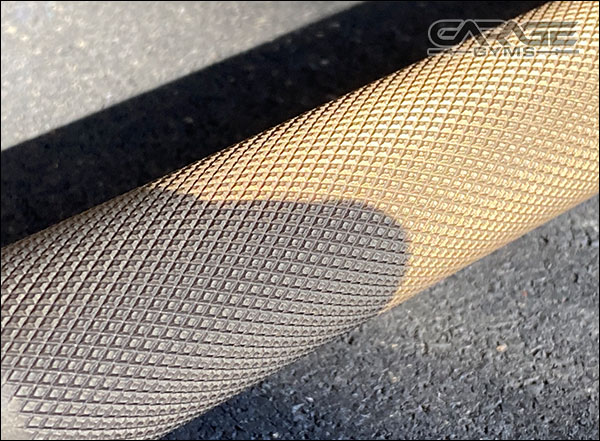 I like the Clydesdale's knurling. I like that it's not over-the-top aggressive, as we have more than enough of those options available to us. Granted, we don't have any super aggressive bars with a brass finish,  but I think Bridge Built did a decent job settling on knurling for their first power bar (which also means that if you happen to care more about the bars finish than how the bar feels, at least in this case the bar isn't going to feel bad.)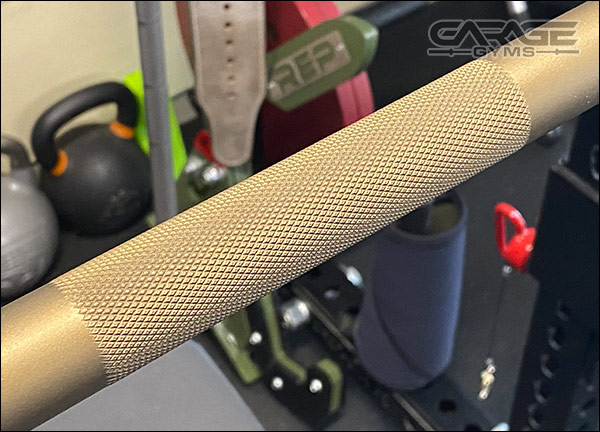 In any case, the Clydesdale has a solid knurl. It's aggressive enough for a power bar; likely a bit more aggressive than what middle-of-the-road for a power bar would be. It's no Rogue Ohio Power Bar, Texas Power Bar, or Vulcan Elite Power Bar, but it's no WOD bar either. If you want your bar to bite back and leave an imprint of the knurl in your hands, this probably isn't your bar. If palm discomfort isn't your thing, the Clydesdale Bar should be right up your alley.
TL;DR: the Clydesdale is moderately-aggressive, not aggressive-aggressive.
---
Bridge Built Clydesdale Power Bar – Sleeve Assembly
The Clydesdale is a bronze bushing bar. The sleeves are affixed to the shaft using the tried and true, double snap-ring method. The sleeves themselves are mostly smooth and free of texture; no deep grooves, and that's a plus.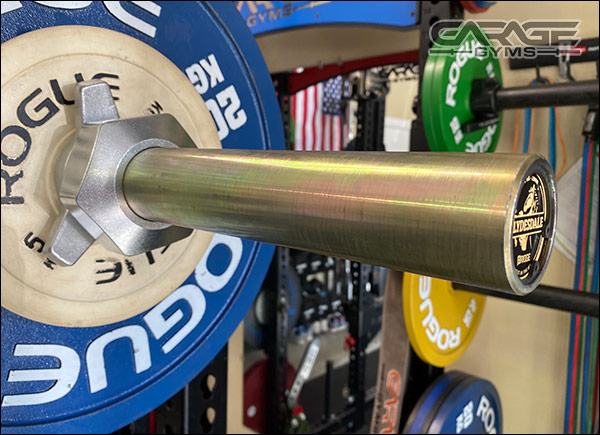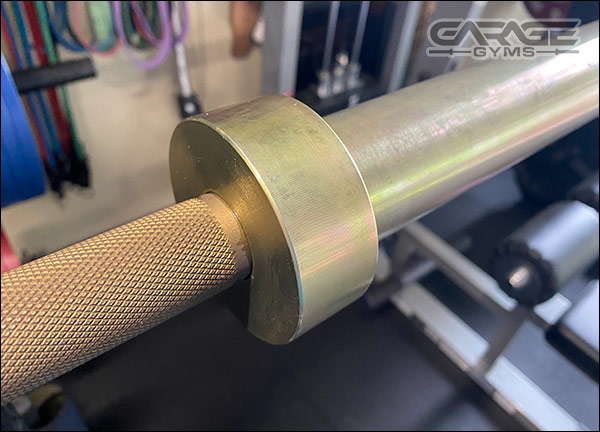 Clydesdale sleeve rotation is average and acceptable. The sleeves spin about the same as any other bushing bar. One of my sleeves doesn't spin as well as it should, but that's pretty much because that sleeve was damaged in transit. Fortunately, it still spins well enough for a power bar. If this was an Olympic Training Bar or even a WOD bar, we'd have a problem.
---
Bridge Built Clydesdale Power Bar – Finish
The finish seems to be what most people are attracted to about this bar. It's a highly unique color combination; bronze Cerakote for the shaft and yellow (gold) zinc on the sleeves. We have seen gold before; American Barbell offered this for a minute; but bronze Cerakote has not been tried as far as I know.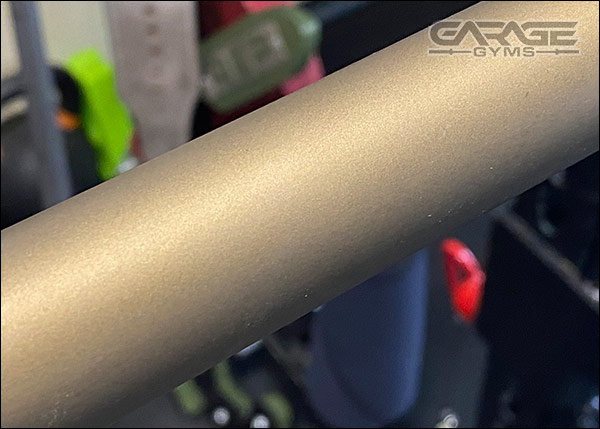 The Cerakote shaft definitely has that aged-bronze look to it. It looks old and rustic, but not in a bad way. It's different for sure; and it will definitely stand out against other equipment.
The yellow zinc sleeves actually look like gold. The gold is brighter and cleaner looking than the shaft; more metallic looking. There is a very obvious contrast between the shaft and the sleeves and I'm not sure if it's the colors themselves, or the fact that Cerakote just does not look all that metallic. All-in-all, it's a very gaudy bar, but in a way most people seem to like. I am personally not the biggest fan of this bar's color scheme, but I get it.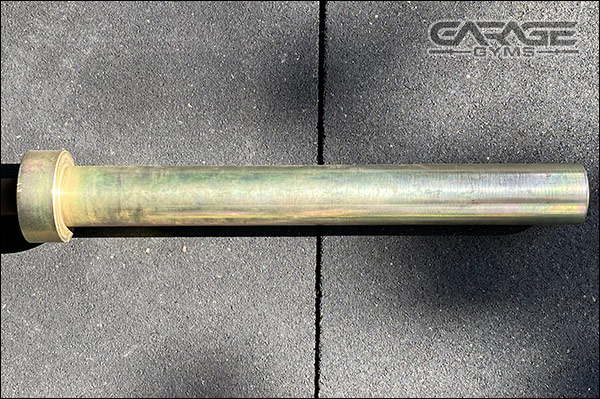 In terms of finish function, the Cerakote shaft should remain intact and ward off oxidation for a long, long time. Cerakote is a high-quality and resilient ceramic.
On the other hand, the yellow zinc sleeves have a much shorter lifespan. Not only is zinc a less durable finish; one that is easier to scrape away with your plates than Cerakote; it is a sacrificial finish, which means it corrodes itself to prevent the primary underlying metal (the alloy steel) from corroding.
Truth is, I do not know how long a decorative, golden zinc is going to last. It's not commonly used on gym equipment, obviously. Maybe it'll last a six months, maybe it will last a decade; I just don't know. It's an interesting thing to consider, though, what a antique brass shaft will look like with reduced, potentially rusty sleeves. That may actually look really badass; like a true relic.
I should mention that after over a month of use,  while there is some very obvious scraping and scratching of the gold zinc sleeve finish, it's holding up well. It is definitely not a forever finish, but it's doing much, much better than I expected.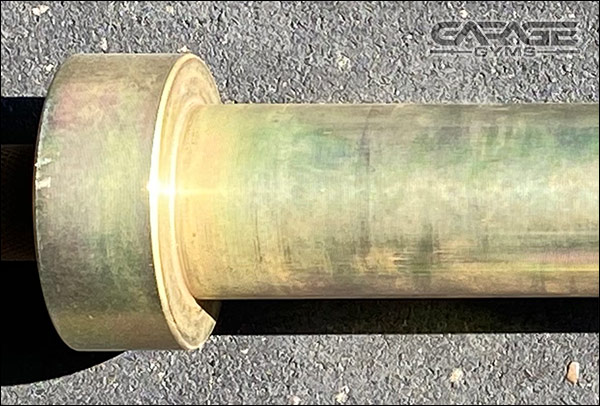 ---
Bridge Built Clydesdale Power Bar – Price
I mentioned in the introduction that I believe this bar is way overpriced. Let's talk about that a little.
I'm of the opinion that Bridge Built has priced this bar much to high for its specifications and features. I believe that at most, the Clydesdale should cost about what the Rogue Cerakote Ohio Bar costs; roughly $350 delivered. Bridge Built asking $400 plus $50 for shipping their basic, 190k power bar right out of the figurative gate seems rather… brazen.
It's not that this is a bad bar by any means, it's just that other than the finish there is nothing inherently special about it. There are no special metals (stainless steel), the knurling isn't all that unique, there is nothing new or interesting about the design (no beveled collars or laser engraving, or fancy sleeve assembly.) It's just your basic 190k PSI, 29 mm power bar with a cool name and an uncommon colorway. The name shouldn't raise the price, and an antique brass Cerakote finish doesn't cost anymore than red Cerakote. $350 delivered seems more than fair for this bar, don't you think?
Additionally,  the $50 I paid for shipping to have it packaged in about the cheapest shipping tube I've ever seen doesn't help Bridge Built's case. You can't overcharge for a barbell then attach a margin to your shipping as well. However, if you are going to make money on your shipping as well,  you sure as hell better at least invest in quality packaging that will ensure the bar arrives at folks' door still in the shipping container.
You do have to admit though, it takes some balls to enter the power bar market and decide you are going to ask $100 more than what it costs to buy a Texas Power Bar. Buddy Capps has 40+ years of experience crafting bars, so if anyone should be demanding $450 per bar it's him (and he's not).
In any case, again, it's not a bad bar! It is just overpriced.  If you think of the extra cost as a surcharge to have a brass finish, and you're okay with that, then you should be quite happy. If you expect a relatively normal return of features and/or performance for your hard-earned dollar, this is not your bar.
---
Shipping Shortcomings
My Bridge Built Clydesdale Power Bar arrived in a torn-open shipping tube with some minor but obvious signs of cosmetic damage.  The container used to ship this bar was cheap, and there was no other plastic or foam packaging to speak of.  I'm convinced damage was more or less inevitable considering the poor quality of the shipping container; which is obviously a huge disappointment considering the high cost of both the bar itself, and of the shipping.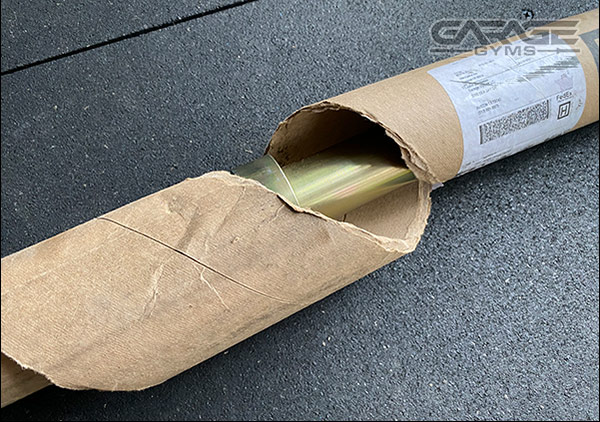 I also have some minor internal damage to the very same sleeve that was poking out of the shipping tube. Minor because, while the sleeve does grind and drag a little, it does still spin; well enough for a power bar anyway.  Again, this is very disappointing, as this bar was quite expensive for what it is.
In any case, the word is that Bridge Built had many damage claims from using this thin and flimsy shipping container. They had to offer a lot of partial refunds and replace a lot of bars. Word also is that they have taken steps to rectify this issue; I'm assuming by using a higher quality shipping tube. It's unlikely you will have this issue going forward.
Does any of this impact my opinion of this bar? No, it doesn't, but this along with the prices they charge for the product and for shipping does impact my opinion of Bridge Built, and it decreases the likelihood of me recommending them to readers; for bars especially. I'm still reviewing the bar itself on its own merits (as I hope you picked up on), because I know that some of you do not care what it costs. You will want this bar regardless of price or potential issues, and you just want to know how good the bar is.
---
Bridge Built Clydesdale Power Bar – Review Summary
I like the Clydesdale. If I put out of my head the shipping issues and the super high price, I enjoy this bar. It's not my favorite bar in the gym, but it's definitely not my least favorite bar either.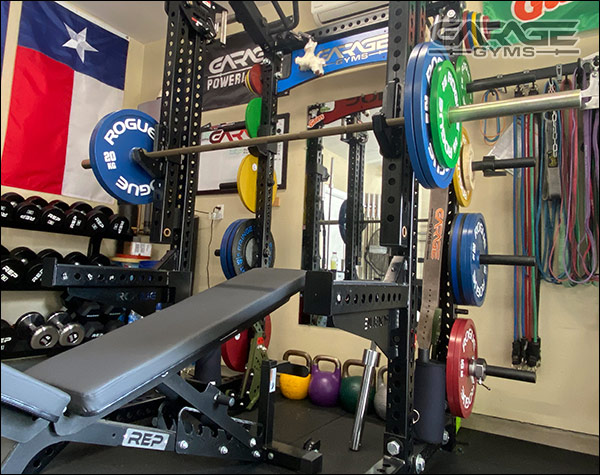 I also like the knurl. It is more than aggressive enough for a mid-range powerlifting bar; firm but not overly sharp. It's adequate for heavy pulls but not over the top for presses. I have a hard time imagining too many people taking issue with the Clydesdale's knurling.
The Clydesdale's shaft feels thicker and more rigid than any other powerlifting bar that I can think of at the moment; offering practically no flex. This shaft rigidity combined with the bar's quality knurling makes the bar feel very much like a power bar, even if it's rather unique and gaudy finish does not.
In terms of feel and overall performance, it's a fine power bar. It's not amazing and it will not blow your mind, but it certainly isn't a shitty bar.  Bridge Built shipping and customer service (I decided not to go into that) leaves a lot to be desired, and the asking price is bold, but the Clydesdale is a decent, mid-range power bar that I think most people should be happy with, at least in terms of its feel and performance.
Do I recommend the Clydesdale Power Bar? Unless you have some fascination with brass or golden gym equipment, I do not recommend it. I just don't see any reason outside of the uncommon finish to spend so much cash on a basic power bar.  Go buy a Cerakote Texas Power Bar or a Rogue Ohio Power Bar for $100 less than the Clydesdale Power Bar. Heck, you can even buy the Stainless Steel Ohio Power Bar for $25 less than the Clydesdale Bar (which should really drive my point about this power bar being too expensive home for you.)
If Bridge Built ever gets real and lowers the price of the Clydesdale Power Bar to something more reasonable and competitive, or adds something to better justify its price point, I would be more than happy to recommend it. It's a good bar, it's just not $450 good.
Remember, the Bridge Built bars only look like they are made of brass and gold. There are no precious metals in these products.
---
Bridge Built Clydesdale Power Bar
Pros
Incredibly unique antique brass and shiny gold colorway
Solid moderately-aggressive knurling
Extremely rigid shaft - zero whip or flex at heavy weights
Sleeve rotation is consistent and smooth
Sleeves don't have heavy grooves or other unnecessary texture
Bar is covered by a lifetime warranty
Most states won't be subject to sales tax
Cons
The Clydesdale is overpriced for its specifications
Shipping rate clearly includes some margin for Bridge Built, which just further inflates the cost of this bar
Questionable shipping containers are being used to ship these bars