When I heard that Vulcan Strength was going to offer an EZ curl bar, I was intrigued. When I finally saw the specifications and the very low $139 price tag of that curl bar, I knew that I had to get my hands on one and check it out. So I did, and this is my take on it.
In this review I will cover all there is to know about the Vulcan EZ Curl Bar so that you can decide if this is the right curl bar for you. I'll list all the bar's specs, discuss the overall feel and performance of the bar, and compare it to other curl bars along the way.
Vulcan Curl Bar Specifications
weight: 25-pounds
shaft diameter: 28.5 mm
shaft finish: black oxide
distance between sleeves: 31½″ (not rackable)
total bar length: 56″
knurling: moderate
sleeve diameter: 50 mm
loadable sleeve length: 11¾″
sleeve finish: hard chrome
rotation: bushing & bearing
load capacity: 400-pounds
5-year warranty
price: $139.99
---
---
Knurling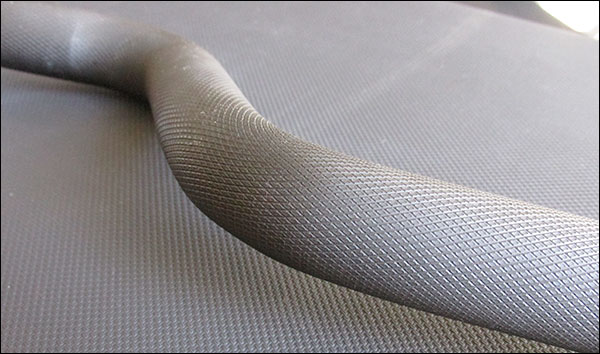 The knurl pattern used on the Vulcan Curl Bar is appropriate; as is the depth. It's not overly aggressive but also not too soft. It's just right. Grip quality is even further enhanced by the use of black oxide; a finish that is very reminiscent of bare steel. This bar offers a solid grip, and unless you just sweat excessively chalking up should be optional.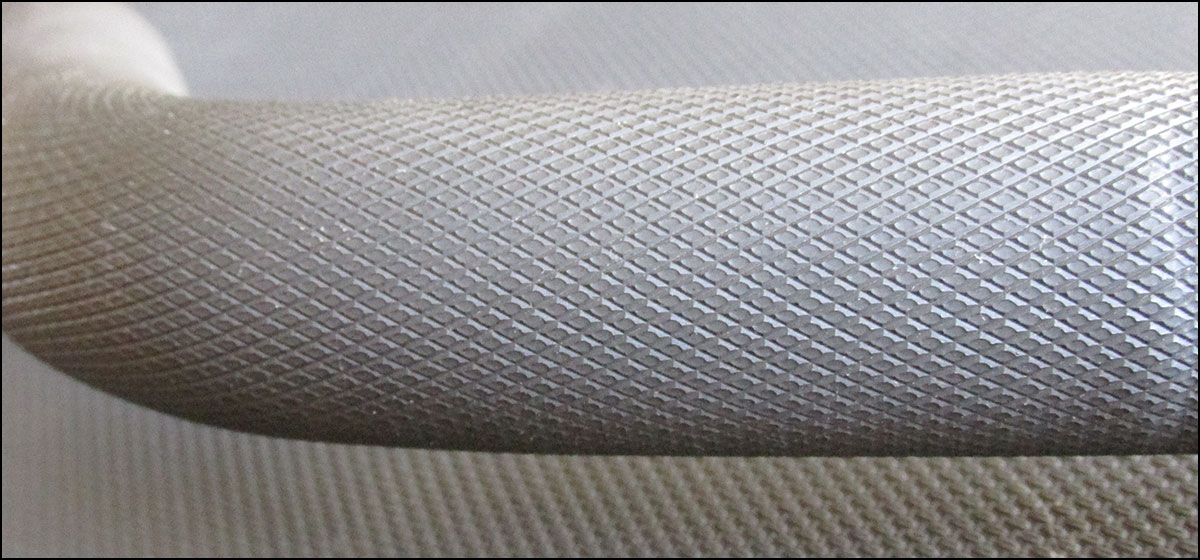 The Vulcan Curl Bar is also fully knurled save for a 4″ gap in the center. This means that should you ever want to take a different hand position than the default bicep curl or tricep extension positions, your hands will still find knurling. It probably won't happen often but at least it's an option. Most cheap curl bars (and even some of the nice models) are not fully knurled.
---
---
Camber Comfort
The cambers around the default hand position for bicep curls are just perfect. Rather than being gradual curves, the angles are more pronounced, which result in a little nook for the hands to rest against. This not only stops the hands from shifting or sliding down the bar, it also eliminates the sensation of the hands moving; which can be just as annoying.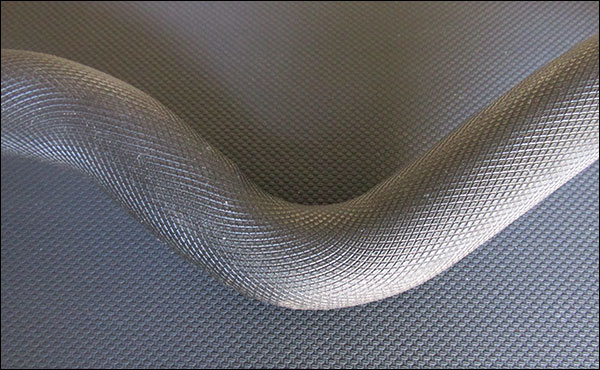 The Vulcan is also well balanced, and by that I mean it doesn't rotate or "correct" during the first couple reps like some curl bars. When I go to pick up the Vulcan, the position that my hands find naturally is the same position they stay in during the entire set. Having a curl bar that wants to self-adjust and find equilibrium isn't that big of a deal since it won't shift again once that's happened, but there's something to be said for not having to deal with that at all.
On the flip side, the outer camber where you would grab for wide-grip curls is shorter on the Vulcan, and a little less user-friendly because of the sharp angle right where the center of your hand would be. The bend is more gradual on the Rogue Curl Bar – almost straight. I personally don't use this position on the curl bar so I don't care, but you may.
The image below illustrates many of the differences in camber angle that I've discussed.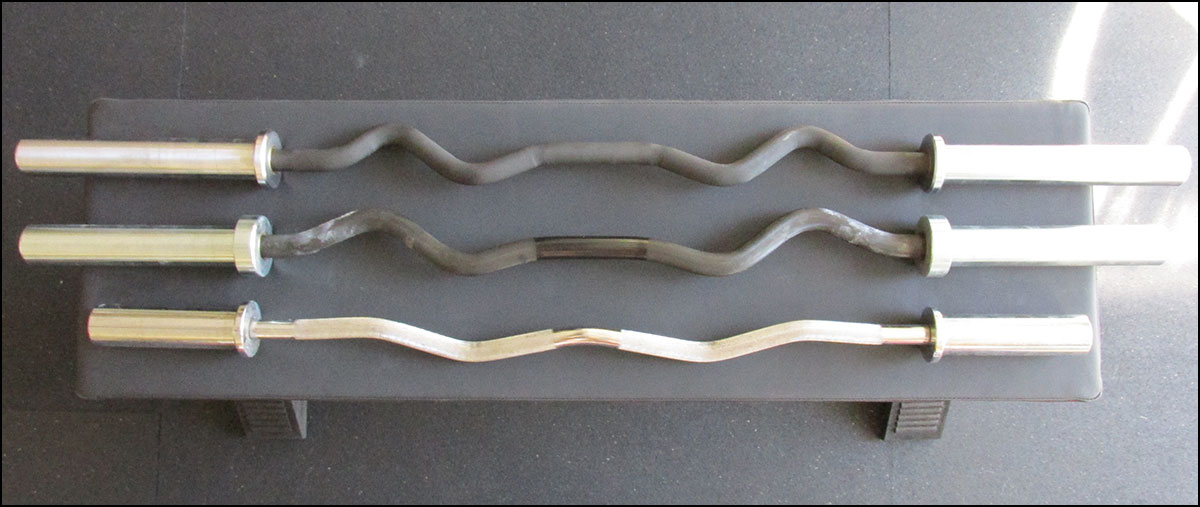 ---
---
Bar Weight
The unloaded weight of the Vulcan Curl Bar is about 25-pounds – a solid starting weight. Many of the cheap box-store curl bars have ridiculous weights; weights that force us to do 3rd grade math rather than 1st grade math to determine totals. For example, the XMark EZ Curl Bar is 22-pounds, the CrAP Super Curl Bar is 18-pounds, and the Marcy EZ Curl Bar is 13-pounds! Maybe it's just me and my OCD, but 5-pound increments please. Also, the super light bars are hollow, and that's not great.
---
---
Sleeve Assembly
The Vulcan Curl Bar has sleeves that rotate on a pair of bronze bushings, much like any other high-performance barbell. In addition to the bushings there is also a single bearing per sleeve. The bearing is pretty much just a rotation bonus; it's not necessary at lighter loads, but it will help eliminate resistance at heavier loads. It's a nice touch that obviously didn't have a major impact on the price of the bar.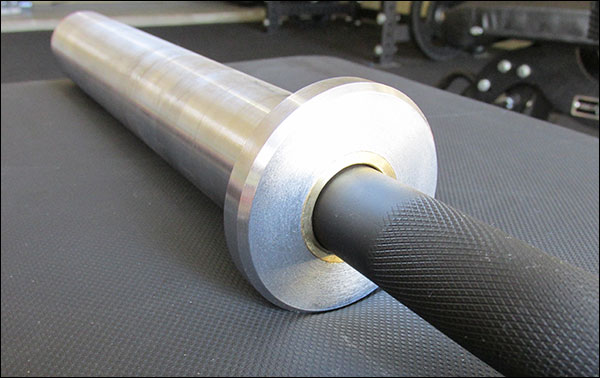 The sleeve assembly is held together with snap-rings. Unlike the hex bolts found on many cheap curl bars, snap-rings do not require any maintenance, and are not at risk of failing.
---
---
Sleeve Length
The Vulcan EZ Curl Bar has very long, 11¾" sleeves, giving it the most loading capacity of any EZ curl bar that I know of. Now I went on and on about how lengthy the sleeves of the Rogue Curl Bar are when I reviewed that bar a few months back, but here we are with the Vulcan and it has even longer sleeve still. This is an even bigger improvement over basic economy curl bars with their 6″ to 7″ sleeves.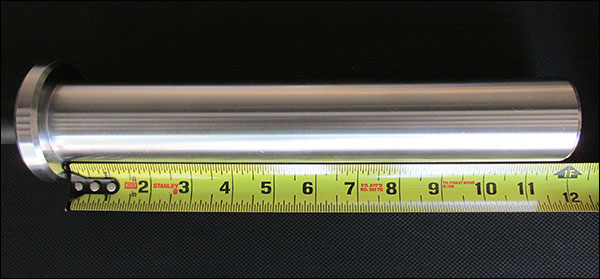 The benefit of having long sleeves isn't about loading the bar up with 500-pounds of steel plates like you were going to deadlift it or something, it's about being able to load up the bar adequately using your existing plates; which often times includes thick bumper plates. When you're dealing with an economy curl bar with short sleeves, you run out of loading space after just one large bumper and your collars. That's lame. You'll never have space issues on the Vulcan Curl Bar, even if you only own the super-thick, classic HI-Temps.
---
---
Finish
The shaft of the Vulcan Curl Bar is treated in black oxide. Black oxide is generally chosen as a finish when price and grip security are considered more of a priority than oxidation resistance. Black oxide has a very natural and grippy feel; much like raw steel bars, but it offers very little in the way of rust prevention. It feels great, but it will require maintenance.

The sleeves are finished in hard chrome, which as you know offers excellent protection from oxidation. It's also one of the most durable finishes.
---
---
Comparisons
How does the Vulcan Curl Bar compare to other curl bars on the market? Well let's see!
Vulcan vs box-store curl bars
Imported, box-store curl bars are cheap. They tend to have hollow shafts, drawn on knurl, flaky chrome, and short sleeves. They also have odd weights, random diameters, pinned sleeves, and many of them don't even have bushings – just a loose fitting sleeve bolted to the end of the hollow shaft. With few exceptions, box-store curl bars are pure garbage.
If you already own a cheap curl bar and it serves your purposes, by all means drive it until the wheels fall off. If you're tired of the limited weight, your plates not fitting on the sleeve, the lack of grip, or doing math to figure out what your 13-pound bar weighs once loaded, maybe it's time for a better curl bar.
When it comes down to it there is no comparison between a cheap, box-store curl bar like CAP, Marcy, Body Solid, and so forth to the likes of Vulcan, Ivanko, American Barbell, and Rogue. One group contains very durable, fully-functional, high-quality bars, and the other contains impulse-buy bait for those uneducated about quality equipment.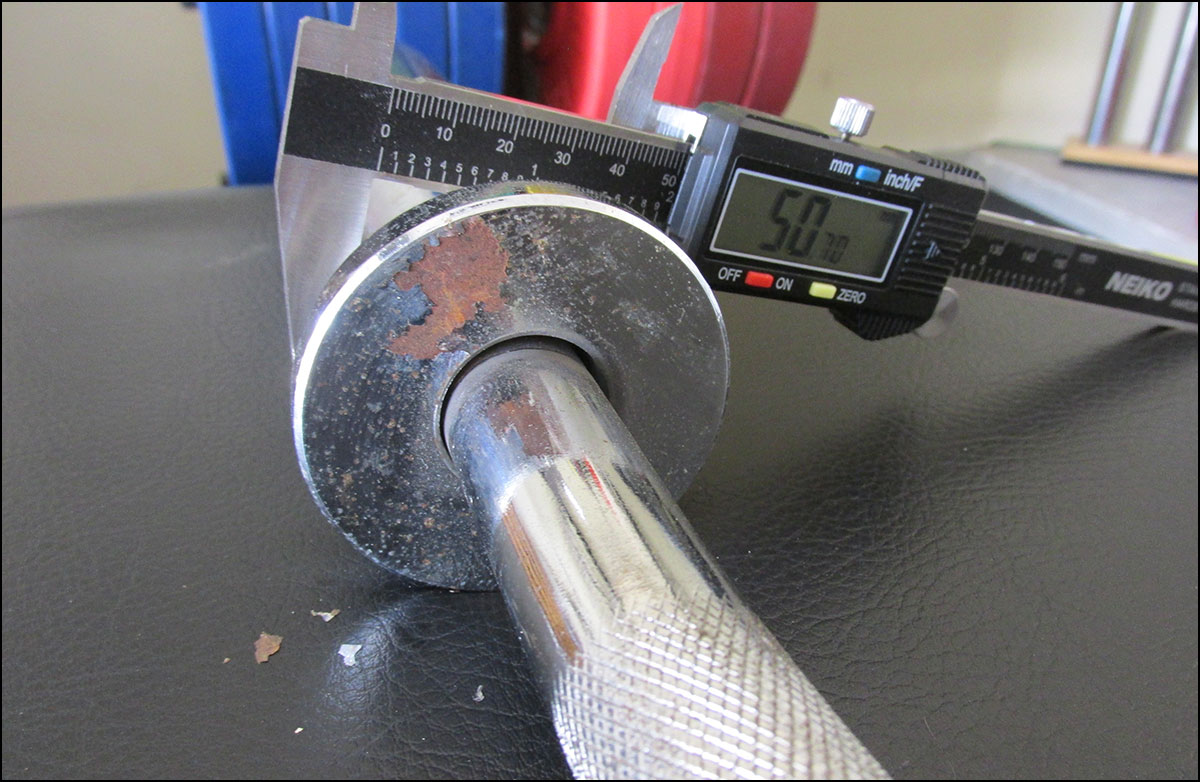 Note: If personal finances prevent you from spending $139 or more on a curl bar, try to utilize the information found in these reviews to get the best possible equipment for your money. So long as you know what to look for/avoid in box-store equipment, you should be able to filter through the worst options and find something you can live with until you can afford to upgrade. 
Vulcan Curl Bar vs the Rogue Curl Bar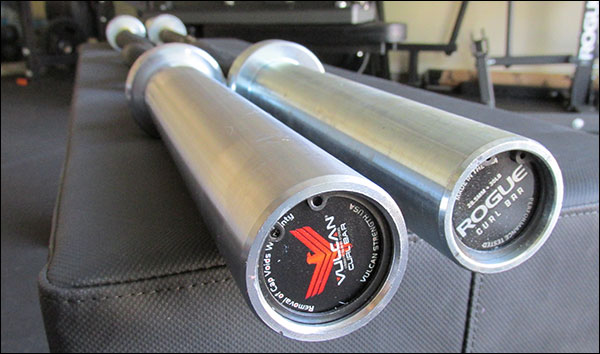 Both of these are amazing curl bars. Performance-wise there seems to be no significant difference. They both offer a great grip on 28.5 mm shafts, sleeves that rotate smoothly, and unlimited weight capability; at least for curl bars.
There is no standout in terms of durability either. They both have solid steel, very strong shafts, genuine bronze bushings, and the same 5-year warranty. I would be happy lifting on either of these for the rest of my days.
There are some minor differences though, and I'll list them out below.
The Vulcan's shaft is more likely to oxidize because of the black oxide finish, but the black oxide shaft is naturally grippier, and the rust can be avoided with upkeep.
Rogue's e-coat finish will retain its color longer.
In addition to bushings, the Vulcan has a bearing in each sleeve which can help with rotation under extreme loads.
The shape of the bars are slightly different. You get to decide which is better for you.
The Vulcan has slightly longer sleeves.
The Rogue is $199 plus shipping while the Vulcan is $139.99 shipped.
The Rogue is an American-made product while the Vulcan is made in Asia.
Curl Bar Spec Chart
Here is a spec sheet for quick reference. No detailed comparison of Vulcan versus Ivanko or American Barbell is necessary as their prices all but eliminate them from the running.
| | | | | |
| --- | --- | --- | --- | --- |
| |  Vulcan EZ | Rogue EZ | AB SS EZ | Ivanko OBZ-55 |
|  Price |  $139 | $195 | $295 | $383 |
|  Weight |  25 lbs | 30 lbs | 31 lbs | 30 lbs |
|  Shaft Diameter |  28.5 mm | 28.5 mm | 28.5 mm | 28.5 mm |
|  Shaft Finish | black oxide | black e-coat | stainless steel | black oxide |
|  Sleeve Finish | hard chrome | bright zinc | hard chrome | black oxide |
|  Loadable Sleeve |  11¾" | 10½" | 10¼" | 10″ |
|  Bushings |  bearing | bronze | composite | bronze |
|  Total Length |  56″ | 54½" | 59″ | 54½" |
|  Knurl Coverage |  ++++ | ++++ | ++ | ++ |
|  Made in USA | no | yes | yes | yes |
Vulcan Curl Bar – Review Summary
The Vulcan Curl Bar is a hell of a deal at $139. It has a great knurl, perfect cambers, long sleeves, solid rotation, a good weight, and a fair warranty. It's competitive with all three bars from the above table, yet it costs a fraction of their cost. It even ships for free. Unless you're adamantly opposed to buying equipment that is not made in the USA or you simply refuse to oil and maintain equipment, I can think of no reason not to own this curl bar. It's a steal.
If you found this review helpful, please show me some love by sharing it. I don't even care where. Happy lifting!
♦ ♦ ♦