Before I start this review for the Matt Chan Bar let me start off by saying that I am extremely excited about this particular bar review. I am excited because it looks like this will be one of those rare articles in which I do not need to have a section for listing the negatives; or cons. I think this one will be entirely positive.
What do I mean by that? It seems that no matter how much I may like any given product, it usually has at least one drawback that I have to bring up. It could be a design oversight, a poor warranty, inflated pricing, or any number of things. In the case of this Matt Chan Bar, I can tell you right from the start that I have no significant complaints whatsoever… and that makes this much more and enjoyable fun for me.
That being said you should still read this entire review if you are interested in this bar. While I think that there is a really good chance that this bar is right up your alley no matter kind of lifting you do, the Chan Bar is a unique bar of sorts, and one that might not appeal to you or meet your specific training needs. I mean I doubt it, but you never know!
---
Why I wanted the Chan Bar
There are so many barbells on the market to choose from these days; probably more than ever before. Rogue Fitness alone manufacturers dozens of different bars, not to mention all the other manufacturers trying to get their share of the booming barbell market (both the old school and the new players). So why did I choose to purchase the Matt Chan Bar over all the others? I'll tell you the three main reasons the Chan Bar appealed to me personally, and why I felt it was worth nearly $400* for yet another dual-marked, multi-purpose barbell.
* editor's note: remember this bar used to be offered in satin chrome for $375.
Reason #1: Bite – a Multi-Purpose Bar with real knurl
My primary interest in the Chan Bar was the advertised aggressiveness of the knurl. Both Rogue's description of the Chan Bar and the many user-reviews claimed that the Chan Bar had a more substantial knurl and offered a more secure grip than your average bar at the time, but without the sharpness or discomfort typically associated with aggressively knurled power bars or competition-style weightlifting bars.

This claim was especially appealing to me because I felt that too many of the multi-purpose bars on the market have a knurling that is too soft and insignificant; knurling that requires a ridiculous and excessive amount of chalk for high-rep work and heavy pulls. I wanted to find a bar that has a perfect compromise between not enough and too much, and all the hype I was reading and hearing indicated that the Chan Bar was that bar.
Reason #2 – Chan's unique knurl spacing
The second feature of the Chan Bar that I found appealing was the customized spacing of the knurl. The Chan has a much larger gap between the outer knurling and center knurling to accommodate the shins during cleans and deadlifts. I'll go into this feature in more detail below, but let me just say that I think this modification is innovative and brilliant, and exactly the kind of improvement you get on a barbell when you let an experienced athlete help with the development.
Reason #3 – Chrome instead of black zinc
The final major reason I opted to go with the Chan may be a lot less compelling for many of you, but it is what it is. I wanted a chrome bar, and the Chan was offered in a Satin chrome finish.

All the price wars on barbells the last few years have led to an overabundance of black zinc and black oxide bars simply because it's less costly to produce and can be offered at more competitive prices. I think chrome is superior to all other finishes in that it requires very little maintenance, looks the nicest for the longest, and has the best feel and grip aside from raw steel bars (which of course require maintenance in exchange for that superior grip).
Chrome costs a bit more but I believe it's worth the extra expense; especially if you already have other bars that require a lot of your attention. The last thing you need is another bar to oil and brush. However, the Chan is also available in black zinc if you need to save money for other equipment purchases.
So couple the ease of care with an aggressive, innovative knurl pattern and you have one hell of a barbell. Everything else is just icing on the cake in my opinion.
Bonus Reasons
The Chan Bar; along with almost every other bar in the Rogue line-up; got an upgrade in 2014. Rogue increased the tensile strength rating of their bar shafts to 190,000 PSI pretty much across the board, and they did this without a pricing increase of any kind. While the Chan Bar was already on my short list of bars to own prior to this change, the upgrade did seal the deal for me.
The Chan also has a passive center knurl – a feature that most other multi-purpose or dual-marked bars don't have. Now don't run off just yet, CrossFitters. It's actually so passive it's almost not there. It offers just enough grip to hold onto a t-shirt during a back squat, but you would have to rub your knuckles on this center knurl for a while before it started taking skin off. So go ahead and rejoice, CrossFitters. You'll be okay with this center knurl.
Personally, I've always liked having the center knurl. I feel like it should pretty much always be there, so I'm happy it's present on this bar.
---
Matt Chan Bar Review – Specifications

Here's a summary of the Rogue Matt Chan Bar specs for quick reference, or for comparing to other bars that you're interested in. You can find all these specifications on the Matt Chan product page as well.
Weight: IWF standard 20 kg (44 pounds)
Length: IWF standard 2.2 m (7.2 ft)
Shaft Diameter: 28.5 mm
Loadable Sleeve Length: 16.5 inches
Knurling: Dual-marked, custom pattern, aggressive
Center Knurling: Passive, 4 inches
Shaft Finish: Satin chrome or black zinc
Sleeve Finish: Satin chrome or black zinc
Tensile Strength: 190,000 PSI
Sleeve Assembly: snap ring
Rotation Mechanism: bronze bushings
Warranty: lifetime warranty against bending/breaking
Price: $295 (zinc) or $375 (satin chrome)
Assembled: Columbus, OH USA
So not much to comment on in terms of the specifications. Specs are all respectable and normal. The Tensile strength rating is great, the sleeve assembly is typical of a Rogue bar and weightlifting bars in general, and so on. The unique aspects of this bar like the knurl pattern will be addressed more below.
---
Matt Chan Bar Full Review
Unique Chan Knurling Pattern
As I mentioned above, the knurl spacing on the Chan Bar is different than it is on any other barbell out there. The bar's dual Olympic & powerlifting hash marks are where they should be, but the space between that outer knurling is further apart. As you can see in the picture below, the space is 21″ apart versus the 17″ or so that is typical.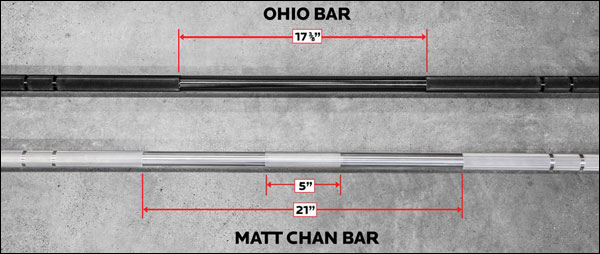 I have personally yet to run into a situation where I wished that knurling was closer together like it would be on any other bar. Now to be fair I am a tall guy, so I am less likely to run into that situation due to my naturally wider stance and grip. That being said my workout partner is 5'5″ and he will not use any other bar in the arsenal since the Chan Bar made its way into the gym. The bar just feels so right.
What I'm about to say may not seem like much of a selling point to you, but I dig this about the bar so I'll share it with you. The shorter inside knurling (the knurl outside the 21″ center, but inside the powerlifting mark (where you would take position for the majority of your lifts) is the perfect width for just grabbing and going. It seems trivial to say that I've shaved a few seconds of positioning my hands off each set, but I'd be lying if I said I didn't appreciate it.
Knurling – Sharpness
As I previously mentioned, the sharpness of the knurling on the Chan Bar was the biggest selling point for me. I was very excited bout the idea of owning a bar that didn't have sissy knurling – but before you run away from this bar because you think it will feel like a cheese grater and tear up your hands, let me elaborate.
Yes, the Chan sticks in your hands better than say the Ohio Bar, or run-of-the-mill CrossFit bars. It's not intense though. It doesn't hurt, cut, or rip off callouses (well any more than any other bar), but it holds, and it does it without the use of a pound of chalk each workout. The Chan is grippy, but it's not like lifting on a hardcore power bar or single-rep competition bar. The grip is nice for one-rep maxes, but not uncomfortable for high-rep sets. On the contrary actually, it's better for high-rep sets than other bars because it doesn't slip.
In all seriousness I give this bar a 10 out of 10 for knurl. I could not be any happier with the bar in terms of holding power and feel. If I dropped my loaded Chan onto a safety and bent it this afternoon, I'd order a new one by this evening. The Matt Chan is not a bar that spends a lot of time in the gun rack, and I'd want it back ASAP.
Sleeve Spin / Rotation
The Chan Bar is a bronze bushing bar, and there is nothing remarkable about or wrong with the sleeve rotation. The spin is on par with just about any and every other bronze bushing bar I've come in contact with, and it's certainly consistent with the other Rogue bushing bars. The assembly feels tight, there is no lateral play in the sleeve on the shaft, there is no excessive noise (well for a Rogue bar), and I don't foresee any issues in this department. In this situation, boring is a good thing.
Whip
If you've ever lifted on The Rogue Bar, the Ohio Bar, or just about any 28.5 mm Rogue bar, you'll know what to expect in terms of whip with the Chan Bar. Matter of fact, being that this is a multi-purpose bar, it should come as no surprise to you that the whip is just "average".
I have no complaints regarding the flex of the bar. It's suitable for heavy, static lifts like the deadlift and bench, and just as suitable for WOD-style cleans and snatches. If you Olympic lift on a competitive level, well then maybe you need a 28 mm Olympic bar. For everyone else, I am confident that you'll be completely happy with this bar both for CrossFit and for general strength training.
Satin Chrome Finish
As you know I purchased the satin chrome version of the Matt Chan Bar rather than a less expensive black zinc version, and I explained my reasoning for that at the beginning of the article. In case you're wondering what satin means, it simply means that the chrome hasn't been polished out to give it that reflective shine. In other words it's still the same coating, it's just not shiny like the bumper of classic Cadillac.
I personally have no preference in terms of satin or polished. Chrome is chrome is chrome as far as I'm concerned, although some believe Satin makes for a better grip than polished. It's a great looking bar and it's easy to keep looking new. At only $75 more than the black zinc Chan, it would be a bargain at twice that price difference. Sure, zinc will outlast oxide, but it will not look new for as long as chrome.
---
Chan Bar Review Summary
The Chan Bar has become an instant favorite in my garage gym. I have enough gun rack space for all my bars but one, and it's the Chan that stays off the rack for easy access. It is used every workout for at least part of my workout, and often times all of it. I've had it for a couple months now and it has not chipped, scratched or lost any spin. I have no complaints at this time and I do not expect to have any later. However, if a problem arises, I will edit my review – but I really don't see it happening. 5-star bar, easy.
editor's note, December 2017. Still no problems. Hurray!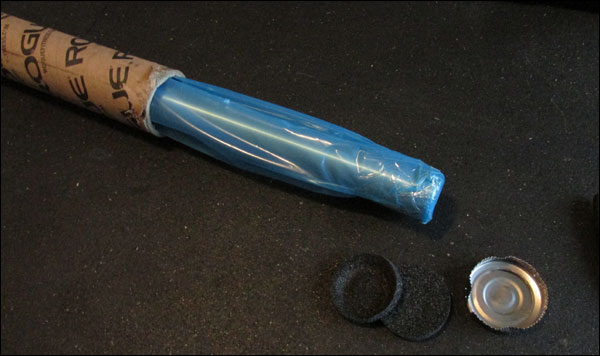 I also wanted to mention that Rogue does a fantastic job of shipping barbells. The shipping tube is thick, solid, and heavy-duty. The barbell is wrapped in plastic, tagged and signed by the Rogue tech who assembled the bar, and each end of the tube has padding and a lock-on metal cap to prevent the package from opening during transit. Rogue has eliminated any chance of damage during transit, and that is an achievement worth mentioning.
---
Videos of Matt talking about the Chan Bar
---