When I first got started building out my garage gym I didn't include a plate storage solution in my budget. Matter of fact, it never even occurred to me when I was planning – I was just excited to get my power rack, plates, and the rest of my gear. Needless to say, it didn't take very long before I was ready to get all my plates off the floor of my garage.
As with most fitness equipment, you have many choices. The nice thing about plate storage is that you have not only many retail products available but you have the DIY option as well. I'll show you a couple of options from both categories and let you decide which is best for you. Both are fairly inexpensive when compared to actual equipment costs, but going DIY is obviously the cheapest route; assuming you're handy and you have the time for a project.
Last update: December 2017 – minor revisions, price checking.
---
DIY Plate Storage Option #1 – Weight Tree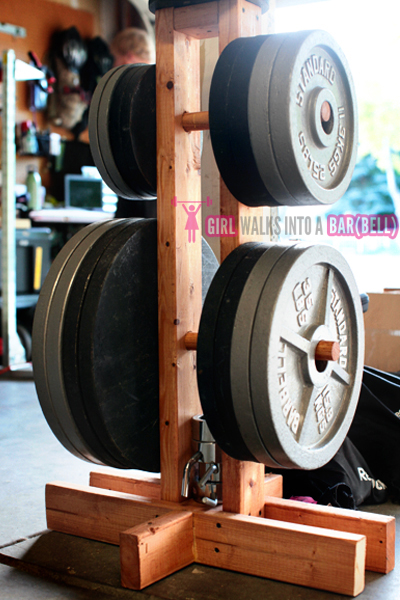 I found a guide for this weight tree at girlwalksintoabarbell.com. Assuming you have a few basic power tools, the cost to make this is pretty low. It only requires some 2×4 lumber, box of wood screws, and wood dowels. It looks sturdy to me, although you will get less bumper plates on this than you will the iron plates – but I guess that's true with any plate storage.
In any case, put a couple coats of stain on it like in the picture and you've got yourself an inexpensive, good looking weight tree. You could even paint it black to match your rack and other equipment; assuming you care.
---
DIY Bumper Plate Storage #2 – Storage Box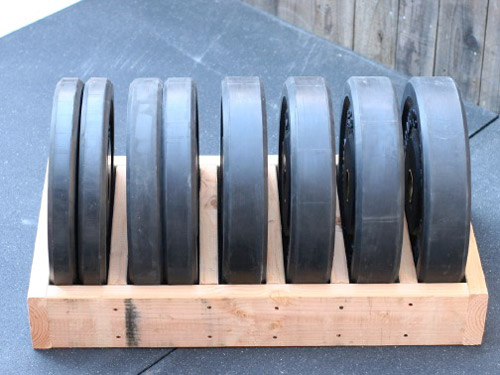 This second option doesn't even require instructions. All you need to be able to do is make measurements and buy the appropriate amount of 2×4's and wood screws. It's easy, looks clean, and this design allows you to get at any weight without having to potentially remove others first (like can happen with weight trees.) Like the above tree, this too can be painted or stained to your liking. The best part is that it can be made for close to nothing; especially if you have lumber laying around from a different project.
---
DIY Plate Storage #3 – Wood Shelves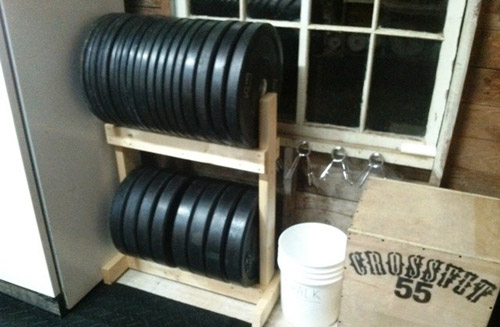 Again, not much to explain. This shelf is made entirely with 2×4's and wood screws. It's just a matter of deciding how long, and how many tiers you want the shelf to be. I would not go for more than 2 shelves with wood if I were you, as I think you're asking for stability issues going for a third tier.
One thing to consider when making a shelf like this is to not make it any bigger than it has to be. It doesn't need to be large enough to hold 1000 pounds of bumpers if you only have 260 pounds of bumpers. Sure, make it big enough for any expected additions in plates, but be reasonable.
---
Just Buy It Option #1 – Steel Vertical Weight Tree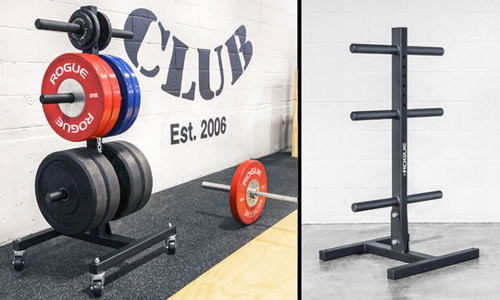 I own the Rogue weight tree pictured above and I love it. It has a small footprint, it holds a lot of plates, it's very sturdy, and it even has optional wheels. So if you don't feel like making your own weight plate tree out of wood, you can pick this up for about $180 from Rogue, or a similar model from Vulcan for about $170. While definitely more expensive than DIY, it's a couple clicks and you're done; storage problem solved. I certainly don't regret buying mine.
---
Just Buy It Option #2 – Horizontal Plate Rack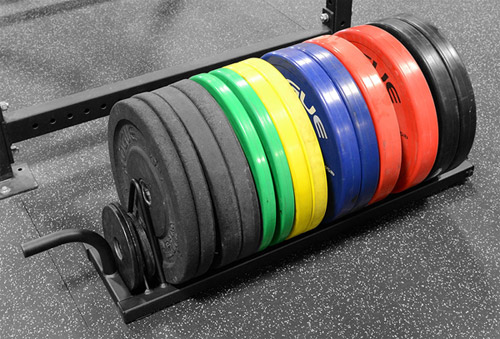 The retail alternative to the DIY box from above would be the horizontal weight rack. These racks are what you typically see at weightlifting events on either side of the lifting platform. The weights sit upright and are easy to get to, and the rack has wheels and a handle so the entire stack of plates can easily be moved around the gym.
This rack is available in a bumper plate and steel plate version. That simply means that the dividing metal bars are set at distances for one kind of plate or another since there are such large differences in plate width.  Again, much more expensive than making your own weight rack, but not everyone has the time for DIY projects. This rack is $165 for the bumper plate version while the steel plate version seems to have disappeared.
---
Just Buy It Option #3 – Serious Storage Shelf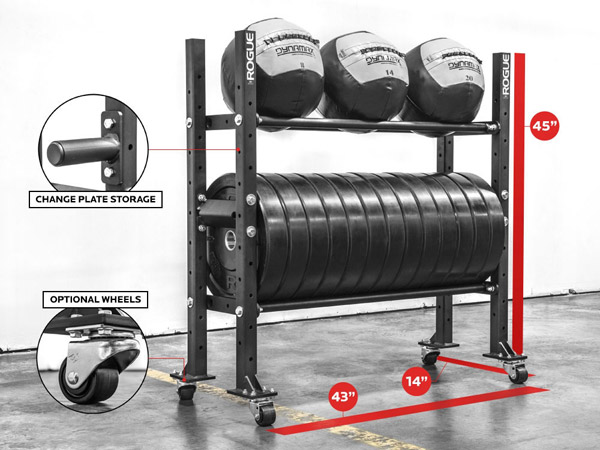 If you want to handle storage for more than your bumpers with a single solution maybe this shelf is for you. Each shelf level can be made for dumbbells, kettlebells, plates, or medicine balls; you choose them when you buy the shelf.  Each shelf can hold over 600 pounds, so if you have a ton of bumpers you'll be set.
The shelf in the picture is 2-tier. There is also a 3-tier available. Prices for the shelf start at $299 before accessories (such as the pegs for even more plate storage, and wheels.) It's expensive, and not for everyone. Something similar could be made for a lot less money if you are handy and have the time.
---
Other Bumper Plate Storage Solutions
Hopefully one of these ideas work for you. If not, there is no shortage of products out there for storing plates, and no shortage of possibilities for DIY storage solutions. Feel free to get creative with it, it's your gym after all.
---