This is an in-depth review of the Rep Fitness Adjustable Bench; one of the few adjustable benches that manages to pull off flat, incline, and decline without costing a fortune. It has a wide range of settings, comfortable pads, and a strong, heavy-gauge steel frame. It's not a commercial bench, but it's solid, versatile, and priced attractively for the home and garage gym market. Could it be the ideal adjustable bench for your gym? We'll see!
In this review I'll go over specifications, assembly, adjustments, comfort, warranty, and more. I'll even summarize everything in a list of pros and cons towards the end. My goal is to tell you everything there is to know about this bench so that you can be confident about your decision to either own one, or not to own one.
---
Specifications & Features
Footprint: 26″ x 54″
Pad dimensions when flat: 11½" x 54″
Pad height when flat: 17¾"
Pad/seat gap when flat: 2″
Pad thickness: 2½" (vinyl covered foam)
Frame material: steel; various gauges
Backrest adjustments: -20º, 0º, 20º, 30º, 50º, 65º, 85º
Seat adjustments: 0º, 5º, 10º, 15º, 20º
Ideal for: home/garage gyms; light commercial use
Origin: China
---
Back Pad Adjustments
The Rep Fitness FID Adjustable Bench uses a common steel ladder for making back pad adjustments. I'm sure you are familiar with this type of bench assembly already, but if not, the photo below explains how it works better than words ever could.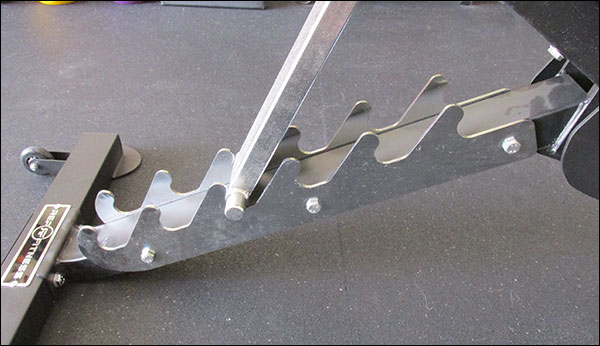 The ladder itself appears to be somewhere between 7- and 9-gauge steel, but it's hard to tell because I don't know how thick the chrome finish is. Either way, it's strong enough for this task.
The rung that catches into those ladder notches also appears to be more than adequate for this application. If this bench ever has warranty issues, it's not going to have anything to do with the ladder.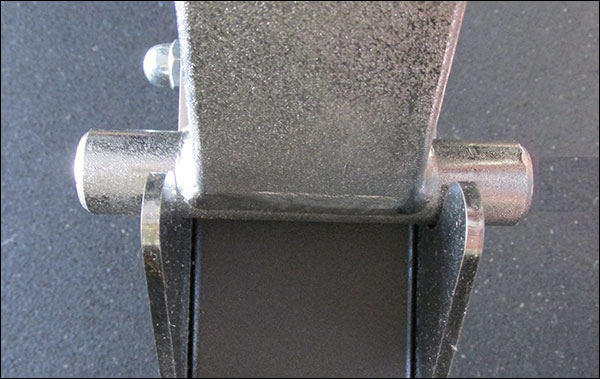 As far as positioning, there are seven total options. The lowest position is the -20º decline position, the next one up is the flat position, and the five remaining notches are varying levels of incline including 20º, 30º, 50º, 65º and finally 85º. This variety is more than sufficient as it allows access to the decline bench press, standard bench press, various incline bench presses, the military press, and the shoulder press.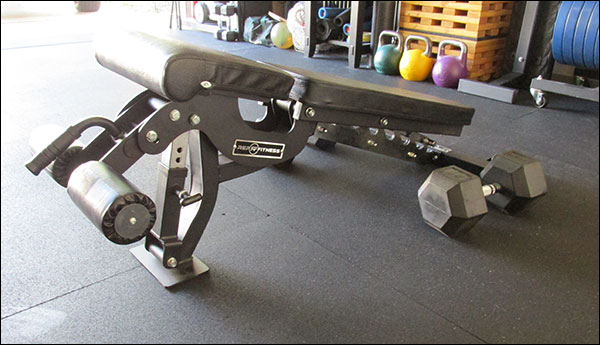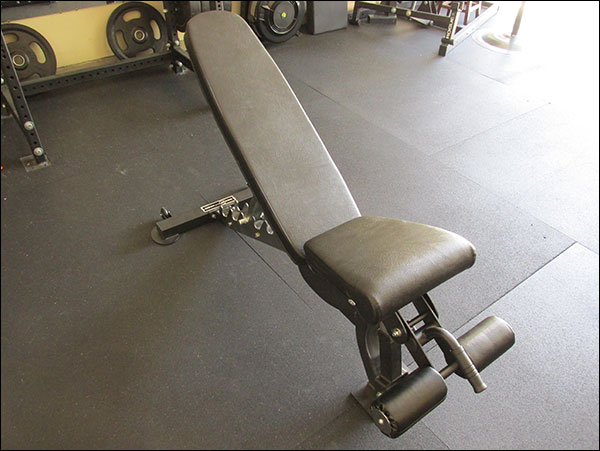 At the end of the day, this bench is very versatile in terms of the positioning of the back pad. Many incline benches only have three or four total settings. Seven is a good number.
---
Seat Adjustments
The seat pad of the Rep FID Bench uses a pull pin to make adjustments. This pin is easy to reach when you need to make any changes, but is out of the way of your legs and feet when lifting. So far so good.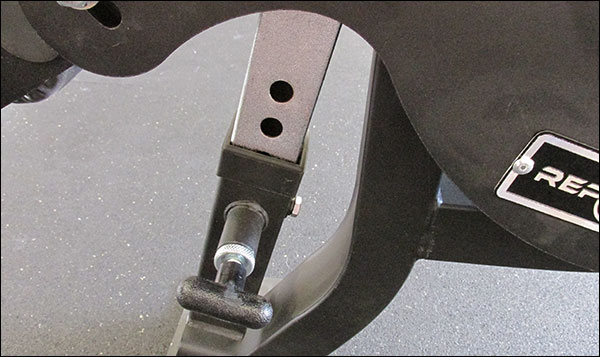 There are five possible seat positions, but because there is only a 5º difference from one position to the next, not all of these positions will get used. It's likely that most of us will only ever use the default flat position, the middle 10º position when the back pad is at 85º, and then the highest 20º position in all other circumstances.
The 20º setting gets the most attention because it's the only one that will result in flat, flush surface when using decline mode, and it's the only position even remotely helpful in terms of keeping your butt from sliding when doing incline bench.
I myself am not overly fond of the maximum 20º seat angle. I find that when I lift even moderately heavy in the lower incline positions I continuously feel as though I am sliding out of the seat. The sensation is extremely distracting, and I don't like it. As you set the back higher the issue goes away, but it's that 30º back pad angle that's important for the incline bench, and that happens to be the angle most affected by the low seat angle.
I don't think that this low seat angle will be a deal-breaker for most folks. Matter of fact, I almost didn't mention it at all because I think for $300 shipped it's probably worth overlooking. It's also worth mentioning that despite this bench having a ton of reviews, I can't find a single complaint about this low seat angle! Maybe I'm overly picky.
The only other thing I'll say about the low seat angle is this: If your interest in this bench has nothing to do with the option to decline then it may not be the best bench for you. The seat is shaped the way it is and adjusts the way it does only because it must in order accommodate the decline position. If all you want to do with an adjustable bench is incline press in the 30-45º range, you'll probably be happier with a non-declining adjustable bench that has a narrower seat and higher seat angles.
---
Flat Bench Setting
When flat, the pads of the Rep Adjustable Bench are 17¾" high. This height along with the 11½" wide pad makes this bench pretty consistent with most flat utility benches. The bench also extremely stable in the flat position, and despite how it looks in all the images I haven't had any issues with little foam rollers getting in the way of my legs or feet.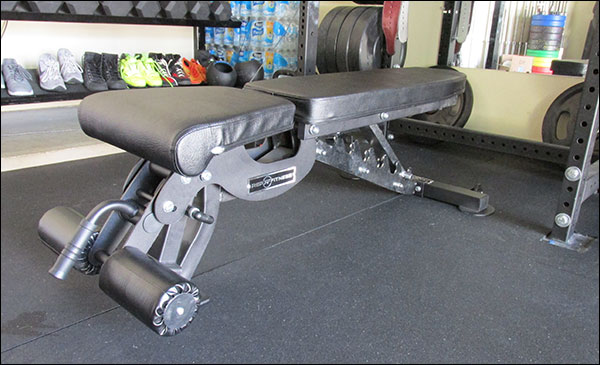 Many adjustable benches make for awful flat utility benches, but the Rep FID Bench fills this role well. There is still the issue of the 2″ gap in the pads that will forever prevent this bench from completely replacing a utility bench, but what can you do, right? You probably own a flat bench already anyway.
---
Stability
The Rep Adjustable Bench uses a fairly common adjustable frame design. It has a wide stance at the rear of the bench, and a narrow stance in the front.
This design is generally quite stable; especially in the lower settings. It gets a little rocky as you near the 85º position, but that's just because all the weight is closer to the narrower front rather than being evenly distributed between front and back. It's not going to tip, it just doesn't feel the same. Overall this is a very stable bench.
---
Pad Comfort
The 2½" foam padding is firm yet comfortable. The vinyl pad cover is also comfortable and relatively grippy, but it could probably stand to be pulled a little tighter around the padding. It just seems like a looser fit than it should be. That's whatever though. I have no real issues with the comfort level of the Rep Adjustable Bench.
---
Assembly Required?
The Rep Adjustable FID Bench does require some assembly, but it's really not that bad. The bulk of the frame comes assembled already and all you have to do is attach the pads, the rear leg, and the foot roller assembly. The bench even ships with a pair of stamped wrenches which is all you technically need for assembly, but I strongly suggest you use your own tools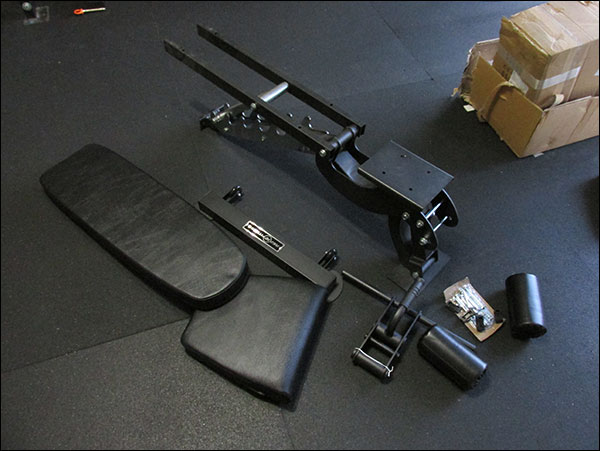 Expect assembly to take an hour using the included tools, but probably closer to 20-minutes if you own your own socket and wrench set. The hardest part is attaching the seat – those four bolts are a nightmare! If you have big hands you'll want to pull the hardware for the foot assembly completely off the frame before you'll be able to attach and tighten down the seat.
Warranty
Rep's Adjustable Bench has a 10-year frame warranty. For a low-cost, imported bench that's a pretty solid warranty. Honestly I don't see having any warranty issues with the frame ever as the entire frame is sufficiently beefy. As a proactive measure, it's probably a good idea to check hardware a couple times a year and re-tighten as necessary, but that's sound advice for any piece of training equipment.
On the flip side, the pad has only a 30-day warranty which is totally unacceptable. A 30-day warranty instills zero confidence, and I almost expect to have issues with the pads in the near future because of it. Why such a short warranty? I don't know but I don't like it. It sounds like Rep needs to hire a new upholsterer and get that warranty up to something more reasonable.
---
Rep FID Adjustable Bench – Pros and Cons
Bench Pros
Incredibly competitive price for a full incline/decline/flat bench.
The 17¾" height when flat is consistent with flat utility benches.
Width of pad is nice at 11½" – not too narrow like some adjustable benches.
Very versatile. All necessary bench angles are achievable (7 total).
Top ladder position results in 85º rather than the less useful 90º found on some benches.
11-gauge steel frame is solid, as are the ladder components.
So long as your flooring is flat, this bench has no obnoxious wobble.
Foot roller pads are just big enough to be useful, but small enough to not be a hindrance for non-decline use.
Pad and seat are firm yet comfortable.
Frame warranty is great at 10-years.
Wheels and handle make moving the bench around the gym a breeze.
Bench Cons
This bench has wide, circular steel feet with no rubber padding of any kind. Two possible issues with this:

If your floor has imperfections, this bench may wobble with no way to correct for that wobble.
If you bench in a rack that's on a smooth surface (such as a wood platform), this bench may slide when you drive.
The solution to both of these is for Rep Fitness to add weight-bearing rubber feet.

A number of seat/pad positions result in large, awkward gaps.
The seat adjusts to a 20º maximum, whereas 35º-45º would be preferred for the incline benching positions.
The included tools are practically useless, and the instructions are meh.
Not an American-made product.
Pad/cushion warranty is laughable.
This bench doesn't store upright because the ladder system only locks when bench is horizontal. That means it takes up floor space 100% of the time – and it has a pretty large footprint to boot.
---
Rep Fitness Adjustable Bench – Review Summary
I believe that the Rep Adjustable Bench is a very good value at its current price. It has enough incline setting variety to hit the pecs and shoulders at various angles, it functions well as a flat bench because of its height and rear pad width, and it even has the added benefit of a single decline position. Aside from a minor inconveniences like the wide, low-angle seat and the large gaps created between the pad and seat, I think it's great.
It's not just the variety of positions that make it a good buy. The frame and ladder of the Rep bench is super beefy, the adjustments are quick and easy to make, and the whole unit is remarkably steady on rubber/level flooring. Sure you can find benches with comparable and even superior features, but certainly not for $300 delivered. All things considered, the Rep Adjustable Bench offers a lot of bang for the buck.
Would I recommend the Rep Adjustable Bench to a friend? Absolutely I would; with one stipulation though:
If you're not going to use the decline feature and you can maybe spend a little more than $300, you will be happier in the long run with a quality incline-only bench. Without the decline functionality, you have a potential for less seat gap, a user-friendly seat with no rollers to deal with, and a seat that will adjust to more accommodating angles for incline pressing. That said, if the Rep FID Adjustable Bench is already pushing your budget and/or you actually want the decline position, then this bench belongs on your short list.
---
Rep Adjustable Bench vs IronMaster Super Bench?
Curious to see how the IronMaster Super Bench compares to the Rep Fitness Adjustable Bench?
There aren't many high-quality adjustable benches that have both incline and decline positions, and there are even less that sell for anywhere near $300. Both the Rep Fitness FID Bench and the IronMaster Super Bench are viable, affordable options for a home or garage gym, but both have their own unique pros and cons. I intend to commit an entire article to the comparison of these two benches in the near future, so stay tuned for that!