After a couple of months of thinking to myself that I really need to review the PR-5000; Rep Fitness' biggest and most nicely-equipped power rack; I finally stopped procrastinating and pulled the trigger on one. Well wouldn't you know it – now that I have one I kind of wish that I had done it sooner!
In any case, this is my review of the PR-5000 Power Rack.  In an effort to publish the most thorough and helpful review possible, I opted to buy the fully loaded PR-5000 with both the optional plate storage and a lat tower. My goal is to shed as much light as I can on both the full rack itself and its many accessories so that those of you who are considering this beast for your garage gym will know exactly what to expect. I will also be comparing the PR-5000 to the RML series of racks by Rogue towards the end of this review.
---
PR-5000 Review – Table of Contents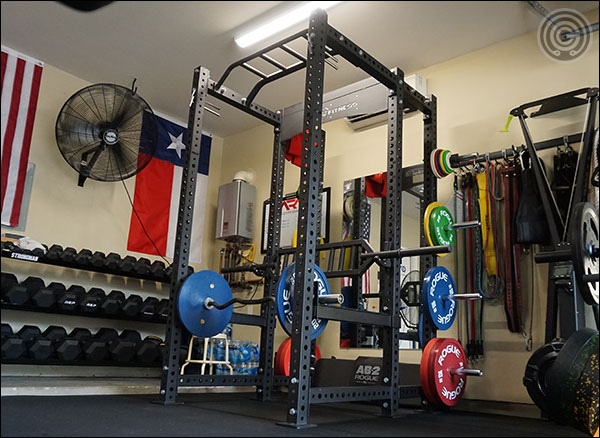 ---
Rep Fitness PR-5000 Power Rack – Specifications
Let's first get the specifications for the PR-5000 out of the way.  Let's also look at what you get when you order the PR-5000, and what your upgrade options are. Following these lists I'll get right into the review itself.
Base PR-5000 is 48″ wide x 36″ deep x 94″ high. *
Deluxe PR-5000 w/ weight storage is 48″ wide x 56″ deep x 94″ high. *
Interior working space of base PR-5000 is 30″ deep x 42″ wide.
Uprights and crossmembers are 11-gauge, 3″x3″ steel.
Total weight capacity of 1500-pounds.
5/8″-diameter hardware is used for assembly and for the band pegs.
1″-diameter holes with 2″ spacing throughout the bench and squat region are used for J-cups, safeties, and accessories.
The 1″-diameter holes have laser cut numbers (odd numbers: 1, 3, 5, etc.)
All flip down attachments are lined with UHMW to protect your uprights from damage.
Base price before safeties are added is $699 ($799 with default pin/pipe safeties)
Adding weight storage increases price by $399.
* foot plates stick out 1½" on every side increasing actual footprint by 3″ in both directions.
PR-5000 Power Rack – What You Get
(4) 3″x3″, 11-gauge, 92″ uprights.
(4) 3″x3″, 11-gauge, 30″ crossmembers.
(1) 11-gauge rear crossmember with Rep nameplate.
(1) Multi-grip pull-up bar with 1.25″ diameter grips (rearmost grip is 2″ wide.)
(2) Heavy-duty, sandwich-style J-cups with UHMW.
(16) concrete anchors
(4) 5/8″ band pegs
all necessary hardware for assembly.
Plate storage option adds: (2) additional uprights, (4) additional crossmembers, (8) chrome-plated weight storage horns, (8) concrete anchors, and additional assembly hardware.
Optional Accessories for the PR-5000
---
Rep PR-5000 Power Rack Review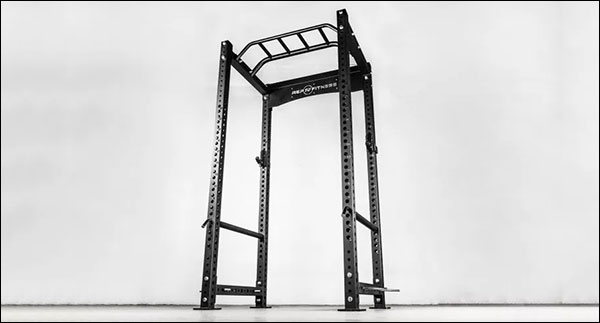 I'll just cut to the chase and let you know that the price, quality, and features of this rack are all outstanding. A $699 base price for a 3″ x 3″, 11-gauge rack that comes with upgraded J-cups, an upgraded pull-up bar, numbered holes, tall 92″ uprights, and even all the hardware needed to anchor the unit to the foundation is just incredible. The welds are great, the holes are all laser cut and line up perfectly, the hardware is beefy, and the black powder-coat is of a high quality.
Additionally, the option to choose your own safety system when adding the rack to your cart is a very under-utilized feature in the power rack world. Almost always you will be forced to pay for and accept ownership of a pair of pin & pipe safeties then pay full retail for whatever other system you really wanted; relegating those pin & pipes to a dark corner somewhere to collect dust.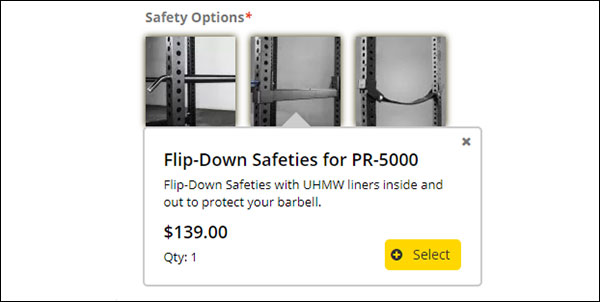 Prices on all the safety options and the other optional accessories seem reasonable. Matter of fact some of the prices are considerably lower than what you'd pay for like-products from other major brands, yet the quality seems to be about the same.
Rep's PR-5000 is easily one of the best deals out there for a full-size 3″x3″, 11-gauge high quality power rack. Even if you add the plate storage for $399, the PR-5000 is still a better deal than buying something like the RML-690.
Random…
One odd feature of the PR-5000 is the use of both 1″-diameter and 5/8″-diameter holes up the uprights and along the horizontal crossmembers.
The big 1″ holes run the length of bench and squat region and are used for J-cups, safeties, and most other accessories.  The 5/8″ holes can be found on the bottom 16″ and top 24″ or so of the uprights and are used for assembly hardware and band pegs. The crossmembers (horizontal) and side of the uprights even have an alternating pattern of 1″ and 5/8″ holes.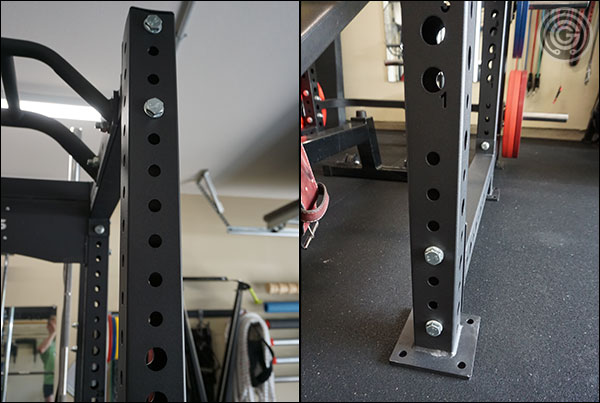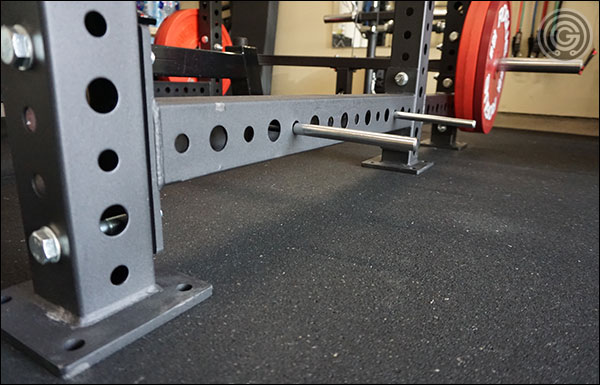 Now I don't think this strange hole structure has any impact on functionality as the 1″ holes go high enough for even the tallest of lifters to set their J-cups where they want them, but I sure don't get why this was done. It's not that it's bad, it's just puzzling.
Anyway…
Overall the PR-5000 is a beast and I have no complaints about it. It's strong, tall, functional, and even attractive. The crossmembers are of a good length so the rack doesn't take up an unnecessary amount of floor space (both with the base rack and plate storage option),  and the rack isn't lacking any of the usual accessory options. In addition to all of this the price is just great; extremely competitive.
As a side note, the packaging was done very well. All boxes were thick and protective, and everything was wrapped in plastic and packed in a way that made sense. I had no damage to any boxes and no damage to any components.
---
Deluxe PR-5000 – Plate Storage Upgrade Review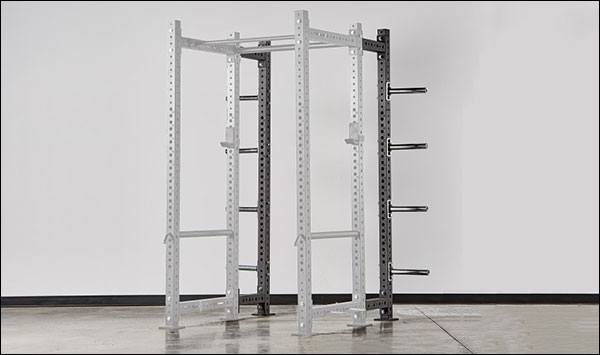 The plate storage upgrade is simple and solid. It consists of four more 3″x3″ crossmembers, two more 3″x3″ uprights, and eight chrome-plated plate storage horns with welded end caps (rather than being those cheap plastic caps that tend to pop out.) The storage package also ships with eight more concrete anchors.
There isn't much to say about this portion of the rack. It's the same build quality as the rest of the PR-5000 and it does what it's supposed to do without taking up an excessive amount of additional space. The crossmembers are only 20″ long (just about the minimum length to keep stored plates out of range of your loaded barbell), the plate storage horns bolt on with 5/8″ bolts rather than being cheap flip-down weight horns, and their 12″ length is more than long enough to hold a ton of plates per horn.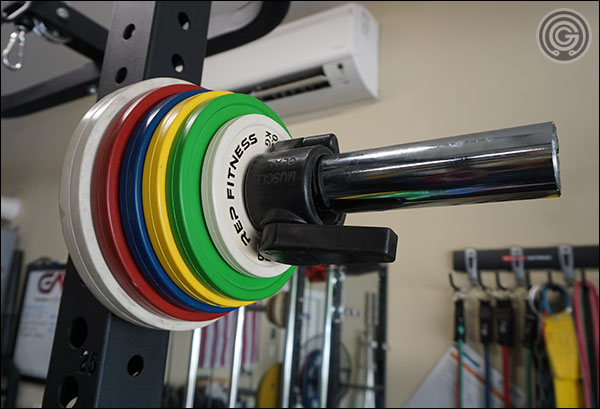 If you added the optional lat tower,  you can attach that to the rear of the storage section in exactly the same way you'd attach it to the rear of the base rack. I have nothing negative to say about this portion of the PR-5000.
---
Rep PR-5000 Accessories Review
I don't have every single accessory to review individually, but I will talk about the handful of them that I do have.
Sandwich J-Cups
As I've mentioned, the PR-5000 ships with sandwich-style J-cups rather than basic J-cups. Sandwich cups are great; much stronger than basic cups and just as easy to use. Including these in the base PR-5000 is a nice touch.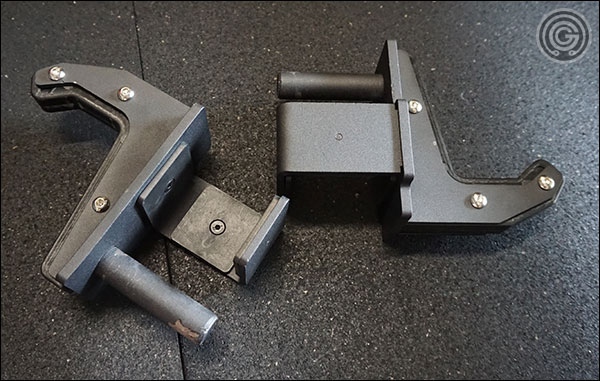 Not only is the center, sandwiched section of these J-cups a block of solid UHMW – which obviously protects your bar from damage – but the inside of flip-down portion of the cup is also lined with UHMW. This serves to protect your uprights from chips and scratches.
The Sandwich J-Cups are solid, and I have only good things to say about them.
Flip-Down Safety System
Flip-down safeties are by far my favorite; I personally prefer them over straps, spotter arms (though they are more of a squat rack-style safety), and definitely more than the pin and pipe safeties. I was very excited to see Rep offering flip-downs as one of the safety options.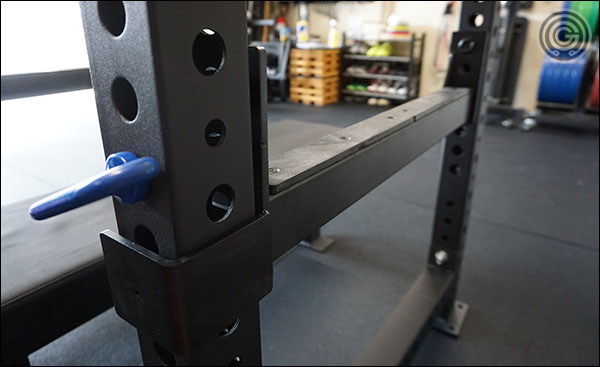 Like the J-cups, the flip-down safeties are lined entirely with UHMW, and also like the cups, so is the interior of the flip-down portion that wraps around your uprights. These are simple to use and move around, they are strong as heck, and they come with a giant 1″ detent pin for preventing any movement of the safeties when in use.
I love these and highly recommend them over the pin and pipe safeties, and it will cost you only $39 to upgrade to these from pin and pipes. Do it!
Multi-Grip, Dual-Diameter Pull-up Bar
This accessory is your typical elevated, multi-grip pull/chin-up bar with 1.25″-diameter grips. It has the normal four rungs for neutral chin-ups and two parallel bars with both leveled and angled grips.  The one thing that sets Rep's multi-grip bar apart from the others out there is that the rear long bar is a fat bar (2″-diameter). This is another nice touch by Rep Fitness.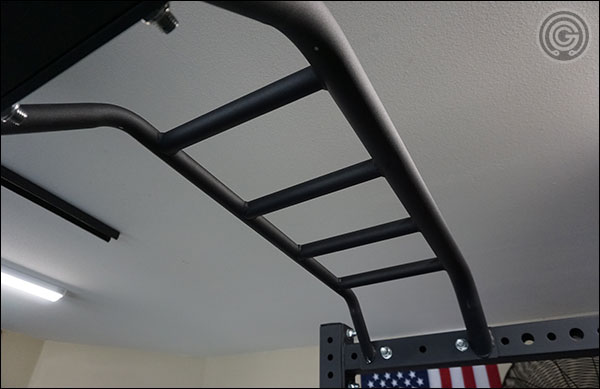 Interestingly enough, I have nothing negative to say about this product either. Better still, it is included in the base power rack so you don't even have to pay extra for it.
Dual Barbell-Hanger
The Dual Bar Hanger is a straight-forward accessory. It mounts to any upper crossmember and can vertically store any two barbells with Olympic sleeves.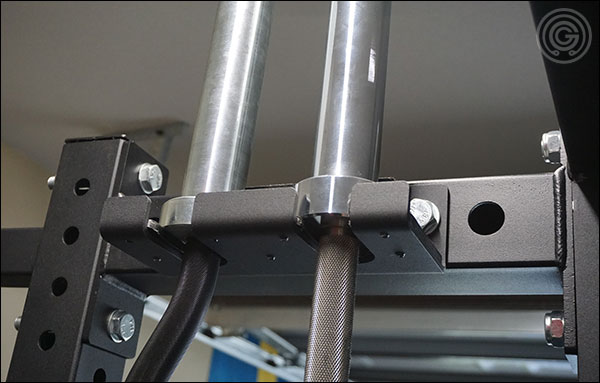 Keep a couple things in mind if you want to add this accessory.  First, make sure you have the ceiling clearance for something to stick up about 15″ beyond the top of the already high PR-5000. Second, even if you have the needed clearance, make sure to choose a location on the rack that won't cause the bar to be in the path of your opening/closing garage door.
I really like this accessory and have considered adding another one. The price isn't too bad and it sure is super convenient to store bars on a rack since that requires no additional floor space. I highly recommend this if you don't already have bar storage.
Other Accessories
I've taken a look at the other accessories (the ones I don't own), and based on my feelings on the four that I have and what I see in the individual product descriptions of the remaining half dozen or so, I do not see any red flags. Everything looks solid, and the prices are lower than or at least comparable to Rogue's; with the exception being that the dip station is a few bucks more than a Matador.
If you have the PR-5000 and any of the accessories that I don't and would like to contribute your own feedback, please feel free to do so in the comments.
---
Review of the PR-3000/PR-5000 Lat Tower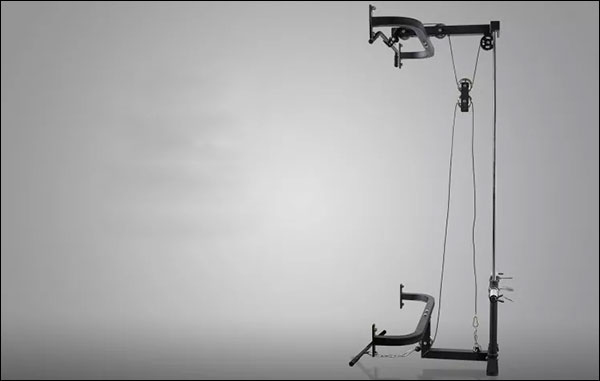 Ahh the highly anticipated lat tower portion of this review. Here we go!
I believe the lat tower attachment is great and worth buying in some situations, but I think it needs a little bit of work for it to be perfect. Before I get into all that, here are the things that I like about it:
It's a quality attachment; better than the others I've used before. It has a strong frame, it utilizes aluminum pulleys instead of plastic, and it features a dual-rail system instead of just a single piece of 2″x2″ tubing.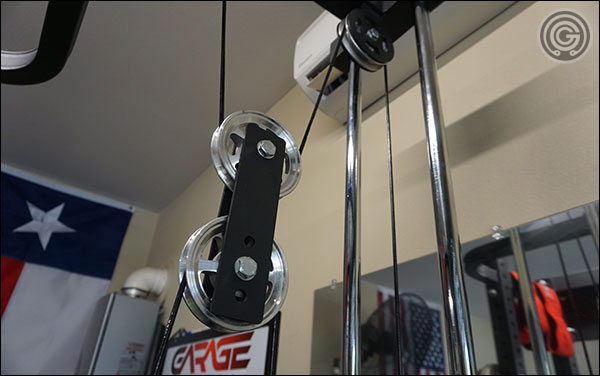 It appears to handle quite a bit of weight while remaining smooth throughout a full range of motion. The dual guide rails definitely contribute to this smoothness.
The range of motion is fairly substantial; no complaints there.
The $299 price tag is reasonable. You couldn't get a lat/row tower for this kind of money elsewhere. Not a decent one anyway.
The 8″ length of the weight horns is more than adequate for this application,  and they can handle cast iron, bumper plates, and even calibrated plates (unlike some others).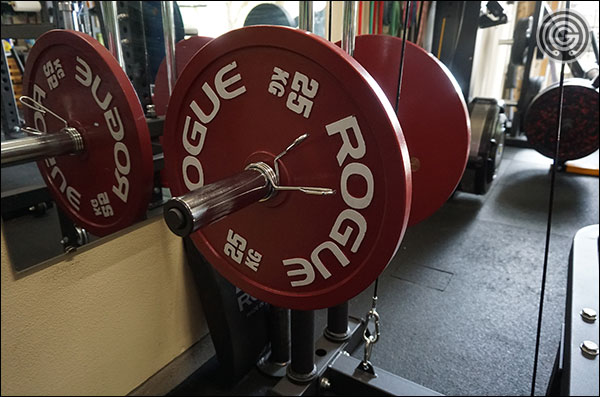 If you add it to your PR-5000 order you basically get the shipping for free (adding more weight to an existing pallet doesn't tend to impact freight cost much or at all.)
It does not stick out above the rest of the power rack like some other towers do so you don't have to worry about needing additional clearance.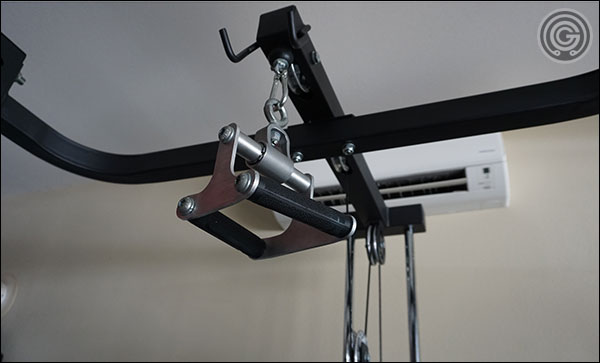 It can be installed to any version of the PR-5000, and even the PR-3000.
Now here are a few things that could potentially be improved.
The tower takes up an unnecessary amount of floor space; sticking out 30″ beyond the rear of your power rack. In order to load weights you need to leave another good 8″ or so between it and your wall. It's a major space commitment.
The lower portion of the frame sits so high off of the ground that when low rowing there is literally no where to place your feet unless you spread eagle and use the uprights.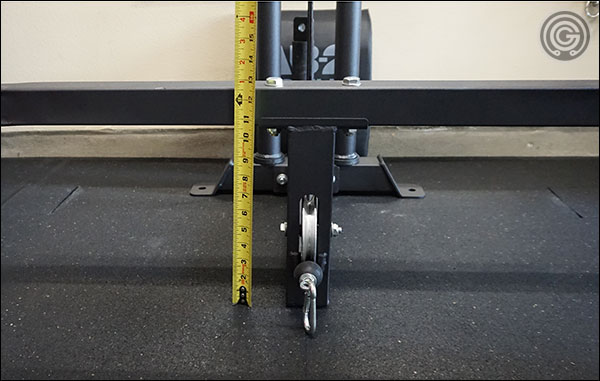 Add to the previous issue that just about all rack-mounted lat towers lack the necessary equipment to pin ourselves to the bench for heavy lat pulldowns (knee pads).
The assembly instructions need a little work. Patience is required.
Like to see your pump and/or your form? Lat towers seriously obstruct the view to your mirror if you have one.
We don't actually know how much weight this lat tower can even handle.
When it really comes down to it only two of these cons listed truly bother me:
First is the amount of space it takes up. It really does require a lot of floor space; especially if you have the plate storage as well. It basically makes the Deluxe PR-5000 8-feet long – a lot longer than I think most people have space for in a garage gym.
The second thing is the lack of footplate for low rows. Normally you can just use the beam that attaches the lat tower to the power rack, but in the case of Rep's that beam is just way too high off of the ground. There is literally no where to put your feet save for the uprights (Rep Fitness told me that they are addressing this but you'll have to come up with your own solution to this problem for the time being.)
So would I recommend the lat tower?
I'll likely continue to use my Powertec for cable movements, but I still think it's a good buy if you have the space for it and don't have another option like I do. It's solid, and workarounds for the lack of footplate do exist if you're creative enough, and who knows, perhaps Rep will offer the footplate fix at a good discount for first-adopters of this attachment.
Is this lat tower compatible with your non-Rep power rack?
No, it's not, and I don't suggest buying this attachment for a non-Rep power rack.
---
Rep PR-5000 vs Rogue RML Series (and RM Series)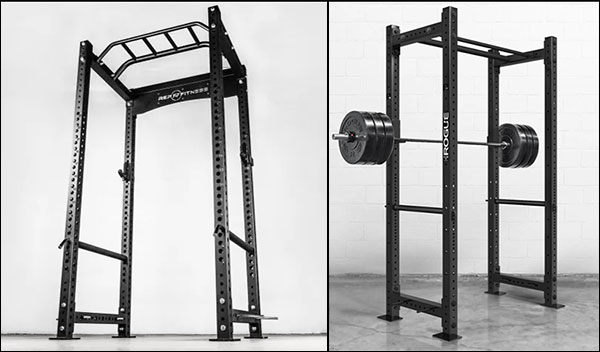 It terms of comparing the PR-5000 to a Rogue rack, the RML-390C with optional 30″ depth is the closest thing that Rogue offers*. Both of these racks have a very similar footprint and same inside working depth, both are made with the same 3″x3″ 11-gauge steel tubing, and both are assembled with 5/8″ hardware.  There are still some differences though; which I'll cover below.
* There is no non-colored (C) RML-390, and the RML-3 (Lite R-3) is a smaller, 24″ depth power rack.
Rogue RML-390C
The 30″-deep RML-390C ships with basic J-cups, band pegs, and a pin-pipe safety system. The 390C has the advantage of being offered in 10 different colors and it has Westside hole spacing, but it has the disadvantage of being more costly (base price of $935 vs $699). †

Rogue also doesn't allow you to select safety, J-cups, and pull-up options during check out. This means that if you want to upgrade to say sandwich cups, a multi-grip bar, or a different safety system, then you just pay for that upgrade outright; at full price. This basically means that you end up buying different versions of the same equipment twice.
For instance, the pin-pipe safeties are included in the $935 base rack price, but if you want to replace your pin-pipes with say, safety straps, well it will cost you another $185. You may not 'opt-out' of buying the pin-pipe safeties, and you may not put the value of those towards an alternate safety system.  Upgrading basic Rogue rack components (namely safeties and pull-up bars) does lead to previously paid-for equipment going unused in many cases.
Rep Fitness PR-5000
The PR-5000 ships with heavy-duty, sandwich style J-cups, a set of band pegs, and a multi-grip pull-up bar with dual-grips. It also ships with concrete anchors. Save for the band pegs, all of these items would require spending more money with most other rack manufacturers.
Now safeties are not technically included in the PR-5000's price; rather you add whichever safety system you prefer to own as you're adding to cart. This, of course, allows you to only pay for the safeties you want and not get stuck with the pin and pipe safeties and whatever other safeties you actually want. If you are fine with the simple pin and pipe safeties ($100) then you're looking at a $799 base price instead of $699 with no safeties.
RML-390C vs PR-5000
One of the major differences between the PR-5000 and the RML-390C is that the PR-5000 has 1″-diameter holes for the J-cups, safeties, and accessories rather than 5/8″ holes found on the RML's. Oddly enough, these 1″-diameter holes only exist on the sections of the rack that would be used for accessories. The rack is still assembled using 5/8″ hardware. I have no idea why Rep chose to use a combination of 5/8″ and 1″ holes on the PR-5000.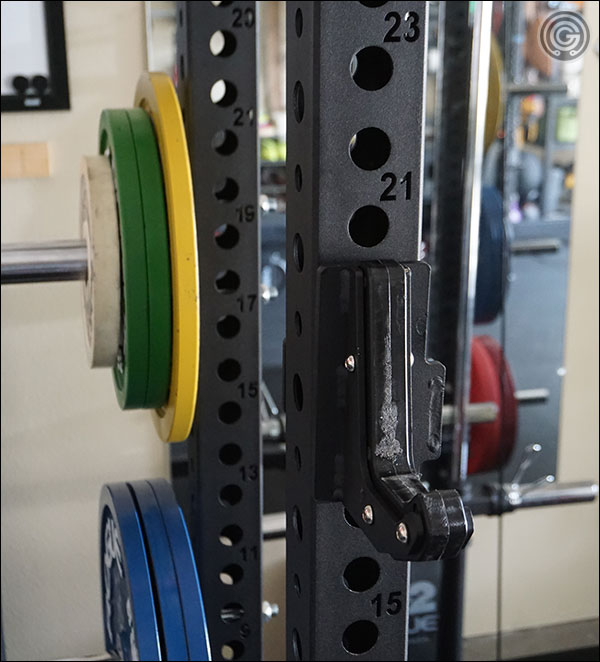 The PR-5000 also has laser-etched numbers in the uprights. Now it's only the odd numbers every other hole, but it beats having no indication of which hole is which like you'd have on the RML's (you have to go with the Monster to get numbered holes from Rogue).
Sadly the PR-5000 does not have Westside hole spacing. I am a little disappointed by this because I've grown rather accustomed to having it, but it is what it is.
The PR-5000 is also a couple of inches taller than the RML's, which I personally appreciate. Then again this may be a problem if you're unusually short and already hate hopping up to a lower pull-up bar.
At the end of the day I certainly wouldn't fault someone for buying an RML for the Westside spacing, the color choice, or even the fact that it's a USA-made product. If saving money is more important than any or all of these three things though, then maybe the PR-5000 is the rack for you.
Is the PR-5000 more of a Monster than a Monster Lite?
The 1″ holes that I just discussed are very reminiscent of the Rogue Monster series, as are the laser etched numbers, but because of how the PR-5000's 1″-diameter holes are only to be found in the bench and squat region rather than everywhere, and the rack is assembled using 5/8″ hardware rather than beefy 1″ hardware, I just don't feel like the PR-5000 is quite the Monster Rack.
Think about it like this: the PR-5000 is able to use some accessories from the Monster line, but any accessory that attaches to the rack outside of that bench or squat region (Monolifts, Lever Arms; basically all the cool shit) could not be installed because the 1″ holes switch to 5/8″ holes that far up the uprights. If you think about it a little more, you realize that the only Rogue Monster accessories that the PR-5000 could use are already offered by Rep.
And before you ask, "since the holes are 5/8″ can't you just use Monster Lite accessories?" Well no, because you have the same problem reversed. You can use ML accessories at the very top and very base of the rack, but not anywhere inside the bench and squat zone.
Outside of that, if you really wanted to say the PR-5000 was like a Monster rack then you'd just be making a stronger argument for the value of the Rep because the difference in price between the PR-5000 and an RM-3 is pretty massive (a $400+ difference easy.)
†  Remember this price is pre-safeties, but you do get to choose which safeties you want (if any.)
---
Rep Fitness PR-5000 Power Rack Review Summary
In my opinion the PR-5000 Power Rack is a 5-star product, and that is both with or without the plate storage. It's just a hell of a lot of rack at a price that's going to be hard to beat.
Now to be fair, the PR-5000 looks only moderately less costly than the RML, but when you factor in the included extras like the sandwich-style J-cups, multi-grip pull-up bar, and even the concrete anchors, then you consider the relatively low costs of additional upgrades and accessories, well that "moderate" price difference starts to look pretty damn impressive.
Of course, one must keep in mind that these 3″ x 3″, 11-gauge giants are heavy-duty racks and one could easily find a less expensive power rack either by going with a cheaper, light-duty rack, or by buying an inferior variant from one of the [many] shotty manufacturers that exist. If you're reading this review though, I assume it's because you want a safe, durable, feature-heavy rack with the ability to add quality accessories as needed, and I also assume that you'd prefer not to have to settle for a lesser or a low quality rack.
When it comes down to it, I believe that most folks initially pine for one of the RMLs but find that the cost of the base power rack plus the estimated costs of all the desired accessories and upgrades simply starts to seem too cost-prohibitive, so alternatives are sought out and considered. Well now rather than having to entertain garbage-tier dealers in order to afford a full-size power rack, Rep swoops in with the PR-5000 and offers us comparable quality, a good range of accessories, and price that's actually competitive. Sure the savings aren't as massive as they'd be if you went with a junk brand, but at least your straps and welds won't snap-city on you.
At the end of the day I think this is an amazing buy. I'm still a huge fan of the RML and RM series of racks, and I completely agree that they have their place for those who can afford them and those who need some of their unique accessories, but for those who just need a big, versatile, strong, reliable, high-quality power rack for less money, the Rep Fitness PR-5000 is absolutely the way to go.
I highly recommend this product; both the rack and the storage upgrade.
---