This overhead storage system guide was originally created by and posted at The Family Handyman. All the content and image credit goes to them.
Preface
I wanted to share this hanging storage system guide because I think this is an extremely cool idea that takes some of the unused space in your garage and puts it to good use. It's functional, relatively quick and simple to make, and also looks nice.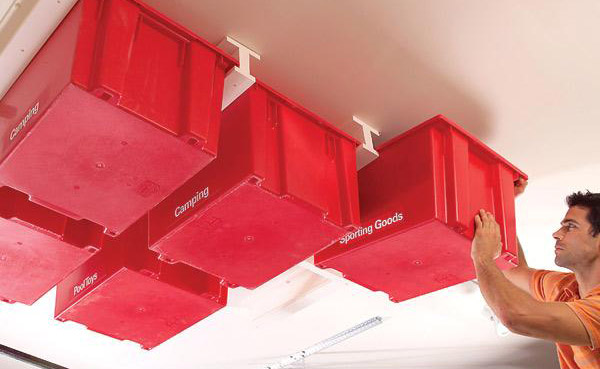 First off, about the containers used in this guide – they are called Nest & Stack Plastic Storage Totes by Akro-Mils. They are much sturdier and have a stronger lip than the plastic containers found in the box stores. You can check out all the different totes at the Akro-Mils Amazon Store here and can get an idea of prices for the sizes you'd like. You will not need lids.
Note: Because the product titles are so long at their Amazon store, you may not notice at first that most of those items they list are packs of multiple totes. Don't worry, they're not $80 each. And happy day, the totes are Prime eligible.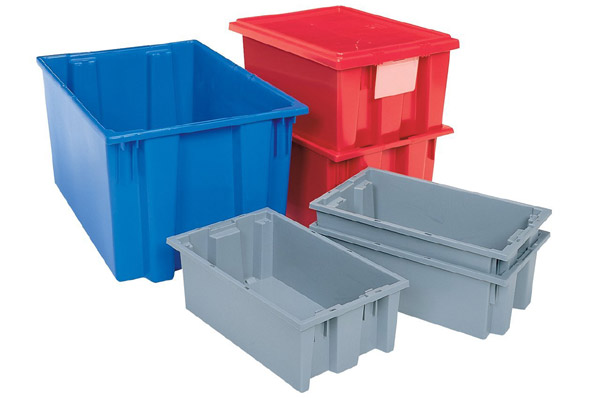 Materials List for Overhead Storage System
These materials are for the project done in the example below. Obviously you would need to modify these materials and your cuts if you plan to use different size totes or to install less / more totes.
(2) 8′ 2×4
(1) 4′ x 4′ sheet of ¾" plywood
(1) 8′ 1×2 pine stop strip
(1) pint carpenter's glue
(16) ¼" x 3½" lag screws and washers
(1) box 2″ wood screws
(1) box 3″ wood screws
 Create a Sliding Overhead Storage System
Are all those cardboard boxes in the corner of your garage driving you crazy? Holiday decorations, camping gear, seasonal clothing and extra bedding take up valuable space. And who can tell one brown box from another?
We've designed this system to get all that stuff up and out of the way and into unclaimed space near your garage ceiling. We built this handy system around special reinforced plastic totes that hang from carriages made from 2x4s and plywood strips. In this article, we'll show you how to assemble these simple carriages, align them perpendicular to the ceiling joists, then anchor them into place with lag screws. It's that easy. Add labels to the sides of the totes and you can tell at a glance where to find that long-term storage item. You can build and install the carriages in an afternoon and start organizing right away!
If you don't have unused space above the garage door, you can install this system just about anywhere. However, keep the totes at least 2 ft. from light fixtures, door springs and garage door openers.
The special reinforced totes we used (available from internet suppliers like Amazon) are a bit stronger than those you'll find at home centers or department stores. The reinforced rims on these containers will support weights of 35 lbs. or more, which is perfect for lightweight storage. And the totes will be easy enough to lift into place while you're standing on a ladder. To be on the safe side, the total weight of all the totes shouldn't exceed 210 lbs., so find a different place to store books and heavy hardware. Custom plastic lids are also available for dust-free storage.
If you use other types of containers, measure the rims carefully and adjust the bottom flange width to assure full support. And no matter what joist spacing you find (24 in. or 16 in.), be sure to fasten the carriages with at least four lag screws.
Before you order your totes, measure the height above your garage door and find totes that'll work. Our 13-in.-deep totes required 18 in. of clearance, including the carriages. For lower clearances, you can buy totes that are 8 and 10 in. deep but with the same top size.
By the DIY experts of The Family Handyman Magazine