The Thompson Fat Pad is a replacement pad for flat utility benches and commercial benching stations. It was developed by legendary powerlifter and equipment guru, Donnie Thompson, in an effort to overhaul the simple, narrow pads typically found on benches. Essentially, Donnie wanted to create a pad that maximized power in the bench press while simultaneously reducing the risk of bench press-related injuries – and after many years of research and testing, the Fat Pad was born.
In this review I'll be addressing the differences between the Thompson Fat Pad and standard bench pads, the claims that are made about using the Fat Pad, and even some of the Fat Pad's idiosyncrasies. I'll be sharing my personal thoughts on the pad, and what other people have had to say about it as well.
Thompson Fat Pad Specs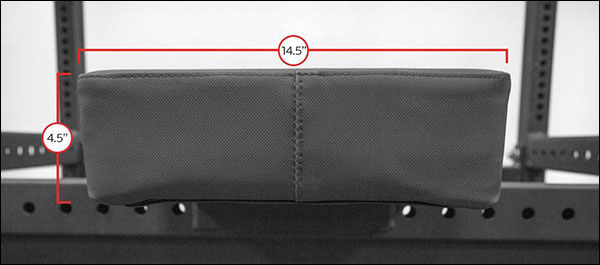 | | | |
| --- | --- | --- |
| | Thompson Fat Pad | Standard Bench Pads |
|  Pad Length: | 50″ | 44-48″ |
|  Pad Width: | 14½" | 10-12″ |
|  Pad Thickness: | 4½" | 2-3″ |
|  Cover Material: | Textured "grabber" vinyl | Standard Vinyl |
|  Price: | $30-$155 | N/A |
The price for the Fat Pad is $155 when purchased as a stand-alone product (to add to an existing frame). When purchased as an upgrade option for the Monster Utility Bench, it is only a $30 up-charge. When purchased with the Westside Bench 2.0 it's a $50 up-charge, and when purchased with the Monster Westside Bench (image below) it's a $70 up-charge. I haven't a clue how they come up with these numbers.
Rogue Fitness manufacturers the Fat Pad for Donnie, and as far as I know Rogue Fitness is the only retailer allowed to sell it.
Why a Thompson Fat Pad?
What's the point of this over-sized bench pad? Well like I said in the intro, to "maximize power while minimizing injury". Here are the stated benefits of the Thompson Fat Pad:
Promotes scapular movement.
Eliminates shoulder hangover.
Optimizes back and upper body positioning.
Increases mechanical leverages.
And here are the specific benefits of the additional thickness and width:
Scapular movement is uninhibited and eliminates AC tears.
Very little to NO translational loading.
Eliminates likelihood of pec tweak.
No more angry humeral wear on the bicep tendon and soft tissue.
Is all of this true? Seems that way. The width of the Fat Pad does eliminate shoulder hangover for everyone; even the widest of lifters – and this goes a long way in helping to prevent pec tears and rotator injuries (including the bicep long head). The extra width and density of the pad also creates a much more stable foundation to press from, especially when you factor in the grippy texture of the vinyl (image below). The're no sliding down the bench no matter how hard you drive those feet or how slowly you inch up that last rep.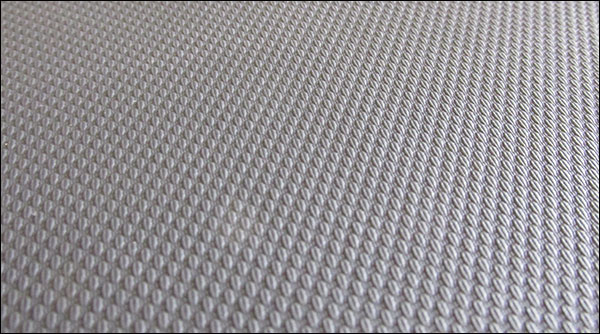 Now as far as the reference to translational loading, I cannot comment on that because I haven't a clue what that means. Feel free to educate me in the comments though.
How does it feel? You'll definitely feel off the first time you use a Thompson Fat Pad, and probably even continue to feel off for a number of sets. You simply cannot add between 2½" and 4½" to the width of a weight bench and not notice it – it will require a mental adjustment and more than likely a positioning adjustment. That said, I believe the majority of people will immediately decide it's a superior feeling, and I think the bigger and stronger you are the more likely you are to instantly love it.
How about the height? Don't forget that along with the extra width comes extra height. When mounted to the frame of the Rogue Utility Bench the top of the pad is over 20″ off the ground, and when mounted to a Monster Utility frame the pad is 19¾" off the ground. In either case, that's a very significant and noticeable height difference, and you will probably be forced to re-position your feet for the drive. Of course the taller you are the less impact this height will have, but I promise you'll notice no matter how tall you are.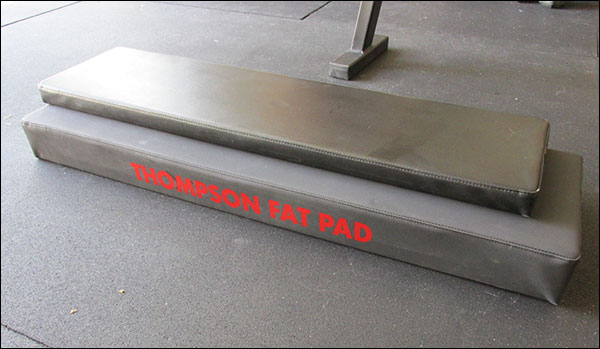 The best solution to this (if it bothers you) is to buy a shorter bench frame – something that will sit 17½" to 18″ off the ground with the Fat Pad mounted (I cover this at the end of the article for those interested.) The next best solution is free, and it involves simply placing 45-pound bumpers under each foot. It's an extra thing to do either way, but I think that all the benefits of the Fat Pad outweigh the minor inconvenience of having to move two bumper plates from the weight tree to the floor, or extra the expense of buying a different frame.
Is the Fat Pad for beginners? Big powerlifters and naturally wide lifters obviously reap the greatest benefit from the Fat Pad. It's wide enough for their broad frames, and the cushion can handle their above average weight (both body weight and the bar). But what about total beginners? What about naturally skinny or short lifters?
That's a tough question, and I don't know that I even have an answer to it. Obviously using the Fat Pad would be beneficial to people of any size or skill level at least from an injury-prevention standpoint, but is it even remotely comfortable?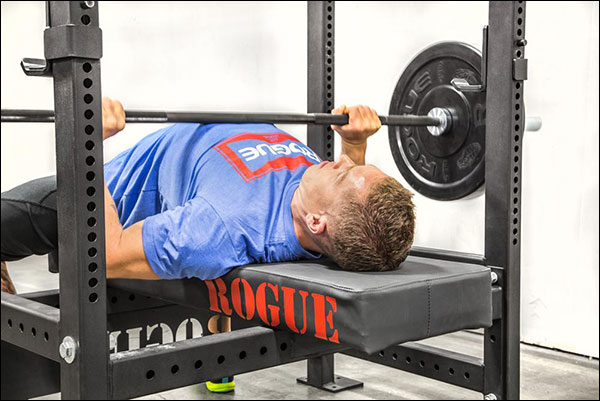 It's probably reasonable to assume that smaller-framed or super short lifters would prefer a standard 12″ wide, 18″ high bench, but I could be wrong. With any luck we'll get some feedback in the comments from someone of a smaller stature who owns the Fat Pad, or has at least used one more than a couple times.
---
What do other people think of the Fat Pad?
At the time of this writing, the Thompson Fat Pad has 12 reviews on its product page. Of those 12, all but one are perfect 5-star ratings. The one that isn't perfect is still a 4-star rating, and the reason for that one less star is:
"…for those with long arms, such as myself, the extra few inches of thickness pushes my j-cups outside of the 1″ spacing area."
That's fair, right? It is, but let me just say this: For many of us long-armed folk, the J-cups are already outside the 1″ Westside spacing area. The important thing to note is that it really doesn't matter – it's the safeties that need to remain in the Westside spacing area, and they always will regardless of bench frame or pad. Even an incline bench set to 85º has safety settings within the Westside spacing area.
Other than that one mention of the J-cups, the only other gripe is the 20″+ height of the pad when mounted to a standard bench frame. That said, people like the Fat Pad so much that the height issue has had literally no impact on the 5-star rating. Not one person who has mentioned it gave less than 5-stars in their review.
"I benched on the Fat Pad for the first time on Christmas Day. I handled weights in the 97% of my 1 RM easily. It amazes me how much weight is left on the platform because of substandard pads. The pad alone was worth 4% to 5% more weight than I could handle on an 11.5″ wide bench. And the surface was very grippy. No sliding at all even without chalk. This is a must half for anyone serious about benching."
Thompson Fat Pad – Review Summary
Fat Pad eliminates shoulder hangover, optimizes body positioning, and increases mechanical leverages.
Extra width and cushion density reduces chance of AC tears, pec tweaks, and shoulder/bicep tendon wear.
Installs easily to any flat Rogue bench (just two bolts), and can be mounted to other non-Rogue benches as well (which may require additional drilling and/or hardware.)
Fat Pad has virtually flawless reviews and very positive community feedback; a 5-star rating.
The bigger you are, the more you'll appreciate the Fat Pad. The biggest kudos come from the biggest lifters.
The unique "Grabber" vinyl cover helps keep you in place on the bench.
Only true drawback to the Fat Pad is the height of pad when mounted on standard bench frames, though people are clearly willing to overlook this and view it as a necessary evil.
Price is $155 by itself, or $30-$70 to swap out the normal pad when purchasing a new Monster or Westside bench from Rogue.
Developed by Donnie Thompson; who seems to know far better than we do how to safely optimize training.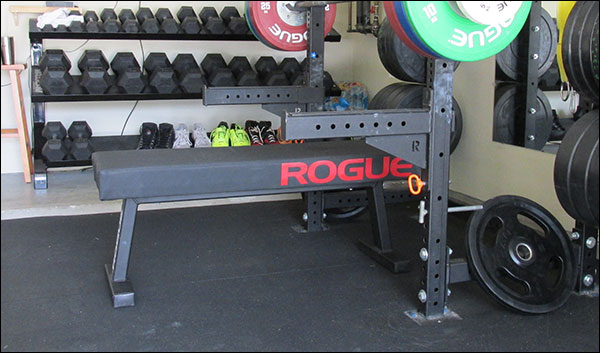 Love the Fat Pad? Hate the height? Go Custom
If you're willing to buy the Monster Utility Bench with the Thompson Fat Pad from Rogue ($295), you can request custom sizing of of the frame prior to actually placing the order. They charge an additional $37.50 for the customization, and it does take a couple weeks to receive the bench, but it's probably the easiest way to get an 18″ high Fat Pad bench. Unfortunately, this customization option is not available for the basic Rogue Utility Bench.
If you already own the pad and just want to buy the frame, you can do that as well. Last time I checked with Rogue the price was $140 for just the Monster frame (no pads included). So you'd pay $140 + $37.50 to chop the legs + whatever the shipping cost to you is. It's not the cheapest thing, but it is a long-term solution – the last flat bench you'd ever buy.
It goes without saying that if you have access to the proper metalworking tools, you can cut down your bench (any bench) to whatever height you'd like. Or if you're super savvy, you can just make your own frame from scratch.
Keep in mind that the mounting holes of the Fat Pad are positioned for Rogue's frames. It is likely that you will need to modify the frame of a bench from another manufacturer (though this is not overly complicated, and it's been done time and time again in training centers, CrossFit boxes, and garage gyms everywhere.)
Fat Pad Videos
Donnie Thompson's Promo
More Donnie – Don't Wanna Buy a Fat Pad?
Fat Pad Review Summary
Are you a serious powerlifter? Get the Thompson Fat Pad. Do you have shoulder pain or discomfort for a couple days following a chest workout? Figure out what you're doing wrong, then get a Fat Pad! Everyone else? Get a Fat Pad!!
Okay I'm kidding. All I can say is to read those product reviews, consider your level of training and your personal goals, and then make an executive decision on whether or not the Thompson Fat Pad is right for you. Me? I'm not competitive or injured, but I love having it in my gym. Zero regrets.