As popular as the new Rep FB-5000 Competition Bench is and as many questions as I get on both the frame and the pads, it seemed negligent of me to not get the new 14″ Rep Wide Pad in front of me for a review as well. So I did, and this is that review.
In this semi-short follow-up review I will compare the new Rep Wide Pad to the default 12″ Rep Thick Pad and the Thompson Fat Pad, and also tell you why Titan's Hefty Pad should be 100% off of your radar now (if it wasn't already).
If you'd like to read my review for the actual FB-5000 Bench or get more information on the 12″ pad, you can read that article here.
---
Rep Wide Pad Review – Specifications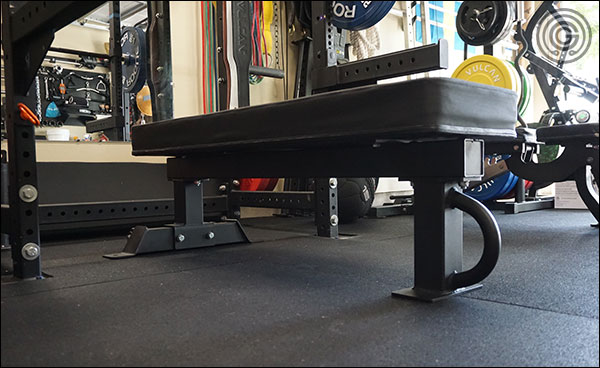 dimensions: 48.5″ long x 14″ wide x 4″ thick
17″ total height on FB-5000 frame (19″ on FB-3000)
features same grippy vinyl as 12″ FB-5000 pad
features a multitude of installation holes for different frame styles
compatible with Rogue frames, of course
sold separately (no frame included)
price: $50 + shipping
---
Rep Wide Pad vs Standard Thick Pad
There are only two major differences that I can spot between the new Rep Wide Pad and the 12″ pad that is included by default with the FB-5000 frame.
The first is the size of the pad. The default pad is 48″ long by 12″ wide, while the Wide Pad is 48½" long and 14″ wide. The difference in length is insignificant really, so all that matters really is that the Wide Pad is 2″ wider.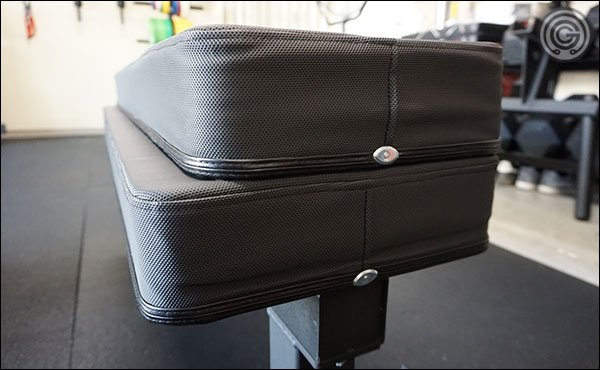 The second difference is the amount of mounting holes on the underside of the pad. There are more options that allow for installation on a variety of bench frames – including the Rep FB-3000 Bench.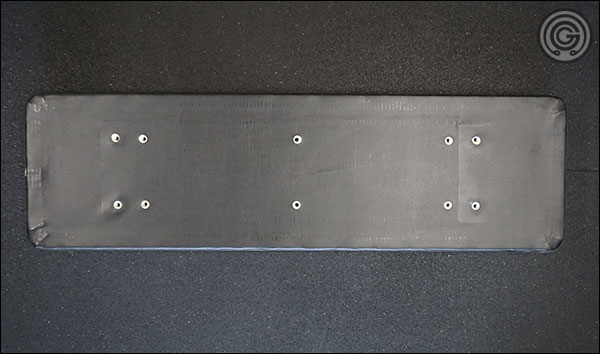 Other that that the pads are the same. Same overall design and construction, same grippy vinyl, same color, and so forth.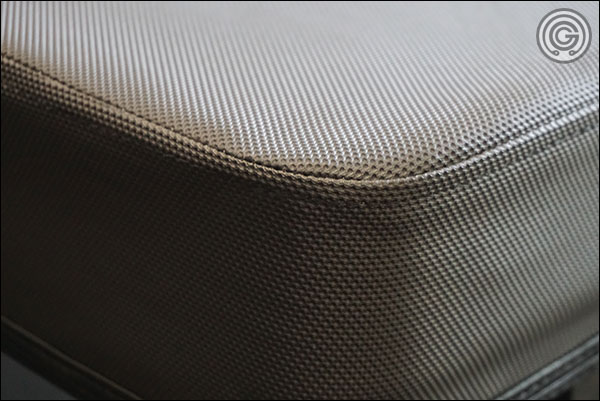 In case you're not already familiar with the benefit of these wider pads, I'll just briefly remind everyone that what we gain is much improved shoulder and back positioning, and improved leverages. Wider pads prevent our shoulders from hanging over the edge of the pad; which greatly reduces the risk of shoulder injury from benching.
Wide, dense pads are just a more stable base for heavy bench presses; they just feel better in every way. I've never heard of anyone going back to a 10-12″ pad after pressing on a 14″ bench pad. You probably won't either.
---
Rep Wide Pad vs Thompson Fat Pad
The specifications for the Thompson Fat Pad are slightly different from the specs of the Rep Wide Pad. I'll break it down.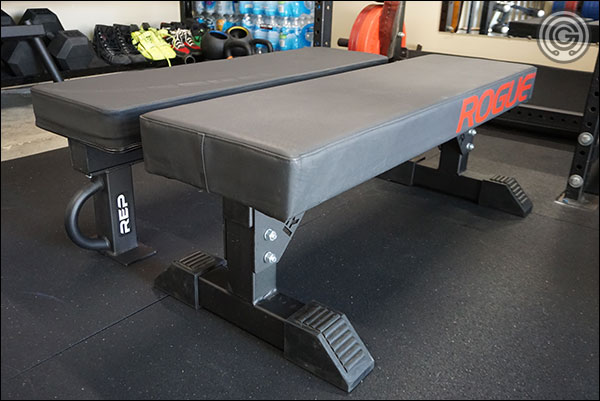 The Thompson Fat Pad has a length of 50″ versus 48.5″; a width of 14.5″ versus 14″; and a thickness of 4.5″ versus 4″. The Thompson Fat Pad also feels just a hint more dense to me, but I almost think that this feeling has more to do with how tight Rogue managed to get their extra thick vinyl around the padding. It's super tight, and I assume that this tightness makes the deformation of the foam under load less likely. The foam just has no where to go without any slack in the vinyl.
Speaking of vinyl, Rogue and Rep use different patterns on their grippy vinyl covering, but I find them to be equally effective in terms of their ability to stick us to the pad. They are both miles ahead of the standard (slick) vinyl used for other bench pads.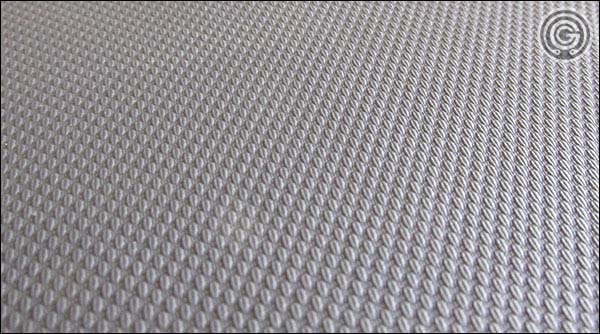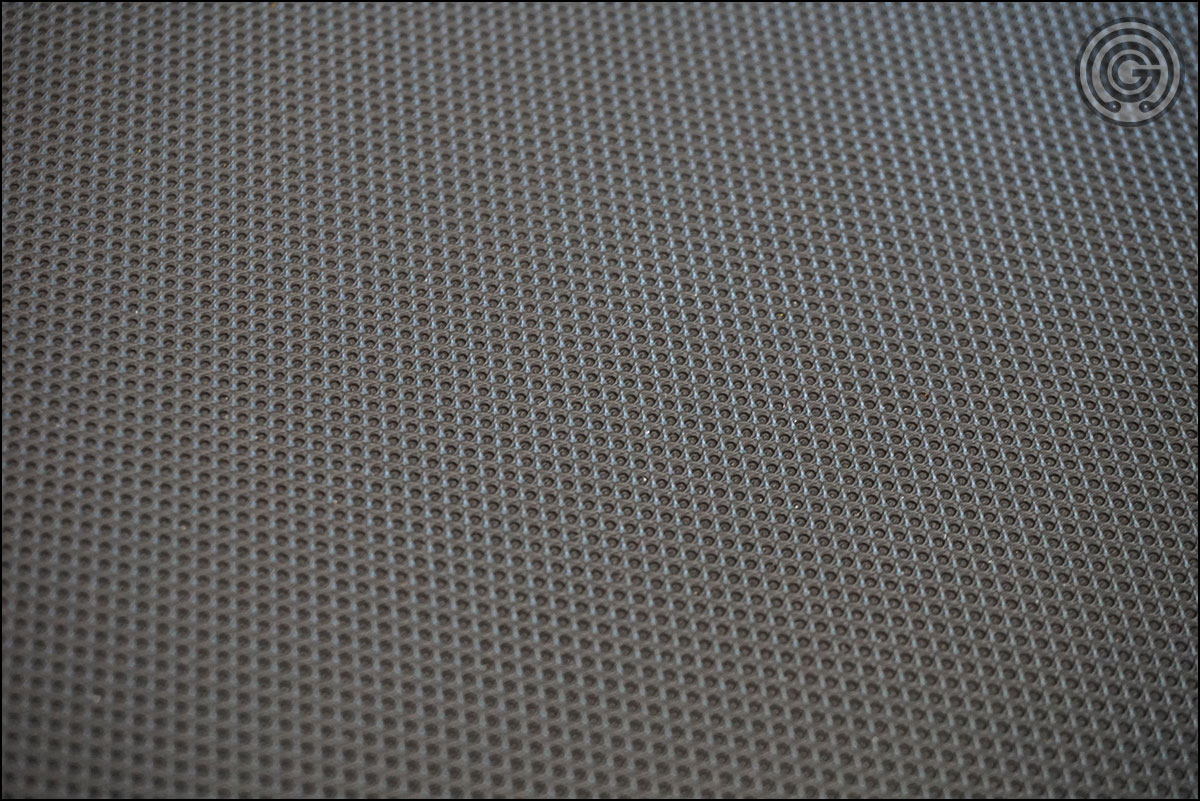 So yes, the Thompson is a bit more pad in that it is bigger and tighter than any other pad in the world, but it's also more expensive; a lot more expensive. Matter of fact, the Thompson Fat Pad is over 300% more expensive than Rep's Wide Pad (at $155 vs $50), and this price difference is noteworthy because even though the Thompson Fat Pad is technically a better pad, I don't think that most people will find it to be 300% better.
Of course, the prices that I just mentioned are for those who are looking to buy only the pad to add to an existing frame. If you're buying the frame and pad together, the price difference is not as significant…
In order to get your hands on the Rep Wide Pad and the FB-5000 bench frame you need to buy both ($149 + $50 + shipping). In order to get your hands on the Thompson Fat Pad and the Monster Utility Bench (the shorty version) you're looking at $295 + shipping. This is only a 50% price increase versus the 300% price increase to upgrade just your pad.
Now there are some perks to going the Rep route besides the fact that you are still saving about $100, and they include the following:
you will own two pads that you can swap out as/if needed (12″ and 14″)
the FB-5000 frame is a tripod frame that doesn't interfere with foot placement
the FB-5000 is easier to move around your gym (wheels and handle)
the FB-5000 frame is 1/2″ shorter (the 17″ height is great)
I believe the Thompson Fat Pad is a great pad, and since I already own it I'll probably keep using it as my primary pad (which I actually have attached to the FB-5000 despite owning a shorty Monster Bench.) The question is this though… if I had no frame and no fat/wide pad; knowing what I know now; would I buy the Thompson again or would I go with Rep?
If money is of no object I'd favor the Rep FB-5000 frame with the Thompson Fat Pad.  This is an expensive combo ($305 before any shipping, and you pay shipping at two merchants) that leaves you with an extra pad, but I think it's ideal. If budget is a concern (as I am sure it is for most) I'm going FB-5000 with the Wide Pad in pretty much all circumstances. This is a $200 build, and shipping is combined since it's all from the same merchant.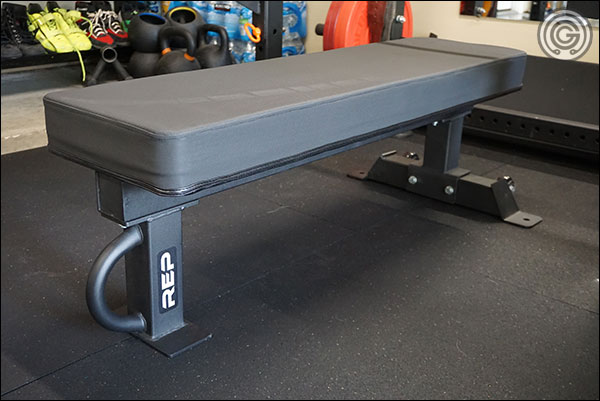 At the end of the day though, the important thing is that both of these pads are grippy, both are bigger than a 10″ or 12″ pad, and both offer way more density and support than most of the standard bench options. I think the Thompson is a slightly nicer pad, and I think the Rep frame is a better option than the Monster frame, but however you build yours out using Rep and/or Rogue parts, you're going to have a bad ass bench.
---
Goodbye Titan Hefty Pad (again)
The Hefty Pad is Titan's attempt to emulate the Thompson Fat Pad, and if you take a quick enough glance at the Hefty Pad's product description you might find yourself believing that it actually is a comparable pad. Comparable, while even being less than half the price!
As it turns out, aside from having the same approximate pad dimensions there are really no other similarities between the Hefty Pad and the Thompson Fat Pad. The Thompson Pad is wide, thick, dense, supportive, grippy, and built to last. The Hefty Pad, however, is definitely wide like a Thompson, but it's also soft, slick, and not built to last. The Titan is cheap, it has no grippy vinyl (a key feature of the Thompson), and just isn't worth the $70 price tag.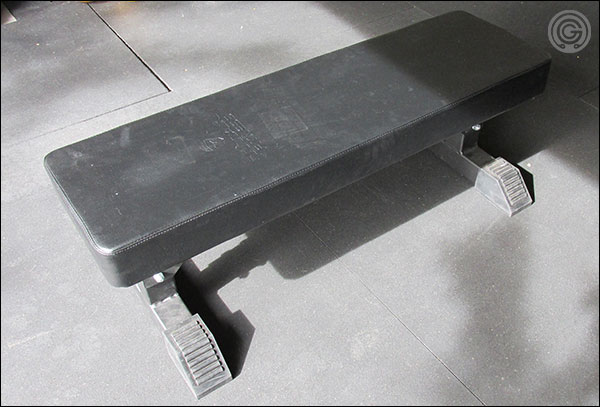 I get wanting to save the $85 if at all possible, but the problem is that you're just not actually getting a product that's similar to the product that you really want. You aren't actually getting an alternative to the Thompson Fat Pad by purchasing the Hefty Pad. It's apples & oranges.
Fortunately none of this matters anymore because Rep Fitness actually did a decent job of emulating the Thompson Fat Pad. Their Wide Pad is not only less expensive than the Titan ($50 vs $70), but you actually get a dense and supportive foam and grippy vinyl to go along with the over-sized dimensions. For your $50 you can actually get a viable alternative to the Donnie Thompson Fat Pad, not something that just kind of looks like a Fat Pad.
Purchasing a Titan Hefty Pad over the Thompson was always silly in my opinion, but before Rep offered their Wide Pad it was the only "alternative" to the Thompson, and many of folks who were short on cash picked up the Hefty hoping it would suffice. Thankfully this decision never needs to be made by anyone ever again, because if you cannot afford the Thompson Fat Pad but you can afford the Hefty Pad, then you can definitely afford the far superior Rep Wide Pad.
So good riddance, Hefty Pad.
---
Rep Wide Pad Review Summary
When it comes down to my overall opinion of the Wide Pad I really have nothing negative to say about it; especially considering that it's only $50!  It's essentially the definition of a steal when you consider not only what a Thompson sells for, but the fact that garage gym owners have been spending $20 more on the inferior Titan Hefty Pad for a year now. The Wide Pad is infinitely better than the Titan pad and only marginally less amazing than the Rogue while being just one-third of the cost. What's not to like about that?
That said, the Wide Pad is not American made like the Thompson, and it lacks some of the above-and-beyond refinements of the Thompson. It's still an outstanding bench pad though. It has the dimensions that are needed to improve your positioning and leverages, it has the density required to support a lot of weight, and it has the grippy vinyl to keep us stuck to the bench during heavy presses.
You're certainly welcome to split hairs and buy a Thompson Fat Pad if you're not concerned with money; it is an incredible pad; but the Rep Wide Pad is still all that is needed to get the job done. In other words, I like them both and I suggest that you buy what you can afford. If that's the less-expensive Rep pad, don't fret about it. It's still a great pad and a great value.
---