This is a quick review of the Rep Fitness FB-4000; a lightweight version of Rep's infamous FB-5000 Competition Bench.
In this review I get straight to the point about the FB-4000. I'll go over the specifications and features, discuss any of those features that warrant discussion, and then I'll dive right into a comparison between the FB-4000 Lite Comp Bench and the FB-5000 Competition Bench.
If you are reading this review because you are looking for a new flat utility bench, but you're not yet familiar with Rep's FB-5000, I strongly suggest you read some of my review content on the 5000 before you ultimately make a decision on which bench to buy. Actually, I would suggest that you read up on the FB-5000 before you commit to buying any other flat bench.
Enjoy the review, and feel free to leave feedback or ask a question in the comments section following the article.
---
Rep Fitness FB-4000 Comp Lite Bench Specifications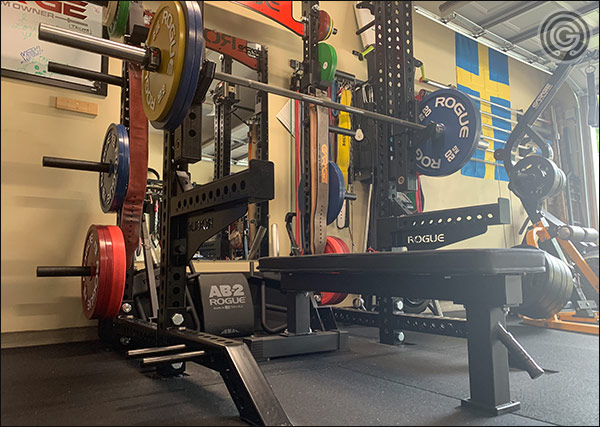 3″x3″, 14-gauge steel frame
tripod design
rubber feet for added stability
floor to top of pad distance: 17″
pad dimensions: 12″ wide x 45″ long
2.5″ thick pad with grippy vinyl
wheels and handle for mobility
available in 5 colors

black, metallic black (no upcharge)
silver, hammertone blue, hammertone red ($10 upcharge)

base price: $115

---
FB-4000 Lite Comp Bench Review
The FB-4000 is a very low-cost, feature-heavy flat bench. It has a lot of premium attributes that you typically won't find on such a low cost utility bench. For instance, grippy vinyl on a full 12″ wide, 2.5″ thick pad, a 3″x3″ steel frame (vs 2×3 or even 2×2), and both wheels and a handle for easily mobility around the gym. It's just a lot of bench for the money; and you'd only have to take a quick look at my Bench Buyers Guide to see what other benches would run you, and what features you'd get (or wouldn't get) for your money.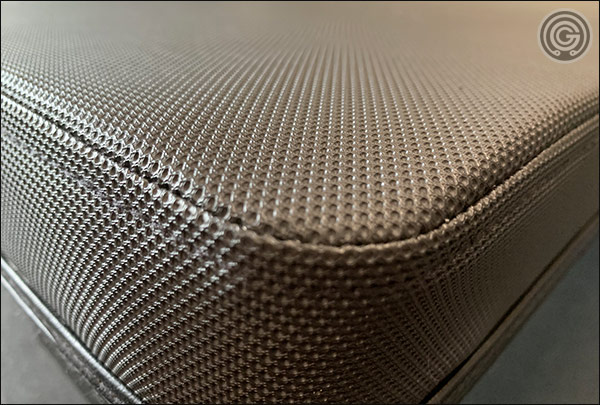 The FB-4000 is also a solid bench. Even at 14-gauge, the fact that the frame is 3″ x 3″ tube steel (vs say 2″ x 2″) means the bench is still quite strong. Only a small percent of lifters will ever come close to this bench's maximum capacity.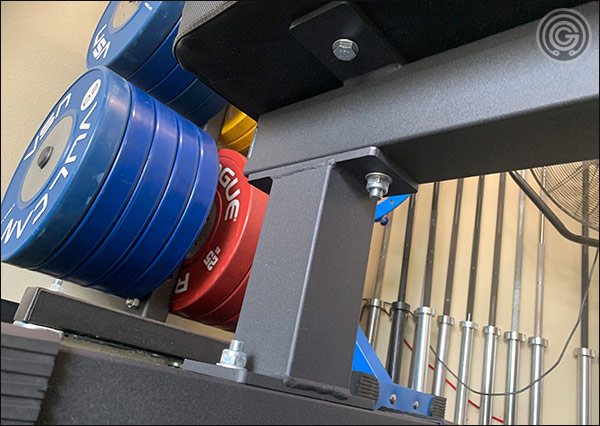 The tripod frame is not only strong enough, it's quite stable. The FB-4000 doesn't wobble or rock, and the rubber feet not only help with that stability, but also help to reduce the bench from sliding around on smoother surfaces like concrete or a wood platform. As a matter of fact, Rep has some of the nicest rubber feet on the market (you can see they have used the same style of feet on the FB-4000 as they did on the AB-5000.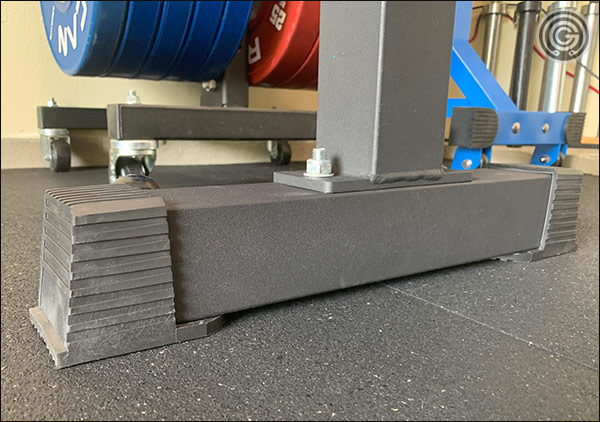 Finally, there may only be five color options to choose from (at this time anyway) rather than several dozen colors, but honestly, where else can you buy a bench that's barely over $100 that has any color choices at all! It literally costs only $10 to upgrade your bench from basic black to silver, blue, or red; all of which are very classy looking.
Are there any cons?
At this price? Not really, no.
If the frame was 2″ x 2″, that would be a con. If the pad was only 10-11″ wide, that would be a con. If there was only a cheap, slick vinyl and not the grippy vinyl, that would be a con. If there were no wheels that might be a con, but not really because a 14-gauge bench isn't all that heavy or difficult to move around. There are just no real negatives to this bench.
---
FB-4000 Lite Bench vs FB-5000 Competition Bench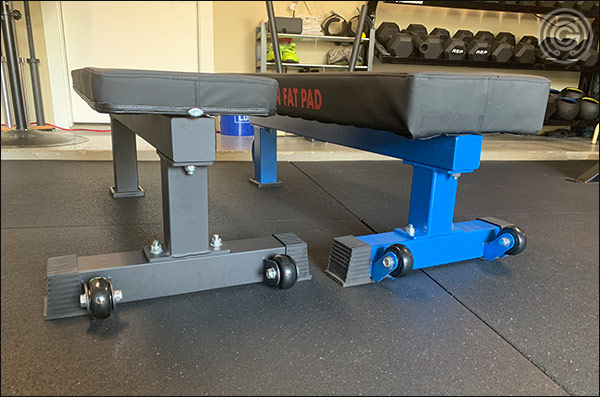 The FB-4000 and the FB-5000 are very similar at a quick glance, but they are actually quite different indeed. Here is a chart of those differences, which I will discuss in more detail.
| | | |
| --- | --- | --- |
| | FB-4000 | FB-5000 |
|  Base Price | $115 | $149 |
|  Maximum Price (with upgrades) | $125 | $179 |
|  Frame | 14-gauge | 11-gauge |
|  Weight Capacity | 700 lbs | 1000+ lbs |
|  Pad Length | 45″ | 48″ |
|  Pad Thickness | 2.5″ | 4″ |
|  Frame Height (without pad) | 14.5″ | 13″ |
|  Total Height | 17″ | 17″ |
|  Wide Pad Compatibility | yes | yes |
|  Thompson Compatibility | yes | yes |
So the price is clearly different. $125 is the most you'd pay for the FB-4000 before shipping, but you could spend as much as $179 on the FB-5000 if you go with the wide pad upgrade and a color upgrade.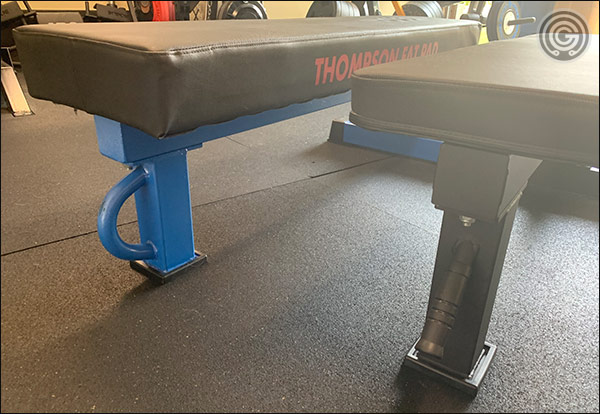 The biggest difference is the use of 14-gauge steel on the FB-4000 rather than the industry standard 11-gauge. This lowers the total weight of the bench, and also lowers its maximum capacity; from over 1000-lbs to 700-lbs. 700-lbs is probably fine for 90% of bench pressers out there, but that's not all of you!
Both benches have grippy vinyl, and both pads are 12″ wide by default. The FB-5000 has a longer pad at 48″ (versus 45″), and a thicker pad at 4″ (versus 2.5″). Since both have a pad that sits 17″ off the ground, that means the height of the frames themselves are unique.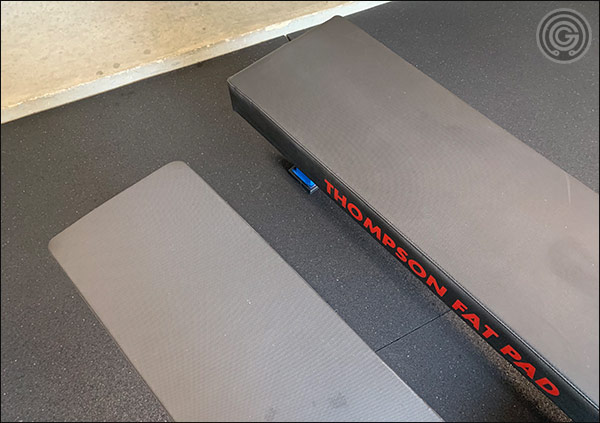 Finally, the FB-5000 is the only one of the two that can even have Rep's wide pad, and that means that it's the only one that can have a Thompson Fat Pad.
Turns out the FB-4000 can have the Wide Pad (or Thompson). That's going to be a pretty high bench though at 18.5″. Not terribly high, but high nonetheless.
(Speaking of… please note that in these images I have the Thompson Pad on my FB-5000 frame. This makes the pad dimensions 14.5″ wide x 50″ long, and the pad sits 17.5″ off the ground. If the Wide Pad were installed instead, the dimensions would be 14″ x 48″ x 17″.)
So is the FB-4000 a viable alternative to the FB-5000?
Yes but no. The FB-5000 is already one of the best bench options on the market by far. The price is extremely competitive, the $20 upgrade to the wide pad is ridiculous (by that I mean it's good), and the cross-compatibility with the best bench pad on the market makes the FB-5000 one of the easiest purchases you'll ever make for your garage gym.
Maybe you don't care about the extra weight capacity of the FB-5000, but for the relatively small price difference you get the option to upgrade to a superior pad down the road. Truth be told I think you should buy the wide pad with the frame immediately rather than pay $50 to upgrade to it later. You'll never go back once you've benched on a 14″ pad. It's the best!
That having been said, I don't think the FB-4000 is a bad bench or even a bad deal. Matter of fact I think it too is being offered at a very fair price point. I just happen to think that when compared to the FB-5000 it loses its appeal. Of course, if all you desire is a 12″ wide bench with no other bells and whistles, by all means save the cash and go with the FB-4000. For a solid, basic utility bench, it's going to be hard to top the FB-4000 in the budget department.
---
FB-4000 Bench Review Summary
The previous paragraph pretty much sums it all up.  The FB-4000 is a great flat bench at an extremely competitive price. The problem is that the FB-5000 is twice as much bench for no where near twice as much money. For only $34 more you get a stronger frame with virtually no weight capacity, a thicker pad, and the ability to upgrade to a wide pad.  Pay a mere $20 more now and you don't need to upgrade later (which would cost you $50 instead of $20.)
---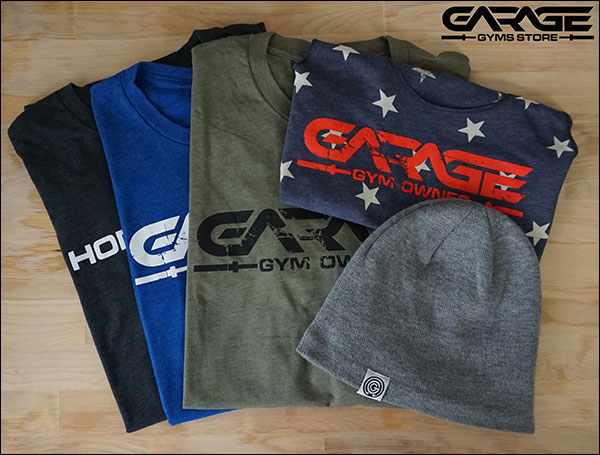 ---