Do you know the differences between a powerlifting bar and an Olympic bar? Did you even know there was a difference? Well they may be easy to miss as a novice lifter and they may even be subtle to a veteran, but different they most certainly are. In this article I will explain the contrasts between these two barbell types so that you can make an educated decision when buying your garage gym bar.
Last updated December 2017 – minor revisions
Powerlifting vs Olympic Lifting – A Brief Explanation
Olympic weightlifting
 (or just weightlifting) consists of just two lifts; the
snatch
and the 
clean and jerk.
In competition, the goal is to perform the heaviest lift possible; a single, maximum effort lift. The athlete gets three attempts at each of the two lifts and the total of the highest successful lifts determines the overall result. Olympic lifting is more of a test of an athlete's explosive strength, power and technique rather than raw lifting strength.
Powerlifting on the other hand is a pure strength sport. Powerlifting involves three lifts – the squat, bench press, and deadlift. Powerlifting is similar to Olympic weightlifting in the sense that the lifter gets three attempts at each lift. However, powerlifting is more about moving as much weight as absolutely possible. Some powerlifting federations even allow the use of supportive equipment such as a bench shirt or squat suit (they store elastic energy) to help the lifter complete the rep.
---
Olympic Barbells
A men's Olympic barbell is 2.2 meters long (7.2 feet) and weights 20 kilograms; about 44-lbs. The sleeves are 50 mm in diameter, and the shaft is 28 mm in diameter and make up about 1.3 meters of the bar's total length. (see below)

The women's Olympic barbell is slightly shorter at 2.1 meters long (6.9 feet) and weighs 15 kilograms (roughly 33 pounds). The shaft is also slightly thinner at 25 mm thick (.98 inches). Women's Olympic bars do not have center knurling.

Olympic barbells have a couple unique characteristics. First is the whip (the ability to store elastic energy) of the bar. This flex happens as a result of the shaft being slightly narrower than other barbell types (28 mm versus 29-31 mm). Professional athletes use this elasticity of the bar to their advantage during a lift.
Olympic bars must also have smooth rotating sleeves. This allows the lifter to get under the bar quickly without having to release their grip. This effortless rotation is often achieved by using expensive needle bearings in the sleeves. Finally, the quality of Olympic bars is such that they have to withstand repeated drops from overhead positions.
---
Powerlifting Bars
A powerlifting barbell differs from an Olympic barbell in that it is more stiff or rigid in order to better accommodate heavier weights, and without the flex found in an Olympic bar. While a powerlifting bar is generally the same dimensions of the Olympic bar, it can also be longer and/or thicker to allow for more weight to be added.

Also slightly different are the markings on the bar; or the knurling. The grip marks are closer together on a power bar (32″ apart, vs 36″ on an Oly bar). The grip (hash) marks of a power bar are used to check legal hand positions for the bench press, whereas the hash marks on Olympic bars are really nothing more than reference points. Power bars don't really require the sleeves to spin so freely like they do on Olympic bars, so they use bushings rather than expensive bearings.
While there are always exceptions to the rule, power bars are generally more affordable.
---
Center Knurl & Bar Knurling
A random note on knurling. IWF-certified Olympic WL bars have the center knurl. However, many companies have started to leave the center knurling off of non-competition Olympic bars. Not only does a center knurl serve no purpose in Olympic lifting, but it can actually be uncomfortable with high sets of cleans typical in a CrossFit workout. Since CrossFit seems to be paying the bills lately, it only makes sense to be accommodating.
(For a list of barbells designed with Crossfit in mind, read this bar guide.)
Powerlifting barbells have the center knurling primarily for the back squat. The idea being that the knurling prevents the bar from sliding down the back on heavy lifts.
In terms of knurl depth or aggressiveness, power bars tend to be deeper, sharper and more coarse. Olympic bars for training are more mildly knurled than power bars, but competition Olympic bars can be just as aggressive as a power bar. Understanding they knurl depth of any given bar is where reviews are helpful (and you're at the right site for that.)
---
In the Market for a Barbell?
If you know you're a powerlifter or know you're a weightlifter, well you know which bar type to buy. Easy. For those of you who CrossFit or follow programming that incorporates the Olympic lifts I would lean more towards an Olympic bar, or in the very least a multi-purpose (dual-marked, 28.5 mm) bar with no center knurling.
Serious lifters (even novices) should expect to pay anywhere from $250-$350 for a reliable performance power bar or multi-purpose bar. Weightlifters should expect to pay that as well; or even more if bearings are required.
Here are the most commonly purchased, reasonably priced bars currently on the market in all three categories of bars (power, Oly, and multi.)
Ohio Power Bar (powerlifting)
The Ohio Power Bar (OPB) meets all IPF specifications for powerlifting and exceeds pretty much all baseline specs for performance, and it does so for very little money. Available in three finishes (bare, zinc, and stainless) and in both an Imperial and IPF-certified kilogram version, this is easily the most popular power bar around.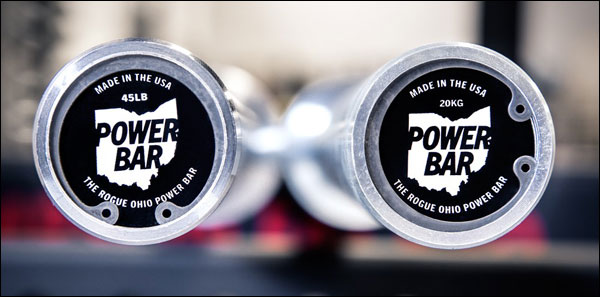 The OPB has a super rigid, 205k PSI tensile strength shaft, dual-bronze bushings in both sleeves, a super aggressive outer and center knurl, and it starts at only $250 for the bare steel variant.
---
California Bar (multi-purpose)
American Barbell's California Bar is a mildly knurled, dual-marked bar with no center knurl. Rated at 190k PSI it has a nice compromise between stiff and elastic, and the toned down knurling makes it great for both high-rep Oly work and slower, heavy lifts like the squat and bench press.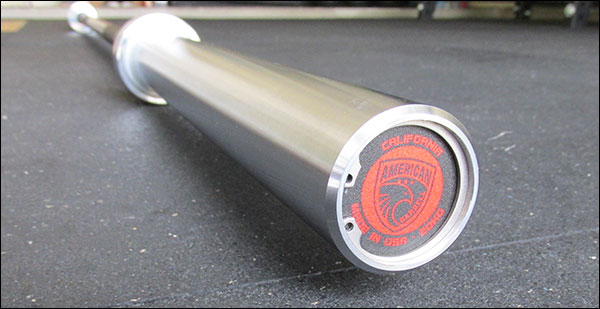 The California Bar is a lifetime investment. It's American-made, it has a Cerakote finish that looks great and protects the shaft from oxidation better than most other finishes, and hard chrome sleeves that can take lots of abuse. This is a beautiful, high-performance bar that's available in both a men's and women's version, and although the price is a hint higher than competing multi-purpose bars it is arguably one of the best options out there.
---
Vulcan Elite 4.0 (Olympic WL)
The Vulcan Elite 4.0 is a 28 mm, 20 kg, self-lubricating bushing bar with an incredible 221k PSI tensile strength and 206k yield rating. This is a chrome molybdenum bar with a matte, dense chrome finish on the shaft and engineered chrome sleeves. The Elite has an insane amount of whip, unrivaled steel, and great protection against oxidation.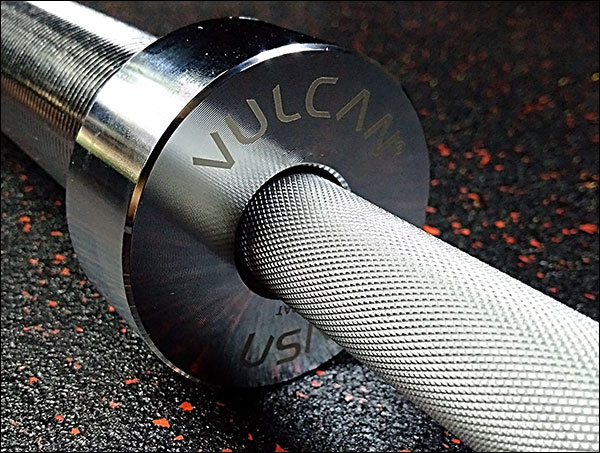 The Elite adheres to all IWF specs and retails for $369, and the beauty of this bar is that it grows with you. It's just as much an advanced level barbell as it is an affordable novice bar. It has moderate knurling typical of an Olympic training bar, but the center knurl is of a lower depth in order to be more accommodating to high rep clean sets; making this a good choice for elite CrossFit as well as Olympic training. Best bushing-based Olympic bar period.
---
More Bar Summaries and Reviews?
Here is my actual Olympic Barbell Review and Shopping Guide. It contains a much larger selection of current bars in all categories, and of varying prices. Additionally, use the menu at the top to see full reviews for specific bars.
Please share this article if you found it useful – or just to be nice. Thanks!
Random Extra Barbell Info Video
---