There are a lot of different barbells out there. There are bars intended for the Olympic lifts; bars for powerlifting; and even bars simply for learning and practicing technique. But what about CrossFit barbells?
Since CrossFit utilizes the Olympic lifts, it should come as no surprise that the Olympic bar has been the best match. You need reliable sleeve rotation and a moderate amount of bar whip for these lifts; both of which an Olympic bar offers (while the powerlifting bar does not). However, there are a couple minor issues with using a true Olympic barbell as a CrossFit barbell.
For starters, true Olympic bars still have center knurling. Why this is still done on dedicated Olympic bars is beyond me, but it is (at least on the men's bars it is). Regardless, this is not something you want on the same bar you'll be doing high-rep cleans with unless you find a bar with a passive center knurl. Your neck will not be pleased.
The second minor issue is that a true Olympic bar will usually have bearings in the sleeves rather than bushings. Bearings are great, but they are a large added expense and they are not really necessary for high-rep Olympic lifts at the low to mid-range weights typical of a CrossFit WOD. These days, a good pair of bushings per sleeve is more than adequate for providing reliable sleeve rotation for the purposes of CrossFit.
Fortunately, CrossFit has become so popular that barbell manufactures have been offering bars specifically for CrossFit. They're basically Olympic bars at their core, but they are built tough enough to withstand high-intensity training (high reps, lots of drops), they leave the center knurling off the bar, and these bars almost always feature bushings as a way to keep the cost of the bar down.
If you're looking for a new CrossFit barbell for your garage gym, or you think your box has poor quality bars and you'd like to make an equipment recommendation, then read on. I will show you a handful of barbells designed with CrossFit in mind, and all from companies you already know and trust.
If you'd like to learn more about barbell construction including various methods of assembly, explanation of the various specifications, and so, read the top portion of this post.
Most recent update: January 2018 – checking prices and links.
---
American Barbell California Bar
The California Bar was originally American Barbell's answer to the Rogue Bar 2.0 (below). Like the Rogue Bar, the USA-made California sports a 190k PSI tensile strength shaft with dual-marks and no center knurl. Both bars are composite bushing bars, but the California uses special high-load composite bushings that American Barbell claims are indestructible.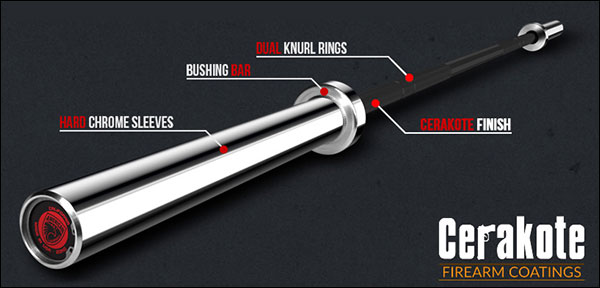 What makes these two different is that the Cali has sleeves that are finished in a beautiful and resilient hard chrome rather than a less expensive and less effective bright zinc that's found on the 2.0. The California also has the benefit of being offered in both 20 kg and 15 kg, but that's not the biggest deal considering that Rogue offers the 15 kg Bella.
The California first entered the market with a black zinc shaft and was being sold for a little less than the Rogue Bar 2.0. It then got an upgrade to the sleeve assembly and ended up being $20 more than the 2.0. At this point, it's now a Cerakote finished bar that sells for $80 more than the 2.0, or $335.
Clearly American Barbell has all but abandoned the rivalry with Rogue's entry-level WOD bar and decided to just go for title of "best WOD bar", and it just might be. It features a 28 mm shaft instead of 28.5 mm, it's assembled with tolerances that no one in this price range can match, neither the shaft or the sleeves will ever rust because of their superior finishes, and this is by far the quietest WOD bar to drop.
The Cerakote California Bar is available in black or green Cerakote (20 kg only). If you're wanting more color options and are okay with only IWF marks you can get back under $300 by going with the Training Bar. This has the same shaft as the California but since it doesn't have the sleeve upgrade it's a little less expensive. Both are incredible options, and both of them will literally last a lifetime.
Pros: Designed for CrossFit, dual-marked, high-rep friendly medium-depth knurl, no center-knurl, high-load composite bushings, double-finished hard chrome sleeves are ridiculously resilient to chips and oxidation, Cerakote finish, USA-made.
Cons: Fairly pricey for a WOD bar
Fun Fact: American Barbell actually innovated the Cerakote Barbell, not Rogue Fitness.
---
The Rogue Bar 2.0
The original Rogue Bar was used in four consecutive Reebok CrossFit Games before being replaced with a new Rogue Olympic Bearing Bar back in 2014, so it's definitely safe to say that it is a CrossFit bar. The Rogue Bar 2.0 has Rogue's famous dual Olympic/Powerlifting knurl markings while having no center knurling. The 28.5 mm shaft is finished in black zinc and the sleeves in bright zinc; making it resistant to oxidation, but also susceptible to nicks and discoloration over time.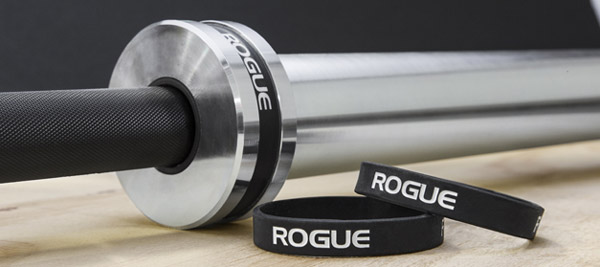 The Rogue Bar is a composite bushing bar with a standard snap-ring sleeve design and a nice 190k PSI tensile strength. It has a moderate amount of whip for the Olympic lifts and is guaranteed for life against bending or seizing. Overall it is a reasonably performing bar with a solid track record and long life expectancy.
The Rogue Bar 2.0 is a very popular WOD bar and it can be found in thousands of garage gyms and CrossFit affiliates around the world. The price on the Rogue Bar is reasonable at $255; a price that has remained consistent for many years now. While definitely one of the better values out there, it can be outdone for not a lot more money.
Pros: Affordable, designed for CrossFit, dual-marked, high-rep friendly medium-depth knurl, no center-knurl, composite bushings, customizable bands for box settings.
Cons: Very loud when dropped, the black zinc finish on shaft is known to discolor.
---
The 15 kg Bella Bar 2.0 (Women's Rogue Bar)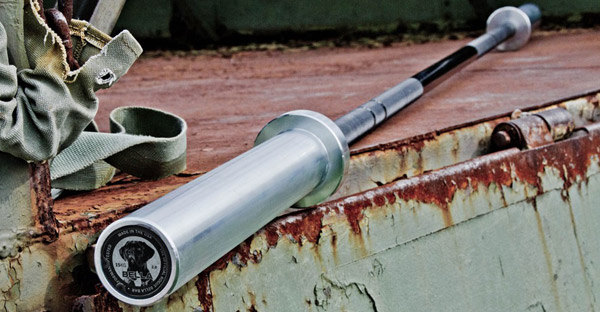 This is basically the women's version of the Rogue Bar 2.0. The Bella 2.0 has very similar construction to the Rogue Bar 2.0 – same steel, same finish, and same knurl. However, the shaft is smaller at 25 mm, the Bella uses bronze bushings instead of composite, and since this is a women's bar it is slightly shorter at 79 3/8″ (with the difference in length coming off the sleeves, not the shaft.)
This is a great women's barbell, and it's just as popular as the 20 kg Rogue Bar. At $215 it's actually quite the steal. Even the newer Cerakote Bella Bar is a very reasonable $275.
Pros: Very affordable, designed exclusively for CrossFit, dual-marked, high-rep friendly medium-depth knurl, no center-knurl, bar is loud when dropped.
Cons: The black zinc finish on shaft is known to discolor, bronze bushings are not sintered.
Fun Fact: Last time I checked the Cerakote Bella was up to 15 color choices!
---
Again Faster Team Bar 2.0
The new Team is a $229 CrossFit bar that actually has bearings rather than bushings. The Team is an imported 28 mm bar with dual markings and no center knurl. It's offered in many finish options (no chrome), has a very high 200,000+ tensile strength, and a very, very mild knurl. Despite the high tensile strength, this bar is likely to bend (if it doesn't show up bent.)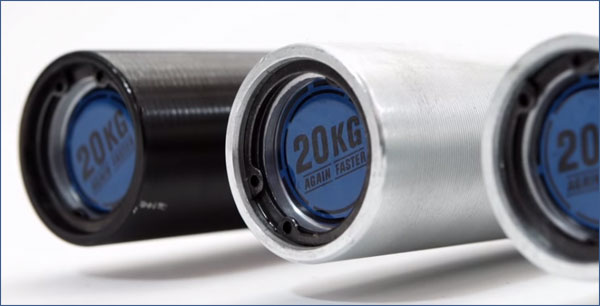 The Team Bar is absolute garbage. This bar has a history of bad reviews; issues of seizing sleeves, bent shafts, and issues getting the bar replaced or getting a refund. Again Faster also has a history of removing any and all negative reviews from their site (they probably no longer even approve negative reviews just to save time.)
This company has bankupted twice already, and I highly recommend that you avoid them at all costs. I cannot stress this enough: stay away from Again Faster equipment.
Pros: None
Cons: Everything else.
Fun Fact: Again Faster is now owned by X-Training, and they too removed all the negative reviews that had accumulated during Again Faster's second bankruptcy. S H A D Y
---
Vulcan One Basic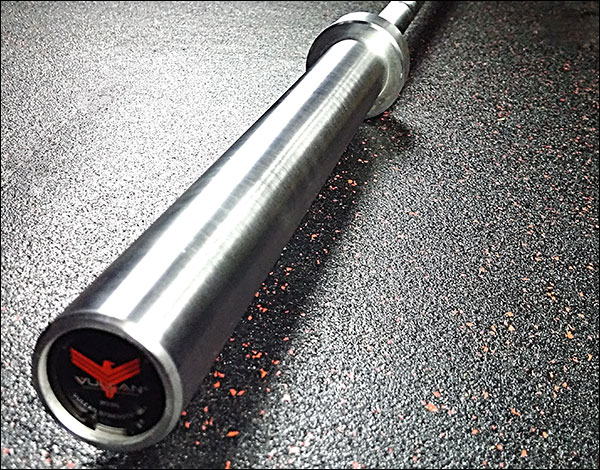 The Vulcan One Basic is Vulcan's economy CrossFit WOD bar. It is a dual-marked, bronze bushing bar with a moderate, high-rep friendly knurl. This bar used to have a 28.5 mm shaft while being finished entirely in black zinc, but it was upgraded with a true 28 mm shaft and a hard chrome finish – and without a price increase.
These two changes to the One; along with it's good 190k PSI tensile strength and low price; make it an extremely attractive and competitive bar in the mid $200's. It's still an entry-level bar with a limited warranty, but that's all most newcomers to CrossFit need.
The chrome finish, 28 mm shaft, and matching tensile strength make this real competition for the Rogue Bar 2.0.
Pros: Super affordable, true 28 mm shaft, chrome finish, designed for CrossFit, dual-marked, high-rep friendly moderate-depth knurl, no center-knurl, free shipping. 
Cons: Short warranty, entry-level bar not appropriate for strong Olympic lifters, imported.
---
CrossFit Barbell Guide – Summary
This should give you a pretty good idea of what to look for in a Crossfit barbell. Even if you don't want any of the bars listed here for some reason, you'll still do fine when shopping around now that you know what to look for. As always, I recommend you stick with quality bars from reputable companies, and don't buy your CrossFit bar at a chain store. When in doubt, read those reviews.
---