Keeping normal garage stuff out of your garage gym is much easier said than done. Just because we've set up a gym in our garage doesn't mean all the tools, storage boxes, and landscaping crap that was kept in the garage gets to go inside the house; especially if you are not single. If you're anything like me, you'd no doubt love to have 100% of the garage reserved for the gym, but sadly things probably aren't going to work out that way.
The good news is that you can organize in such a way that your garage feels more like a gym than a storage unit. If you walked into my garage gym you'd notice that about 80% of my garage is either gym equipment or empty floor space to work out in. I basically got all the non-gym essentials organized by using shelving and track hooks. You might need to store more things in your garage than I do, but the better you organize the more space you leave available for your gym.
I'm going to list some ideas to help you get your garage organized. Keep in mind that you have two things to organize. First the stuff that was already in the garage and has to stay in the garage; typical garage stuff like garden equipment and tools. Second, you have to keep your gym organized as well. You can't be throwing dumbbells and plates all over the limited floor space. They need to have a place.
Garage Gym Organization – Garage Stuff
Let's start with ways to organize the non-gym stuff that needs to stay in the garage.
Rubbermaid FastTrack
Wall space is often overlooked as a storage option. The system I chose is called FastTrack, and it's a pretty inexpensive way to get organized. There are a large variety of baskets and hooks available for this system, and a couple different size tracks; though you could easily cut them to any size you need. I personally have one long track for garden equipment and another short track for gym equipment like resistance bands, jump ropes, attachments, and climbing gear; it's pretty cool.
In any case, it doesn't have to be the Fasttrack brand, that's just the one I am most familiar with. Both Lowes and Home Depot sell many different versions of this type of wall-mounted storage system.
Hanging Storage
Consider doing some kind of ceiling-mounted storage system for getting rarely used items and storage bins (like Christmas decorations and such) out of the way. The hardware stores sell all sorts of hanging storage options and there are many DIY options out there as well, but if you don't want to install anything yourself and you're feeling fancy, you can get this type of storage system installed professionally. Just search Google in your area, you'll find something.
Be sure to install your hanging storage on the opposite side of the garage that you plan to have your gym equipment in to ensure that it's not in the way for overhead work.
Build Some Shelves
If you're willing to put in the time and work you can build some shelves, or if you lack the proper tools to make you're own you can simply go to the hardware store and buy steel shelves. Building them is great though because you can customize them completely and get the best use out of the available space. Additionally, well-built shelves look a lot nicer than those metal wire and frame shelves they sell at the hardware stores.
---
---
Garage Gym Organization – Gym Equipment
So now we'll look at ways we can keep the gym side of your garage organized. I keep my own gym very organized and quite clean, and I can't tell you how nice it is to walk out into a clean, well-organized gym every day.
A lot of the stuff I'm going to show you is from Rogue. They just so happen to have one of the biggest selections of high-quality storage solutions for the gym, and at very reasonable prices too. If I can find a cheaper option of similar quality, I'll list that option as well. The less money you spend organizing the more money you have for your equipment, so I'm all about saving money. I still won't recommend anything that I think will not last and will need to be replaced though – that's just not saving money to buy something twice.
Wall-Mounted Barbell Storage – Gun Racks
Horizontal, wall-mounted barbell storage (the gun rack) is by far the most efficient way to store multiple bars. They take up absolutely no floor space and can be installed at whatever height works best for you. The only limit to how many bars you can store is how high your ceiling is – and I doubt you have enough bars for this to be a problem anyway.
Vulcan Strength offers an 8-bar gun rack for only $99. It has UHMW plastic lining to protect the bar's knurling and sleeves from coming in contact with the steel frame of the rack. The price tag includes the mounting hardware and the shipping, making it one of the best deals for a large gun rack out there. Having 8-barbells is uncommon in a garage gym, but keep in mind that you can store specialty bars and long mobility sticks as well.
I personally own Rogue's Gun Rack and it too is a super beefy rack. It's sold as either a 3-bar rack or 6-bar rack, and when you purchase it with the optional plastic lining there is zero metal-on-metal contact between the bar and the rack. Installation is easy, and even when 6-bars are loaded (nearly 300-pounds) it can't be moved.
Alternatively, Rogue offers a vertical bar hanger as well. I own both a gun rack and a DIY'd version of a vertical rack and I do prefer the vertical storage because it's a lot easier to get at all the bars, whereas with huge gun racks some of the highest bars can be a challenge to get it for shorter lifters. This particular rack is available for both one or three bars, and can be wall-mounted or even rack-mounted.
Be wary of products with no UHMW lining, as the metal-on-metal contact will mar up your knurling and sleeves.
---
Simple Floor Barbell Holders
If you do not have the wall space for a gun rack or a vertical wall rack, a simple bar holder that sits off in a corner somewhere might be the way to go. Now obviously these take up a little floor space, but not too much and they can go anywhere.
Gun rack prices don't vary too much, but prices between these floor units can. The Rogue 10-bar holder pictured above is like the Lexus of bar holders, and since it has not a single review I'm guessing folks are opting for the Kia Sorrentos of bar holders – so let me show you some of those.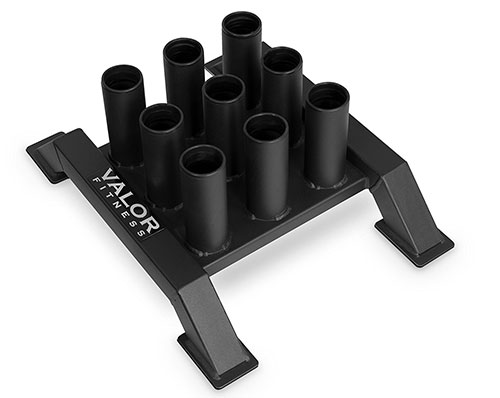 The Valor Fitness 9-bar holder is a no frills, economy model of sorts. It's compact so it takes up less floor space, but the bars will be harder to get at and it's not going to accommodate a lot of specialty bars without having to put them in like pieces of a puzzle. If you only have four or five bars, it will work fine, and it's only about $90.
Both Vulcan Strength and Rogue Fitness offer their version of the 9-bar holder. They cost more than the Valor, but they have laser etched logos and a good distance between each bar holder. This of course means you can reach the center bar and load it up with your trap bar, Swiss bar, etc. American Barbell has a unique 6-bar holder, and there are also some generic 5-bar holders on Amazon. The Amazon stuff is all imported and can be hit or miss so, be careful with that.
---
Medicine Ball Storage
Storing equipment on the walls is almost always ideal, and Rogue's Swiss Brackets for med balls is yet another way to do that. These can be purchased to install directly to your wall, or to the Rogue strip. Prices start at $59.95 for an entire shelf and can be expanded to any size needed.
This Medicine Ball Storage by Body-Solid has a very small footprint. Use it for slamballs, med balls, or even regular balls. It takes up very little space and is an attractive rack. It holds both standard medicine balls and the dual grip medicine balls. Of course there are many variations of the vertical ball storage rack, so read those reviews.
---
Vertical Plate Trees
The vertical weight tree is an optimal way to store weights and bumper plates when your rack doesn't allow for on-board storage. The better models like the Rogue ($187.50) and Vulcan (169.99) trees below allow for full-size 450 mm discs to be stored at all three levels, but some of the classic versions only allow for smaller change plates on the top.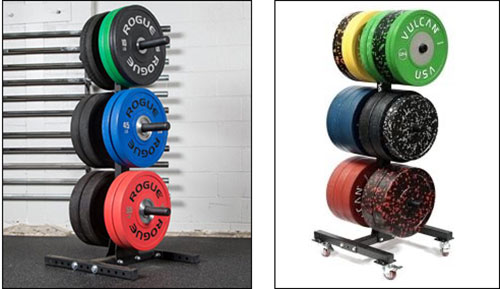 I'm sure you've seen these trees at the gyms. I have one of these very same models and it's a blessing. Prior to buying this I tried to neatly stack bumper plates off in the corner; it sucked. This single item did wonders for my floor space. Be careful of cheap stuff like this. This kind of tree really doesn't hold much weight because of the cheap steel and the short horns. Cheap gear is never a permanent solution.
Of course if you have locations on your rack that would allow for plate storage, look to the manufacturer of your rack for plate horns. No extra floor space is required, and the horns should cost you less than the vertical plate tree will.
---
Kettlebell Storage Rack
The Rogue Universal Storage System is a 70″ x 24″ steel rack that can be purchased to hold either kettlebells or dumbbells (or both). It is available in a 2-tier rack (pictured) or 3-tier rack. The frame is 11 gauge steel and the platforms are 3/8″ steel. It has a weight capacity of 3400 pounds and each tray can hold up to 16 70-lb kettlebells. If you have a lot of kettles lying around your gym floor, consider this as a way to clean that up.
---
Rogue 3-tier Dumbbell Rack
I would kill for one of these racks. This is an area I have not yet addressed in my gym. I have dumbbells neatly placed in a line on the floor and it's not cool. The Rogue 3-tier DB Rack is about 8 feet long and 30 inches deep. It holds 15 pairs of dumbbells and has very nice plastic saddles for the bells to rest in.
Summary
If you get a minute, check out the whole storage category at Rogue. There are dozens of items I didn't have space to list here that may be perfect for your situation.
It takes a little work and a little cash to get organized, but I promise it's worth it. Every time I make an improvement in my organization I love my garage gym just a little more. If you have anything to contribute to this article, please leave a comment. If you have a moment still, please take a look at some of my equipment review blogs and share them if you like them. Thanks!
---