Well maybe Olympic collars aren't the most important piece of equipment ever, but I didn't want a boring title for a kinda boring article. =)
This is a simple guide to pretty much all of your Olympic collar options, and there are many! Other than to mention that I cover both the basic 50 mm (~2″) collars and professional, weighted Olympic collars (no 1″ collars covered), this guide really doesn't need much of an introduction.
Classic Spring Collars
We have all owned these; probably still do. They mostly work, and they just scream "I'm cheap!" Over time they'll stop holding on to the bar so well; especially if you leave them on the bar in-between workouts, but for around $9 you can replace these over and over.
Other than being inexpensive, there aren't many advantages to spring collars. They have no substantial weight to them, youth and women lifters with small hands commonly have a hard time getting them on and off the bar, and they don't work on most specialty bars. To be fair, they do hold pretty well when they're new though, especially if your bar has grooved sleeves. Just make sure you open them up as much as possible to avoid taking the zinc or chrome coating off your bar.
Cheaper than Cheap – Spring Clamps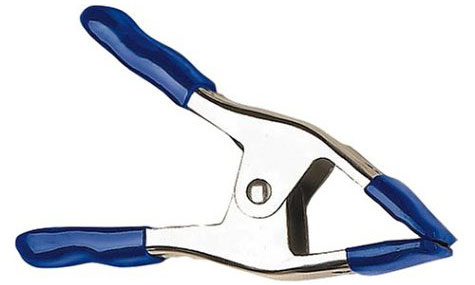 If spring collars aren't quite cheap enough for you, look for a pair of these 2″ spring clamps in your garage. They'll work, so long as you don't drop the bar. Then again, maybe they won't. I haven't tried; I own collars.
Lockjaw Pro Collars / HG Collars
Lockjaw Collars are probably the most common alternative to spring collars. They're a lot easier to use, lock on to the bar more securely (and stay locked when dropped), and they won't scratch up your bar sleeves. They also fit some specialty bars that spring collars will not, although it's not a very tight fight. You can pick these up for about $40 just about anywhere.
Be careful if you buy these from someplace like Amazon that also sells Standard barbell equipment (1″ rather than 2″), as these are available for both size sleeves, and they look almost identical at a quick glance. Don't buy the wrong set.
Alternatively, Rogue also has Metal HG Collars as well. The collars themselves are metal, but they are still coated in plastic; presumably so they don't scratch up bars. They don't say how much they weigh, which is kind of lame, but the few reviews that there are so far say they perform well. Not sure if I see a reason to go metal over standard HG/Lockjaw collars, but the option is there. $49.50 a pair.
Muscle Clamps
Muscle Clamps are great collars, in the right setting. They are extremely easy to use, they don't scratch up the bar sleeves, and they hold very well. Where you wouldn't want to use them is when you do a lot of bar ditching. These are not the best collars for clean & jerk and snatch training; they will pop open (not that Olympic lifters train with collars anyway!)
You'll commonly find Muscle Clamps in commercial gyms because of how reliable and simple to use they are in that kind of setting. Since you can't normally drop loaded barbells in most globo-gyms, their Oly weakness is never really exposed. I have these collars and I like them a lot, but I keep them in the rack for benches, squats, etc. $38 from Rogue, black only. Red and Blue can be found on Amazon.
Proloc Collars
Proloc Collars are awesome. These will hold on to extreme weights better than spring collars will, and for years longer! They are simple to use and they are much more likely to fit specialty bars like logs, Swiss bars, cambered bars, and so forth (range of 1.937″ – 2.007″). Proloc collars are available in black or red – $39. You can also find some other random colors on Amazon.
Then there is the Proloc 2 Collars that come with a 5/8″ carabiner on each collar for hanging chains. Same easy and solid lock down, but now with the ability to easily and quickly add the chains – $59.
OSO Barbell Collars
Probably the coolest looking collars, the OSO collars come in a variety of metallic colors, and work much like Lockjaws in the way they attach to the bar. The word is that they can withstand lots of dropping without coming loose, but I can't speak to that as I have yet to come across these things. For not much more than Muscle Clamps or Lockjaws, you can have  a cool looking metallic cog for a collar!
Rogue Metal Axle Collars for Specialty Bars
Metal Axle Collars are Rogue's answer to collars for specialty bars like the farmer's handles, Swiss bars, axles, and other bars that have 1.9″ (48.3 mm) bar sleeves. Axle collars will hold tight on these specialty bars, but they will not work on standard 2″ (50.4 mm) barbells.
These work exactly like the Rogue HG Collars/Lockjaw Pro Collars. They are $49.50 a pair, red only. Again, these will not work on your standard Olympic barbell.
Strongman Pipe Collars for Specialty Bars
Depending on where you get these, they can be a cheaper alternative to Rogue's Axle Collars for your specialty bars. These collars are literally pieces of steel pipe with a large bolt welded over a hole so that you can tighten down a screw into your bar sleeve. I wouldn't recommend these for any bar that has a zinc, chrome, or any other finish that you care about, because these will scratch your bar up good. I do use the pipe collars for farmer handles, but I sure wouldn't put them anywhere near a real Olympic bar.
I suggest you take the price of these ($30-50/pair) and apply that to some Axle Collars or Proloc collars. Either of which are much easier to use anyway. Just my 2 cents.
Strap Barbell Collars
Little disclaimer, I've never used these, nor would I if I had to buy them myself. I wanted to include them though, so I dug and dug until I found a fair amount of user feedback.
The word is this: Strap collars work, but are not much of an improvement over spring collars, if any at all. The only clear advantages to strap collars is that they travel easy (if you still lift at a gym that has shitty collars, and need to bring your own), and that they technically fit any size bar sleeve.
Like I said, I've not used these personally, but the feedback I kept running into was pretty consistent; you can do better for the money. So for the $20-$30 price tag, you may as well just buy Lockjaw or Muscle Clamps.
♦ ♦ ♦
Weighted / Competition Collars
Let's talk about real collars. That is, collars that have some weight to them. They'll cost more, but they do allow you to know exactly what weight you're lifting, they hold strong to the bar, and most of them look so much cooler on your fancy bar.
A Warning about Collar and Bar Sizing
If you have a lower end barbell; something you found at Academy, Dicks, Amazon, etc for like $100 or less (CAP, Gold's, Body Solid, Troy, and so forth), be warned that these higher-end competition collars may not fit your bar.
IWF-standard barbells have sleeves that fall between 49.5 mm and 50 mm in diameter (1.949 inches – 1.969 inches.) The insert, or opening of competition collars fall between 50.2 mm and 50.8 mm (1.976 inches – 2.0 inches). Cheap box-store bars that are advertised as 2″ Olympic Barbells would already be too big for most calibrated equipment even at exactly 2″, but because they aren't manufactured to very strict tolerances, they can be even thicker.
Don't buy competition collars, competition bumpers, or change/friction plates if you own a cheap, 2″ box-store bar. Stick with spring collars, Lockjaw collars, or Muscle Clamps. Or rather, buy a real bar. It's really not the piece of equipment to be cheap on! (not that anyone with a $100 bar is going to buy $200 collars, but better safe than sorry!)
Ivanko Chrome 2.5 Kilo and 2.5 Pound Collars
Ivanko offers professional weighted collars in both pounds and kilograms, which is pretty cool. Most of the weighted competition collars are going to be in kilos, so it's nice that guys who lift in pounds can get real collars too. Ivanko collars are not IWF-approved.
The Ivanko Kilo Pressure Collars are cast iron collars calibrated to fit any IWF-standard Olympic barbell. Each collar weights 2.5 kg and has a nickel base applied before it is triple chromed. Beautiful collars – $136
The Ivanko Chrome Training Collars are similar to the above kilo collars, but rather than kilos they are 2.5 pounds per collar. They look a little different but they are effectively the same thing. These are also very good looking collars – $69
Bulldog Olympic Collars – 2.5-pound set
I've heard mixed feedback on Bulldog Collars. They've got a very nice aluminum body and steel hardware, and they look pretty cool, but word is they don't stay locked down very well, and require constant tightening. At $60 a pair, that's not really what you want to hear. I also don't think I'd want a set of collars that weighed 1¼-pounds each; it seems like an overly complicated number to have to work with. Finally, although these look as though they may fit specialty bars, they will not.
In any case, this is another brand that global gyms will use, so if you have experience with them and like them, by all means get yourself a pair. Bulldog collars have a five year warranty.
Eleiko IWF-Approved 2.5 kg Competition Collars
Now we're getting into the real collars. The Eleiko Competition collars are IWF-approved, chrome plated collars that weight 2.5 kg per collar. These are intended to allow quick loading and unloading of plates. These are chrome plated, have a thinner profile to allow more weight on the bar, and they have a foldable handle so that change plates can be loaded outside of the collars. Are you ready for this? $289 per pair and a 2-year warranty.
Fortunately, Eleiko also makes training versions of these collars that are not IWF-certified, but still offer the same function and weight. Training collars can also be purchased in pounds. Eleiko even makes Powerlifting training collars. All non-certified Eleiko Training Collars are $129.
Uesaka Sevi IWF-Approved 2.5 kg Competition Collars
If you were going to buy Eleiko Comp Collars but found you were $6 short, try these! The Uesaka Sevi Collars are only $283 and they too have a very unique look to them. Just like the Eleiko's, these are IWF-approved and weigh exactly 2.5 kilograms per collar. They are finished in hard, shiny chrome and create an air-tight lock on the bar. They are also backed by a 5-year warranty, which is 3-years longer than the Eleiko's; making these a pretty good deal by comparison. Pretty sweet collars.
Other IWF Competition/Training Collars
Every IWF and IPF-certified barbell manufacturer has 2.5 kilogram collars; some are even magnetic! The Eleiko's and Uesaka's from above aren't even the most expensive. If you want DHS, Leoko, ZKC, or WerkSan collars to match your bar, you can grab those from the manufacturer. Expect to pay $200-300+.
Ader Chain Collar Sets
It is generally slightly less expensive to buy chain-ready collars like the Proloc collars, and then hit up the hardware store or Tractor Supply Co for your chains, but for some, buying something like these pre-assembled chain collars in sets is just so easy it's worth the few extra bucks. As you can see in the picture, this Ader set includes 3 pairs of chains (2 pairs of each weight) and can be purchased with either a zinc protective coating or black oxide coating.
Each chain is 5′ long so you should have no problem with them piling up on the floor at the bottom of your lift (as they should.) The beauty of these is that you don't have to swap out chains on collars; each chain has its own collar already. For the zinc set, go here. For the black oxide set, go here. You can also buy these in just pairs of whatever weight you prefer; a quick search on Amazon will reveal all the individual listings. Pretty cool.
The downside of these over the Proloc and your own chains is that you can only get so many plates and so many chain collars on the sleeve.
MostFit Syn Rings
They aren't really collars in the normal sense. I saw these some time ago and thought they were a creative alternative to hanging kettlebells with resistance bands. I'm not sure how beneficial suspending weights from a bar actually is, but I'd imagine the instability does help to improve stabilizer muscles to some degree. Syn Rings are only about $40 and they can be found on Amazon or random fitness retailers.
Olympic Collar Summary
I found a few other random collars out there, but they were all more or less the same as one of the above collars with minor cosmetic differences, or just different brands of the same thing. If you can't find something you like in this list, you're probably just hard to please!
My recommendation?
I think for most people's purposes, either the Lockjaw/HG or the Muscle Clamps will be perfect. Remember, avoid the Muscle Clamps if you Olympic lift and miss a lot. =P
If you prefer professional 2.5 kg collars, for personal use just go with Ivanko. If you need collars for an event, you'll probably be required to use one of the IWF-approved brands like Eleiko or Uesaka.
You don't have many choices for specialty bars, but of those options I prefer the Rogue Axles. Prolocs are fine, I just don't personally like turning knobs and screws.