Well maybe Olympic collars aren't the most important piece of equipment ever, but I didn't want a boring title for a somewhat boring article. Sue me!
This is a guide to the great number of our Olympic collar options, and boy are there many! Other than to mention that I cover both the basic, mostly weightless Olympic collars and an assortment of weighted, professional Olympic collars (all 50 mm, or ~2″ collars), this guide really does not need much of an introduction.
This article features no Standard 1″ collars, it is purely Olympic-sized collars.
Last update: January 2018. Minor revisions, link and price verification, etc.
---
Basic Olympic Collars
This first section contains basic collars. They are mostly inexpensive and not deliberately weighted or intended for competition.
---
Classic Spring Collars
We have all owned spring collars; probably still do somewhere. They mostly work, and they just scream "I'm cheap!" Over time they'll stop holding on to the sleeve so well; especially if you leave them on the bar in-between workouts, but for around $10 you can replace these over and over.
Other than being inexpensive, there aren't any advantages to spring collars. They have no substantial weight to them, youth and female lifters with small hands frequently have a hard time getting them on and off the bar, and they don't work on most specialty bars. They do hold pretty well when they're new, especially if your bar has grooved sleeves, but you will want to make sure you open them up as much as possible when putting them on or off to avoid taking the zinc or chrome coating off your bar.
---
Cheaper than Cheap – Spring Clamps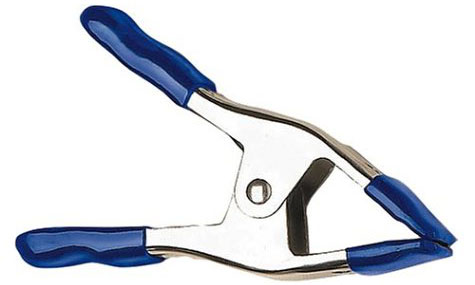 If spring collars aren't quite cheap enough for you, look for a pair of these 2″ spring clamps in your garage. They'll work so long as you aren't dropping the bar (rows, deadlifts, Olympic lifts, etc.) Then again maybe they won't hold; I haven't tried because I own collars.
About the only possible pro I can think of to using this super cheap makeshift collar is that they'll also work on specialty bars.
---
Lockjaw Pro Collars / HG Collars
Lockjaw / HG Collars are probably the most common alternative to spring collars. They're a lot easier to use, they lock on to the bar more securely (and stay put when dropped), and they won't scratch up your bar sleeves. They also fit some specialty bars that spring collars will not, although it's not a very tight fit. You can pick these up for about $35-$40 just about anywhere.
Be careful if you buy these from someplace like Amazon that also sells Standard equipment (1″ rather than 2″), as these are available for both sizes and they look almost identical at a quick glance. Don't buy the wrong sized set.
---
Muscle Clamps
Muscle Clamps are great collars, in the right setting. They are extremely easy to use, they don't scratch up the bar sleeves, and they hold very well. Where you wouldn't want to use them is when you do a lot of bar dropping – these are not the best collars for snatch and clean & jerk training; they will pop open (not that Olympic lifters train with collars anyway!)
You'll commonly find Muscle Clamps in commercial gyms because of how reliable and easy to use they are in that kind of setting. Since you can't normally drop loaded barbells in most globo-gyms, their Oly weakness is never really exposed. I have these collars and I like 'em a lot, but I keep them in the rack for benches, squats, etc. $38 from Rogue, black only. Red and potentially other colors can be found on Amazon.
---
Proloc Collars
Proloc Collars are great; they will hold on to extreme weights better than spring collars will, and for years longer! They are simple to use and they are much more likely to fit specialty bars like logs, Swiss bars, cambered bars, and so forth (range of 1.937″ – 2.007″). Proloc collars are available in black or red – $42. You can also find some other random colors on Amazon.
Then there are the Proloc 2 Collars that come with a 5/8″ carabiner attached to each collar for hanging chains. Same easy and solid lock down, but now with the ability to easily and quickly add some lifting chains – $59.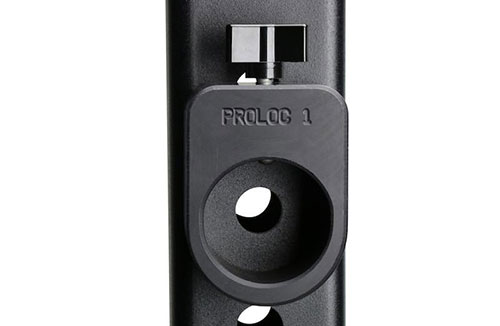 And finally, American Barbell offers magnetized versions of the Proloc Collar. "WHY?", you wonder? Well so you can slap the collar on the uprights of your power rack when not in use. Admit it, it's a good idea!
---
Aluminum OSO Barbell Collars
For adding a little bit of style to function, maybe take a look at some OSO Collars. These aluminum collars come in a variety of metallic colors, and they work much like Lockjaws in the way they attach to the bar. They can withstand lots of high-impact drops without coming loose, and they are even easier to attach and remove from the bar than the HG 2.0 collars.
OSO Collars are a little on the pricey side considering that they are slightly fragile (they're not to be dropped, and they won't handle being stepped on or crushed by plates), but they are a very attractive collar, and they really aren't that much expensive than Muscle Clamps or HGs.
OSO also offers the Mighty Collar, an economical, super lightweight version of the OSO. Same basic design, same function, and same holding power, but available for half the cost. Reviews are solid and they do have a two year warranty, so why not, right?
Alternatively Rogue has their own branded Aluminum Collars that are basically just an OSO collar with a slightly different design. They are made of the same 6061 Billet Aluminum, are about the same overall size, and function in the same manner. Price is also pretty much the same. They look classy, but between these and standard OSO I think it's six of one; half a dozen of the other.
---
Rogue HG 2.0 Axle Collars for 1.9″ Specialty Bars
Metal Axle Collars
 are Rogue's answer to collars for specialty bars like Swiss bars, axles, farmer's handles, and other bars that have 1.9″ (48.3 mm) bar sleeves. Axle collars will hold tight on these specialty bars, but they will 
not
work on standard 2″ (50.4 mm) barbells.
These work exactly like the Rogue HG Collars/Lockjaw Pro Collars. They are $36.50 a pair, in orange'ish red only. Again, these will not work on your standard Olympic barbell.
---
Strongman Pipe Collars for 1.9″ Specialty Bars
Depending on where you find these, pipe collars can be a cheaper alternative to Rogue's Axle Collars for specialty bars. These collars are literally pieces of steel pipe with a large hand-cranked bolt for tightening onto the bar sleeve. I wouldn't recommend these for any bar that has a zinc, chrome, or really any finish that you care about because these collars will scratch your bar up good. I use pipe collars for my farmer handles, but I sure wouldn't put them anywhere near a real Olympic bar.
I suggest you take the price of these ($30-50/pair) and apply that to some Axle Collars or Proloc collars. Either of which are much easier to use anyway. Just my 2 cents.
---
Strap Barbell Collars
Little disclaimer, I've never used these, nor would I if I had to buy them myself. I wanted to include them though, so I dug and dug until I found a fair amount of user feedback.
The word is that strap collars kind of work, but are not an improvement over spring collars. The only clear advantages to strap collars is that they travel easy (if you still lift at a globo gym that has shitty collars, and need to bring your own), and that they technically do fit any size bar sleeve.
Like I said, I've not used these personally, but the feedback I kept running into was pretty consistent; you can do better for the money. So for the $20-$30 price tag, you may as well just buy Lockjaw or Muscle Clamps. Kind of a dumb idea if you really think about it.
---
♦ ♦ ♦
Weighted and/or Competition Collars
Let's talk about real collars. That is, collars that have some weight to them. These collars will cost more dough, but they do allow you to know exactly what weight you're lifting, they tend to hold stronger on the bar, and the bulk of them just look cooler.
A Warning about Collars and Sleeve Sizing
If you have a lower end barbell; something you found at Academy, Dicks, Amazon, etc for like $100 or less (CAP, Gold's, Body Solid, Troy, and so forth), be warned that these higher-end competition collars may not fit your bar.
IWF-spec'd barbells have sleeves that fall between 49.5 mm and 50 mm in diameter (1.949 inches – 1.969 inches.) The insert (or opening) of competition collars fall between 50.2 mm and 50.8 mm (1.976 inches – 2.0 inches). Cheap box-store bars that are advertised as a '2″ Olympic Bar' is already be too big for most calibrated equipment (discs and collars) even at exactly 2″, but because they aren't manufactured to very strict tolerances, they can be even thicker (of course they could be smaller too – you just never know).
Don't buy competition collars, competition bumpers, or change/friction plates if you own a cheap, 2″ chain-store bar. Stick with spring collars, Lockjaw collars, or Muscle Clamps. Or rather, buy a real bar. It's really not the piece of equipment to be cheap on!
I realize a person with a $90 barbell isn't going to be buying $175 collars, but I mention it anyway (better safe than sorry.)
---
Ivanko Chrome 2.5 Kilo and 2.5 Pound Collars
Ivanko offers professional weighted collars in both pounds and kilograms, which is a pretty cool thing. Most of the weighted competition collars are going to be in kilos, so it's nice that folks who lift in pounds can get heavy collars too. Ivanko Pressure Collars are IPF-certified, but no Ivanko collars are IWF-certified (just FYI).
The Ivanko Kilo Pressure Collars are cast iron collars calibrated to fit any IWF-standard Olympic barbell. Each collar weights 2.5 kg and has a nickel base applied before it is triple chromed. Beautiful collars – approx $130
The Ivanko Chrome Training Collars are similar to the above kilo collars, but rather than kilos they are 2.5 pounds per collar. They look a little different but they are effectively the same thing. These are also very good looking collars – approx $80
Vulcan offers the same Competition Compression Collars as Ivanko does, and they do so for about the same price of $130. Other than Vulcan etching their logo into the front side of the collar they look identical.
Vulcan also offers the same Chrome Training Collars as Ivanko, only they offer them in a 2 kg pair rather than a 5-pound pair. I would have thought that was a weird amount of weight to have to add to your totals but people really seem to love them – lots of positive feedback out there for them, and the price is fair at $67.
---
Bulldog Olympic Collars – 2.5-pound set
I've heard mixed feedback on Bulldog Collars. They've got a very nice aluminum body and steel hardware, and they look pretty cool, but word is they don't stay locked down very well, and require constant tightening. At $60 a pair, that's not really what you want to hear.
I also don't think I'd want a pair of collars that weighed 1¼-pounds each; that seems like an overly complicated number to have to work with. Finally, although these look as though they may fit specialty bars, they will not.
In any case, this is another brand that global gyms will use, so if you have experience with them and like them, by all means get yourself a pair.
---
---
Rogue KG Competition Collars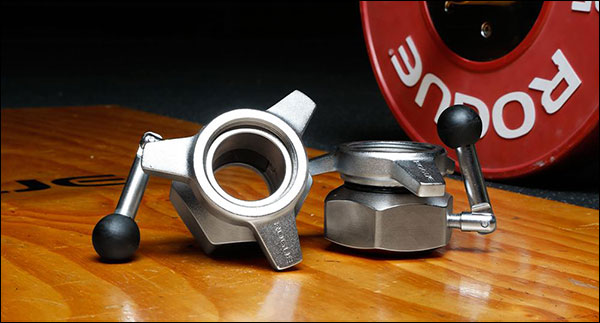 Rogue's KG Competition Collars are a nice alternative to the IWF Competition collars for home gym lifters being that they're like $45 less ($210), but they aren't IWF-certified like the NxG's so they're no good for weightlifting events. That said, they actually are IPF-certified, so they can be used in powerlifting meets along with Rogue's kilogram Ohio Power Bar and Calibrated Discs.
Like all certified collars, these are 2.5 kg per collar and sold in pairs. They are CNC milled and then finished in chrome. Yes the handle moves out of the way so change plates can be loaded flush against but outside the collars (a large improvement over the original Rogue Comp Collars, I might add.)
---
Uesaka Sevi IWF-Approved 2.5 kg Competition Collars
If you were going to buy IWF Competition Collars but thought to yourself "these just don't seem expensive enough", then try these!
The Uesaka Sevi Collars are only $283 and they too have a very unique look to them. These are IWF-approved and weigh exactly 2.5 kilograms per collar. They are finished in hard, brilliant chrome and create an super firm lock on the bar. They are also backed by a 5-year warranty which is 3-years longer than the Swede's warranty; which based on my calculations makes these an incredible bargain by comparison. (mild sarcasm)
---
Other IWF Competition/Training Collars
Every IWF and IPF-certified barbell manufacturer has 2.5 kilogram collars; some are even magnetic! The Uesaka's from above aren't even the most expensive. If you want DHS, Leoko, ZKC, or WerkSan collars to match your bar, you can grab those from the manufacturer. Expect to pay $200-300+.
---
Husker Powerlock Compression Collars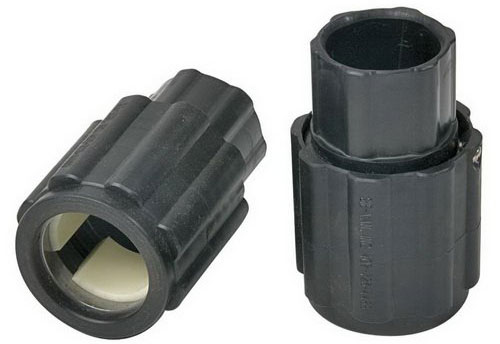 These giant, steel compression collars from Husker have been around since the mid 80's. They quickly and easily lock down tight on the sleeve, and can be removed just as quickly and easily as well. The word is that these are all but indestructible, but I personally find the excessive length to be less than ideal since it absolutely restricts loading capacity.
People who like them seem to really like them, but the length I just mentioned along with the $60+ price tag makes them less than appealing for powerlifting purpose, but perhaps a good choice for lots of high-impact drops like in CrossFit or Olympic training.
---
MostFit Syn Rings
They aren't really collars in the normal sense. I saw these some time ago and thought they were a creative alternative to hanging kettlebells with resistance bands. I'm not sure how beneficial suspending weights from a bar actually is, but I'd imagine the instability does help to improve stabilizer muscles to some degree. Syn Rings are only about $50 and they can be found on Amazon or random fitness retailers.
---
Olympic Collar Summary
I found a number of other random collars out there, but they were all more or less the same as one of the above collars with minor cosmetic differences, or just different brands of the same product. If you can't find collars that you like in this list, you're probably just too hard to please!
---
My Collar Recommendation?
I think for most garage gyms and general strength training purposes (including CrossFit), either the Lockjaw/HG, some version of OSO Collar, or the Muscle Clamps would be fine. Remember though, avoid the Muscle Clamps when Olympic lifting.
If you prefer professional 2.5 kg collars, for personal use just go with Vulcan's or Rogue's. If you need collars for an event, you'll probably be required to use one of the IWF-certified or IPF-certified brands and models like Ivanko (IPF), Rogue (IPF), or Uesaka (IWF).
You don't have as many choices for specialty bars, but of those options I prefer the Rogue Axle Collars. Prolocs are great too, I just don't personally like turning knobs and screws.
---