I purchased a pair of Rogue's new Olympic Competition Collars and have been using them for about a good month now. I thought I'd spend a few minutes going over some of the finer points of these collars while also giving you my opinion of them. You know, just in case you have these on your radar.
Update 2017: Rogue updated this collar design. Maybe they saw this review! It works! 
---
Rogue Competition Olympic Collars Review
To give you a quick rundown on these collars, they are CNC-milled compression collars that weigh in at 2½ kilograms each; or 5 kilograms for the pair. They are finished in an attractive hard chrome, and each collar has the Rogue logo laser-engraved into one of three wings – which ironically you cannot see when the collars are on the bar.
They work just like most other weighted Olympic collars. They compress firmly around the bar by turning a T-handle at the end of a bolt, and they can be further adjusted by spinning the inner hub section away from the outer section – the inner section being the top section in the image directly below.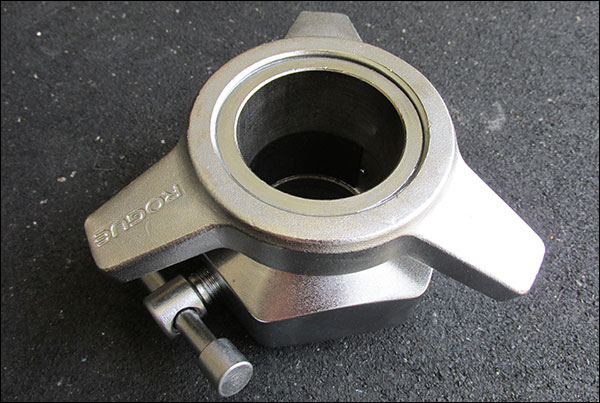 For those of you who have not used this type of collar before, the wings are handles. They give you something to hold on to when spinning that inner section, and there are a couple of reason for why you might be doing that. The first reason is simply to push the plates into the sleeve shoulder for a super tight fit on the sleeve. The second I'll address in some detail below.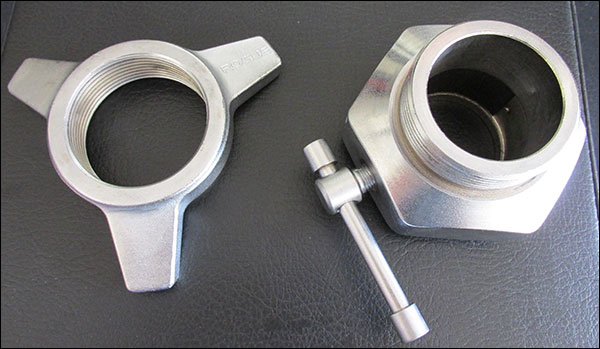 The inside of the collar has a rubber gasket that separates the tightening mechanism from the surface of the sleeve – you can see part of it in the image above. This rubber improves the grip that the collars have on the bar while also protecting the sleeves from scratches.
Weight accuracy is decent, though one of my collars was actually off by 7g more than the allowable +10 grams – and I say allowable only because the product description says that these collars "meet IWF spec and calibration standards (-0/+10 gram tolerance)."
Personally I don't really care about the weight deviation considering that the two collars are still within 10 grams of each other, and at least they are heavy rather than too light. It's still my job to share this information though. It wouldn't be much of a review otherwise.
I previously mentioned that there is a second reason that you may find yourself fiddling with the inner section of the collar, and it has to do with using change plates outside the collars. I'll explain…
The sliding T-handle used to tighten down the collars is longer than the collar is. When you tighten the collars down, the diameter of your bar sleeve dictates how far you can turn that handle, and in what position it stops. This position changes from bar to bar and from sleeve to sleeve, and often times you'll end up with the situation like in the image below.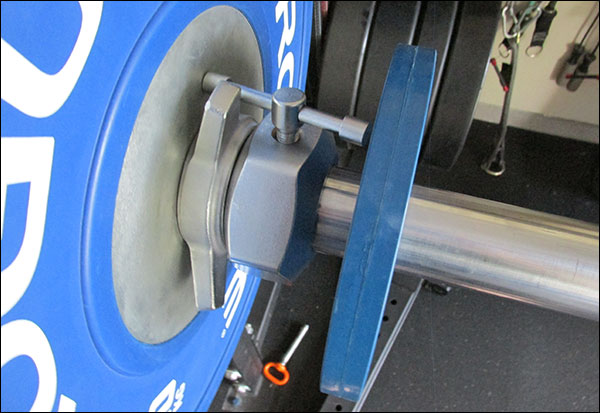 Obviously you'll want your change plates to be all the way on the bar and flush. You will also want the change plates on both sleeves to be the same distance from the center of the bar – as balance is an important thing.
To correct this little issue with the handle creating a gap between collar and change plates, simply unscrew that inner section far enough away from the outer section so that the collar itself is just a hair longer than the handle; like in the image below. Do this with both sides and everything will now be flush and balanced.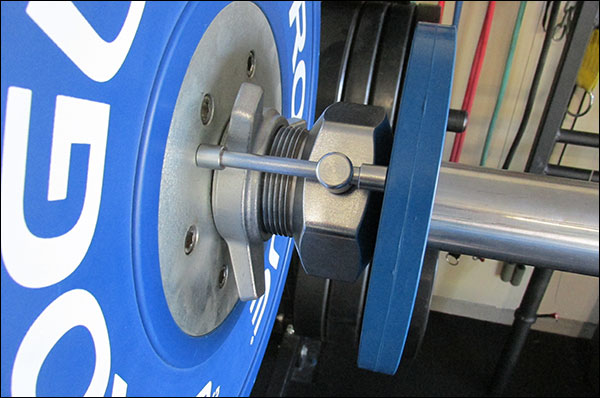 Having the collars expanded to full length does make them a little bulky and cumbersome, and they are always just like a half-turn from falling apart completely, but what can you do, ya know? It's a very common collar design and its not going anywhere.
If you think that this aspect of the collars will slow you down because you add or remove big plates often, or you use multiple bars, I would suggest springing for stage competition collars – something like the Uesaka Competition Collars that don't have a handle to get in the way. They are expensive, but with the $205 that these Rogue collars cost, you're almost there anyway in terms of price.
Then again, if you're really lucky, both of your collars will end up with the handle in just the perfect position when tightened (below). That is, change plates are flush and the collars are compact – no extra adjustments needed.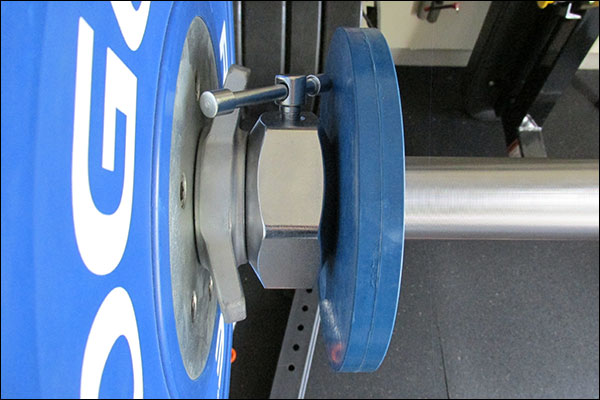 ---
Rogue Competition KG Collar Review – Summary
Overall Rogue's Oly Collars are great, and I'm content with them. They are accurate, they appear to be put together extremely well, and they hold damn tight to the bar. I happen to think that they look really cool too.
The process of making adjustments to get change plates flush with the collars seems a little clunky, but it's really not that complicated, and you get good at doing it. If you prefer to lock your change plates inside the collars rather than outside anyway, well you will never have to do anything but turn the T-handle to tighten and loosen your collars – in which case they're very simple to use.
At $205 + shipping, these collars are a little on the expensive side. Matter of fact, the price is easily the biggest drawback of these collars, but I can't do or say much about all that. It is what it is.
So, would I recommend the Rogue Oly collars? For an Olympic training center, absolutely! As a treat-yourself, luxury product, why of course! As a necessity in a home or garage gym, not so much. $200+ for a single pair of collars seems rather excessive for one dude (or gal) in a garage gym, but hey, it's your money!
Update: the design now has the folding tightening arm that gets out of the way for change plates, and the collars are now IPF certified rather than seeking IWF. Much better buy than before.
---