I was fortunate enough to be offered the opportunity to test the new Klokov Olympic Barbell before it launches. The last four weeks, I've made it a point to use the Klokov any chance I could to get a really good feel for the bar, and a good feel for it I believe I have!
In case you are not familiar, the Klokov Bar is an Again Faster barbell developed in collaboration with Russian Olympian, Dmitry Klokov. It's a true 28 mm, dual-marked, Olympic barbell, and, although this is a multi-purpose bar, it was clearly designed with heavy Olympic lifts in mind. The reason I say that is because where this bar really shines is the sleeve rotation; which I'll talk about in more detail below.
Let me just say, I am a huge fan of barbell manufacturers getting design ideas and feedback from professional athletes. I believe this interaction leads to higher performance bars with more refined features. This has been shown to be true with many other bars in the past (Chan, B&R), and I certainly believe this to be the case with the Klokov Bar as well.
Klokov Barbell Review
Normally I choose to review bars that I am already interested in owning, but this review was a little different in that I didn't know much of anything about the bar prior to receiving it. I couldn't have told you two unique things about this bar other than the name, and that has made for an interesting and fun review for me. It could have ended up being an amazing bar or a horrible bar, but either way it was going to be a surprise.
After having lifted with this bar for a month, I've been mostly impressed with this bar. Matter of fact, I think it's a lot of bar for the price. Let me list off the bar's specifications so that you know what I'm talking about, then I will elaborate.
Dmitry Klokov Olympic Barbell Specifications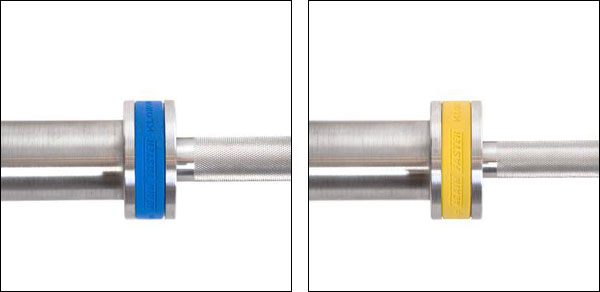 IWF standard 2.2 m length, 20 kg weight (IWF standard, not certified)
true 28 mm shaft diameter (verified), dual IWF/IPF hash marks
Hard chrome finish (shaft and sleeves)
Proprietary combination steel bushing and needle bearing sleeves for spin with stability
Unnecessarily high 260k+ PSI tensile strength shaft
Weight Tolerance of +0.1% / -0.05%
Color coded end caps and collar bands
Lifetime Use Warranty
So the bar has very respectable specifications, especially at the asking price of $320. Matter of fact, I had the bar before I knew the asking price, and I assumed it was going to be a bit more than $320!
Why? Well first, and I'll cover this in more detail in a second, the Klokov has an insanely high PSI rating. Higher than any other bar that I know of. Second, bearings always raise the price of a bar significantly, and this bar has both bearings and bushings (although they are steel rather than bronze.) Finally, the Klokov is a chrome-plated bar. Chrome is the best and most expensive barbell finish aside from stainless steel. This is why an asking price of only $320 is so shocking.
One thing about the bar that is a total mystery to me is that extremely high PSI rating. Generally with barbells, the highest PSI-rated, true 28 mm Olympic bars tend to be the most expensive. Bars from Eleiko, Ivanko, and the others that achieve ratings in the 200-220k PSI range demand much more than $300 for their bars. Yet here, the Klokov has a ridiculously high PSI rating while still having decent whip, but at this very low price. I'm not sure how it's possible to offer a bar with such a high tensile strength for so little money, but that is what's happening here.
In any case, on paper all the specs are solid, so let's now talk about how it performs in the gym.
Klokov Bar Knurling

I found the knurling on this bar to be better than average. When I first picked it up, it felt only slightly more aggressive than the typical CrossFit or multi-purpose bar. However, when I actually started to lift with it, the bar performed better than I expected. Even though it doesn't feel very refined, it still gets the job done.
The bottom line is that the Klokov is easy to hold on to, especially with chalk, and it does so without being sharp or painful. It even has a passive center knurl (I am a fan of center knurling.)
One downside is that the knurl stops about ½"-¾" shy of the sleeve rather than going all the way the the shoulder. As a tall person who takes a very, very wide hand position for the snatch, I like to see knurl that runs the entire length of the bar, not stop short. Manufacturer's really need to stop taking this short cut and just knurl up to about 1/8″ away from where the collar starts. You can't promote your bar as a precision piece of equipment and then not be able to knurl further down the bar.
Finally, since a lot of folks tend to think this is an indicator of a good or bad bar (it's actually not), I'll let you know that the start and stop points for the hash marks (fade in) are clean.
Sleeve Rotation
I put the Klokov through the standard sleeve spin test to both listen to the sleeves and see how well the sleeves rotate. They aren't the quietest sleeves in the world when spinning with no weight, but once weight is added, the sleeves spin effortlessly and endlessly without any noise. I was able to get very good sleeve rotation with any amount of weight loaded on the bar, and that's good.
So ok, spinning the sleeves while the bar sits in the power rack is fine and dandy, but that's not what's ultimately important. What's important is how the bar performs during the snatch and the cleans. It wouldn't be much of an Olympic bar if it couldn't handle the Olympic lifts, right?
The Klokov performs extremely well in this department. While racking the bar during power cleans and getting under the bar during snatches, the shaft spins freely and easily without transferring inertia to the plates. The plates remain stationary as the shaft spins, and there is zero drag. I have absolutely no complaints in terms of sleeve rotation. This is probably the most well done aspect of this bar.
Whip
While the Klokov whips at heavy weights just as claimed, there is very little elasticity in the bar at low to medium weights. This bar feels quite rigid until about 225 pounds (100+ kg), whereas many other bars in this price range start to display good whip at lighter weights (175-185 pounds, or 80 kg); even some 28.5 mm bars. I am sure the rigidity has a lot to do with that high PSI rating.
Generally speaking, expecting any noticeable or useful whip at anything under 2 wheels is kind of… wishful thinking anyway, but it's not an impossible thing to accomplish. This just isn't the bar for that.
In a way, I think AF got carried away with the tensile strength. There isn't a single IWF-certified bar with tensile strength anywhere near the 264k that this bar is, and those are some of the best bars in the world (Eleiko, ZKC, Werksan). You have to ask yourself why that is. Is having the highest PSI a good thing if it makes a bar rigid? I mean, we're not at risk at bending or breaking bars at 220k, or even 190k for that matter. Is PSI rating just a marketing game at this point?
Chrome Finish
As I've mentioned, the Klokov is a chrome-plated bar. I personally prefer a chrome finish over zinc or oxide as I think it just feels much better in the hands. Chrome also has the benefit of being really simple to maintain and keep clean, which means that it's going to look new for much longer. Of course, the biggest advantage of chrome vs any other finish is the level of protection from oxidation. Very rarely will you have rust issues with a chrome bar.
My only complaint with the finish is a minor cosmetic issue. The hash marks look a little scratchy and dull, like they weren't polished out as well as the rest of the bar. Either that, or the knurler was dragging over the hash marks when it shouldn't have been. It's trivial, but my OCD catches stuff like this. Does it affect the bar's performance? No.
Color-Coded Bands in Shoulder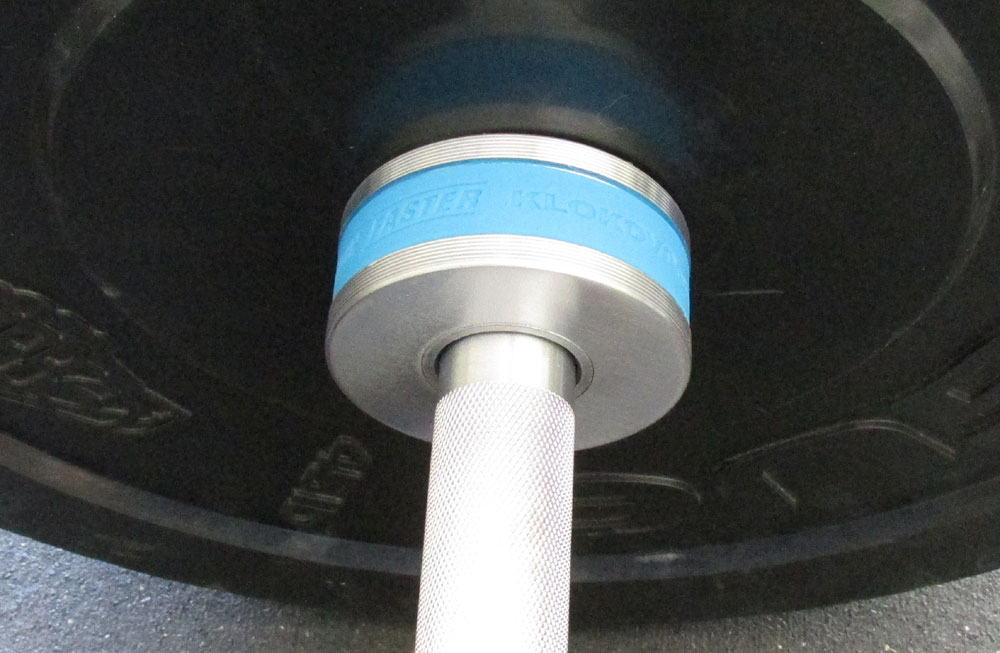 Again Faster decided to go with the groove and colored bands in the sleeve shoulder. I'm assuming that the reasoning behind this is to make bars more easily identifiable in a gym or box setting. While I'm not the biggest fan of the rubber band trend (honestly I think it's a waste of time to cut this channel into a bar), it doesn't have any impact on performance so it doesn't really matter one way or the other. At least it adds some color to the bar.
Klokov Bar Summary
If you're a CrossFitter, aspiring Olympic lifter, or just looking for a reliable multi-purpose bar for your garage gym, I think that the Klokov Bar is definitely worth checking out. The reliable rotation of the sleeves make the Klokov very compatible with the Olympic lifts, and the $320 price tag makes it extremely budget friendly. Additionally, because the Klokov a dual-marked bar, this bar easily goes from the snatch to the bench. You can use this bar all over your gym.
Updates
I am hearing a lot of complaints about how this bar is packaged for shipment. I'm told the tube used is super thin and easily damaged during transit, leading to bars with all kinds of scratches, dings, and end caps that look like the bar is a few years old already. Also I guess they aren't stapling or screwing in their package ends like Rogue, Eleiko, American Barbell, and all those other guys do, so they arrive re-taped by FedEx/UPS/whatever.
My personal Klokov arrived packaged very nicely and looking brand new, but perhaps that is because I review bars. In any case, as many bars as I hear they've had to replace, I'm hoping this issue has been rectified. It might be worth asking AF if you intend to purchase this bar though. Sure, bars will get scratches and dings, but if you're like me, you'd like to be the one who puts them there, not FedEx.