I figured that it's about time to highlight some of the new bars and other new training gear hitting the virtual shelves. Since there are a ton of new bars out there right now, this post will have quite a few of them.
All of the gear in this post was released within the last month or two, or is expected to hit the market in the very near future. In the case of the Ohio Power Bar, not all variations of the bar are available for purchase yet as it's still being rolled out.
As a side note, I wanted to add that there are seriously a lot of really nice barbells on the market. The number of players in the game is driving bar quality up, and bar prices down. To put that another way, there has probably never been a better time to own and equip a garage gym; or any gym for that matter. Treat yourself!
---
New Bars! Rogue Ohio Power Bar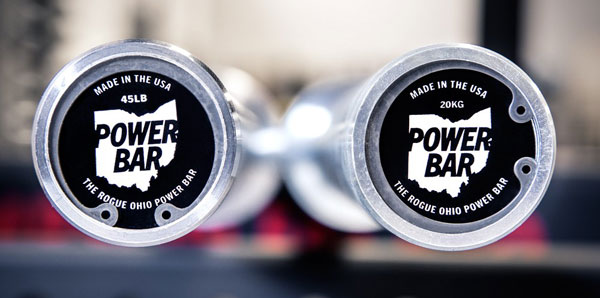 When Rogue updated the steel used for practically every one of their weightlifting bars a few months ago, the original Rogue Power Bar was one of the few bars that didn't receive an upgrade. While that was disappointing to a number of people (considering that this bar needed an update the most), it turns out that Rogue had the Ohio Power Bar in the works already.
Well after much anticipation, the Rogue Ohio Power Bar has been officially announced and released, and is available for purchase (if you can find it in stock!)
The Ohio Power Bar is manufactured completely at Rogue HQ and has a 29 mm, 205k PSI steel shaft that is as rigid and stiff as a power bar should be. It has overly aggressive knurl, is marked solely for power lifts, does have a center knurl, and it is offered in both kilograms and pounds. Additionally, it's also offered as both bare steel bar and a black zinc bar.

This bar is a huge improvement over the previous generation of Rogue power bars, and it's sold at an extremely enticing price of $250-$275. According to the many fitness forums and other online discussions I've come across, this bar has been very well received so far and is flying off the shelves faster than it can be produced. It's already getting great customer reviews on the Rogue site as well. Better than the Texas Power Bar? It certainly looks that way on paper.
2017 Update: Stainless steel is now an option for both the kilogram and pound version of the OPB. Additionally, the kilogram variant has a slightly different design and is now also IPF-certified. You can see my OPB Review and my OPB SS Review for more information.
♦ ♦ ♦
The Rogue Strip
I think this product is just a really cool idea. I am not so sure it'll be useful to everyone, and some of you may not even be able to install it in your garage, but I think it's definitely worth mentioning for those that can and would use it.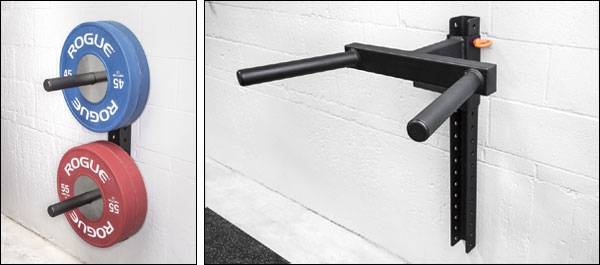 The Strip is basically a short, Monster Lite upright that mounts to your wall to allow for extra accessories that you would not otherwise have the space for. You can attach almost any of the upright accessories including the dip Matador, plate-storage horns, landmines, and so on. This would be nice to have if you own the Rogue Echo GHD as well, as it provides you something to attach the footplate to.
Mounting requirements vary depending on what exactly you're attaching it to. It's intended for concrete or wood beams, not drywall or metal studs. I have both the Rogue Gun Rack and the Ring Rail, both of which attach so securely that they are one with the house, so I am positive that if installed correctly, the Strip will be just as secure. Pretty neat idea!
The Rogue Strip
is only $53, but you'll need your own mounting hardware, and of course, some accessories to attach to it.
♦ ♦ ♦
Rogue 25 mm Olympic Training Bar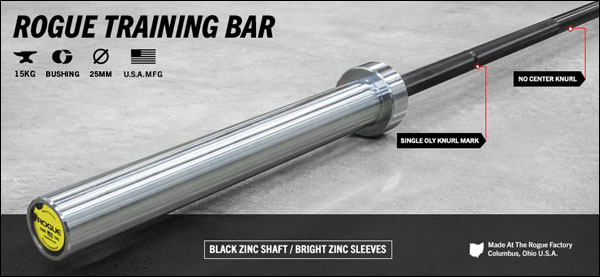 Rogue introduced the 28 mm Oly Training Bar some time ago, and it's a fairly popular bar for aspiring Olympic athletes who want to get under a true 28 mm bar without the expense of a true bearing bar. This 25 mm version is simply the women's version of that bar.
This is an IWF standard, 15 kg, 190k PSI bar marked for Olympic lifts. This bar has medium grade knurl, bronze bushings rather than bearings, and is finished in less costly zinc rather than chrome. This bar is a great alternative for women who don't want to spend the $500 to 600 or more that is demanded for the Rogue (or other) Olympic bearing bars. but still want a genuine Olympic barbell.
The Rogue 25 mm Olympic Training Bar runs for about $300 and is made entirely in the USA. This bar may also be a nice option for youth lifters; male or female.
♦ ♦ ♦
Rogue Stainless Steel Bottle Opener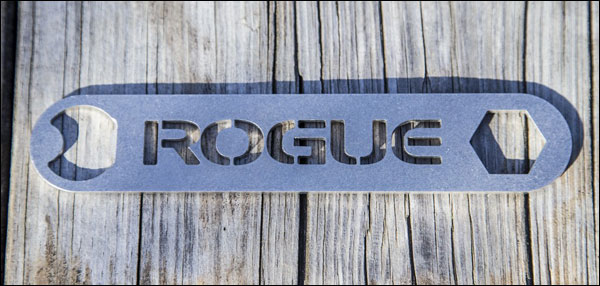 Nothing screams Rogue Fan more than a piece of Rogue gear that has absolutely nothing to do with fitness. Matter of fact, I think opening beer bottles is the opposite of fitness, but I'm certain even Rich and Matt indulge from time to time. Anyway, as bottle openers go, it's pretty cool looking. I'm only sharing this trinket for fun though; I'm not suggesting it's a good use of your garage gym fund. Maybe a stocking stuffer though? ~$14
♦ ♦ ♦