Looking for the perfect gift for the garage gym athlete in your life, or perhaps a gift idea for yourself? I've got a ton of gift ideas for weightlifters, CrossFitters, and fitness enthusiasts of all types. From big gifts that'll ensure your gift is the best gift, to smaller, more affordable gifts and stocking-stuffers.
This is part II of a two-part post for 2014. Don't forget to check out part I as well as the new 2015 Gift List! Merry Christmas, Happy Holidays, and all that stuff!
---
Fastest Jump Rope in the West
I'm not kidding, the Elite Surge is one quick jump rope. I advanced from singles to doubles practically overnight, so I don't doubt for a nanosecond that those of you who have already mastered the double-under will be going for triples.
What makes the Elite Surge faster than other jump ropes is the dual ball bearings that it has instead of a single bearing (or bushings.) These two bearing surround the cable; one on top and one below the insert of the cable. This set-up helps to make the handles feel more balanced than other models, and it also allows the cable to spin both smoothly and incredibly fast.
There are also a bunch of cable options available for the Surge. I've got the 1/16″ high-speed wire cable; the coated, heavy-duty outdoor cable; and one of the all-purpose cables. The wire cable is the cable for you hardcore CrossFitters, but they all serve a purpose. All the cables come long enough to customize, and swapping the cables out takes only a few seconds; no different than similar high-speed ropes.
When it comes to finding a gift for a CrossFitter, this may very well be one of the best, low-cost gifts out there. This model is only $21.99 from buyjumpropes.net, and it includes any cable you want, comes in silver or red, and even comes with a storage bag. You can get a minor price break if you buy two of the as well. Gift for yourself too?
---
1-on-1 Professional Coaching / Personal Training
Getting someone some 1-on-1 time with a professional coach or trainer could potentially do more for your athlete's training than any single piece of equipment. Unless they're already a National champion or have been crowned the Fittest on Earth, there's a pretty good chance there is something about their technique, diet, mentality or training plan that could use a bit of improvement.
Finding a qualified coach in your area can take a some research. Try the USA Weightlifting Club Finder to see if any of the CrossFit boxes or strength training gyms in your area have certified Olympic coaches. For a personal trainer, give the NSCA a shot (I'm not too familiar with them so I'm not sure how useful this will be), or just hit up the local gyms.
---
Relentless Jeans for Weightlifters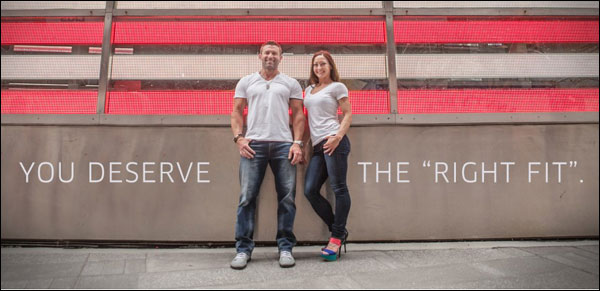 Relentless Jeans are designed for weightlifters and other athletes who have a hard time finding jeans that fit. More specifically, finding jeans that can comfortably fit around those strong, meaty thighs without having to be 4″ too big in the waist. You can buy them direct from Relentless, or from Rogue Fitness (men's & women's).
Updated: Relentless Jeans seems to have gone under. wah wah
---
Rogue Gymnastics Ring Rail
If someone you know has their gymnastic rings hanging from a pull-up bar, maybe they'd appreciate a way to hang those rings from the ceiling instead. Doing so would give them more space to work with and perhaps even open up the possibility of performing a larger variety of gymnastic movements.
Hanging anything from the ceiling can be tricky and dangerous if you don't know what you're doing. The Rogue Ring Hanger pretty much takes all the guess-work out of a safe installation. It's only $65 plus the cost of a few lag screws, and it's capable of holding 500 pounds. I have one of these in my own gym, so I can tell you with all confidence that when installed correctly, this thing is sturdy as hell.
---
Hammerhead H2 Wall Anchor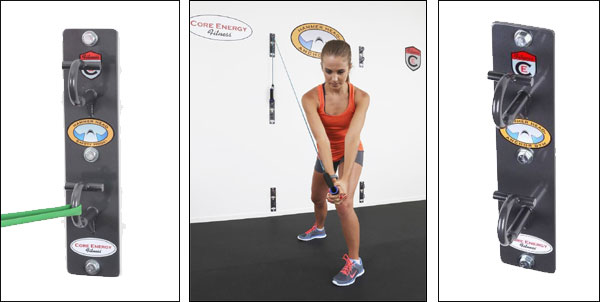 Wall anchors are a great, permanent alternative to the less secure, door-mounted anchors that are commonly used for resistance band training. Hammerhead H2 anchors attach to either concrete walls or normal wood studs, and can support up to 300-lbs of resistance per anchor.
For serious band-work, install a column of anchors like in the image above. Doing so not only gives you a larger variety of vertical positions to work from, but it also allows you to vary the tension of the bands by running them through multiple hooks. These sell for about $50 per anchor (hardware included.)
---
Swiss Bar / Multi-Grip Bar
Bring on the gains with the most versatile specialty bar in existence. The Swiss Bar (or the multi-grip bar) allows you to train a boat load of barbell movements with a varying, neutral width grip. The Swiss bar can be used to mix up your bench press, shoulder press, curls, bent-over rows, and so much more. This bar is simply an amazing tool to add to any gym's strength training arsenal, and a must if you have a pre-existing shoulder injury.
Rogue's MG-1
is about 40 pounds and sells for $275 before shipping. The MG-1 is unique in that it's the only Swiss bar that I know of with knurled handles – all of them.
---
Hodge Twins Gym Apparel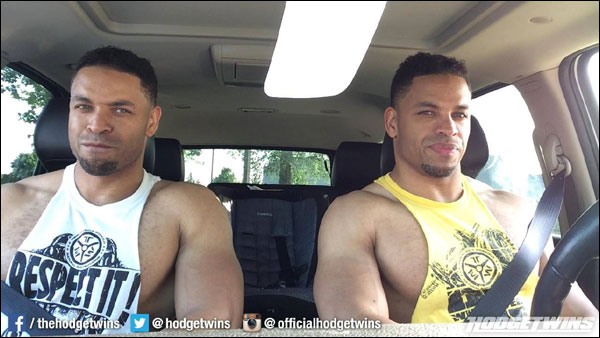 Talking about that Swiss Bar and all the gains you'll get with it made me think of the Hodge Twins. With a million YouTube subscribers, it's likely that the athlete on your gift list knows all about these entertaining twins, and may actually even be one of those subscribers. If so, I'll bet that they will get a kick out of receiving some of their catch-phrase covered t-shirts or tank tops to work out in. Hey, one can never have too many t-shirts to stink up anyway, they may as well be funny and motivating.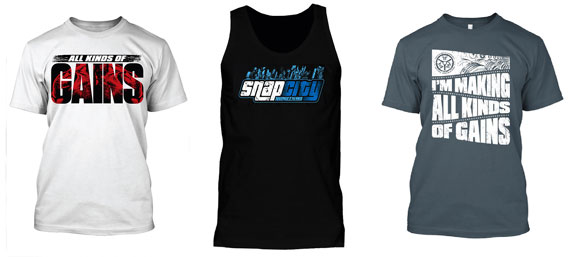 ---
Give the Gift of Caffeine
If you're a CrossFitter, no doubt you've heard about the Caffeine & Kilos PR coffee blend. This is a special coffee blend that was developed with the intense athlete in mind by some CrossFit affiliate owners in California. PR blend is a 100% organic Panama bean, light roast, with antioxidants and extra caffeine. Essentially, it's a more natural approach to the standard powdered pre-workout drink.
How does it taste? I haven't tried it yet, so I don't know! I'm going out on a limb and making this suggestion based solely on the incredible popularity of this blend. I am a coffee person though, and Central American roasts are my favorite, so I'll wager that it's pretty damn good.
A 12 oz bag is about $17. You can buy it direct, or you can but it from Rogue Fitness.
---
Change Plates / Fractional Plates
Fractional plates went over so well on last year's gift guide that I figured I'd throw them out there again. I'll even toss in some change plates for the Olympic lifters.
Fractional plates are small weight plates that allow one to increase the weight of their lifts by very small increments. Each set contains a pair of ¼, ½, ¾, and 1-pound plates. They are kind of pricey, but their usefulness cannot be overstated. You can find these almost anywhere: Rogue, Amazon, etc.
Change plates are the preferred plate for incremental loading of a bar when lifting with kilos. Sets usually contain a pair of ¼kg, ½kg, 1kg, 2kg, 2.5kg, and 5kg plates, but there are other set varieties. Change plate prices make fractional plates look cheap, but they're a must-have for competitive Olympic lifters. Try any of the big Olympic bar dealers for change plates.
---
Gift Ideas for Weightlifters? Protein!

As far as weightlifters are concerned, keeping up with the daily protein intake is just as important as drinking enough water. The thing is, drinking water doesn't lighten the wallet like consuming all of that protein does. So, if you really want to hook a lifter up this Christmas, give them the gift of protein.
The first option when gifting the macros is to just buy protein powder. Now if you already know which brand and flavor the recipient prefers, that's awesome; just buy that! No reason to stray. If you don't know, play it safe and stick with one of the more popular and reputable brands like Optimum Nutrition's Gold Standard or Dymatize Elite. Go with one of the basic, tried-and-true flavors like chocolate, vanilla, or banana. Don't risk it with those off-the-wall flavors like cake batter or blueberry pie; they're not for everyone.
The next option for protein-gifting is to just buy some gift cards to places like Chipotle, FreeBirds, Torchy's, Zen, etc. These joints offer dishes like burrito bowls, tacos, and rice bowls that are tasty, fairly inexpensive, and have a solid macro profile. Even a $50 gift card to Chipotle goes a long way for a lifter on a budget.
---
Expand Your Knowledge by Learning From Others
For the athlete that is always looking to learn all they can about the science of weight training and the mechanics of lifting, perhaps some literature on the subject is in order this Holiday season.
One of the most popular books on basic weight training is Starting Strength by Mark Rippetoe. While the SS training program itself is geared more for beginner lifters (as the name implies), there is a wealth of technical data (anatomy, physics, form, etc) in this book that lifters of any skill level will find useful. The back squat gets the most attention (around 100 pages!), but the bench press, deadlift, press, and power clean are also covered in great detail.
Hardcore CrossFitters will tell you that no fitness enthusiast's library is complete without a copy of Becoming a Supple Leopard by Dr. Kelly Starrett on the shelf. This National Bestseller addresses an unbelievably wide range of topics including recovery, mobility, injury avoidance, maintaining your body, and of course, improving athletic performance (to name just a few!)
The Weightlifting Encyclopedia by Arthur Drechsler is probably the most detailed text ever compiled on the sport of Olympic lifting. This nearly 600 page book covers nearly every aspect of Olympic weightlifting including training techniques, equipment selection, creating training programs, nutrition & weight control, competition rules and preparation, and even the mental aspect of becoming a weightlifting champion. This book is incredibly thorough, but geared more towards experienced lifters rather than novices.
---
End Part II
That concludes part one of my Gift Ideas for CrossFitters and Weightlifters guide; Garage-gyms style. I hope I have given you at least a couple decent ideas to work with. Enjoy the Holidays, and have a great 2015!
---