I get asked time and time and time again about the various trap bar options out there, so I figured that it was finally time to put something together for those of you who who happen to be in the market. Here it is! My [long overdue] hex and trap bar shopping guide.
I hope that this guide helps you zero in on the best trap bar for you. With any luck, you will find not only the products that you're currently considering already in this guide, but maybe even a couple of new options that you didn't already know about.
If you don't see a particular bar that you would like some feedback on, leave a comment. At the very least I will give you my opinion. I may also add the bar in question to this guide.
---
Table of Contents
---
What to Look For in a Trap Bar
Check dimensions carefully.  Consider how big of a trap bar you want, and how big of a trap bar you can even store in your gym. Some of these bars are huge, others are more compact; at least relatively compact.
Pay attention to sleeve length. If you use basic bumpers and the sleeves of the trap bar that you are considering have only 10″ sleeves, well you're gonna run out of space long before you max out that deadlift.
Do you care if your trap bar is rackable?  Would you actually use it in the rack if you get a rackable trap bar?
Are you a pretty big dude? Maybe lean towards a trap bar with 25-26″ distance between the handles rather than those with a smaller ~24″ handle distance.
Do you care about dual handles? Do you care if the handles are knurled?
Most trap bars are an easy-to-mathulate weight; something nice and even like say 55-lb or 65-lb, but some have a completely random weight; like the TB-1 at 58-lbs.
Additionally, free shipping is NOT free! If you're buying a trap bar that costs anywhere near $100 shipped (see the economy trap bars section below), you're not buying a very nice trap bar. These large, heavy bars cost a lot to ship. Matter of fact, the cost to ship Rogue's TB-1 is more than $100, and Rogue gets (and passes on to us) fairly decent shipping rates. You can imagine how nice of a trap bar you'd be buying if the total cost shipped is less than just the shipping of most other products.
---
Vulcan Prime Hex Trap Bar (ACRT Spec)
The Vulcan Prime Hex Trap Bar is one of the nicest; if not the nicest; standard-design, trap bars on the market.  This 7′ long, 60-lb monster is manufactured with 1.5″ x 1,5″, 11-gauge steel and has reinforced steel-plate corners for extra strength and durability. It's big, strong, and loaded with a ton of nice features. These include:
true 50 mm Olympic sleeves with chrome plating. No chipping, no rust, and no special collars needed.
those Olympic sleeves are solid steel, not hollow.
no maximum weight capacity. If you can lift it, the Vulcan Prime can handle it.
two stainless steel Vulcan logos that contrast well with the black powder coating, giving the Prime a very classy look..
it's rackable! (in most power racks)
The Vulcan Prime Hex Bar also meets the specification requirements for the deadlift portion of the Army's new Combat Readiness Test (ACRT)! You Military buyers can buy Vulcan!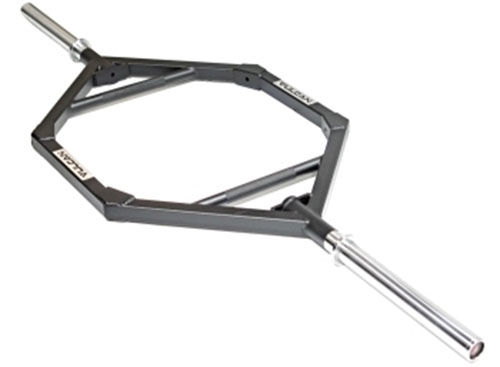 The Vulcan Prime is $379 shipped and that price includes the shipping. It's certainly not the most amount of money you could spend, but it's not the cheapest either. Still, this is a super premium piece of equipment; a product that will never let you down or need to be replaced. I have no problem recommending Vulcan Strength or the Vulcan Prime Trap Bar.
Dimensions: 85″ x 28.5″, handle distance: 25″; handle diameter: 33 mm; handle length: 15.5″, weight: 60-lbs, 16″ loadable sleeves, capacity: n/a, imported, no on-site reviews yet, $389 shipped
---
Rogue Fitness TB-1 Trap Bar 2.0
The Rogue TB-1 Trap Bar is a standard-design hex bar that is built with strong, 1.5″ square tubing instead of the round tube steel found on most basic trap bars; exactly like the Vulcan Prime Hex Bar mentioned above. This durable design is able to handle much more weight – so much so that neither Rogue or Vulcan bother providing a max capacity.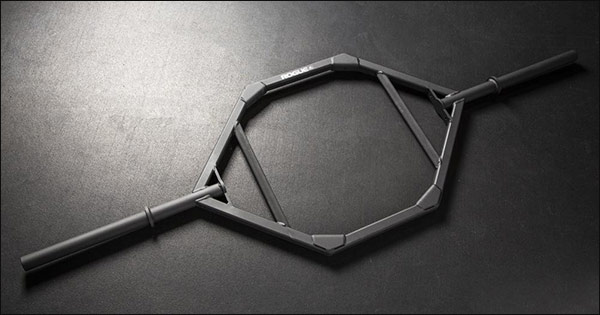 The TB-1 is massive. It is 89″ long, it has fully knurled 34 mm handles, and it's finished in a resilient black powder coat. It does not have true Olympic sleeves like the Prime, but this is still one hell of a trap bar,  and the $295 price tag isn't really at all unreasonable for a bar of this quality.
Still, one does have to wonder if spending the difference for the TB-2 isn't a better idea. You get the dual handle feature, and a nice even-number weight (60-lbs versus 58-lbs).
Dimensions: 89″ x 28.5″, handle distance: 25″; handle diameter: 34 mm; weight: 58-lbs, 16″ loadable sleeves, capacity: n/a, made in USA, 4.7-star rating, $295 pre-shipping (~$425 shipped).
---
Kabuki Strength Trap Bar
The Kabuki Strength Trap Bar is an ingenious take on the trap bar. It's a dual-handle, open ended trap bar with built-in bar jacks. It's well-balanced, easy to load and unload, and there are actually three different handle diameters to choose from (1″, 1½", and 2″); each finished in bright zinc, and all of them knurled (though the 2″ 'Love Handle' is an optional purchase.)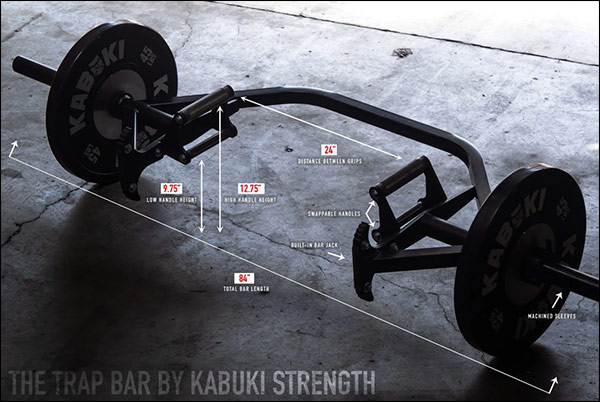 The Kabuki Trap Bar; like all Kabuki products; is loaded with clever features, is aesthetically pleasing, and incredibly expensive. The Kabuki does have machined sleeves which I guess saves your $25 on a pair of axle collars, and you can set the handles to be either stationary or to rotate (well the 2″ handles anyway), but you are looking at about $600 delivered. That is a lot of money for a trap bar.
To be fair, I really like Kabuki bars. I think a lot of thought goes into the development of their products. The prices are outright ridiculous though.
Dimensions: 84″ long; handle distance: 24″; handle diameter: varies; distance between handle pairs: 3″, weight: 55-lbs, 16.5″ loadable sleeves, capacity: n/a, Made in USA, 5-star rating, $549 pre-shipping
---
Vulcan Pro High Hex Trap Bar
At 75-lbs, the Vulcan Pro High Hex Trap Bar is the heaviest trap bar that I know about. It's so heavy because it's manufactured with 2″ x 2″ steel tubing and has true Olympic sleeves rather than just schedule 80 pipe.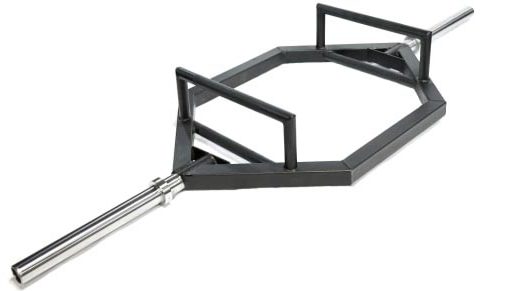 The Vulcan Pro is a super nice trap bar. It has double height handles; both of which are fully knurled, the 16″ long, true Olympic sleeves are finished in resilient hard chrome and do not require you to own specialty bar collars, while the rest of the bar is finished in a black, matte powder coat.
This bar is a beast, and a true contender if you are looking for an end-game, no weight limit trap bar for your gym, and it doesn't matter if your gym is a commercial gym or in a garage; you will not destroy this trap bar. Sure the $389 price tag is up there, but this is the last trap bar you'll ever buy, and on the bright side that price does include the ground shipping.
Dimensions: 82″ x 28″, handle distance: 24″; handle diameter: 33 mm; distance between handle pairs: 7″, weight: 75-lbs, 16″ loadable sleeves, capacity: n/a, imported, 5-star rating, $389 shipped
---
Rogue Fitness TB-2 Trap Bar
The Rogue TB-2 Trap Bar is pretty much the Rolls Royce of trap bars.  This 60-lb, 7-ft long monstrosity is made from 1.5″ square tubing with reinforced corners, has dual handles that are both knurled, and a gracious 16″ of loadable sleeve length. It's also finished in Rogue's standard (and resilient) black powder coat.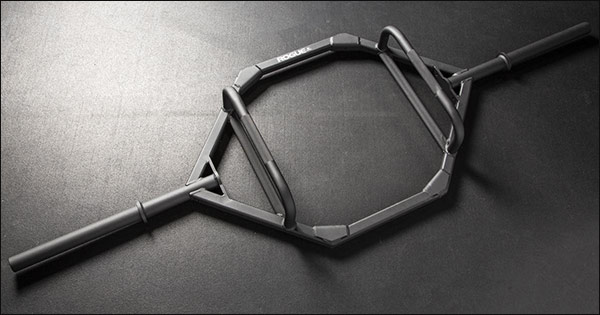 In my opinion, even the $600 Intek Mod Bar isn't as nice as the TB-2, and the TB-2 is "only" $375. Yes I know $375 is a lot of money to spend on any specialty bar; especially when that price does not include shipping;  but I have no doubt that this trap bar would be the last trap bar that you ever purchased. The TB-2 is going to last forever.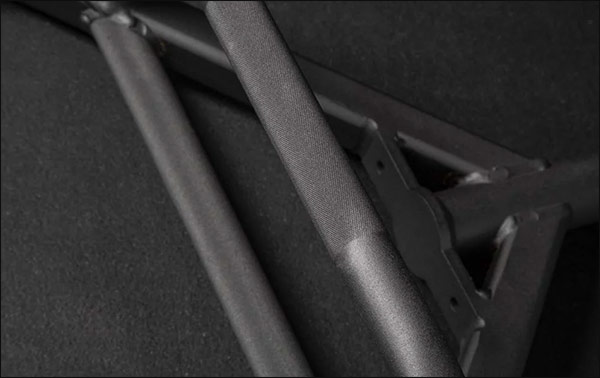 I highly recommend the TB-2 if it's within budget. Read those reviews if you're in doubt. You won't find a nicer dual-handled, full-size trap bar. The Vulcan Pro High Trap Bar is arguably a better deal since its $389 price tag includes shipping, but the TB-2 is still the Rolls.
Dimensions: 88.5″ x 28.5″, handle distance: 25″; handle diameter: 34 mm; distance between handle pairs: 7″, weight: 60-lbs, 16″ loadable sleeves, capacity: n/a, made in USA, 4.9-star rating, $375 pre-shipping
---
American Barbell Fat Grip Hex Bar
The American Barbell Fat Grip Trap Bar is fairly unique in that it has dual-handles that are both the same, very thick diameter of 1.91″. I suppose this would be great if all you've ever wanted was an axle trap bar, but I think the lack of at least one smaller-diameter grip does make this kind of a niche trap bar.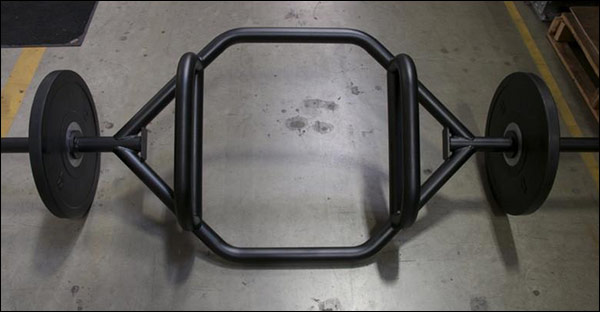 Outside of the fat handles, the American Barbell has pretty typical specs. The weight looks good, the inner dimensions look good, it has long 16″+ sleeves, and it's even rackable. It is a very nice trap bar, and the price isn't even out of control for American Barbell. Still, you'd really have to be into Strongman-style, fat bar training to lean on this trap bar over most the others.
Dimensions: 85″ x 28.5″, handle distance: 25″; handle diameter: 48 mm; weight: 55-lbs, 16″ loadable sleeves, capacity: unknown, made in USA, no on-site reviews, $349 pre-shipping
---
Edge Fitness Systems Rickshaw
Not quite a hex bar, but still basically a trap bar, the Edge Fitness Systems Rickshaw is one very heavy-duty, budget-friendly option you should know about.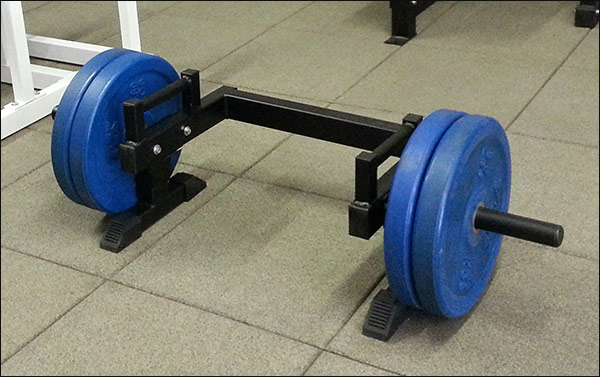 As Edge puts it, the Rickshaw is a walk-in trap bar that's easier to load. In addition to using it for deadlifts, shrugs and carries just like you would with a standard trap bar, the Rickshaw offers a little more exercise variety because of its wide, stable stance and elevated handles. Most of us probably wouldn't base the decision to buy on these bonus exercises, but bonus features are bonus features.
At only $250 before shipping, the price of the Rickshaw is extremely reasonable. Edge has a solid reputation for quality and ingenuity, and while you will wait a few weeks to receive a product from Edge, the word is that it's always worth the wait. I personally like this option.
Joe Gray has a fantastic one-year-in review of the Edge Rickshaw that you should definitely check out if this product is on your radar. I have included it below for your convenience!
Yes Titan Fitness has a copy of the Edge Rickshaw, but if you respect your garage gym you won't want that inferior piece of scrap metal anywhere near your other equipment; unless of course you're already donating all of your gym budget to Titan anyway (shame on you.)
Dimensions: 56″ x 19″, handle distance: 24.5″; handle diameter: 32 mm; handle length: 7″,weight: 55-lbs, 13″ loadable sleeves, capacity: 700-lbs, made in the USA, no on-site reviews, $250 pre-shipping.
---
Intek Modular Function Bar
The Intek Mod Bar is an open-ended trap bar that can be used for pretty much all the same movements as a standard hex bar; shrugs, deadlifts, carries, presses, and so forth. There's an optional roll bar that allows you to use it for a few more movements as well;  movements that you'd probably never imagine doing with a trap bar. A squat, for example.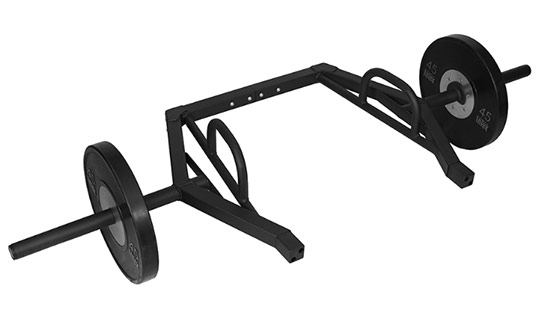 This thing is an absolute beast for sure;  it's made with 2″ square tubing and has reinforcing plates on the corners. It weighs in at 65-pounds and is pretty massive at 86″ long and about 30″ deep. It's a very nice and very strong piece of equipment, and it even has dual handles, but the price seems a little high at $595. It does ship for free so it doesn't end up being a lot more than say the Rogue trap bars to your door, but it's a pretty penny no matter what.
Dimensions: 86″ x 29″, handle distance: 27″; handle diameter: 32 mm; distance between handles: 5″, weight: 65-lbs, 15″ loadable sleeves, capacity: 700-lbs, rackable; made in USA, no on-site reviews, $595 shipped.
---
Bells of Steel Trap Bar 2.0 w/ Rotating Sleeves
The Bells of Steel Trap Bar is a stand-out in my opinion.  At only $247 shipped this trap bar has great dimensions, a 65-lb solid steel frame, a real zinc finish (rather than the decorative chrome found on most lower-cost trap bars), and dual-height handles. The BoS Trap Bar is also equipped with rotating sleeves; a rarity on trap bars.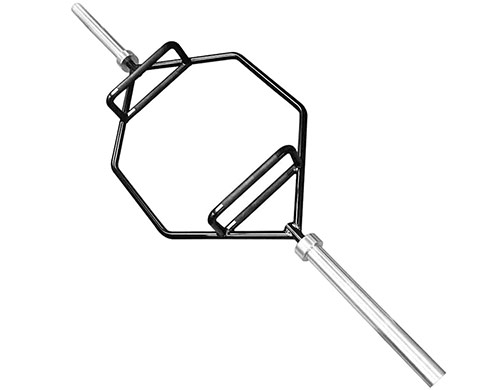 The BoS Trap Bar has a lot going for it. In addition to the low price and solid specifications, it has a 4.9 star rating based on nearly 20 reviews, it has extremely long sleeves (that outta make bumper plate owners very happy), and the $247 price not only includes shipping, but includes shipping in enhanced packing that will ensure the bar shows up still in its box.
So long as you're not looking for something super fancy like the TB-2 or the Vulcan Pro, I'm thinking the Bells of Steel Trap Bar 2.0 should be at the top of your list. Though do consider that the BoS Trap Bar has fairly narrow handles at only 25 mm in diameter.
Dimensions: 73″ x 23″, handle distance: 24″; handle diameter: 25 mm; handle length: 12″,weight: 65-lbs, 16″ loadable (rotating) sleeves, capacity: 700-lbs, imported, 4.9-star rating, $247 shipped.
---
Body Solid Combat Ready Trap Bar
The Body Solid Combat Ready Trap Bar is designed specifically for the new Army Combat Readiness Test. Of the six tests in the ACRT, the deadlift is one of them, and it is performed using a trap bar rather than a standard barbell.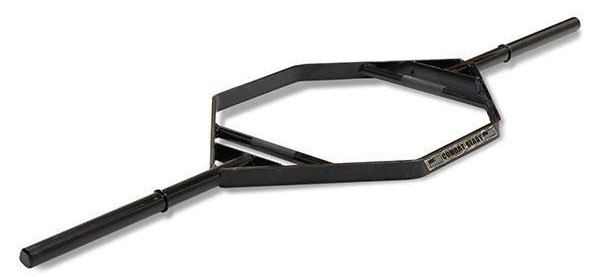 The Army has certain requirements for the size, maximum capacity, and unloaded weight of the trap bar to be used for this test, and the Body Solid CRTB meets these requirements.
As a civilian training for the ACRT, I do not see any advantages of owing this bar over a trap bar that doesn't meets Army standards, but costs less. That is to say, you can train your pull with any like-sized trap bar and it's still going to improve your lift. Then again if it just makes you feel better to know it's to spec, by all means have at it. You lose dual-handles with a bar like this one, but it does have some long sleeves and it may even be rackable in your rack!
Dimensions: 89″ x 28.5″, weight: 60-lbs, 16″ loadable sleeves,capacity: 600-lbs, made in the USA, no on-site reviews, handle diameter: 34 mm; $259 shipped. (many dimensions for this bar are unavailable, even through Body Solid.)
---
XMark Revolving Grip Trap Bar
The Revolving Grip Hex Bar is a style of trap bar that seems to be exclusive to the big box-store brands; companies like XMark, Valor, and CAP.  Rather than being a fully welded unit with fixed-position handles like pretty much every other trap bar in this guide, this design is a bolt-together product that features rotating handles and elevated sleeves.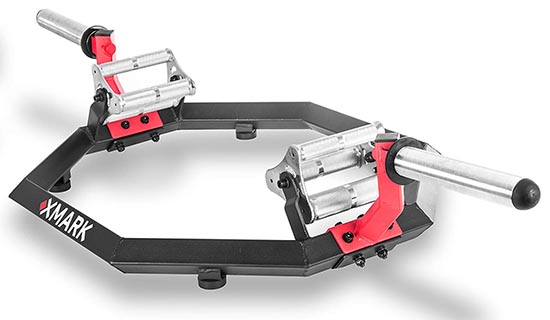 Personally I think this is a clever idea. With each rotation of the handles, the diameter of the handles gets thicker – from 30 mm to 38 mm and all the way up to 45 mm. That largest size at 45 mm is pretty damn thick, and that can make for one heck of a forearm workout. Those elevated sleeves will make loading and unloading the bar easier as well.
The overall size of the XMark Revolving Grip Trap Bar is generous. It is 65″ long, offers 26″ between the handles, and it weighs an even 25 kg; or 55-lbs. The sleeve length is about as short as they can be at only 10″,  but for a bolt-together unit with a 700-lb max capacity, it'll probably do so long as you're not using bumper plates.
CAP Barbell
makes a similar model for less money, but looking at the specs and details of it I can tell that it's not built as well as the XMark. If you're going to miss the standard trap bar and go for something like this, at least avoid the CAP model. Personally I don't like the idea of an assembled specialty bar (vs welded) either way, and having two grip options like what is found on the dual-grip, fixed trap bars seems good enough. But hey, to each their own!
Dimensions: 65″ x 31″, handle distance: 26″; handle diameters: 30, 38, & 45 mm; handle length: 7″,weight: 55-lbs, 10″ loadable sleeves, capacity: 700-lbs, imported, 4.5-star rating, $230 shipped.
---
Rep Fitness Trap Bar
Rep Fitness' Trap Bar is a solid trap bar for the money.  While definitely still an economical bar at only $125 (before shipping), it does feature dual-height (knurled) handles, a good 24″ distance between said handles, an even 25 kg/55 lb weight, and a very nice 16″ of loadable sleeve length (that's a lot for a basic trap bar).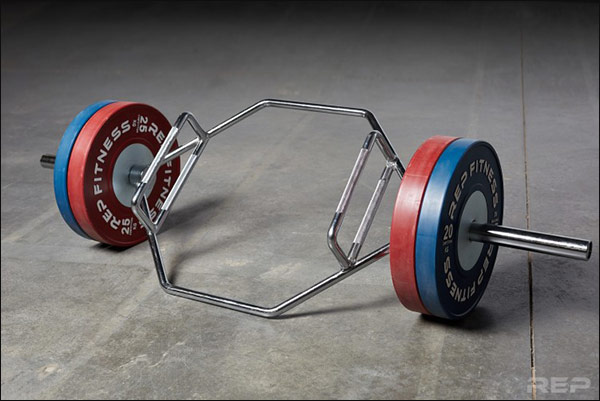 Like most fully welded trap bars of this size (71″ long), it needs to be shipped freight. This of course makes a $125 bar a bit more than $125. So while I wouldn't exactly recommend this particular trap bar as a solo purchase, I think it may be an auto-buy if you're already making a purchase from Rep that will ship freight. It's really a lot of bar for only $125.
Dimensions: 71″ x 25½", handle distance: 24″; diameter: 25 mm; length: 14½", dual handles (6″), weight: 55-lbs, 16″ loadable sleeves, capacity: 600-lbs, imported, 5-star rating, $125 pre-shipping.
---
Super Economy Trap Bars (Titan / CAP / XMark / etc)
You will find a number of very inexpensive, strikingly similar trap bars scattered on Amazon, the large fitness outlets, and your local box stores. If you look closely enough at the images and specifications of these budget trap bars, you'll find that they are more or less the same.
I strongly recommend avoiding the low-end trap bars as they have very low max capacities, numerous quality-control issues, poor finishes, and damage issues from shipping. Here are some examples of what you should avoid:
CAP Barbell OB-88HZ
:  How nice do you think an $88 Trap Bar (and that includes shipping) will really be? Low 400-lb max capacity, garbage welds, random diameter sleeves that may or may not work with your plates, and a very low-quality finish. Please don't be this cheap if you care about your training.
Titan Fitness Hex Bar: At $113 it's a few bucks more than the above-mentioned CAP, but do not be fooled! This is more or less the same bar. It has a low max capacity, Titan's infamous weak welds and rampant quality-control issues, short sleeves, and a poor, decorative finish. You can do a lot better for not a lot more money.
XMark Hex Bar (XM-3686): I don't always have a problem with XMark but this particular bar is a wolf in sheep's clothing. At $150 it's basically the same underweight, lower capacity bar as the two I just mentioned. It has a small stature, short sleeves, and can only handle up to 400-lbs of weight. It has a nicer finish than the other two, but finish-be-damned on a product that can't handle even a moderate amount of weight (this is a deadlift bar after all.)
I could drag this list of weak, under-spec'd trap bars on forever, but I think you get the idea. Maybe it's easier to suggest the following:
Look for 700+ lb capacity, 24″ or more of distance between handles, a total length of 56″ at the very least (more if you want more than 10″ sleeves), a price that isn't all by itself a giant red flag, and a finish that will actually protect the bar. Read reviews for issues with shipping, uneven sleeves & warped frames, and finish issues or rust right out of the box.
---
Trap Bar Shopping Guide – Summary
As you can see there is a lot of variation in the trap bar game – short sleeves, long sleeves; knurled or unknurled; single grip or double-handled; fixed or modular, and so forth. You can spend nearly nothing for a piece of garbage that can't handle even a half-decent deadlift, or you can spend even just a little more and get something that can handle the weight, will last forever, and maybe even offer you more movement variety. Your options are endless.
What do I recommend? Well I think I've made it clear that you should avoid the lowest price bars like those you'll find on Amazon. If you just need something that will work but that does not bust your bank account, go with someone like Rep Fitness. It's a fine trap bar at a really reasonable price.
My personal favorite is the Vulcan Prime Hex Bar. I like the 25″ handle distance, I like that it has Olympic sleeves and no maximum capacity, and I even like the aesthetics. It's not dual-handled, but that's fine by me. If I wanted those dual handles I'd lean towards Rogue's TB-2 or the Vulcan Pro. Yes all of these are fairly pricey bars, but they are all end game bars that will never need to be replaced – ever.
---