This is a review for the Vulcan Absolute Stainless Steel Olympic Bar, easily one of the most impressive and attractive high-performance Olympic weightlifting bars on the market – and I don't mean just among the few other stainless steel Olympic bars out there.
Priced at around $700; no small sum to be sure; the Absolute SS Oly is actually a lot of bar for the money. It has a high tensile strength stainless steel shaft; stainless steel sleeves that are just as resilient (and beautiful) as the shaft; high-performance German needle bearings; and an aggressive knurl that's similar to what you'd find on a full competition bar.
On paper, the Vulcan Absolute is clearly a remarkable bar, but for that $700+ asking price it needs to have more than an impressive spec list; it needs to outperform its competition and shine on the platform. So does it?
Well that's exactly what I'm going to address in this review.  I'm going to tell you what I have come to think of the Absolute;  both in terms of performance and overall value; and also talk about how it compares to other professional weightlifting bars.
---
Vulcan Professional Olympic Bar Specifications
20 kg IWF-spec men's bar
28 mm shaft diameter
stainless steel shaft
high whip
aggressive knurling
passive center knurl
stainless steel sleeves
50 mm sleeve diameter – grooved
lab-verified tensile strength rating of 241,000 PSI
8 German precision needle bearings
lifetime warranty
$713 shipped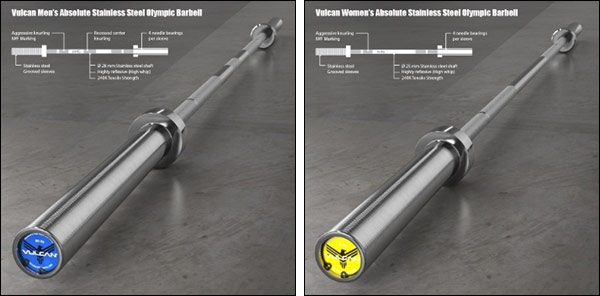 There is also a 15 kg woman's version of the Absolute SS; available for $670. You can view the women's Absolute here. Though I assume most of this review would apply to that 15 kg variant, I have not had the opportunity to test that bar so I won't actually make that claim.
---
Who is the Vulcan Absolute Olympic Bar for?
This is a professional Olympic weightlifting bar. A high-performance, competition-worthy bar meant for experienced weightlifters. It is not a beginner's barbell.
That said,  intermediate lifters could also benefit from owning the Vulcan Absolute, as could the experienced CrossFitter who intends to ultimately transition completely into the sport of Olympic weightlifting. It's an infinitely better choice than a multi-purpose/WOD bar for lifters at this stage because it will keep up with one's training indefinitely,  not need to be replaced down the road. And yes there are other high-performance Olympic bars out there one could and should consider, but I think the Absolute is a true contender, and I'll get into why that is.
---
SS Absolute Olympic Bar Review – Sleeve Assembly
The Vulcan SS Absolute has one-piece, unfinished, stainless steel sleeves.  These sleeves are attached using the snap-ring assembly method,  and they're grooved for the purpose of keeping your rubber change / friction plates in place when being used outside of the collars. These are good looking, functional sleeves, and the blue Vulcan end caps really stand out.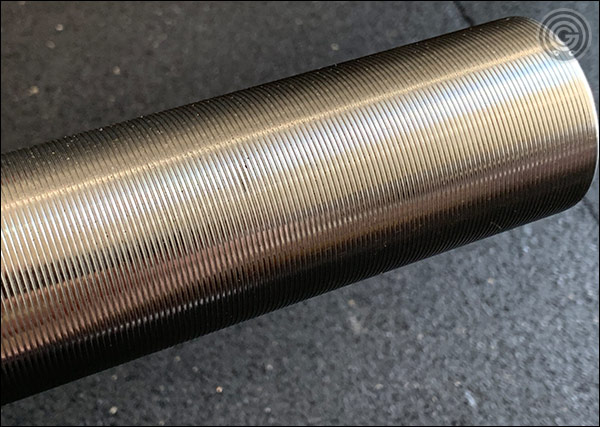 Most stainless steel bars do not have stainless steel sleeves. Chrome-finished steel is more commonly used simply because it's less costly, and also because there is zero performance benefit to having stainless steel sleeves. One has to admit though; an unfinished, stainless steel sleeve is a very nice touch. There is no finish to chip away at or scratch and there's no risk of oxidation. To put that another way, stainless steel sleeves are going to age better.
As far as rotation goes, the turnover is as smooth and as reliable as one would expect of a $700 barbell. The German needle bearings function flawlessly, and will outlast the cheaper bearings found in lesser bars. I have nothing negative to report regarding the rotation of the SS Absolute; these sleeves will always spin.
---
Absolute SS Oly Bar Review – Knurling
I don't want to sound like I'm exaggerating, but the knurl of the SS Absolute is phenomenal. It has a good amount of bite to it, it's consistent across the entire shaft (except for the toned down center knurl), yet it is not at all uncomfortable over the course of those longer training sessions (though it may be for a short while if you're coming from a typical, mild WOD bar).
For comparison purposes, the Absolute is more aggressive than Vulcan's own Pro Oly Bar, it's far more aggressive than any of Rogue's Olympic Bars (Euro, Rogue Oly, etc.), and it is slightly more aggressive than the current Eleiko Performance  Bar. For those of you who've handled the previous generation Eleiko IWF Comp Bar,  it is close to the aggressiveness of that, but not quite (I always remember the Eleiko Comp as being ridiculously uncomfortable to use for any length of time, but I don't have that experience with the Absolute.)
I really, really like the way this bar feels in my hands. And it's not just the knurl quality either. It's also the fact that the shaft is raw, unfinished steel. You cannot ask for a more tactile bar surface than bare steel. Add a solid, aggressive knurl to that and you've got a bar that won't let go.
Remember that knurl preference is subjective. What I call aggressive may feel moderate or even mild to you. Or maybe you'll think I didn't label it aggressive enough! Hopefully at least the comparison to other common Olympic bars will give you a clearer idea of whether or not the Absolute is a good match for you and your preferences. I'll just finish with this; this bar's knurl is not mild.
The center knurl is more passive than the outer knurl, as seen above.
---
Absolute SS Oly Bar Review – Whip
The Vulcan Absolute is above-average in the elasticity department, but it's not as whippy as the Vulcan Elite Olympic Bar; a bushing-based Olympic training bar that's notorious for hav-ing an extremely reflexive shaft. Like pretty much any other Olympic bar, the Absolute stays fairly rigid until you hit that 100-120 kg threshold.  Beyond that, you'll notice the whip kicking in.
The fact is that there's really not a whole lot to say about bar whip unless there's something wrong with the shaft, and it's too rigid for some reason. Just about all bars of a given length; having the same shaft diameter; will respond to any given amount of weight about the same as any other Oly bar. Now there are exceptions, like in the case of the aforementioned Elite, or the classic Klokov that was as rigid as a power bar, but the Absolute is not 'exceptionally' whippy like the Elite, nor is it anywhere near being labeled as stiff.
To put all that another way, the Vulcan Absolute's elasticity is right where it should be.
---
Absolute SS Oly Bar Review – Finish
Just in case you skipped to this section for some reason, the Vulcan Absolute SS Oly Bar is a fully-stainless steel bar. It has no finish on the sleeves or on the shaft.
Stainless steel is the premium material to use for Olympic barbells. It's naturally resistant to oxidation without the need for a finish that can chip or scratch away, it's unbelievably grippy compared to finishes like polished chrome and the zincs, and it's just aesthetically beautiful. In the case of the Vulcan Absolute the stainless steel used is also of a very high quality and tensile strength.
In my opinion, stainless steel shafts are superior to any other option – better than Cerakote, better than chrome (even industrial chrome), and far superior to the zincs.  Stainless shafts just feel more natural,  has no slickness to it, and the knurl isn't diminished by the presence of a finish. Stainless is the way to go no matter what barbell sport you participate in; at least in my opinion!
Even though this is a raw steel bar that will not oxidize on its own, the use of the cheap iron plates (even change plates) can lead to rust on your sleeves. This happens when small iron fragments are deposited on the surface of the bar; or inside the grooves of the sleeves. You will find that those fragments will indeed rust, and transfer that oxidation to your bar.
This is easily undone, but why allow this to even happen at all? If you buy a $700+ Olympic barbell, consider buying quality rubber change plates as well.  The only thing you should be brushing out of a stainless steel bar is chalk, skin, and blood; not rust.
---
Any Cons?
I have not come across any drawbacks to buying or owning the Absolute,  and I've had this bar for the better part of a year now – much longer than I have most bars before I ultimately publish my review.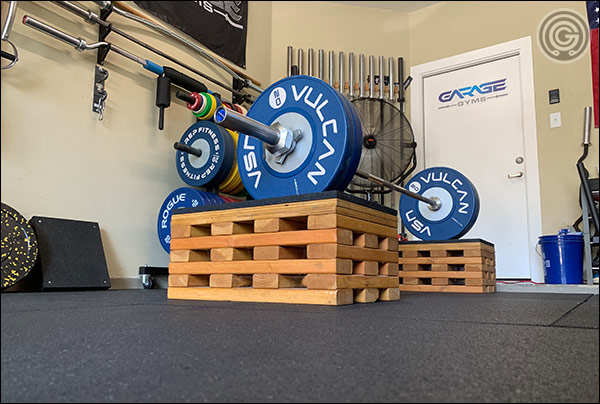 The stainless steel shaft is strong yet whippy, it's still straight as an arrow (and always will be), and the knurl combined with the tactile feel of raw stainless steel makes for a grip that cannot be rivaled by even the other stainless steel Olympic bars out there (much less any-thing with a slick chrome or zinc finish.)
The only true to con to buying a bar like the Absolute is the price.  A high-performance Oly bar is not a cheap thing. You'll pay anywhere between $600 to $900 or more for an Oly bar of any worth; there's just no way around that without sacrificing performance. Yes, a $700+ price tag stings a little, but it's not at all unreasonable.
| | | | |
| --- | --- | --- | --- |
| | 20 kg Men's | 15 kg Women's | Stainless Steel? |
|  Vulcan Absolute SS Oly | $713 | $670 | yes |
|  Vulcan Professional Oly | $600 | $580 | no |
|  Rogue Pyrros IWF Oly | $595 | $595 | yes |
|  Eleiko NxG Olympic Trainer | $915 | $915 | no |
|  American Barbell SS Pro | $675 | $675 | yes |
|  Uesaka Olympic Trainer | $855 | $855 | no |
|  Rogue SS Oly Bar | $595 | N/A | yes |
Why is the Vulcan Absolute $100 more than the two stainless steel Rogue bars? Because it has a much higher tensile strength steel shaft that requires more expensive tools to knurl to the depth & aggressiveness that Vulcan wanted for this bar. Remember that the Vulcan has a more substantial knurl than any Rogue Olympic weightlifting bar;  a knurl more in line with an Eleiko IWF Training Bar, or one of the Chinese IWF Olympic bars.
Additionally, the SS Absolute is the only stainless steel Olympic weightlifting bar that I know of that has stainless steel sleeves as well (as opposed to a chrome-finished steel sleeve.) It too has an impact on overall cost.
---
Vulcan SS Absolute vs…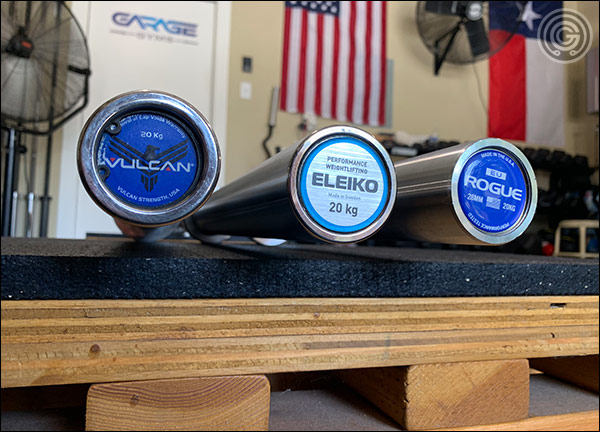 … Eleiko NxG Olympic Performance Training Bar
I own both of these bars,  and they are both fantastic, high-performance Olympic training bars, but the Absolute's more aggressive knurl on a stainless steel (unfinished) shaft just makes the Eleiko NxG Performance Trainer feel mild by comparison.
Eleiko recently raised the price of the Performance Trainer from $729 up to $776, making it about $60 more than a delivered Absolute (before Eleiko's shipping). It's not an awful price; it is an Eleiko after all; but when the knurling is side-by-side compared it's just really hard to ignore how mild the Eleiko feels next to the Vulcan. One could always upgrade to the Eleiko IWF Training Bar for a little more bite, but that's a $915 bar! No thanks.
But hey,  I'm not going to sit here and say that the Eleiko isn't a beautiful and functional Oly bar, because it is. The thing is that Eleiko is not the only company producing incredible bars these days, and their pricing sort of implies that they are doing everything better than all the other guys, only that is not the case.
I'll take the stainless steel Absolute over the Eleiko Performance Bar any day of the week.
… Rogue Euro Olympic Bar
The Euro is a classy Olympic bar, no doubt about it, and the price is extremely competitive in today's market. Hell it's even certified now. It's basically a classic Eleiko Competition Bar (specs) for several hundred dollars less than an actual Eleiko. How can that be bad, right?
Well my biggest issue with the Euro is that for a competition bar, it has really weak knurling; it is just far too mild for my tastes. Of course this isn't the worst problem to have since knurl preference is, again, quite subjective. I mean, this milder knurl may be right up your alley, in which case I'm not making much of an argument against the Rogue.
I've had a Euro for years now, but I'll be honest – I never use it. I like the Absolute for heavy pulls and I like my American Barbell SS Pro Oly for longer sets.  The knurl on the American Barbell is about as mild as the Rogue, but it's a naturally grippier, stainless steel shaft, not a finished steel shaft (both chrome and Cerakote Euros exist by the way).
All that said,  if you need an IWF-certified barbell for some reason, you are not going to find one for less than what you can get the Euro for. I just doubt that you need an IWF sticker on your garage gym Oly bar. I guess technically it's not a sticker on the Euro, it's Cerakote, but you know what I mean.
---
Vulcan SS Absolute Olympic Bar – Summary
I own three Vulcan weightlifting bars at this point. The Vulcan Professional Olympic Bar, the bushing-based Vulcan Elite Olympic Training Bar, and now, of course,  the Vulcan Stainless Steel Absolute Olympic Bar.  I kid you not when I say that these bars are standouts.  Vulcan really knows how to put together aesthetically beautiful, high-performance weightlifting bars with exceptional whip, and knurling that doesn't end up being too mild as a result of "playing it safe" or trying too hard to appeal to too broad a market.
The SS Absolute is an end-game Oly bar. You're not going to need or even want to replace a bar like this. The only upgrade from here is an IWF-certified Eleiko or Uesaka bar and it's extremely unlikely that you'll ever need your training bar to have an IWF sticker on it (and it wouldn't be a stainless steel bar anymore – even for all that extra money.)
The Absolute has real knurling, impressive whip, a stainless steel shaft and sleeves that not only will never rust (with no finish to chip away), but that also look fantastic. And the price? I personally think that compared to bars like the Pyrros, the Eleiko IWF Trainer, and even the American Barbell SS Pro, that the $712 (delivered) price is more than reasonable.
I have no problem recommending the SS Absolute to any experienced weightlifter who can afford it. Do your own homework, of course, and by all means side-by-side compare this bar to Olympic bars from Eleiko, Rogue, ZKC and whoever else has made your short list. Ask a friend, or visit a local weightlifting club that uses Vulcan equipment to try it out. I'm confident that you'll be just as impressed with the Absolute as I am.
This bar is definitely a keeper.
Do you already own the Vulcan SS Absolute?  Have you used it in a local Olympic training center? Leave us some feedback in the comments section below. Your input may be helpful to anyone on the fence about this bar.
---