Did I not just review the PR-5000 Power Rack like last September?  Why in the world am I doing it again! Is there nothing else I could be reviewing!
No I'm just kidding. That was the original PR-5000 Power Rack, and this is the PR-5000 V2 Power Rack, and boy oh boy is the new version all kinds of different than last year's model, and all kinds of better!
So many features have been updated and added to the new PR-5000 V2, and a number of unwanted features even removed. There are more options and different ways to customize the V2 than before, and so many new attachments and accessories to choose from. In fact there are so many differences between the V1 and the V2 that it was absolutely necessary to re-review Rep's PR-5000. The other, older review simply doesn't apply anymore.
Of course there's another reason why I had to review the new PR-5000, and that's because it was obvious the day it launched that it would end up being the biggest and baddest, most affordable 3″x3″ power rack on the market; that it was going to be some time (if ever) before one could do better for the money. Even before I write this review I can already imagine this rack being the go-to rack not only for home and garage gym owners, but possibly even high schools, colleges, and public gyms.
In this review I'm going to cover every detail of the PR-5000 V2 Power Rack. I'll cover all of the specifications, base rack options, upgrade options, attachments and accessories, cross compatibility of attachments, and of course I'll discuss the pros and cons of the PR-5000 vs Rogue's Monster racks.
This is a long review, so grab yourself a coffee or a beer. If I didn't address some aspect of the PR-5000 in enough detail for you and you have follow-up questions, use the comments section following the article.
---
PR-5000 Review – Table of Contents
---
PR-5000 V2 Power Rack Specifications
PR-5000 V2 Dimensions

rack width: 41″ inside width (47″ outside-to-outside)
rack depth: 30″ or 41″ inside depth (36″ or 47″ outside-to-outside)
rack height: 80″, 93″, or 100″ tall (+3″ for lat attachment)
total footprint:

PR 5000 with 30″ crossmembers: 47″ wide x 36″ deep

w/ storage: 47″ wide x 55″ deep

PR 5000 with 41″ crossmembers: 47″ wide x 47″ deep

w/ storage: 47″ wide x 66″ deep

lat tower attachment adds 27″ to total depth of either build

Uprights and Crossmembers

manufactured with 3″ x 3″, 11-gauge steel
1″ diameter holes with 2″ hole spacing

holes of the uprights and crossmembers are numbered on both sides

assembled with massive 1″ hardware
(5) finish colors, stainless steel, and clear coat

black, metallic black, red, blue, and green (orange expected)
not all upright heights are available in all colors
selected upright and crossmember colors do not have to match

Accessories

(3) total J-cup options (standard, flat sandwich, and rounded sandwich)

optional 1″ spacing J-cup package in both standard and sandwich
sandwich-style J-cups have stainless steel accents

(3) total safety options (pin/pipe, flip-down, and nylon strap)
(4) total pull-up / chin-up bar options (fat, skinny, multi-grip, and globe)
all attachments include UHMW liners to protect upright finish
over a dozen other optional accessories, with more being released

Pricing

base price of $864; shipping not included
What's Included With Base PR-5000 V2
Included: (4) uprights, (4) crossmembers, (1) nameplate, assembly hardware and anchors.
Must Choose Options: upright height & color, crossmember length (depth) & color
Must Choose Equipment: (1) pair J-cups, (1) safety system, (1) pull-up bar
Optional: optional attachments/accessories include: weight storage uprights and horns, safety spotter arms, front feet extenders, dip attachment, landmine, various bar holders, leg roller, lat & row tower, back pegs, utility horn, and a rear base stabilizer.
---
The PR-5000 V1 versus the PR-5000 V2
Below you will find a list of all the things that have been updated or changed in the newest version of the PR-5000. If for some reason you'd like to read my review of the PR-5000 V1 or see pictures of that rack, you may do so here.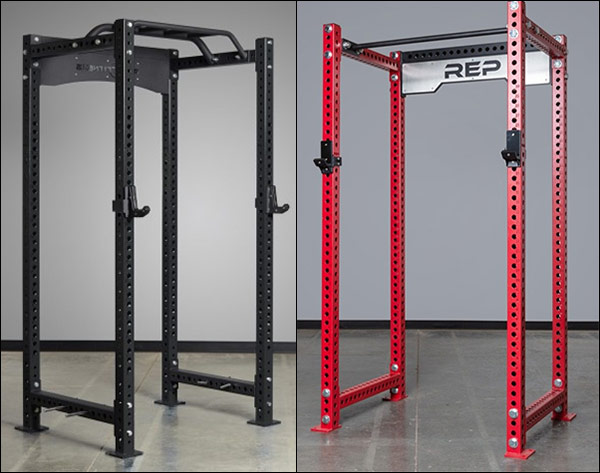 The V2 is far more customizable: more heights, more colors (including a new stainless steel option), more variety in core accessories, and more accessories overall.
There are many new major accessories being developed specifically for the V2; a belt squat attachment, adjustable iso-lever arms, and an adjustable monolift.
All holes of the PR-5000 V2 are 1″ in diameter. The alternating 5/8″ holes are no more.
Assembly hardware is now massive 1″ hardware, not 5/8″ hardware.
Numbered holes include all numbers, not just the odd numbers.
The laser-cut numbers are on both sides of the uprights, not just the front.
The crossmembers and 3″ x 3″ safeties also feature laser-cut numbers.
The optional plate horns are now urethane coated for a longer life.
New optional 1″ J-cup spacing system is available.
The lat tower has a footplate for rows and optional leg rollers for lat pulldowns.
band pegs and multi-grip pull-up bar are now optional equipment. Only pay for them if you want them.
The original PR-5000 was a great rack. It was strong, durable, loaded with accessories and features, and about as competitive as it could be with Rogue's Monster Line considering the price-point Rep was shooting for. Not quite a Monster Rack yet, it was still a heck of a lot of power rack for the money, and it sold very well because of this fact.
The new PR-5000 V2 is everything that the original wasn't.  Gone is every feature of the old PR-5000 that seemed like it didn't belong, and added was a number of features that felt like they should have been there already (see list above).  Add to these changes the addition of multiple new accessories; many of which Rogue doesn't even offer; and you've got a power rack that is absolutely competition with the Monster line.
So should you buy a PR-5000 over a Monster Rack? Well hopefully you'll be able to answer that question with a high level of confidence by the time you finish reading this review.
---
Base Power Rack Review
This is my third 5000-line Rep Fitness rack to review so I think I've got a pretty good handle on Rep's power racks at this point. Let me just start by saying that although there is nothing inherently wrong with or bad about Rep's other 5000 racks, the V2 PR-5000 knocks it out of the park by comparison.  The V2 is by far the nicest, cleanest, most refined Rep power rack to date.
View this post on Instagram
The V2 has beautiful uprights and crossmembers. There are no surface imperfections, all of the holes and numbers are clean and free of flashing, and all components line up perfectly. The holes are consistently sized and spaced, the assembly hardware is massive and all the necessary washers are included (two flat washers & one split-ring locking washer per bolt), and all four feet of the uprights sit completely flush with the floor – there is no wobbling.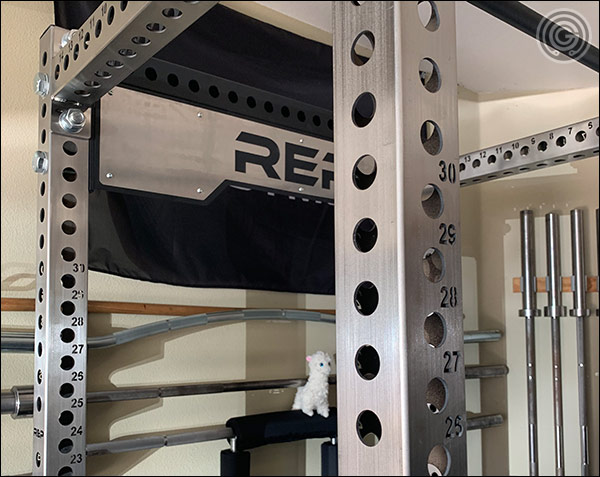 My rack is stainless steel, which I'll touch on in the next section, but I still have my share of black powder-coated accessories, and the quality of that finish is flawless – both the front & rear stabilizers, the pull-up bar, the rear crossmember, and my flip-down safeties all appear to be without any finish imperfections. The UHMW on my safeties and J-cups is of very high quality, as is the UHMW inside these attachments.  I was even provided extra UHMW slabs for the safeties, should they wear down over time.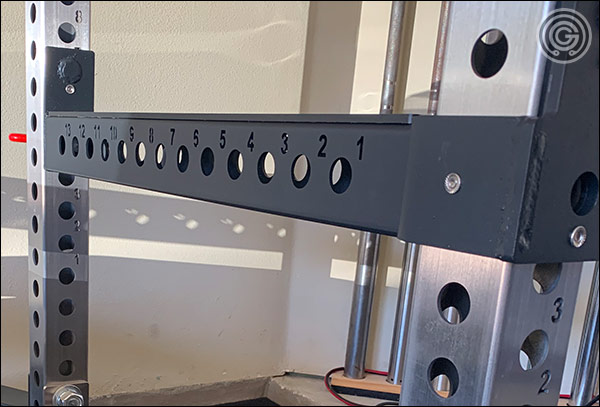 Dimension options for the PR-5000 is fantastic. We have a choice of three rack heights and two depths, giving us six total configurations for our base rack. Whether you're in a massive warehouse with high ceilings, a normal-sized garage or a close-quarters basement you can fit a PR-5000.
Versatility only improves as you start to look at your accessory and attachment options, but I will get into that a couple sections down.
Finally, and perhaps most importantly, is the price. Rep has always been far less costly than Rogue and Sorinex on like-equipment. Granted, Rogue and Sorinex have a larger selection of attachments,  and they tend to be favored for fit and finish, but Rep has been catching up in both of these departments.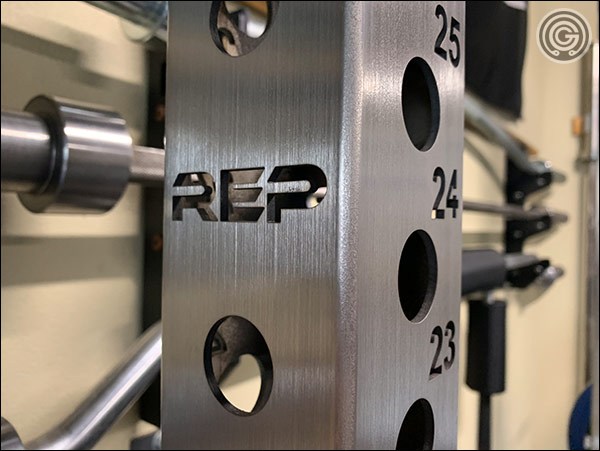 The PR-5000 V2 is so clean that it very well could be confused with a Rogue rack if it didn't have "REP" laser-etched into the uprights, and Rep is on track to have a massive collection of accessories and attachments; many of which aren't offered by Rogue or Sorinex; and all this is still being offered for far, far less money than Rogue and [especially] Sorinex.
---
The PR-5000 V2 in Stainless Steel
If I was going to review the new PR-5000 after recently reviewing a blue Rep HR-5000 Half Rack, a satin black Monster Half Rack, and the matte black PR-5000 V1, I simply had to up my game this time and go stainless.  We've all seen black and colored racks before, but the stainless steel racks are still a relatively new thing. Someone has to review one, right? Why shouldn't it be me!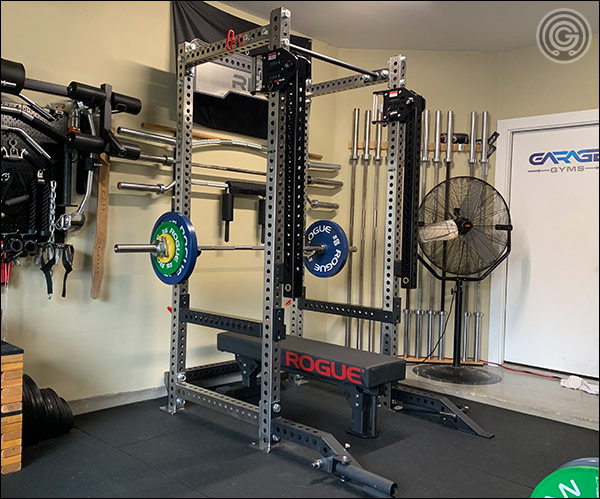 So before I talk about how badass it is to have a stainless steel power rack, let me start by saying the following: I know that paying the premium for stainless steel crossmembers and uprights is about as unnecessary as it gets. Please do not confuse my enthusiasm with my purchase as some kind of suggestion that this kind of upgrade is anything but aesthetic. In no way am I suggesting that this upgrade is essential. Now, having said that…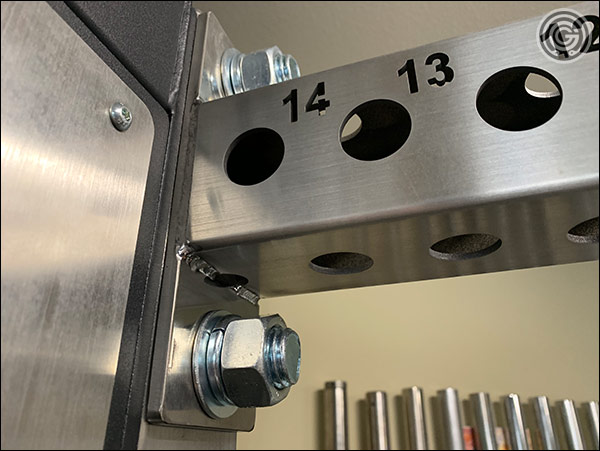 Holy shit!! Is this not the cleanest looking finish you've ever seen on a power rack?  I mean, forget glossy black finishes, forget the bright colors, and forget Cerakote!  Stainless steel is absolutely the way to go if you can afford it. It won't rust,  it cannot be chipped or scratched at like paint and powdercoat, and it looks infinitely better than any other finish that I've ever seen. It even looks good with the flat black accessories; especially Rep's own accessories since they've gone heavy on stainless steel accenting (J-cups, name-plate, etc.)
Again though, totally not a necessary upgrade at all.  Painted and powder-coated racks are still protected from oxidation, and major scratches and chipping is really quite rare unless a careless person you happen to be. I don't "recommend" you pay all that money for stainless steel, but at the same time I highly recommend you pay all that money for stainless steel; if you know what I mean!
Other Finishes
After all that praise for stainless steel, I want to assure the vast majority of you who are not going to spend your mortgage payment on a stainless steel rack that Rep's other paint and powdercoat finishes are top-notch.  I've had both in the form of two Rep racks and multiple new benches and I have nothing but nice things to say about both the quality & consistency of their finishes and the vibrancy and brightness of the colors. Don't be afraid to go with red or green (or even black) just because I've talked-up the stainless.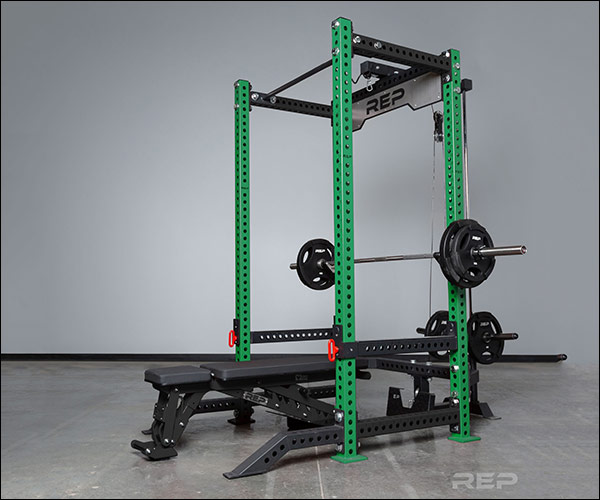 I mean really, is that green not almost as unique and badass as stainless steel? Well guess what, it costs a hell of a lot less than going stainless.  There is even an orange PR-5000 V2 coming soon.
---
Rep PR-5000 V2 Power Rack – Accessories
Now I'll go into some detail about the accessories and attachments for the PR-5000.  First I will discuss the essential attachments, then the optional accessories, and finally the handful of upcoming attachments that Rep has in production.
Essential Accessories
"Essential" accessories include your J-cups, safety system and pull-up bar. These are three items that are already included in the base price of the rack. There are default selections for all three of these components, but upgrades exist as well.  Rep was even kind enough to let us see what each component actually costs us rather than just showing us the difference in cost. I think this makes it easier to decide whether and upgrade is worthwhile or not.

J-Cups
There are no less than five J-cup options to choose from as you build out your PR-5000 V2. The default is your standard J-cup, at $49. This J-cup is fine – fully-functional and lined with UHMW anywhere the cup meets your upright or your barbell.  You don't need to upgrade to a different J-cup, but that won't stop a lot of you (it sure didn't stop me.)
The next two options are sandwich-style J-cups. Both of these have all the same UHMW as the standard cup to protect your uprights and your bar, and they both have a fancy stainless steel accent with the Rep logo. The $99 variant has a longer, flat cup that's very reminiscent of Rogue's sandwich-style cups, and the other is Rep's dual-lock, rounded J-cups, similar to what was provided with the HR-5000 Half Rack ($119).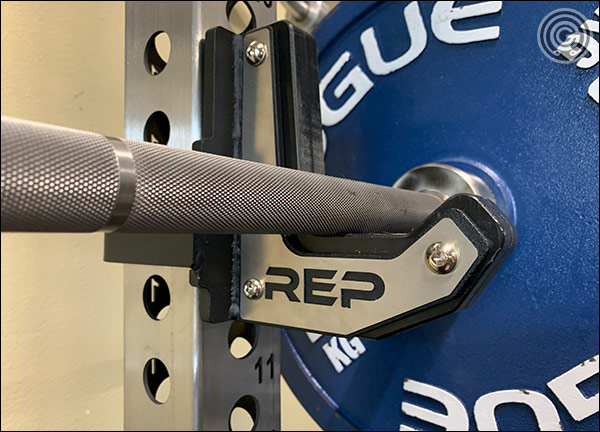 Finally we have Rep's innovative 1″ spacing J-cup package. This package includes either a standard pair of J-cups or the flat, sandwich-style J-cups along with a second pair of J-cups that have the bar sitting 1″ lower in the cup than they would otherwise, giving you the ability to set the J-cups in 1″ increments rather than 2″.
I think the 1″ spacing packages ($118 or $168) are a neat idea, and if you are adding safety spotter arms to your rack for working outside the rack it's probably not a bad idea to have a second pair of J-cups. Those J-cups may as well be the 1″ spacing package so you at least have that option. That said, where I think this idea would really shine would be on the safety systems, as that is where having 1″ spacing really matters. That's what I think anyway.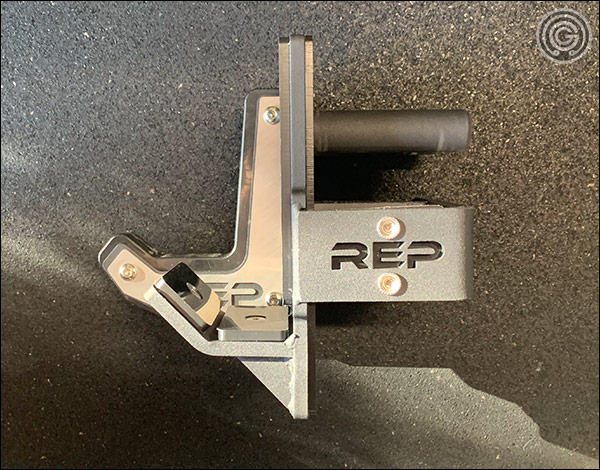 I went with the flat, sandwich style J-cups because that's just the style I've grown to prefer. I wasn't the biggest fan of the rounded J-cups, as I like to be able to adjust the position of the bar over me in the bench, and that can't be done with rounded J-cups. At the end of the day though, I think any of these J-cups are perfectly fine options.
Safety Systems
There are three safety system options when building out your PR-5000 V2, the first of them being the usual pin and pipe safeties. These are the cheapest by far at $59-$69, depending on the depth of your rack, but they are also the most annoying to work with. I've never liked these and I have always upgraded to something else, but if you're on a budget don't feel as though you have to. Pin and pipe safeties get the job done.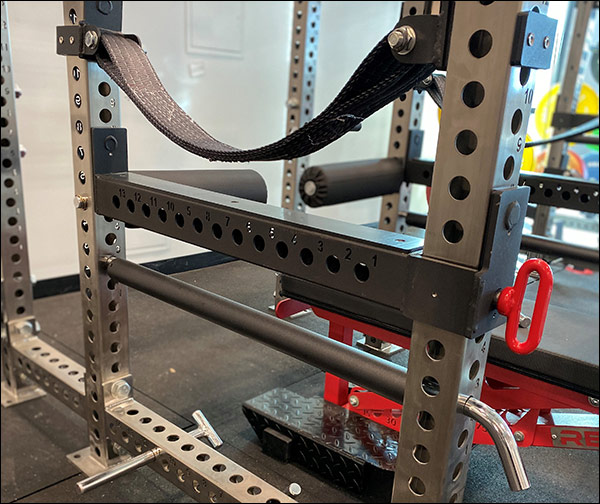 Your next option is safety straps. Starting at $109 per pair for 30″ deep racks, these are the most versatile in terms of how they can be positioned and the best at protecting the finish of your bar. Safety straps are a fine choice, but I personally prefer the next option the most.
Flip-down safeties are my favorite by far, but they're generally the most expensive as well. I went with flip-down safeties on my PR-5000 V1 and I loved them. The V2 version is actually even better than before, as they fit in-between the uprights with no gap whatsoever. I prefer these because they are easier to adjust than pin and pipes, they have UHMW up and down the entire length of the safety, and accessories can be mounted to them. Like I said though, they are expensive, ranging from $149-$189 depending on rack depth.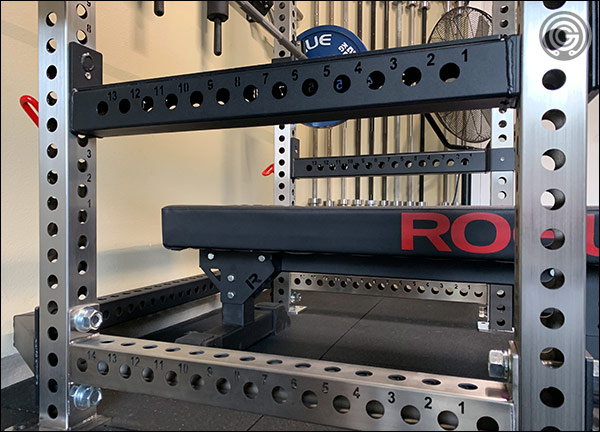 Rep also offers safety spotter arms, but those are optional equipment and I'll discuss them in the Optional Accessories section below.
Pull-Up / Chin-Up Bars
There are four pull-up / chin-up bar options to choose from, two of which are your standard, straight bars; one skinny (1.25″) and the other fat (2″). These two options are both powder-coated black, and both are $49.
The next option is the multi-grip pull-up bar, a much more versatile attachment that offers a multitude of different hand positions including wide and narrow neutral chinning grips, a 45º angled chin grip, a wide angled pull-up grip, and both a skinny and fat standard bar. The V2 multi-grip bar is $109, and a solid place to spend a few bucks on an upgrade.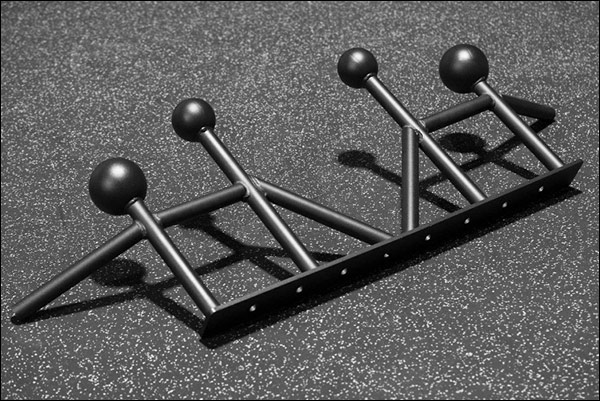 Finally there is the Globe Pull-Up Bar, the most versatile pull-up bar option by far. At $169 it has wide and narrow pull-up grips, neutral, pronated, and supinated chin-up grips, and then there are the globes (3″ and 4″ diameter) for grip-intensive pulls and chins.
In summary, if you are on a budget, I suggest sticking with standard J-cups, standard pin & pipe safeties, and a basic pull-up bar. Use those available funds on an optional attachment that will actually give you access to more variety or movements, like band pegs, dip station, or land mines. I'd rather you have a lat tower than fancy safeties and J-cups, as your J-cup and safety system upgrade isn't going to do anything for your gains.
Optional Accessories
The optional accessories are just that, optional.  Add them when you buy your PR-5000, or add them down the road as you need them.  Many of these are going to be hard to pass up as you build out your rack though, especially when you take into consideration that you will already be paying for freight shipping your core PR-5000 rack. Adding these accessories to that order is not going to raise your shipping bill, but buying them separate later surely will.
Safety Spotter Arms
If you are planning to train in front of your PR-5000, consider adding a pair of safety spotter arms.  Rep's spotters are 24″ long, they are lined end-to-end with UHMW,  and they feature the same 1″-diameter, numbered holes as the rest of the PR-5000. They even attach to the rack using the same dual-lock system as Rep's rounded, sandwich-style J-cups.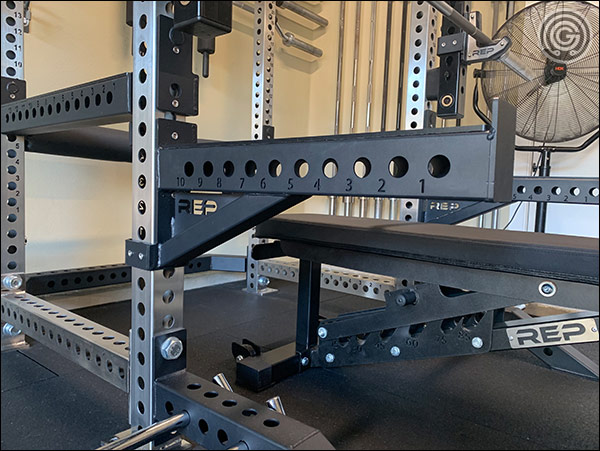 Plan to anchor your PR-5000 down if you are going to use spotter arms outside your power rack.  Alternatively, if you don't want to anchor your whole unit down, you may add a pair of extension feet to your build for $99 (see below).
Extended Front Feet
As I am also the owner of a Collegiate Monster Half Rack (see review), I was already quite aware of how great it is to have raised front feet on a power rack, so I didn't hesitate to add a pair of Rep's Extension Feet to my PR-5000.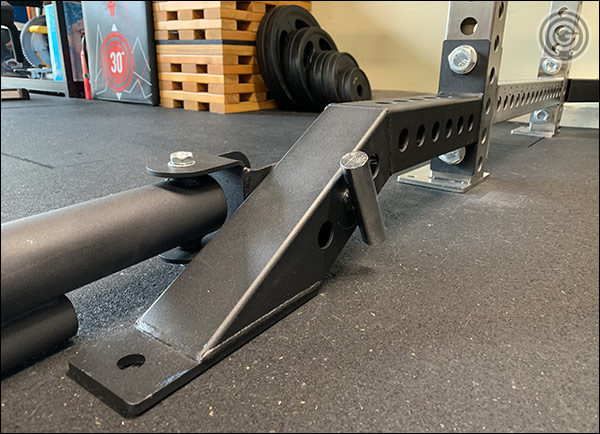 Extension feet add a ton of stability to a power rack by increasing the footprint of the entire unit; by lengthening its stance. This is exceptionally helpful for those who cannot or just do not want to anchor their PR-5000 down. It's an absolute necessity for those wanting to use spotter arms without bolting the rack down, as the extension feet will prevent the rack from tipping forward when a loaded bar is set down on the ends of the spotter arms.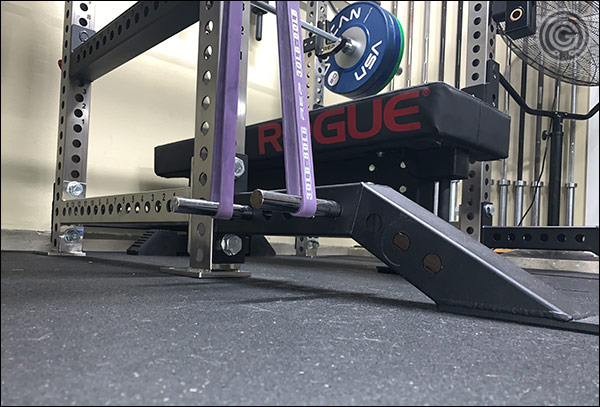 Safety in the absence of anchoring is not the only reason to consider adding extension feet to your PR-5000. These feet also give you somewhere to attach band pegs and landmines, both of which I use regularly. I really do think these feet are worthy of serious consideration.
Utility Horns
Utility Horns are basically like weight horns that can be moved around the rack. Use these to store resistance bands and chains,  stick them into the holes of your safeties to create a dip station,  or use one as a step-up assist if you can't reach the pull-up bar on a 100″ high PR-5000. You can also attach them to the rear crossmember and do neutral-grip pull-ups if you only have a straight pull-up bar installed.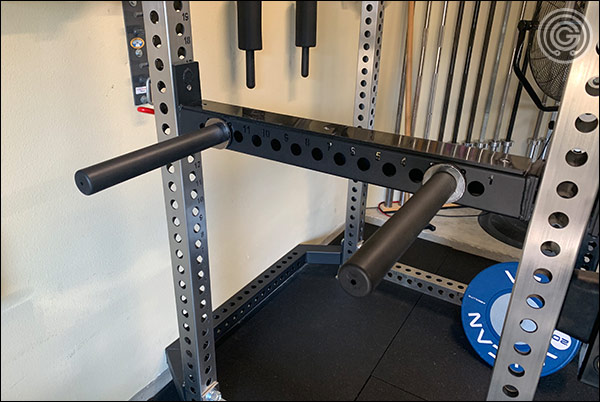 Rear Base Stabilizer (RBS)
The Rear Stabilizer is an optional component that will increase the stability of your PR-5000 if you are not anchoring it down. Seriously consider this component if you already know you will not be bolting your rack to the floor or a platform.
The rear stabilizer is required for the lat attachment but you do not need to buy it separately if you are adding the lat attachment to your order, as the lat attachment already ships with a stabilizer. Again, do not add this attachment to your cart if you have already added the lat & row attachment w/ RBS (see below).
Lat / Low Row Attachment with RBS
I did not buy the Lat / Low Row Attachment this time around because I am running short on space. However, I will buy this attachment when the Belt Squat Attachment drops, and then I will review them both together in a separate article.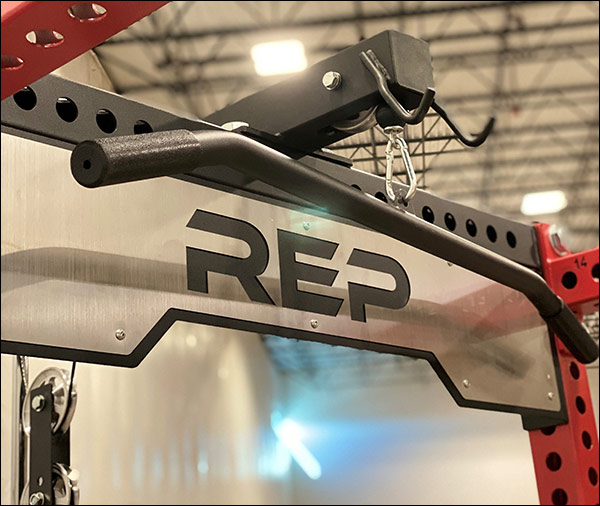 That having been said, I still did some research into this attachment.  I wanted to be able to give you enough information so that you can make an informed decision about whether you want to add it to your PR-5000 or not. I also reviewed this attachment before, alongside the PR-5000 V1. You may want to check that out as it's basically the same attachment, save for the fact that the V2 has a foot plate for your low rows.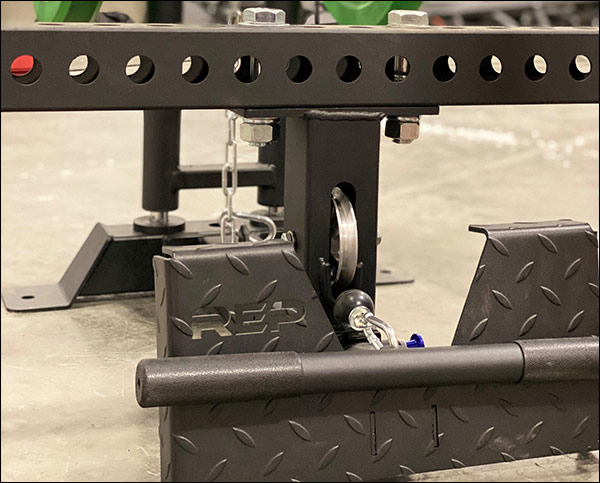 The Lat/Low Row Accessory is a dual-station tower that attaches to the rear base stabilizer and the upper nameplate crossmember of the PR-5000 V2.  It adds 3″ to the total height of your PR-5000, making it 96″ high instead of 93″, and it adds 27″ of depth before any plates are loaded. You should make sure that you'll have about 3-ft of floor space available behind your rack before you commit to this attachment.
The versatility of this attachment is incredible, especially when coupled with a pair of the leg rollers and the upcoming belt squat attachment.  Pull-downs, low rows, weighted ab crunch, tricep pressdowns, curls, weighted pull-ups, belt squat, and on and on it goes. Yes it adds a bit of expense and it definitely increases the racks footprint, but outside of a rack itself you'll not get more bang for your buck than with a quality, rack-mounted lat tower.
Leg Roller(s)
The optional leg rollers were an auto-buy for me, as I've had my eyes on Rogue's version of this for a while. The only thing that held me back was the $100+ price tag before shipping. I might have found a way to wiggle one into a 5 for $5 Black Friday deal, but when I saw that Rep was offering them as an optional accessory for $69 ($138 for a pair), and I knew that it wouldn't cost anything to ship alongside my rack order, well it was a no-brainer.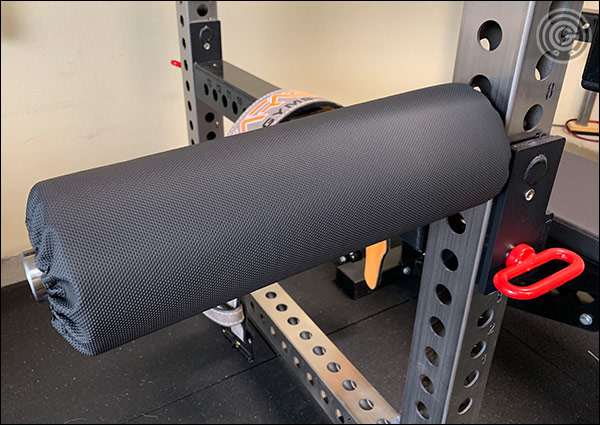 The leg roller attachment is just a nice attachment to own, I believe. It's useful for stretching and a number of of leg exercises; like Bulgarian squats. More than that, owning a pair of leg rollers is what will allow you to lock your knees when performing pull-downs with Rep's PR-5000 lat/row attachment. It's a must for keeping you in your seat when pulling a substantial percentage of your body weight.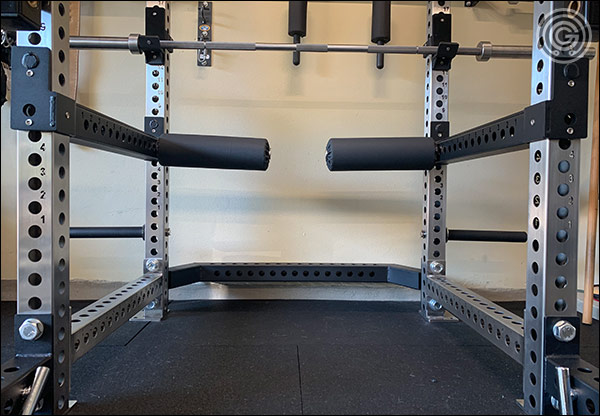 Seriously, if you're adding the lat attachment to your PR-5000, consider adding a pair of leg rollers. They're even covered in grippy vinyl!
Other Optional Accessories
There are nearly a dozen optional accessories, but many of them are pretty straight-forward and don't require a whole lot of explanation. They'll either seem useful and worth the added expense to you, or they won't.
You'll find a couple different barbell holders; a rack-mounted, single bar stand, and a double bar hanger ($29 and $45). There is the infamous dip attachment for $109,  which I think is a worthwhile investment if you don't own one already. There is also a set of band pegs, which oddly enough are not included in the price of the rack, but are a must-own accessory ($39).
There's also a side-mount version of the Rep Globe Pull-Up Attachment for those who don't want that large attachment on the front side of their rack for some reason. It sells for $169.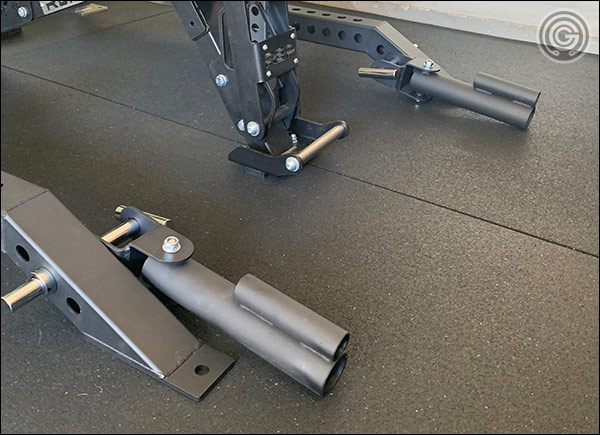 Finally, Rep is selling landmine attachments for $49 each, which I think is a steal. I bought a pair of these to attach to the extension legs and I have no regrets about that purchase. I've dealt with my post landmine for years because it was going to cost  $250 before shipping to upgrade my posts to Rogue's Monster Landmines.  I mean, Rogue's new 2.0 landmines are badass for sure, but that is just too expensive for landmines. You can buy a pair of Rep's for less than one of Rogues. That's nuts.
Future Accessories
There are four currently unreleased attachments for the PR-5000 that should be available in early 2020. They are:
Adjustable Monolift for $349
Adjustable Iso-Lever Arms for $399
Belt Squat Attachment for $279
Lat/Row Tower for the 80″ PR-5000 for $349
The Belt Squat may be the most anticipated by far. It requires that you own the $450 lat and row attachment to use, but it'll still be the most affordable and compact belt squat option out there, and that's no small thing.
In any case, there isn't much concrete to say about any of these being that they aren't even released yet but you can expect that I'll review them promptly when they are released. Stay tuned for that in the beginning of 2020.
---
Accessory & Component Cross-Compatibility
The PR-5000 V2 is partially compatible with Rogue Monster attachments and components. The uprights are the same 3″x3″ square tubing and the holes on both racks are 1″ diameter with 2″ spacing. Just about all single-pin accessories (J-cups, landmine, storage horns, and band pegs, etc) will be cross-compatible between Rep's PR-5000 and Rogue Monsters.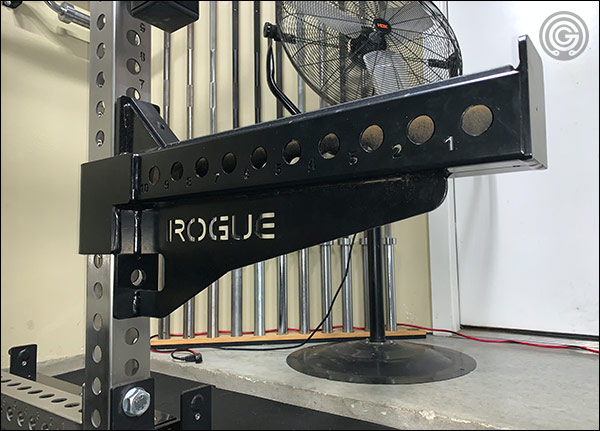 An issue arises when an accessory or attachment attaches to the uprights via multiple pins, and this is because there is just the tiniest difference in hole spacing from one manufacturer to the other. They're both claiming 2″ hole spacing, and they both basically are 2″ apart, but they're different by like a single mm (about a 2% difference),  so over even a relatively short distance there becomes too much of deviation in hole distance for accessories that use two holes to attach properly.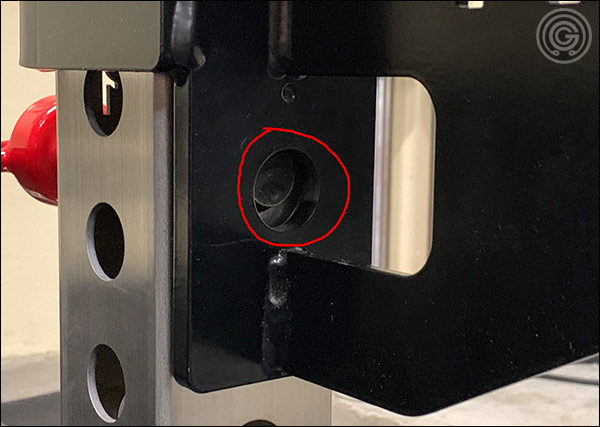 For instance, Rogue's Spotter Arms can indeed attach to the PR-5000, but the hole on the bottom of the spotter that would accept the hitch pin will not align properly with the hole on the PR-5000 upright. It'll be close; real close; but it won't fit. Likewise, you can attach Reps Dip Attachment to a Rogue Monster Rack, but again, the holes for the hitch pin will not line up with the hole of the Rogue upright. That said, I was able to successfully attach a Rogue LT-1 Trolley to a Rep PR-5000 and HR-5000 since the hitch pin holes of this accessory are pretty close together.
View this post on Instagram
Again,  single-pin attachments should pose no problems when going from the PR-5000 to a Rogue Monster, and vice versa, so long as you're not trying to install one of the few keyhole attachments from Rogue on a Rep rack – these won't work.  Outside of these simple single-pin accessories, it's probably a good idea to stick to accessories that are meant for the rack you own whenever possible, and understand that cross-compatibility is never guaranteed.
One other thing to consider is horizontal crossmembers. Rep manufactures 47″ wide power racks and Rogue manufactures 49″ power racks. Because of this and the above-mentioned issues with hole spacing, crossmembers will not be compatible. That said, it is possible that Sorinex components; depending on how they do their hole 2″ spacing; may indeed be cross compatible with Rep's PR-5000. If you own a PR-5000 and have tried Sorinex parts on your rack, please leave a comment and let us know how successful that was.
---
Rogue Monster Racks vs the Rep PR-5000
Rogue makes outstanding power racks; there's no doubt about that, and among the Rogue racks there are none better than those in the Monster line-up. With no less than 10 different Monster Racks to choose from in different heights, depths, and configurations; and a dozen different finish options including not only stainless steel, but also Cerakote, it's impossible to deny that Rogue has been dominating in the 3″x3″ power rack market, and for good reason.
It doesn't end there either. Rogue has the most accessories by a long shot, and they are all very refined, super clean, and well thought out. I have literally nothing negative to say about Rogue's Monster Racks or their accessories. As a matter of fact I own a Monster rack, and I could not be more happy with it.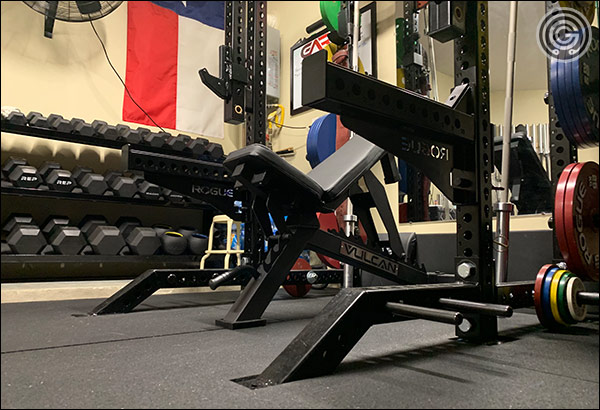 That said, Rogue Monster Racks are incredibly expensive. A bare-bone RM-3; the smallest of all the Monster Power Racks; starts at $1145 if you remove the rear nameplate ($1205 if you leave the nameplate intact.)  I mean, we're talking about a black, 90″ tall, 30″ deep rack with zero upgrades and zero optional accessories. That's a lot of money for a basic rack.
Over at Rep Fitness you can build out a 93″ tall, 30″ deep Rep PR-5000 starting at around $700, with a black PR-5000 with the same set-up as the RM-3 above starting at only $900. We're talking the same specifications and basic accessories for $250 less cash before any accessories or upgrades are added. Start to build out a PR-5000 V2 that looks like a RM-6 with plate storage and accessory upgrades and the discrepancy in pricing gets even larger still. Even if you are going all out on a PR-5000 with colors or full stainless steel and you're adding more upgrades and attachments than not, you are still going to save a small fortune compared to what a comparable build would cost over at Rogue.
So ok, Rep is offering the "same racks" for less money, but are they really the same racks?
Yes and no. Yes, the PR-5000 V2 is functionally the same as a Rogue Monster.  Both racks are built with the same 11-gauge, 3″x3″ steel tubing, both have the same giant 1″ hardware, and both have beautiful finishes and multiple J-cup, safety, and pull-up options. You are not going to get a better workout or a superior experience on the Rogue versus the Rep; one is not going to last longer than the other and one is no safer than the other. Even aesthetically there is very little difference at this point (which you can clearly see in the pictures of my PR 5000.)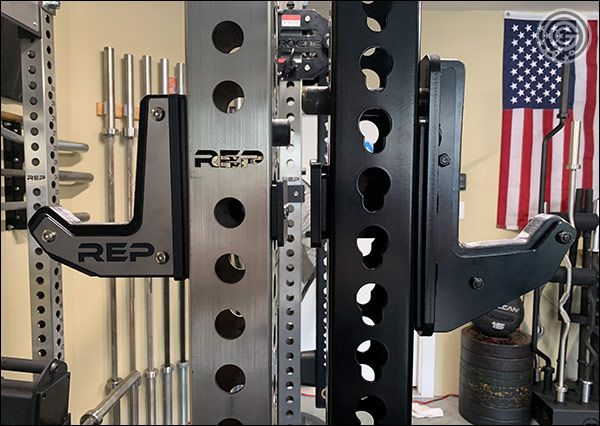 Where Rogue is still ahead is in finish selection, accessory selection, and the fact that it's a domestically-made product.  Want Cerakote? You have to buy Rogue. Want your rack to be gun metal or lime green? You have to buy Rogue. You only buy American-made? Again, it'll have to be Rogue. Would you rather save a crap load of money? or be able to attach the lat tower to your rack? or own a stainless steel rack without having to take out a loan? They it'll have to be Rep Fitness.
Here's a couple other things to consider as well. The PR-5000 V2 is a 47″ wide rack while a Monster Rack is 49″ wide. That 2″ difference makes all the difference in the world when the time comes to walk a loaded bar out of the rack. Rep also offers a shorter 80″ version of the PR-5000 for those in a low-ceiling garage or basement. Rogue's shortest Monster is 90″ tall (though Rogue does offer a 108″ Monster while Rep's tallest is 100″). Finally, Rep Fitness is the only one to offer a plate-loaded lat/row attachment, a required component for Rep's new belt squat attachment that will be released early 2020.
Final Verdict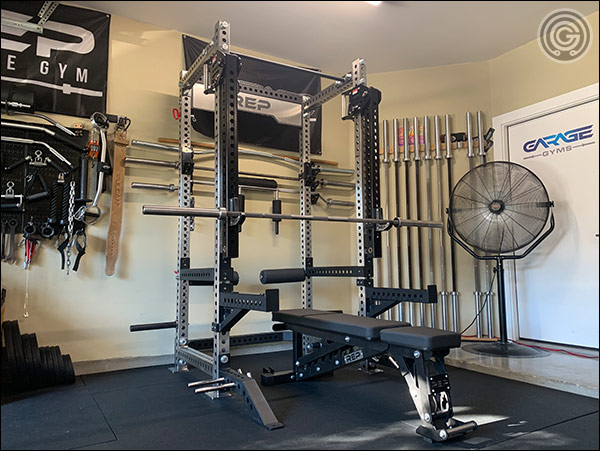 I think the PR-5000 V2 does two very amazing things.  First, it allows us garage gym folk to buy a heavy-duty, attachment-rich, 3″x3″ power rack for a lot less money than buying a very similar rack from Rogue or Sorinex, and we don't lose access to customization.
Second, it gives people who cannot even afford a Rogue or Sorinex rack from having to rely on a garbage rack dealer like Titan. By being more reasonably priced than the big boys Rep fills a void of sorts. They give people a chance to own a nice, safe, and beautiful power rack without having to dig so deep it hurts, or deeper than is even possible.
The PR-5000 V2 isn't just about the savings vs Rogue though. This isn't a compromise rack by any means. It's not as though you are giving something up for the savings. The PR-5000 is legit. It's the real deal. It's not made with lesser steel or lacking attachments or accessory options, or cheaply made, or ugly, or too this or too that. It's just less expensive.
I love my PR-5000, and I would love it even if it wasn't stainless steel. I plan to keep it, and I didn't choose to keep the PR-5000 V1 or the HR-5000 over my Monster Half Rack, so that's saying something.
I literally have no complains about the PR-5000, except that not all of the attachments were available at launch. I truly can't think of anything worth complaining about that doesn't have something to do with accessories either not being available or not being compatible. I have got nothing negative to say about the build quality, fit and finish,  aesthetics, and especially, the low base price.
The PR-5000 V2 is just one hell of a rack, and in the month it took me to write this review it already appears to be mostly sold out, so I guess I'm not alone in my opinion.
Rep PR-5000 V2 Power Rack
Pros
Incredibly competitive pricing.
Loads of customization options.
Huge assortment of affordable attachments.
Premium upgrades available for all core components.
Features a 47" rack depth (vs 49")
Colors can be mixed and matched for unique builds
Quality and Refinement is on par with US-manufacturers
Cons
Some major attachments are still un-released.
Rogue still has more attachments available for their Monster Racks.
PR-5000 is only partially compatible with Monster accessories.