Every holiday season I keep a list of all the important Black Friday and Cyber Monday sales, and this is that list. As information on those sales becomes available, I update this article. So check back!
So bookmark this page!
---
---

Not sure what Vulcan is doing for 2018 yet but for 2017 they did tiered discounts up to 15%, with free shipping on the full order unlocking at 13% off (see 2017 graphic below)

What I do know right now is that Vulcan will not have black bumper plates or Alpha plates included in Black Friday sales because they are already on sale.  The original Alphas and 2.0 Bumper Plates are being updated so all current plates are on clearance.  Functionally the updated plates are no different than the new so you may as well pick them up now.
I'll update for actual Black Friday sales as that info becomes available.
---
---

Rogue's Black Friday is consistently 5 for $5, Hot Deals, and Hundo Pricing. I don't expect this to be any different this year, but I will update as more information becomes available.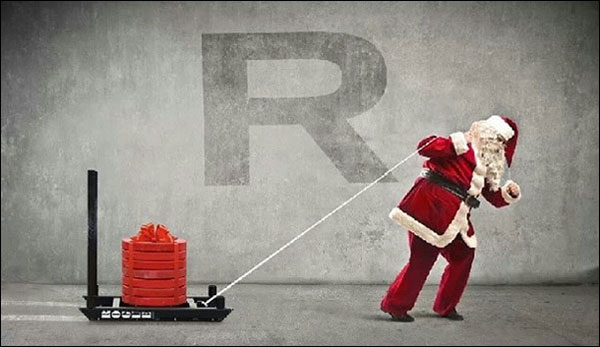 Current Hot Deals:
---
---

Sale not announced yet. Currently shipping is free on $10 orders and you can get a trucker cap with any shirt or tank purchase for only $10. Visit store.
All purchases support future Garage Gym equipment reviews on this very site.
---
---

No info on the 2018 Black Friday sale at American Barbell. See content below for what 2017 was all about.
(2017) Free Shipping on ALL Olympic, Power and Technique Bars
(2017) Free Shipping on ALL Bumper Plate Sets
(2017) Kettlebells 10% off
(2017) Flat Bench $125 ($50 off)
(2017) Low Push Sled $125 ($74 off)
(2017) Speed Sled $149 ($50 off)
(2017) Urethane Gun rack $88 ($40 off)
(2017) Select T-Grip Bars on Sale
(2017) Select Speciality Bars on Sale
(2017) All Rack & Rig Equipment on Sale
As far as current sales go, AB has a huge blemish bar sale going on. Check that out here.
---
---

No info yet [link]
---
---

No info yet [link]
---
---

No info yet [link]
---
---

No info yet [link]
---
---

No info yet [link]
---
---

No info yet [link]
---
---

Amazon has a Black Friday tracker here.
If you would like to support Garage Gyms and help fund future equipment reviews, use my Amazon link for any purchases you make this holiday season. I get a small kickback and it has literally no impact on your cost. Thank you very much!
---
---

No sales announced, but you can get 5% your first Force USA order at any time with the coupon code: GARAGEGYMS
---
---

No sales [link]
---
---

No info yet [link]
---
---

No info yet [link]
---
---

If you're looking for Adidas weightlifting or functional training shoes, I'd try Rogue as well. [link]
---
---

No info yet. [link]
---
---

30% off miscellaneous equipment including barbells, specialty bars, benches, and a few more odds and ends. See details here. Sales ends Monday the 26th.
---
---

No info yet [link]
---
---

No info yet [link]