To all you crazy wildcats out there, Fringe Sport has a bumper plate to match your ferocious side (or fierce side, if you prefer), the Fringe Sport Savage Bumper Plates.
Savage Bumper Plates are a new twist on Fringe's top-tier, basic bumper plate. Sporting all of the same bells and whistles as Fringe's Colored and Contrast Bumpers, Savage Bumper Plates are black bumpers with dense "tiger streaks of color" mixed in; which you must admit is pretty cool looking.
I'm going to cover all  the specs and features of the Savage Bumper Plates. I'm also going to talk about how they are similar to and different from the Vulcan Alphas. I'll even bring up the new Rogue Fleck Plates and discuss any similarities there.
By the end of this review you'll know what each of these three colorful plate designs is good for, and which one(s), if any, are suitable for you and your training needs.
---
Fringe Sport Savage Bumper Plates – Specifications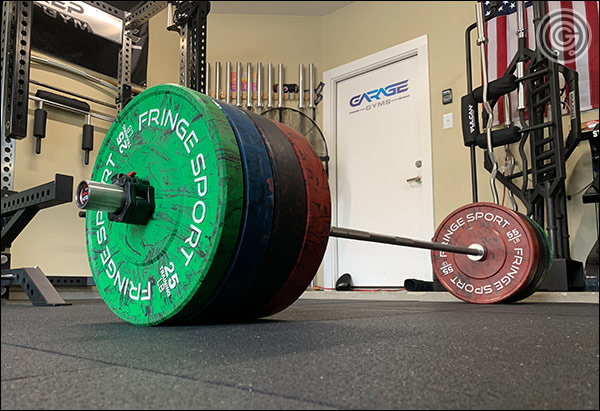 material: high-density virgin rubber
available in pounds: pairs of 10's, 15's, 25's, 35's, 45's, and 55's
15's – 55's are 450 mm in diameter (industry standard)
10's are 445 mm in diameter (5 mm smaller)
plate width & color:

10-lb plate: 1.1″ (grey)
15-lb plate: 1.2″ (orange)
25-lb plate: 1.9″ (green)
35-lb plate: 2.4″ (yellow)
45-lb plate: 2.9″ (blue)
55-lb plate: 3.2″ (red)

accuracy rating of +/- 1% of stated weight
shore rating (25's and up): 85 sHA
shore rating (10's and 15's): 90 sHA
2″ stainless steel insert (anchored)
warranty: 3-year on 25's – 55's; 1-year on 10's – 15's (returns are free)
Note: Something is up with the coloration of the 10's when exposed to excessive sunlight. I haven't noticed anything yet  (it's a warning on the product page), but I would be remiss not to mention that possibility. I assume this will be addressed in future production runs?
---
Fringe Sport Bumper Plate Features
Fringe Sport incorporates a number of clever innovations that have always made them rise above the rest, and these ingenious ideas not only improve the performance and the life of Fringe Sport's basic bumper plates, they also come at no cost to you. Here are some of the things Fringe has done to make the Savage Bumpers stand out.
View this post on Instagram
Anchored Stainless Steel Inserts
Basic bumper plates, as they age, tend to become susceptible to something referred to as insert separation, which is exactly what it sounds like; the steel insert becomes loose in the rubber compound and ultimately, if the plate continues to be used, pops out of the bumper.
A surprisingly small number of bumper plate manufacturers, like Fringe,  put a couple more cents into the cost of producing their bumpers to add what's called an anchored (or hooked) insert. Anchored inserts are like regular inserts, only they have a textured inner surface and textured metal rebar "hooks" that the rubber compound gets molded around. By casting the plate around these inserts rather than pressing a smooth, featureless insert into the already cast bumper, the chance of having to deal with insert separation goes down to nearly 0%.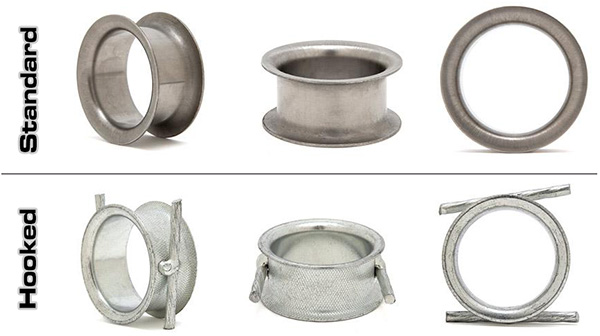 Insert separation is less of a thing in a home / garage gym because it's just really difficult for one or two users to put the kind of mileage on a bumper plate that would cause any serious wear or tear, but if you're buying for a commercial gym or affiliate, it's probably a really good idea to make sure that you buy a bumper model with the anchored insert; get all the life you can out of them. Of course, if you're fairly abusive with your 10 and 15-lb bumpers in even a home gym environment, you should definitely go with an anchored insert bumper plate.
---
Smaller Diameter 10's
For many years now, Fringe Sport has been shaving 5 mm off the total diameter of their 10-pound basic bumper plates. Rather than being the standard 450 mm, they are 445 mm.
The reason they do this is because the 10's have always been, and will always be, the most fragile plate in the set because of how narrow they are. These skinny 10's can only dropped from an overhead position so many times before they are at risk of deforming.
By making the 10's just a hair smaller in total diameter we can ensure that when the loaded bar is dropped that it's the other [thicker and more durable] plates that absorb all the impact and not those more fragile 10's.  It's really a great idea, and the 5 mm difference is so small that if you're training technique with only 10's on the bar, you won't even notice that there is a difference in diameter from a starting depth point of view. Who would notice a bar sitting a whole 2.5 mm higher off the ground? Not me!
---
Beveled Edges You Can Grab
All of Fringe Sport's basic bumper plates; including Savage Bumpers; have a beveled edge that makes it easier to get your fingers under a plate when trying to pick it up off the ground. This bevel also makes it easier to carry the plate around with one hand; even heavy plates.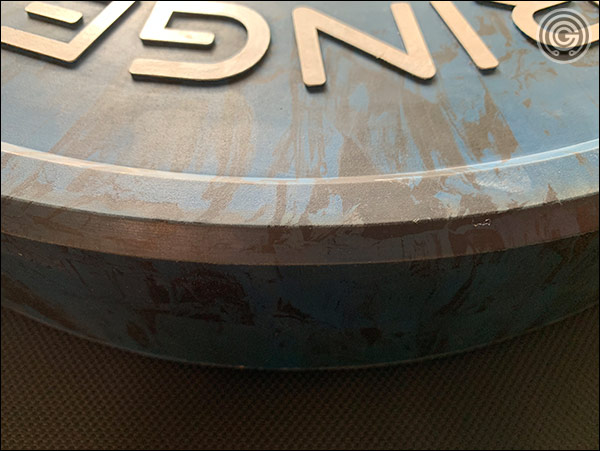 It's odd that this is considered a feature in this day and age, but there are still bumpers out there that have had no thought given to the shape of the plate, and how easy (or difficult) it is to pick them up or carry them with one hand. I have plates in my gym right now – current model bumpers that are very difficult to pick up or carry with one hand because this aspect of their design was just overlooked.
Now I wouldn't buy a bad plate just because it was easy to carry or pick up, but luckily there are great plates that are easy to both pick up and carry around.
---
Savage Bumper Plates vs Vulcan Alpha Bumper Plates
I think a lot of people will see a similarity in Fringe's Savage Bumper Plates and the Vulcan Alpha Bumper Plates, and indeed they share many similarities. Both plates have that multi-color theme going, they both have anchored inserts, both are easy to carry around with one hand, and they both sport a fairly thin profile for a basic bumper design. Additionally, they're both quiet to drop and they both deliver a dead blow when dropped. No excessive bounce.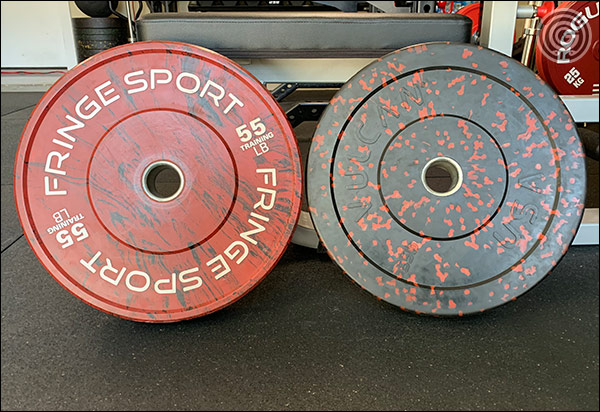 They are still different plates though in a couple of ways; one of which is fairly important and two of which may or may not be significant to you.
The biggest difference is the compound used in Alphas. It's a unique compound; exclusive to Vulcan, and it's what allows the Alphas to be used both indoors and out. The Alphas can be tossed around on abrasive surfaces like concrete and asphalt without risk of cracking or chipping, and they still produce a dead blow without almost no noise. While not a necessary feature for everyone, it's one hell of a feature to be able to take non-crumb rubber plates to the driveway, street, or even a gravel path and not have to worry about splitting the rubber.
Still, not everyone cares about dragging bumper plates outdoors, and that's where Savage Bumpers come in. Savage Bumpers share all the same uber features of the Alphas except the ability to toss them around on aggregate surfaces. They have the same dead blow and low noise output when dropped, the same anchored insert, same exotic color scheme (well kind of; the Savage Bumper is more color-dominant than black-dominant),  and same great warranty. Of course, there are a couple of differences as well; the two I eluded to above.
The first is the difference in the diameter of the 10-pound plates. Fringe Sport makes their 10-lb plates 5 mm smaller in diameter as a way to extend the life of those narrower plates. Vulcan does not do this to their 10-lb plates. (I think everybody should do this.)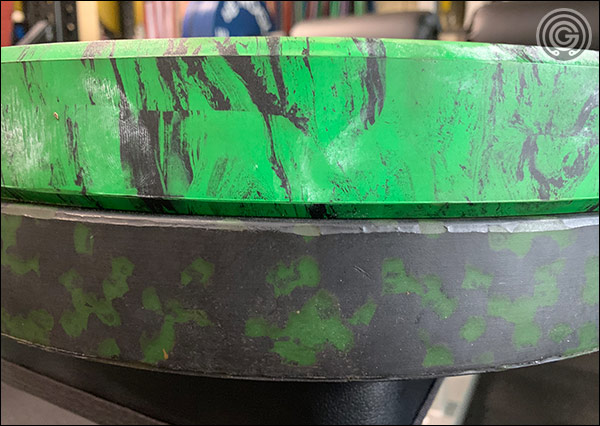 The other difference is in the shape of the plate itself. As I mentioned above, Fringe Sport puts that bevel on the edge of the plate that makes them easier to pick up off the floor, but Vulcan does this to a much smaller extent.  Both Savage Bumpers and Vulcan Alphas are easy to carry around with one hand but Savage Bumpers are much easier to pick up when lying flat on the ground. It's a little thing, I know, but it's worth mentioning.
At the end of the day, I love both of these plates. I think the Savage Bumper Plates are an infinitely cooler looking plate because of the tiger stripes, but the Alpha is technically more versatile. Price difference is negligible once shipping is factored in for the most part. Can't go wrong either way!
---
Savage Bumper Plates vs Rogue Fleck Plates
Rogue recently started offering the Rogue Fleck Plates, a plate very reminiscent of Vulcan's Alpha Bumper Plates, at least aesthetically. Just as with the Savage Bumper Plates though, Rogue Fleck Plates are not the same as the Alphas (nor are they the same as the Savage).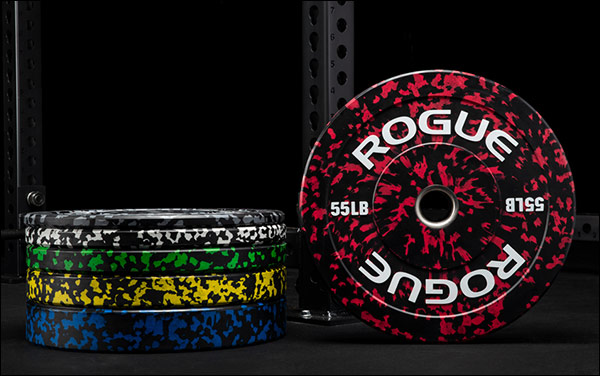 Rogue's new Fleck Plates are basic bumper plates with the popular flaked coloring scheme. They are not meant for use on abrasive, outdoor surfaces, they are not made with a unique compound like the Vulcan's, and they do not feature a hooked insert. These Fleck Plate are great looking plates but they are functionally no different than an Echo or HG Bumper Plate.
If you don't plan to toss your bumpers around outdoors (as I'm guessing most of you don't), I recommend leaning towards the Savage Plates over the Fleck Plates. Not only do Savage Plates feature the hooked, stainless steel inserts, they have the smaller diameter, thicker 10 pound plates that will handle much more abuse, and a longer warranty. That said, Rogue is selling Fleck Plates for less than Fringe Sport and Vulcan (example: 260-lb set from Rogue is $480, Vulcan Alpha 260-lb set is $499, and Fringe Savage 260-lb set is $539 – all before shipping is added.)
There's nothing wrong with Rogue's Fleck Plates, they're just more basic than the other two being discussed in this review.
---
Savage Bumper Plate Review – Summary
Let's be honest, Savage Bumper Plates are just a new, cooler take on Fringe's already bad ass basic bumper plates. They aren't any better than the basic black bumpers, the contrast bumpers, or the colored bumpers in terms of function or durability. They just look cooler.

This isn't a bad thing though! The fact is that Fringe already makes the best basic bumpers on the market. They're not the only ones with the anchored insert, but I don't know of other companies making 445 mm 10-lb plates with a harder compound, and not all companies to offer the anchored inserts match Fringe's warranty or free return policy.
Now in the interest of full disclosure, the Vulcan Alphas are a serious contender regardless of whether you care about outdoor use or not, especially if the extra durability of the Fringe 10's is meaningless to your style of training. All versatility aside, it's also possible to acquire Alphas for less money after shipping, especially if Vulcan is having a sale; which is not that uncommon. Tiger streaks though, right? That has to be worth a couple bucks, wouldn't you say?
Like I said in the comparison above though, I like both the Savage Bumpers and the Alphas almost equally. I wouldn't fault you on either purchase.
---
Fringe Sport Savage Bumper Plates
Pros
Loaded with every possible basic bumper plate innovation.
High level of weight accuracy.
Extremely durable design; extra resilient 10's and 15's.
Impressive and competitive warranty.
Beautiful and vibrant tiger-streaked colors.
Easy to pick up and carry around the gym.
No hassle, free returns policy.
Cons
Potential color fading issues with the grey 10's.
Pricing could be more competitive with Vulcan Alphas.