As some of you know, every once in a while I like to make a post just highlighting some of the exercise equipment, training gear, and miscellaneous accessories that are new to the market. Some of these highlights are just for fun, but many of the products I show you are serious pieces of gear that can potentially improve or enhance your training and/or garage gym experience.
There is lots of new gear this summer and lots of equipment being updated and improved, so expect to see a part 2 to this post. Better start writing out those Christmas lists!
---
Near Gear – The Rogue Echo Timer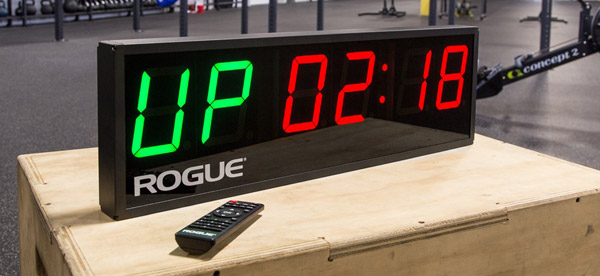 I was wondering when Rogue would finally offer one of these. There have been far too few choices for gym timers and I'm glad to see some more competition that will help get prices down a little. I think that almost all of us would own a gym timer if they were more friendly to the wallet.
The Rogue Echo Timer 25½" x 7¾" and has bright 4″ high LED numbers that can be seen from anywhere in the gym. It can store up to 10 custom programs at any given time and it also includes many presets like Tabata and Fight Gone Bad. It comes with a remote control for programming and pausing workouts, and the stopwatch can be set to hundredths of a second. It's not too different from the other timers out there, but the LED numbers look very bright and it's a good looking unit overall. $269
---
The Rogue Bar 2.0 – Updated for 2014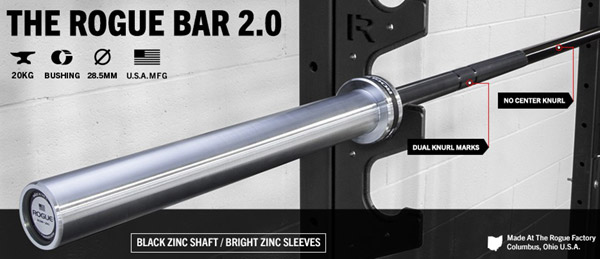 The odds are that you've heard of The Rogue Bar; the bar used the last four years of the Reebok CrossFit Games. What you may not have heard is that this bar has not only been improved drastically, but the price has even come down to make it more affordable than it already was.
The Rogue Bar 2.0 is still a 20 kg, 28.5 mm barbell with dual Olympic / powerlifting marks. What's different now is that this bar is made with much better steel. The 2.0 is a 190k PSI bar rather than the 155k it was previously. Additionally, composite bushings are used rather than the standard cast bronze bushings. For high-rep training, these bushings dramatically minimize friction to both provide a reliable spin and help extend the life of the bar itself.
Another new feature of the 2.0 are the machine grooved sleeves. I personally can take or leave this new feature but I'm sure there are many that will appreciate it. This groove allows you to swap out elastic bands of different colors that can be used for identifying bars quickly in a box setting, or simply customizing your bar just because you want to.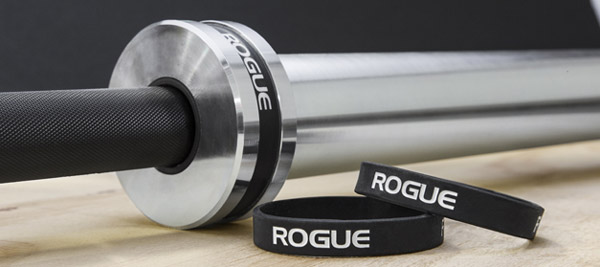 The Rogue Bar is one of Rogue's first products, and it's always been a very popular barbell. The fact that Rogue updated a product that didn't even really need it means they are serious about keeping this bar around as a competitive product. This is one of the few bars I will commonly recommend on this site due to its ease of access and overall quality. This is just a fantastic bar for the money.
---
New Gear – Adipower Weightlifting Shoes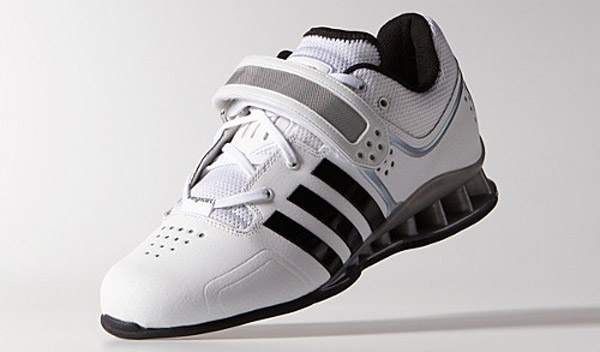 While the Adipowers themselves are not new, these classy looking bright white Adipowers are. Adidas are still my absolute favorite shoe brand, and that includes weightlifting shoes as well. I still prefer my Adidas weightlifting shoes over any others that I've tried.
The Adipowers are both a solid and a breathable shoe. The instep strap combined with the lightweight polymer heel comfortably lock the foot in place. These shoes are light, stable, comfortable and damn good looking. The heel is set to 24 mm and the toe is 4 mm. Other colors include red/white and black/scarlet. $200 direct from Adidas, or $199 from Rogue. Both offer free shipping.
---
Updated Gear – Rogue Flat Utility Bench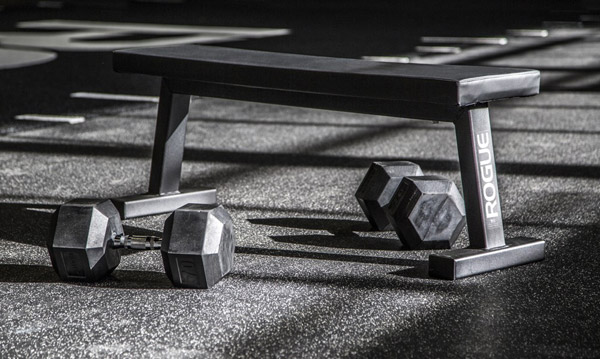 Sticking to their summer theme of innovation, Rogue's Flat Utility Bench went and got itself an update as well. What was already a rock-solid, well-rounded flat bench at a great price is now even tougher than before, and without a price increase.
The bench is now constructed with 2″x3″ 11 gauge steel rather than the 2″ square tubing of its predecessor. It's also now sold fully assembled, and the joints are pass-through joints rather than butt joints. Additionally the legs are slightly angled to increase overall stability. This bench can withstand any amount of weight that you can.
Sold in black only; 47″L x 12″W x 18″H, still made in the USA and still just $175.
---
Weightlifting and CrossFit shoes galore!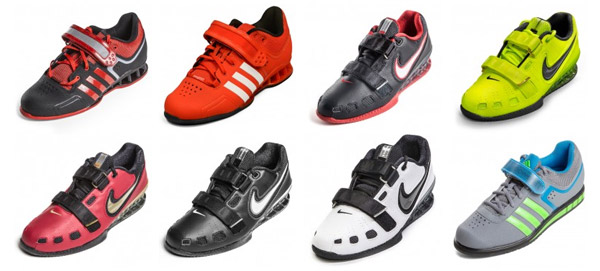 So I already told you about the Adipowers, but that doesn't even scratch the surface when it comes to new CrossFit and weightlifting shoes that are available at Rogue. They have new Reebok CrossFit Nanos 4.0, CrossFit Lifters 2.0, CrossFit Lifter Plus 2.0, CrossFit Sprint Trainers, Inov-8 F-Lites, Inov-8 Fast Lifters, and the Adidas Powerlifts 2.0. and in case you didn't already know, Rogue is the biggest seller of weightlifting and CrossFit shoes.
The only time I would suggest going anywhere else for training shoes is if you wanted to customize your shoes, which both Adidas and Reebok offer for an additional (large) fee. Unfortunately, the last time I checked Adidas still didn't offer customization on WL shoes. However, I recently used the Adidas customization tool for some custom Superstar kicks and they turned out completely unique and bad ass. So training shoes or not, everyone should at least play with the customization tool once.
---
More New Gear
I've already got some new gear ideas for a part 2, so keep an eye out for that. There are a lot of new bars on the market, and even though it's been out a few months, I think showing off the new Rich Froning bars is in order considering the man just won his fourth Reebok CrossFit Games. Congrats, Rich!
---