As promised, this is part two of my CrossFit and weightlifting New Gear for Summer post (see part one). Here is even more new gear that has been made available this summer. In celebration of the 2014 CrossFit Games, I'll include a couple tribute product releases; one to the Games (Official Games bumper plates) and one to Rich Froning; four time Fittest on Earth champion (new Froning bars).
Updated December 2017 – Froning Bars are out of production.
Limited Supply – Official CrossFit Games Competition Plates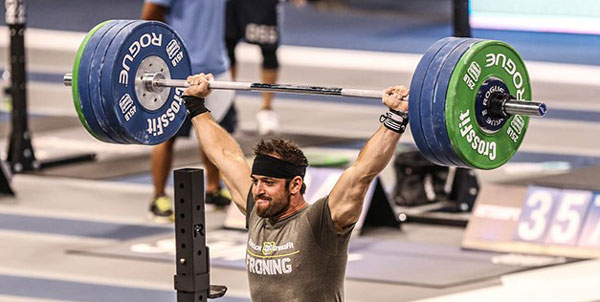 Here they are; Competition Plates from the 2014 Reebok CrossFit Games. We don't know how many there are or how long supplies will last, so if you want to get your hands on these official bumper plates, you better act fast. These are sold as single plates; no sets, no pairs. Prices are as follows:
25-pound green plate – Originally $82.50, now $67.50 ea.
35-pound yellow plate – Originally $105.00, now $94.50 ea.
45-pound blue plate – Originally $122.50, now $115.00 ea.
55-pound red plate – Originally $147.50, now $145.00 ea.
The discounts are not super deep or anything (especially on the 55's), but you cannot buy them with the CrossFit logo any other way. Rogue also offers the official CrossFit Training bumper plates for sale as well here. Prices on those are comparable.
Update: these are long gone, but always check Closeouts for the current year's Games plates and other Games gear.
---
Rogue T-Bar Row w/ Knurled Grips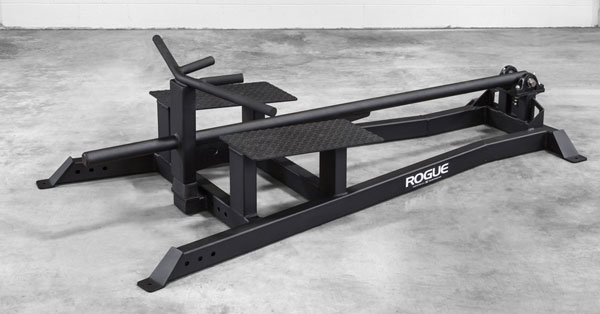 Leave it to Rogue Fitness to take a basic piece of commercial gym equipment and make it completely bad ass. Enter Rogue's brand new T-Bar Row, the manliest back-building tool that you'll probably never fit in your garage gym. That's not to say you don't wish it would fit, because this is thing is 10 times better than the landmine and makeshift grips that most of us use.
Rogue thought of just about everything here. You get more than a foot of loadable length for any style of Olympic plates, both a wide-grip and a parallel narrow-grip; each of which are knurled, 5/8″ holes for band pegs (same pegs your R rack uses already), anchoring holes, giant 10″x20″ diamond-plate footplates, and of course Rogue's signature black powder coat that guarantees to always look tough.

This T-Bar Row weighs around 200 pounds; has a total footprint of 76″x40″; is made in the USA with 11-gauge 2″x3″ steel; and can be yours for about $700 before LTL shipping. Have room for this beast in your garage? Then toss that landmine in the scrap pile and get ready to hit every muscle in your back in style.
---
Adidas Boost 2.0 ESM Running Shoes

Enter the stylish and functional Adidas Boost 2.0 running shoes. There are 100+ different Boost styles to choose from, and that doesn't include the fact that you can customize these in any colors you want for $20 more than the standard $160 price tag. I wish I had a reason to own running shoes because I just really dig Adidas! Here's what Adidas says about these shoes…
Because you run year-round, Boost running shoes are made to go no matter what it's like outside. Made with innovative boost™ that is designed to return energy to the foot with every step and built with a seamless and flexible techfit upper for a natural feel. They have formotion for a smooth transition from heel strike to toe-off and feature the torsion system and molded overlays for support. (seems like this whole paragraph is missing punctuation!)
Whatever, they're bad ass looking Adidas. $160 for Boost 2's and $120 for the Originals. Direct from Adidas.
---
New Mobility Tools
I've started to pay a little more attention to mobility products. I can offer up no good reason as to why I've been neglecting their use in my own program. I mean, who doesn't want to relieve muscle tension and tightness, increase range of motion, and improve blood flow? Uh no one!
Star Roller by OPTP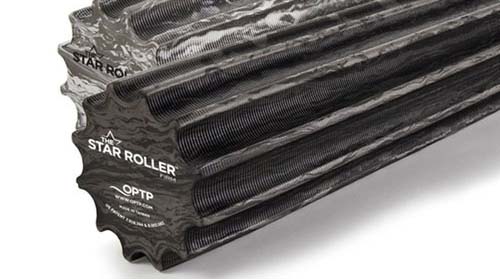 For those foam roller vets who are ready for a more brutal session, this may be a nice next step. Unlike conventional round foam rollers, the Star Roller's ridged surface compresses and releases the tissue, mobilizing connective tissues, rehydrating the fascia and increases range of motion. This roller is constructed of heat-molded, closed-cell foam for durability, it measures 3′ long by 6″, and sells for about $50 on Amazon. Brutal!
Pro-Tec Spikey Ball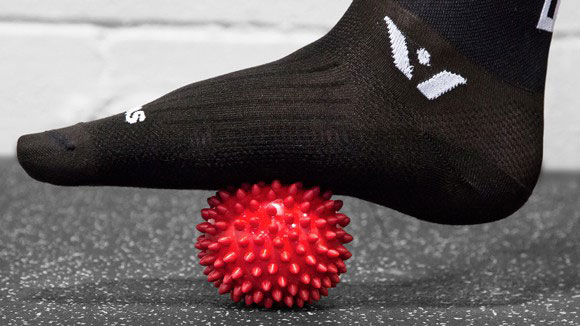 This little 3″ diameter spiky ball is meant for the arch of the foot. Use it for planar fasciitis or just random foot pain. I don't know, it looks enjoyable actually. $10 at Rogue.
---
Froning Love – New Apparel and New Froning Bars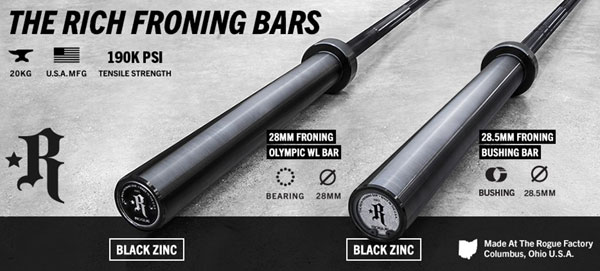 As you probably heard, Rich Froning is now the four-time champion of the Reebok CrossFit Games (the man is an unstoppable machine, and an inspiring machine to watch compete). You may also know that Froning is sponsored by Rogue. While he already has his own apparel, his impressive performance and Games track-record has won him his own Rogue barbells. They've been out a couple months now, but I figured because of Rich's fourth win last month, mentioning them would be a way of congratulating him.
Long story short, Rogue now offers a Froning CrossFit Bushing Bar and a Froning Olympic WL Bearing Bar. These are blacked out (black zinc coating on both the sleeves and shaft) adaptations of bars already in the Rogue line-up. The Froning Bushing Bar is basically a black zinc Ohio Bar, and the Froning Olympic Bearing Bar is more or less a black Rogue Olympic WL Bar.

Update: both of these bars have been discontinued. Sorry Froning fans.
You can also pick up some Froning swag to match your new bar if you're a super fan. But remember, you don't have to be a fan boy to support the guy. I personally don't get even remotely star-struck, but I respect this dudes ambition, endurance, dedication, strength, and family values.

---
Wrap it up
Know of any new releases that you think other garage gym owners would be interested in hearing about? Drop a comment and it may end up in a future post. Of course, it should be somehow related to CrossFit, Olympic weightlifting, powerlifting, strongman, or some other training program that can be done at home in a garage (or home) gym.
Share this post if you worked out today. 0_O
---