Between Rogue, Spud Inc, and all the smaller equipment manufacturers, there appears to be no shortage of tricep straps, ropes, and grips to choose from. There are products made from actual rope, leather, nylon, and even plastic. There is also no shortage of ways to add a pulley system to your garage gym these days. Between the new Rogue Slinger, the Spud Inc Econo Pulley, leverage systems like those from Body Solid or Powertec, and even a full blown lat/row tower, it's quite common for garage gym owners to need these attachments.
So when it comes to tricep attachments; which are also commonly used for cable crunches, face pulls, and even cable curls; which one is the best? Which attachment will last and offer the greatest versatility and the most comfort? You know, which one should you buy?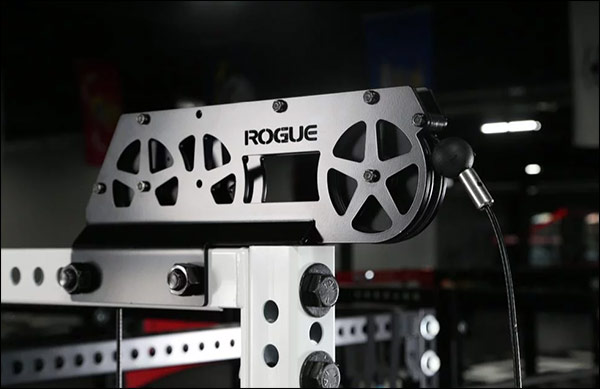 Well as boring as it may sound on the surface, that is precisely what I'm going to discuss in this article. Believe it or not, despite most of these attachments all being within a few bucks of one another, they are not equal. Some are definitely more thought out than others. Some are more comfortable to use, more versatile, and just more likely to go the distance.
Please keep in mind that when I provide the length of the attachment, it does not include a caribiner or the D-ring. It is just from the highest point of the strap itself to the lowest.
---
Pioneer Leather Tricep Strap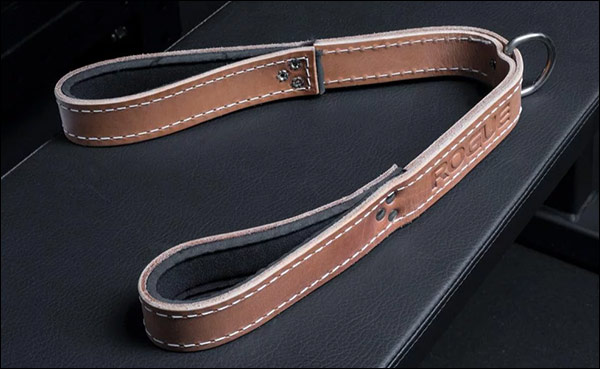 First off, I am a huge fan of Pioneer. I don't think I have to tell most of you how unstoppable they are in the power belt market; how popular their power belts are and how well-deserved that popularity is. Of course I was going to give their tricep strap a try.
In terms of quality, Pioneer's Leather Tricep Strap is no different than their belts. It is made from treated, 100% genuine sole leather and is fastened together using nickel-plated, steel rivets. It has 6″ long hand openings and those openings are lined with a neoprene padding.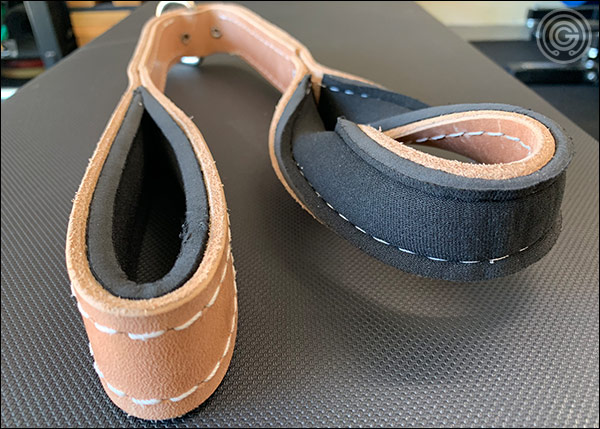 I like the feel of this attachment. Brand new it's not as comfortable as the other attachments that I'll cover but being that it's leather it may very well turn into one of the most comfortable as it's broken in. It's a good overall length at 12″ long, it feels resilient and durable, and the neoprene liner is both glued down and [double] stitched into the handles.
The only real that issue that I have with Pioneer's Tricep Strap is the small size of the hand holds. At only 6″ long, my big hands just don't seem to fit inside those neoprene-lined loops without having to slowly and methodically work them in. Not doing so is prematurely ruining the bond between the leather and the neoprene, and it is obvious that I will ultimately shred that neoprene to pieces because of the tight fit. That tightness is not doing much for comfort either.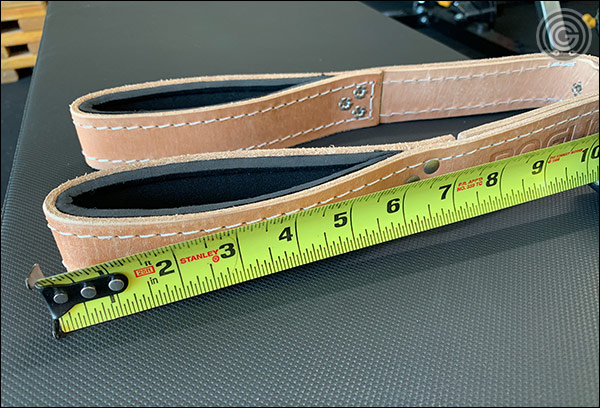 In any case, other than the tight hand holds, I think this is a nice attachment for any normal-sized person with normal-sized hands. If you're a giant guy with big hands, maybe skip this one until Pioneer opens those holes up another couple of inches (or just accept the loss of that neoprene and look forward to the glorious feel of the leather.)
Pioneer Tricep Strap: material: treated sole leather; dimensions 1½" wide by ~12″ long (25″ long laid flat); 6″, neoprene-line hand opening; made in USA; $36.95
---
Spud Inc Short Ab Strap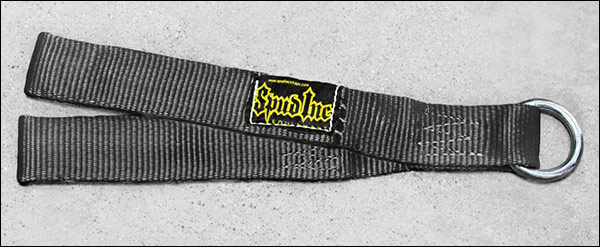 This is the same attachment that ships with the Spud Inc Econo Pulley system, and once it has been broken in is an absolutely amazing piece of equipment. It's made out of the same nylon webbing that Spud uses for pretty much all of their products, and if you own even one of those items in your gym then you know how strong this material is, and how long it lasts.
I've had the Short Ab Strap for several years now; having acquired it with the pulley system. It is still the attachment I grab for doing cable tricep extensions/pressdowns, cable crunches and face pulls. The material isn't overly stiff, too narrow, or otherwise uncomfortable. Length is good, the hand holds are just large enough for bigger hands despite technically being the same length as the Pioneer (the lack of foam opens it up), and in all these years not even a hint of true wear has occurred.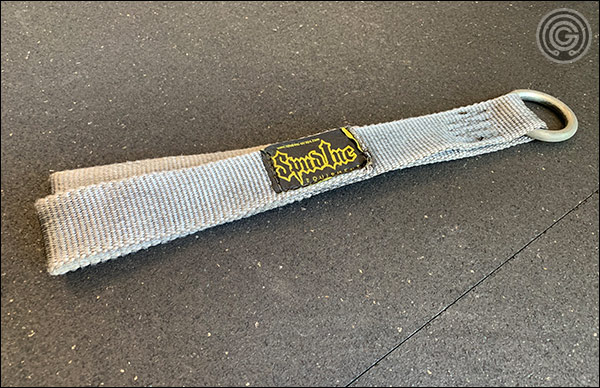 This is definitely my favorite tricep/ab strap among the bunch, and once this review is done it will be the one I return to using full-time. I love the feel of the nylon material; how it's firm while also being soft and comfortable; I think it's a great length and width, and based on the length of time I've owned mine I am extremely confident it's going to last practically forever.
There's also a long 30″ version of this strap. Not very useful for triceps and such, but great for abs (hooking the elbows). I've not tried that variant but it's probably pretty nice for those crunches.
Spud Inc Short Ab Strap: material: nylon webbing; dimensions: 2″ wide x 16″ long with 6″ hand opening; made in the USA; $35
---
Standard Tricep Rope
I think we're all familiar with this attachment; a 1″ diameter nylon rope with a couple of wide, plastic end caps at each end of the rope. This is pretty standard equipment at a global gym; an attachment you'd no doubt find near every functional trainer and cable crossover.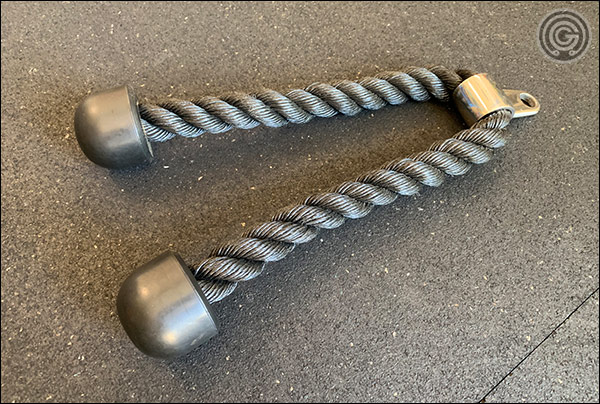 The fact of the matter is that the basic rope attachment does work. It will get the job done. It can be used for tricep pressdowns, weighted crunches, and face pulls. It can also be pulled to one side and use as a single rope attachment on a functional trainer. It's pretty versatile.
The rope attachment has the added benefit of being available in various length, thicknesses and even made from different materials (like the more flexible woven option pictured below.) If you stick to the basic design, it's also the cheapest tricep attachment option by far; selling for as little as little as $13 or $14 bucks.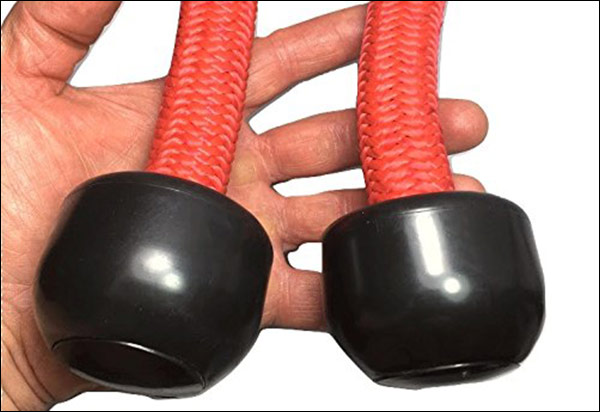 That having been said, the straps are still a better option; at least in my opinion.  Straps are more comfortable in the hands and much easier to hold on to because your hands fit inside the strap rather than being wrapped around it.  The rope also has a limited number of ways that it can be held while straps allow you to place your hands at all sorts of angles.  Just try to imagine how you have to hold a rope to do a face pull versus how that would work with a strap. Totally different
But hey, at under $15 you should probably own a tricep rope.  Hell you probably already do. For face pulls and cable crunches though, get yourself a tricep strap. I believe you'll be glad that you did, and I'll bet you'll hang that rope up and use the strap for pressdowns too.
Basic Tricep Rope: material: varies; dimensions: varies; almost always an import; $13+
---
IPR Fitness Tricep Handle

I bought this particular tricep strap simply because I wanted to see if there was anything on Amazon of any worth. Not everyone wants to shop at Rogue after all, and between Pioneer, Spud Inc, and Rogue's brand, Rogue is looking like the place to go for this particular type of attachment. In other words, this IPR attachment is meant to be a non-Rogue alternative.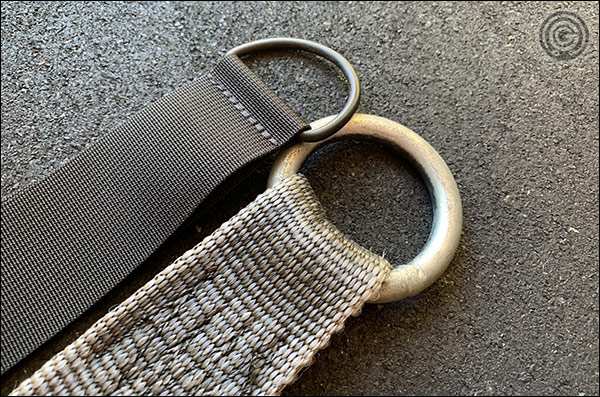 Unfortunately; while it may be superior to using a classic tricep rope when doing face pulls and weighted cable crunches, the IPR Fitness Handle was my least favorite among all the straps and easily the worst value. At $34 (within a couple of dollars of the others) it has the thinnest, lightest material and the smallest gauge D-ring I've ever seen. It borders on being too long as well; hanging a bit too low from my top pulley (though that doesn't mean that it will hang too low from yours).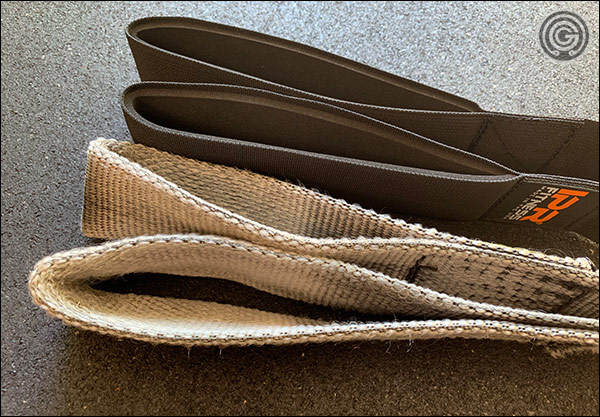 This strap does work as advertised. It has a nice-sized hand opening, foam lining inside the handles, and overall it is fairly comfortable. Still, it just doesn't feel appropriately priced next to the other straps. I feel like I paid too much for this product. Just looking at it next to a $35 Spud Inc Strap with it's thick, soft vinyl and massive ring makes me question the price.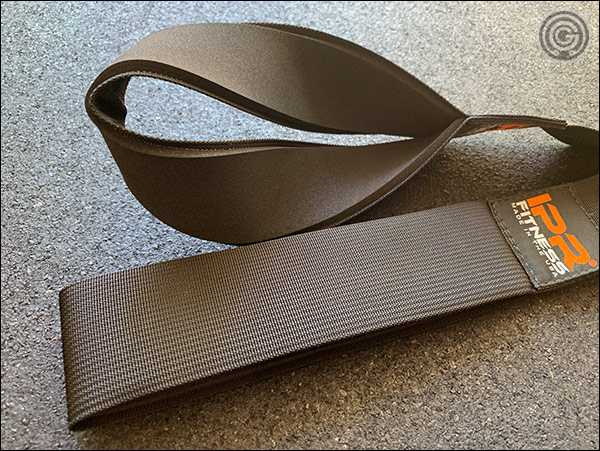 You can buy this attachment in a few different colors, but they cost an additional $7 over the default black variant. $41 for this attachment? I don't think so.
IPR Tricep Strap: material: foam-lined nylon; 2″ wide x 16″ long with 8″ hand opening; Made in USA; $34
---
Rogue Tricep Strap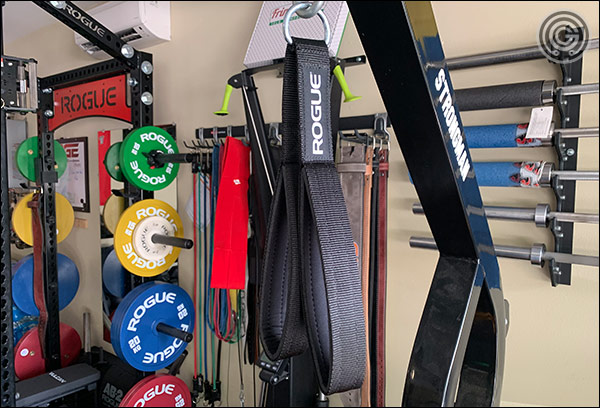 Rogue's Tricep Strap is one of the better handles on this page, and probably the best value. Not counting the rope; which I don't really recommend; Rogue's strap has the lowest pricing of all the other attachments on this page at just under $30. It's a pretty sweet deal, and free shipping is possible if you're purchasing other 3-ships-free products (though I believe that is true for all of the tricep/ab straps available at Rogue.)
The Rogue Strap is made from a strong, nylon webbing that is slightly more significant than what is found on the IPR Strap. It also has a foam lining, though unlike the IPR it is actually stitched into the nylon rather than just glued.The hand holds are of a nice size at 8″ which is more than enough for all hands without being excessive, and the relatively short total length of about 13″ means this attachment will never hang too low from your pulley (remember you can always make an attachment longer with chain links or caribiners.)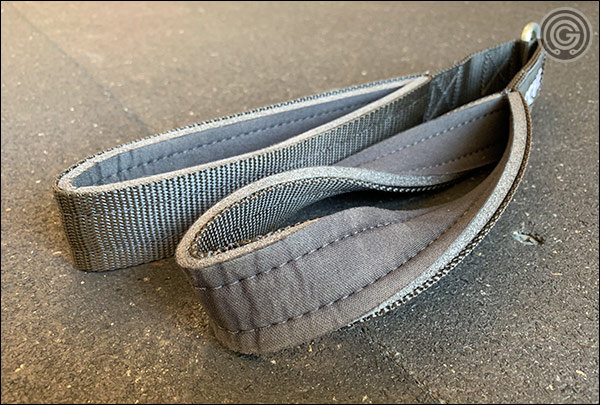 This is a really nice product. It works well for tricep pressdowns, weighted cable crunches, face pulls, and even cable curls. A longer attachment is technically better for the crunches, but this still works. That having been said, I still like the Spud Inc. attachment a little more. I think that it's more comfortable, less likely to wear, and better for those crunches. The Spud Strap is only $5 more too; hardly enough money to fuss over.
Rogue Tricep Strap: material: foam-lined nylon webbing; 1½" wide x 13″ long with 8″ hand opening; Made in USA; $29.50
---
A Couple Things to Keep in Mind
There are other straps out there, and you may be considering buying one not listed here. I say go for it, just keep the following things in mind:
Wider straps tend to be more comfortable for movements like the tricep pressdown and for weighted cable crunches. The 2″ wide Spud Inc Strap discussed above is a full 2″ wide and is easily the most comfortable strap that I've ever used.
The total length of the attachment should also be considered. Super long attachments may hang too low from your pulley; creating a less than ideal starting position. For instance, the IPR attachment is too long for my Powertec; at least for tricep pressdowns.
Shorter attachments can always be made to be longer by adding a caribiner or chain. How the length impacts you depends on your situation, of course. My Powertec upper pulley just happens to not be very high so long attachments create a low starting position.
Finally, I saw a number of oddball tricep attachments that were closer to $100 than to $30. I didn't see a one in that price range that appeared to be worth the asking price, and not one gave me the impression that it would offer up more in terms of function than the basic strap, so I did not buy any of those. If you have a favorite strap that cost you twice as much cash as one of the attachments that I discussed and you think it's just the best attachment ever!! feel free to comment below and tell us why.
---
My Tricep/Ab Strap Recommendation
My favorite hands down is the Spud Inc Short Ab/Tricep Strap. I think it's the most versatile, the most comfortable, and it seems like it would be the most durable by far. If anything were to ever happen to mine; like if it ever actually did wear out; I would absolutely buy it again. It is a great attachment and the price is super reasonable.
---