I love leg curls. Not only do I love leg curls but my programming prescribes them on a fairly regular basis; a couple times a weeks sometimes (Hybrid Performance Powerlifting; for any of you wondering.) To put that another way, I want and need to be able to do leg curls in my garage gym.
For a couple of years now I've been stuck using a Powertec Bench with the leg attachment for my hamstring curls and the occasional set of leg extensions. Outside of those curls and extensions, my Powertec bench wasn't getting used for anything; not as a flat bench, not as an incline bench, not for anything.  I've let it consume precious floor space solely because it has that leg attachment.
Well I have finally replaced that over-sized, tough-to-adjust, wanna-be leg curl machine with a real piece of equipment; the Body Solid GLCE365 Leg Extension/Leg Curl Machine, and I cannot tell you how unbelievably ecstatic I am about this. Getting new equipment is already rather satisfying, but a major upgrade to a piece that gets used regularly is extra exciting!
---
Why Leg Curls & Leg Extensions Though?
The leg curl/leg extension bench is one of the few "machines" that I think has a place in the garage gym. Along with some form of cable tower and a GHD; and maybe a Reverse Hyper for some of you; I think these pieces are worth finding room for alongside your power rack. I think these particular pieces fill a void that can be tough to fill with just a barbell (though not impossible, of course) and they are just great additions if you have the funds and the space for them.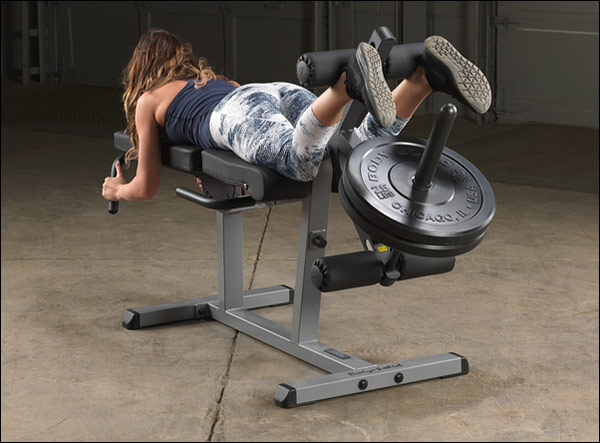 Obviously some of you don't do anything outside of squats, deadlifts, and pressing, and you aren't concerned with any bodybuilding work or isolation exercises. Some of you only clean and snatch, and maybe bust out some front squats from time to time. If that's you, well then I guess you wouldn't be interested in a machine like this, and that's okay!!! I still have lots of other content on this site for you to check out, and please do!
For the rest of you who do follow programming that involves some isolation or bodybuilding movements, or those who just like hitting legs as many ways as possible, read on.
---
What Was So Wrong With the Powertec?
I've never been all that impressed with Powertec's bench; either as a stand-alone unit or as a leg curl/leg extension bench. The pads have an awful shape (both pads), there are far too many adjustments on the thing (and corresponding pivot points that allow it to wobble), and ironically, the few available seat positions are so insignificant that they may as well not even be there.  Additionally, the bench height is too low for leg extensions unless you build up the seat with a makeshift booster (although probably not for shorter users), the handles for said extensions are flimsy, and there are no handles for leg curls; which I believe are necessary.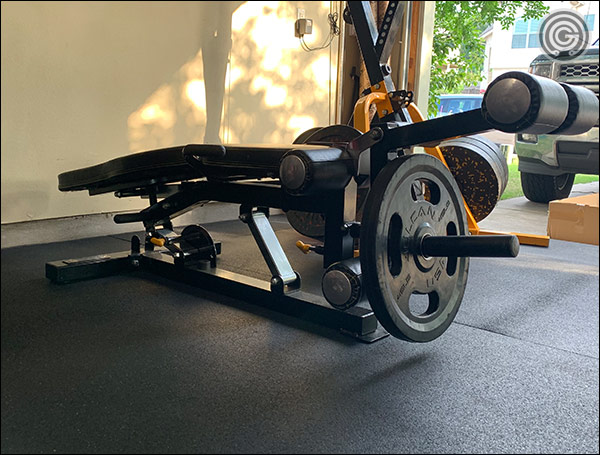 Now admittedly, of all the things this bench is intended to do the one thing it does best is leg curls. The low height of the bench is irrelevant for leg curls, the pad does adjust into a good enough decline for proper positioning,  and the length of the bench is fine. It still lacks those handles, but I personally just grabbed on to the end of the pad and make that work.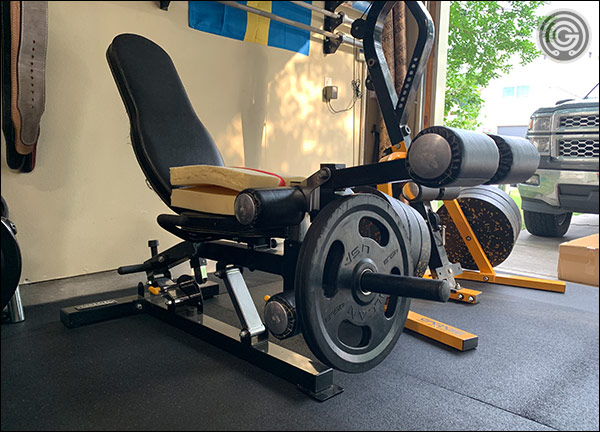 Leg extensions, however, are awful on the Powertec. It's already bad enough that the whole unit is too low to the ground; my feet drag on the floor at the bottom of the movement if I fail to put my 4″ thick piece of foam under my butt. Add to this the flimsy handles, a seat so tiny that you basically cannot use the back pad if you want to fit in the seat, and the fact that the bench is so front heavy that you need to weigh down the rear end somehow.
Now I'm not trying to trash the Powertec just for the sake of trashing it. It has its drawbacks, but it has served its purpose over the years. I still have and use the Powertec cable tower; it is really just the Powertec bench that I'm excited to finally get rid of.
(If you're interested, I did review both components of the Powertec here.)
---
Body Solid GLCE365 Leg Curl/Extension Review
In this review I am going to try to not let my newfound joy and contentment interfere with my efforts to deliver a fair and unbiased review of the BodySolid GLCE365. I will judge this item based on it's design, dimensions, strength, and effectiveness. There are a few other models of the plate-loaded leg curl/leg extension out there that I also considered so I will also make an effort to compare the Body Solid to those; factoring in price, adjustability, footprint, etc.
I hope you enjoy this non-barbell, non-power rack review.
---
Body Solid GLCE365 Leg Curl/Extension – Specs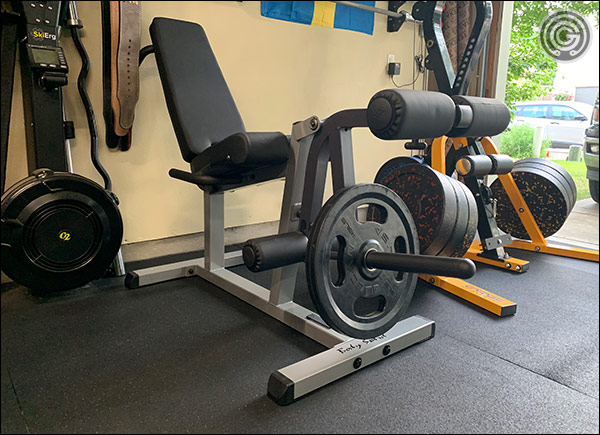 Footprint (frame): 27″ x 44″
Maximum machine length (rear pad down; including plate horn): 74″
Minimum machine length (rear pad upright; including plate horn): 59″
Construction: 2″ x 3″ 11-gauge steel (partially welded, partially assembled)
Weight: 108 lbs
Seat dimensions: 17½" x 21″
Back pad dimensions: 9½" – 12″w (tapered) x 27½"
Pads: Vinyl-covered DuraFirm Foam
Individual roller pad length: 8″
Roller pads total length from end to end: 19″
Loadable sleeve length (with 2″ adapter): 13″
Prone pad angles (curls): 0º, -15º
Seat angles (extensions): ~55º, ~70º, ~90º
Top roller distance from pivot point: 14″ – 17″
Bottom roller distance from pivot point: 13″ – 16″
Warranty: lifetime in-home warranty
Price: $550 (delivered)
---
Body Solid GLCE365 Review – Regarding Seat Angles
I did the best I could to get accurate seat positions (in terms of angle). When looking at this machine in the various seated positions, keep in mind that the seat is never quite flat (0º) in these positions,  rather it is angled downward. Only when the rear pad is flat is the seat flat, and this completely flat setting is one of the two leg curl positions.
---
Body Solid GLCE365 Review – Frame
The core of the GLCE365 frame is a single, welded piece. The legs are the only component of the frame that get bolted on. Overall this machine is incredibly stable. It does not wobble, rock, shift, or otherwise move around. In other words, it doesn't feel cheap at all.
Assembly took me about an hour, with most of that time being spent attaching the pads, the swing arm, and popping in the multitude of black plastic end caps (of which there are many more than I expected!) It wasn't complicated or frustrating to assemble, and the instructions were very easy to follow
---
Body Solid GLCE365 Review – Pads and Rollers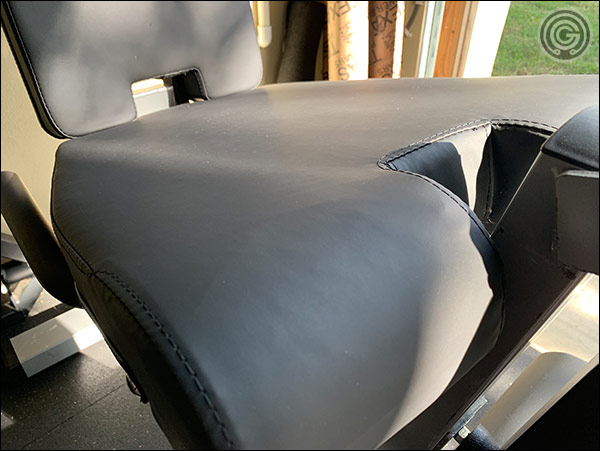 There isn't a whole lot to say about either the pads or rollers outside of the fact that they are both comfortable and dense, and they appear to be more than durable enough for a lifetime of use in a private gym. They'd probably even go quite the distance in a commercial setting, but that's not something I'll ever be able to test and confirm, of course.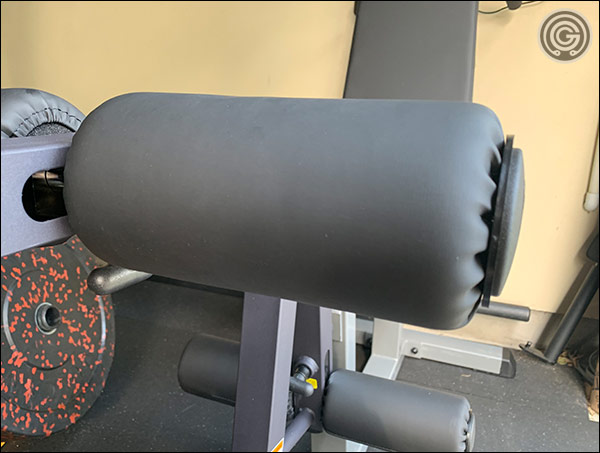 The vinyl covers are smooth but adequately grippy for the application. As a matter of fact, it is surprisingly tactile; by that I mean it looks extremely smooth and maybe even like it would be slippery, but it is not – not that either the seated or prone positions demand a whole lot in terms of grip to stay in position.)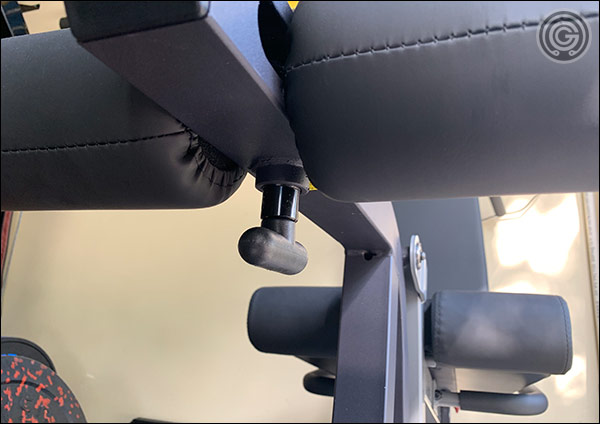 Both sets of rollers are adjustable,  allowing you to accommodate users of different heights. You could also make adjustments if you just prefer for the weight to be distributed further up or down your legs. Those adjustments are made with a simple pull-pin.
---
Body Solid GLCE365 Review – Pros and Cons
Pros
Leverages on the GLCE365 seem really solid. I find that it requires far less weight to be loaded than what I was needing on the Powertec. Of course, since the pads of this unit are adjustable those leverages can actually be adjusted to your liking (by shortening or lengthening the moment arm – aka how close to your knees the weight sits).
One-legged extensions and curls are easy to do with the GLCE365. You are not limited to two-legged movements.
The GLCE365 has very sturdy, well-placed hand-holds;  for both leg extensions and leg curls.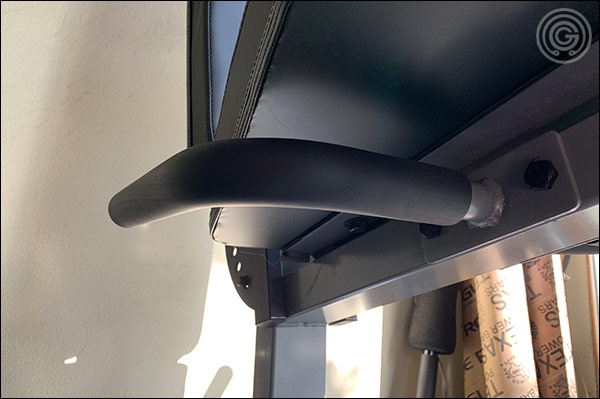 The pads on the GLCE365 are very large, comfortable and very professional in terms of their fit and finish.
The numerous seat / pad adjustments should allow virtually everyone to find positioning that works well with their height and build. This machine is especially generous to us tall folk; an uncommon feature indeed.
The GLCE365 can be set in a decline position (my preference) or perfectly flat for prone leg curls.
The GLCE365; because it is adjustable; takes up less floor space than similar machines that are permanently in a prone position.
Assembly was fairly straightforward. It takes an hour or so, but it isn't frustrating / overly complicated.
Prices for plate-loaded leg curl / leg extension machines range from about $550 to $800 or more;  with the Body Solid GLCE365 being not only on the lower end of the spectrum but also one of the most adjustable units available (if not the most adjustable.)
The GLCE365 even came with a couple little pots of touch-up paint.
Cons
The GLCE365 has a single adjustment for both the back pad and the seat  (rather than having independent adjustments for each.) This is fine, and is likely done to keep costs down, but one side effect of this mechanism is that there's a little bit of back pad play in the bottom (prone) position. I found this to be slightly annoying at first but I have already discovered how to position myself to reduce (and just ignore) this. Still, I think that Body Solid should address this for future generations of this machine. It should also be noted that this isn't an issue on any other combo machine because all other models have their seat at a fixed 0º angle. In other words, they don't move at all.
---
Leg Curl / Extension Machine – GLCE365 vs Wright's
I was seriously considering the Wright's Leg Curl / Leg Extension Machine. Normally $799, it has been priced at $599 for some time now, and that's a really solid price (though it does not include the freight.)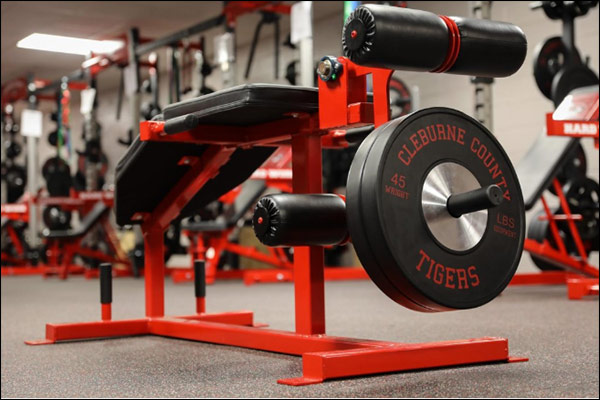 Everything about the Wright's machine looks good. It's built with strong 11-gauge steel, it is almost entirely welded, it has handles for both movements, and you can even choose your colors. I was even given the bulk of the dimensions via email and they all seemed to be in a good place. It's a nice machine indeed.
That said, here are two things I don't like about the Wright's. The first is that the rollers lack any form of adjustability. They are in a fixed position and that gives you no control over how weight is distributed on your legs. It also doesn't allow for any fine-tuning for overly short or tall athletes.
The other issue I had is with the back pad; it doesn't move at all. It's permanently in a prone position, meaning you have no back support for leg extensions; which helps a lot. This also means that this unit always take up the maximum amount of floor space. You cannot adjust the seat up to save a little floor space when not in use.
Still, when you consider the next machines that I'm going to talk about, the Wright's is still a super appealing unit by comparison (and to be fair, were it not for the low, fully-shipped cost of the Body Solid GLCE365, I would definitely look to Wright's next.
---
Leg Curl / Extension Machine – GLCE365 vs Legend
The Legend Fitness #3135 Leg Curl / Extension Machine is a very nice product indeed. It sports pretty much all the features of the Body Solid, but has all the design elements of a fully-commercial piece of equipment.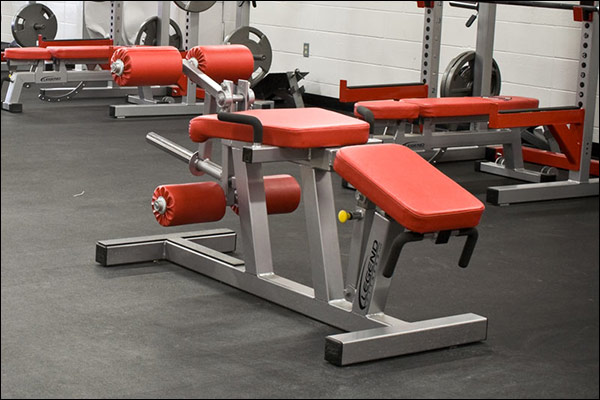 The Legend  #3135 has an adjustable back pad for putting the bench in a prone position, it has handles for both extensions and curls, great roller positions, fully-upholstered pads and rollers, and a fully-welded frame. The frame is as beefy as they come at 3×3″ and the frame has guards to protect the finish.  You may also customize both the upholstery and the frame colors.
The downside is that this product is well over $1000 delivered. It's expensive to ship, it has a hell of a lead time, and ordering process with Legend is outdated and slow.  Generally I'd not even bring up a Legend product, but when it comes to leg curl / leg extension machines the Legend is a really nice piece.  I don't think it's a very good use of so much money, but it is worth mentioning (and it is your money to spend, after all.)
For what it's worth, I was considering this product seriously until I found the Body Solid for half the money. No, the Body Solid isn't a fully-commercial product in the same sense as a Legend Fitness product is, but my garage gym also isn't a commercial gym, and I'll bet that yours isn't either.
---
Leg Curl / Extension Machine – GLCE365 vs EliteFTS
The EliteFTS Leg Curl / Leg Extension Machine is very similar to the Wright's.  It too is built using 11-gauge steel, is permanently in a prone position (there is no adjusting the seat/back pad),  has handles for both extensions and curls, and can be ordered in a multitude of color schemes.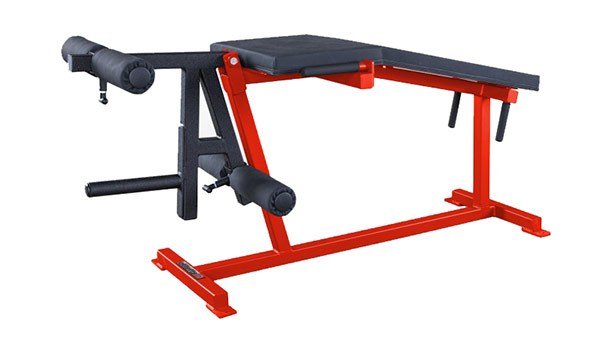 One feature that the EliteFTS machine has that the Wright's does not is the ability to adjust the leg rollers up or down in much the same way as on the Body Solid. This is a nice touch indeed, but this perk comes at a $200 premium, making it a little less than appealing ($799 for the EliteFTS versus $599 for the Wright's – before shipping!)
The Elite FTS Leg Curl / Extension Machine would be my last choice when it comes to this particular piece of equipment. $800 plus a very significant freight charge prevented me from ever considering it as a viable option. I'd have no problem owning this machine if I ever saw one on the second-hand market for several hundred dollars less, but the cost for this device new is not very competitive.
---
Body Solid GLCE365 Review – Summary
Body Solid's GLCE365 Leg Curl / Leg Extension Machine is a huge improvement over what I was previously working with, and I'm extremely happy with it. Sure I can't pick and choose my own colors like I could with some of the others (I would have liked to have had a blue to match some of my other equipment) but nobody else could touch the $550 delivered pricing of the Body Solid, and only the $1000+ Legend has as many adjustment options.
If I were to design the next version of this machine I have to admit that there isn't much that I would change. I like the available pad angles, I like the handle placement, I don't have any problems with the size or shape of the pads, and I think it's the perfect height off the ground to ensure that the feet of even the tallest users clear the ground and the frame. If I changed anything at all it would be to make the seat and the back pad adjust independently as a way to reduce play in the pads; something that is really only bothersome in the decline position.
Additionally, and this may not even be something that matters to many, but the fact that the seat adjusts into an upright position pleases me since that adjustment shaves about 15″ off the total length of the unit, which amounts to less space needed in the gym. I just back the thing up against the wall when not in use. If I need to go prone, I pull it out 15″. No biggie!
So if your programming includes leg curls and extensions and you're struggling to get those done in your garage, or if you just want to start including these two classic, bodybuilding leg exercises into your training, the Body Solid GLCE365 is an excellent choice. It's adjustable, it's durable, it's perfectly functional, and it is relatively affordable and compact.
I have no issues whatsoever recommending the Body Solid GLCE365 Leg Curl / Extension Machine. I'm very happy with mine and I can't imagine any reason why you wouldn't be too.
---