Welcome to the Olympic Barbell Review. If you're in the market for a quality barbell, or you're looking to learn the basics of barbell construction, you've come to the right place. Whether you're a man, woman, or youngster; or whether you're looking for an Olympic bar, power bar, or a bar for Crossfit, you will find information on a large selection of the bars on the market. With any luck, this article will help you find the perfect bar for you and your home or garage gym.
In an effort to stay current with new equipment and to keep up with changing prices, this page is updated regularly. Last update: July 2014 (Added: Bomba 2, The Rogue Bar 2.0 & Bella 2.0, Vulcan Oly Training Bar, and The Vaughn Bar – Removed: original Bomba, all Pendlay bars.)
Jump To: Understanding Barbell Specs | The Barbells | Top Picks
Before we look at individual bars, first let's discuss the specifications that make barbells different from one another.
Barbell Differences for Men and Women
Barbell's are not the same for men, women, and junior lifters. They vary in weight, shaft diameter, and in some cases overall length. Most major manufacturers offer both men's and women's versions of certain bars, and less frequently they offer a youth version. Below are the typical specs for each:
Men's Barbell: weighs 20kg (~44 pounds), has bar shaft of 28-29mm, and length of 2.2 meters (7.2 feet).
Women's Barbell: weighs 15kg (~33 pounds), has bar shaft of 25mm, and length of 2.2 meters (7.2 feet).
Youth Barbell: weighs 10kg (~22 pound) , has bar shaft of 25mm, and length of 60-67 inches. The reduction in overall length comes off the sleeves on a youth barbell.
Understanding Barbell Specifications
Type of Bar (Olympic vs Power)
Bars are either marked (with knurling) for Olympic lifting or Powerlifting, and in some case they are marked for both. While you may not care about the marks themself, keep in mind that Olympic bars have more whip and flex than powerlifting bars. Power bars are meant to bend less under huge loads so they are much more rigid and stiff. For Crossfit, many companies offers dual marked bars that are a nice compromise between the two.
Center Knurling
Even though center knurling is part of IWF standards, it's not really used for anything outside of powerlifting. Many barbell manufacturers are starting to leave the center knurling off of their Olympic bars despite the IWF standard. Women's Olympic bars will never have it (they shouldn't have it anyway). So if you want center knurling for any reason, pay attention to product descriptions to make sure it's there.
Sleeve Assembly: Bushing vs Bearing
This describes what components are used to allow the sleeves the spin on the shaft. Bushings are a low friction material (usually bronze) placed between two moving parts, while needle bearings spin more smoothly but typically increase the cost of the bar. Both mechanisms allow the sleeves to spin, but bearings allow for a smoother, quieter spin. Most mid-range Olympic barbells and almost all powerlifting barbells are bushing bars. Check out this discussion if you're curious about these two mechanisms.
Tensile Strength
Measured in PSI, this is the breaking point of the barbell. Avoid barbells with no tensile strength offered in the specifications. 150k is a good minimum, 180k is a number you'll never need to worry about. Ivanko Barbell suggests you never buy under 190k (which covers all of their bars and eliminates a large portion of their competition, so take that with a grain of salt). While higher usually means more expensive, that is not always the case. The York B&R Barbell, for example, is 205k PSI at only $295, and lately even many bars in the $200-$300 range are hitting 190k+ PSI.
Shaft and Sleeve Finish
This is the protective coating on (or not on) the bar. Bare steel requires the most maintenance but has a natural feel. Black oxide offers more oxidation protection than bare steel, but still requires some maintenance. Both bright and black zinc offer even more oxidation protection, while satin chrome offer almost full protection from oxidation. Read reviews on bars with finishes you're interested in to see what people think of the feel.
Sleeve Design (Snap Ring vs Pin and End Cap)
This is the method by which the sleeve is secured to the bar. Both of these methods work well and I wouldn't worry too much about which your preferred bar has. If however you do want to learn more about how these both work, try this article. I do suggest that you run away from any bar with a bolt sticking out of the sleeve. You shouldn't come across that if you're shopping for a reputable brand; you're likely only to see this on barbells offered in box stores and a good number of the inexpensive bars on Amazon, for example.
The Barbells
All the bars listed here met a couple minimum requirements. First, they all have a stated PSI tensile strength, not just a max static weight. This eliminates pretty much every cheap box-store barbell. I strongly believe that buying a $100 bar is an absolute waste of money, and I refuse to pretend otherwise by recommending anyone even consider buying one. If you're lucky, you'll just outgrow a cheap bar in a few months and just be out the $100. If you're unlucky, you'll break the bar during a lift and hurt yourself.
Second, all these bars are manufactured by well established, reputable companies that stand behind their products. York, Rogue, Eleiko, Ivanko, and Vulcan are all established players in the industry and they all offer warranties.
Jump to: Olympic Bars | Powerlifting Bars | Training & Technique Bars | Youth Bars | Top
Olympic Bars
Olympic Weightlifting Barbells are designed for the two explosive lifts: the snatch and the clean and jerk. They are also what most Crossfitters will be using. For the sake of this article, anything marked (knurled) as an Olympic bar will be included in this section; even those bars that are dual marked. Only true Powerlifting bars will be listed in the powerlifting bar category further down the page.
The Bomba Bar V2 (New)
Updating bars seems to be a theme this summer, as is the case with the Bomba Bar. The original Bomba has been a fairly popular bar with CrossFit fans the last couple years. It's success is due largely to the fact that it's simply a good barbell for a fair price. The reviews are great, the shipping is free, and the bar is more than capable of handling both heavy lifts and intense WODs. At only $10 more than the original Bomba, the V2 looks like it'll be a hit as well.
The Bomba V2 is the same 20 kg, 28.5 mm barbell with a PSI rating of 165,000. It still has oil-lite bushings and snap ring sleeve design. The new changes that were made to this bar include dual IWF/IPF knurling that now go all the way to the sleeve, and the width of the sleeve shoulders were cut down by about half; giving you more loadable area on the bar. Nothing too drastic, but they are all improvements nonetheless. I like this bar for those on a tight budget.
The Rogue Bar 2.0 (New)
As of July 2014, The Rogue Bar is now The Rogue Bar 2.0. This bar has been drastically improved over the original, and the price has been lowered. Considering that both the price and the craftsmanship of the original Rogue Bar was already nothing to complain about, this is fantastic news.
So what's the same? The Rogue Bar 2.0 is still a 20 kg, 28.5 mm bar with dual Olympic/Power markings (with no center knurl); the coating is still black zinc for the shaft, and bright zinc for the sleeves; and the bar is still guaranteed for life not to bend or break.
What's new with the 2.0? The steel is of a much higher quality. The PSI tensile strength of this bar has been improved to 190k from the previous 155k. The bronze bushings have been replaced with composite, self-lubricating bushings that should extend the life of the bar and keep those sleeves spinning. Machined grooves have been added to the sleeves so the bar can be customized with colored bands. Finally, the price has been lowered from $274 down to $255.
The Rogue Bar 2.0 should be on most people's short list when shopping for a barbell. If your budget is in the under $300 range, this is an outstanding bar for the price. Additionally, the original bar had an unbelievable 65, 5-star review on Rogue's site, and I see no reason that these updates wouldn't keep that perfect rating alive and well. Only complaint I've heard so far is that this is a loud bar when dropped.
The Bella 2.0 (The Women's Rogue Bar)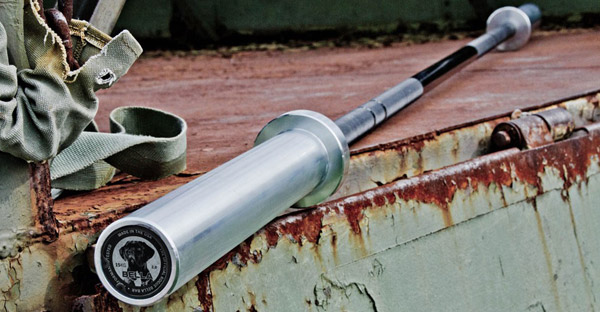 This is the women's 15kg version of The Rogue Bar. The Bella 2.0 has similar construction to the Rogue Bar (bushings, snap rings, zinc coating and 190,000 PSI steel). However, the shaft is smaller at 25 mm, the Bella still uses bronze bushings, and this bar is slightly shorter at 79 3/8″. The difference in length comes off the sleeves, not the shaft. This is a great women's barbell, and a steal at $215.
Vulcan 28mm Elite Olympic Training Bar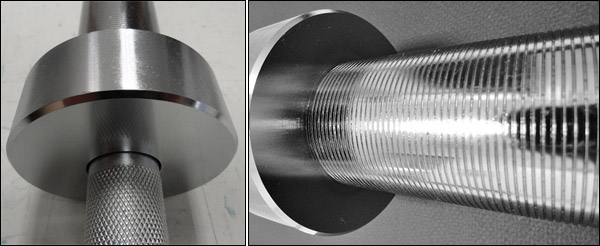 Another absolutely fantastic barbell for the price is the Vulcan Elite Olympic Training Bar. This is a true 28 mm, 20 kg Olympic barbell with an unbelievable (and lab confirmed) PSI tensile strength of 221,000 PSI. This is a chrome moly bar which means it has a nice whip, high tensile strength, and great protection against oxidation.

This bar is marked for Olympic lifts and does have the IWF standard center knurling. The bar has moderately aggressive knurling, except for the center knurl which is of a lower depth in order to be more accommodating to high rep clean sets. This is a bushing bar, and the sleeves are micro-grooved to keep plates on the bar when collars are not used. This bar comes with a lifetime guarantee against bending, breaking, and sleeve separation; not that you'll even need it. This bar is a steal at $369. It's even more of deal right now as it's on sale for $289! Sales on high-quality equipment are rare, so now might be your chance to save a ton of cash.
Stay tuned for an actual review of this bad boy.
Vulcan 15 kg Women's Bearing Olympic Barbell
So hello to the only women's Olympic barbell I know of to have bearings and be priced around $300. The Vulcan 15 kg Women's Olympic Barbell is an impressive 191,000 PSI, 25 mm bearing Olympic bar with a completely blacked out oxide coating. This bar has a nice amount of whip, has four needle bearings in each sleeve which give it a very smooth spin, and couldn't be any more affordable than it is.
If you're wondering how a bearing bar costs only $300, Vulcan explains that they were able to keep costs on production down by using a black oxide coating versus black zinc; and by lowering the PSI rating of the steel used for the bar to 191,000. I must say, lowering to 191,000 is nothing! You will not find another women's barbell with both 190k+ PSI rating AND needle bearings for less than $500. This beast is a steal.
The Vulcan 15 kg Women's bar has a lifetime guarantee, has medium knurling depth (no center knurl), and is dual marked for Olympic/Power lifting. FYI: Black oxide offers better protection against oxidation than bare steel, but does require an occasional oiling with 2-in-1 to help keep the bar looking new.
The Rogue Ohio Bar (Men's)
The men's Ohio Bar is a 20kg, dual marked Olympic bar with a 28.5 mm shaft. It is available in four different finishes including satin hard chrome, black zinc, bright zinc, and black oxide. This is a bushing bar with snap rings and a tensile strength that varies by coating (150k – 165k). This bar has no center knurling and ranges in price from $282 to $365.
The Ohio Bar is a relatively new addition to the Rogue line up, but already has a flawless 40+, 5-star reviews. This is a very popular barbell, and one that you can find tons of positive feedback on by reading CrossFit and Olympic lifting forums and subreddits. It is known for being smooth, solid, and not overly loud when dropped. All but the chrome version are under $300; what a deal!
Burgener and Rippetoe Men's Bar by York
If you've seen any other posts from me about Olympic Barbells, you'll already know I love this bar. This bar is a beast for the price. The B&R Bar is 20kg, has a 29 mm shaft, is marked for both Olympic and Power lifts and DOES have a center knurl. This is a sintered bushing bar with an end cap and it has an amazing 205,000 PSI tensile strength. This is a bare steel bar and does require maintenance. This bar is a steal at $295.
I consider the B&R to be the best priced bar on the market. This bar is stronger than any bar in it's price range, but again, it requires maintenance. Read my review on this bar here.
Burgener and Rippetoe Women's Bar by York
The Women's B&R Bar is a little different than the men's. While still a bare steel bar with bushings and end cap sleeve design, the weight is 15kg, the shaft is 25mm. It is still dual marked, but there is no center knurling. The tensile strength is 195k and it's a few bucks less at $285.
The Vaughn Olympic Training Bar (New)
The Vaughn Bar was developed by two-time Olympian, Chad Vaughn in an effort to show that a high-quality true 28 mm Olympic bar can be manufactured and sold at a reasonable price. At only $399, this bar is an amazing deal for any aspiring Olympic lifter or avid CrossFitter.
For starters, this bar has an intense 216,000 PSI tensile strength. This is impressive because again, it's a true 28 mm barbell. Normally you'd see a bar that tough either have a larger diameter shaft, or a much high price tag. This bar is marked for Olympic lifts only and has no center knurling. The shaft and collars are coated in black manganese, and the sleeves are chrome. While this bar is not a bearing bar, it has proprietary bushings that deliver a very smooth and reliable spin.
I'm still trying to get my hands on this beast of a bar; it's still in pre-order only. I want very much to try this bar. It looks just amazing on paper and I'd like to do an actual review of it, so keep an eye out for that. I have a strong suspicion that this bar will disrupt some of the middle to upper class bar sales, especially considering it has a lifetime guarantee and ships for free.
Rogue Olympic WL Bar (New)
Rogue recently designed their own line of Olympic weightlifting bars to compete with the high dollar imports. The Rogue Olympic WL Bar is an American-made bar that definitely appears to be comparable in quality to many of those imports but at a fraction of the price.
The Rogue WL bar is your standard 20 kg, 28 mm bearing bar and it is available in three different finishes; bright zinc, satin chrome, and polished chrome. This bar is made with the highest quality American steel available and it has a minimum tensile strength rating of 190,000 PSI. Like the Eleiko and Ivanko bars, all of these bars are straightness tested before they leave Rogue.
York Elite Needle Bearing Bar (Men's)
The York Elite Bar is a calibrated 20 kg, needle bearing bar with a high tensile strength of 195k. This bar is marked for Olympic lifts only and is finished in a satin chrome. This bar has no center knurling and uses end caps for the sleeves. This bar runs about $590 and is available at Rogue.
Burgener Bearing Bar from Rogue (Men's)
The Burgener Bearing Bar is a great barbell for Crossfit. This 20 kg Olympic bar has a 28 mm shaft, no center knurling, and has a bright zinc finish on both the shaft and the sleeves. This is a bearing bar (as the name implies) with 5 top of the line German needle bearings in each sleeve. This bar has snap rings and a PSI tensile strength of 185k. This bar is guaranteed for life and costs $559 from Rogue. One reviewer swears he gets an extra 10 pounds on his clean just from using this bar. Who knows!
Eleiko Training / Competition Olympic Bar (Men's)
The Eleiko Olympic Barbell is the Olympic Barbell. All Eleiko Competition and Training bars are individually tested in accordance with the Eleiko quality policy and provided with a serial number. These two bars are both 20 kg with 28 mm shafts. The Competition Bar is calibrated while the Training Bar is not. Eleiko bars use bearings rather than bushings, and they have a huge 215k PSI tensile strength. The training bar sells for $854 and the competition bar sells for $1044.
Eleiko Training / Competition Olympic Bar (Women's)
Built to the same standard as the men's bars, the Eleiko Women's Olympic Barbells are the same except for the shaft thickness (25 mm) and the weight (15 kg). Pricing is also the same as the men's bars.
Powerlifting Bars
Power Bars are designed for the big three powerlifting lifts: the bench press, deadlift, and the squat. Power bars are knurled and marked a little differently than Olympic bars (the marks are closer to center). A power bar should always have the center knurling.
Power bars are also more stiff and rigid than an Olympic bar due to the large amount of weights that get put on the bar. Additionally, powerlifting bars don't need the sleeves to spin as smoothly and are almost always bushing bars.
Buddy Capps Texas Power Bar
The most talked about Power Bar around. The TPB is the standard 86″ long with 15″ sleeves, 4″ center knurling, and it has a 28.5 mm shaft. It's 20 kg and has a 1500 lb test capacity. Don't assume that because find a bar called Texas Power Bar that it is the real TPB. Look for the state of Texas decal at the end of each authentic TPB. Order this from LB Baker for the real deal.
Rogue Power Bar
The Rogue Power Bar is double coated with zinc; the final coat being black zinc. This power bar is 20 kg with a shaft 28.5 mm thick. Since it's a powerlifting bar, it does have the center knurling. This is a bushing bar with snap rings. The PSI tensile strength of this bar is 155k. $275
Westside Power Bar
The Westside Power Bar is a 29 mm powerlifting bar designed to the specs of Louie Simmons, the founder of Westside Barbell. This bar features an aggressive deep knurl and does have center knurling. The shaft is 29 mm thick and the bar weighs 20 kg. The shaft is black zinc and the sleeves are bright zinc. This is a bushing bar with snap rings and it has a strong 205k PSI tensile strength. This is a sweet powerlifting bar for $375.
York Power Bar
The York Elite Power Bar is a 7′ barbell that has a 29 mm shaft and weighs 20 kg. This is a bushing bar with a satin chrome finish that has a 165k PSI tensile strength. The York Power Bar does have the standard center knurling and costs $320.
Eleiko Powerlifting Bars
Eleiko offers two powerlifting barbells; the competition and training PL bars. They are both steel, 45-pound bars with a 29 mm shaft and they have bronze bushings specifically designed for powerlifting. The training bar is $999 and the competition bar is $1099. I challenge you to tell me the difference. Both come with a nice 10 year warranty.
Ivanko OBX-20KG Powerlifting Bar
The Ivanko Power Bar is 20 kg and has a 28 mm thick shaft. This bar is PSI rated at over 200k. Each Ivanko Barbell is mag tested, ultra sonic tested, and x-ray tested against defects in the steel. These guys are serious about putting out quality bars. This bar has a black oxide coating and the center knurling is 4.75″ rather than 4″. This bar is sweet, and expensive. $667
This bar is also available in stainless steel which gives it a PSI rating of 218,000. That model is $1259.
Training and Technique Bars
Technique Bars are for training and practicing form. Some are steel, some are aluminum. Most have limitations of some kind. Read carefully any product description to make sure that the bar can handle what you intend to put it through. Never leave weights on a technique bar when not in use.
Eleiko 10kg Olympic Technique Bar
The Eleiko Technique Bar is 10 kg with a 25 mm shaft. The shaft is chrome and the sleeves are aluminum. This bar is great for practicing Olympic lifts form. It has a maximum load of 40 kg. Remember to never leave weights on technique bars when not in use. Approx $474
Rogue C-70 Technique Bar
The Rogue C-70 is a unique technique bar. It is a 35 lb, shorter version of the Ohio Bar. It was designed for use in the Crossfit Games where people are in close quarters. This bar is 70″ vs the standard 86″ and the space between collars is 43″ vs the standard 52″.
While shorter and lighter, this is still a real barbell. It has a 28.5 mm shaft, is marked for both Olympic and power lifting, and has a PSI tensile strength of 150k. This is a bushing bar with snap rings and no center knurling. $265
Note that this bar cannot be racked in a power cage or squat stand.
Youth Barbells
I am blown away by the limited number of youth barbells (quality youth barbells) available. If you know of any that you'd like to recommend for this review, let me know in the comments.
Rogue Junior 10kg Bar
The Rogue Junior Bar is a 10 kg bar with a 25 mm shaft. This bar is shorter with an overall length of 66.75″, but the distance between collars is the same as a competition bar; only the sleeves are shorter at 7.5″ each. This bar is a bushing bar with snap rings and has an impressive 155k PSI tensile strength (impressive for the size). It is dual knurled for Olympic and Power lifting but has no center knurling. $174.99
York 25 LB Black Oxide Junior Bar
The York Junior Bar is a 25 lb bar with a 30 mm shaft. The shaft is black oxide coated and the sleeves are split chrome. The bar is only 5 ft long so it cannot be racked. I can find no PSI rating for this bar, but due to the lack of Youth bars on the market I decided to include it anyway. $136
Olympic Barbell Review Summary
So the take away is this: Rogue has a huge selection of bars and the overall best prices. Eleiko and Ivanko make the strongest Olympic bars, but they are not cheap. York makes the most hassle free bars since they use satin chrome for so many models, and Rogue offers the largest variety of finishes. If your budget allows it, buy a neeedle bearing bar (except for powerlifting). Here are my favorite picks below.
My Pick for a Competitive Crossfit Bar
Taking money out of the equation, I would go with the Burgener Bearing Bar for a Crossfit bar. I really like the Rogue bars for the money. $525 for the zinc Burgener is a fantastic price for a true 28 mm needle bearing bar. The steel is strong, there is no center knurling, it has a lifetime warranty, and it's a Burgener. Plus, if you're serious about competing in CrossFit, it's probably in your best interest to train on the same bar brand that you'll compete with. Certainly couldn't hurt.
My Pick for a Crossfit Bar on a Budget
This one is easy, especially now that the price came down and the steel got upgraded. The new Rogue Bar 2.0 is the obvious CrossFit bar on a budget. At only $255, you get to train on the same bar that's actually used in the Games. It's tough to compete with that.
My Pick for Olympic Weightlifting
With so many new Olympic bars on the market, and the price getting so competitive, I am re-evaluating my preference and will update soon!
My Pick for Powerlifting
I want to say the Ivanko would be my pick, but it's probably a bit too expensive for a garage gym. If I owned a box I'd buy the Ivanko bars, but for home use I'd go with the Westside Power Bar or the Texas Power Bar.
If you enjoyed this article or learned anything helpful, please consider sharing this article on your favorite social media site or giving me a +1 on the top right of any page on this site. Thank you!