There's a growing variety of specialized strength training bars on the market to supplement your workouts with. Maybe you've already seen some weird looking bar at one of the gyms and wondered what it was called, what it was for, or where you could get one. I'm going to give you a brief tour of many of these specialty bars right here; from logs to axles, and trap bars to multi-grip Swiss bars, let's get you up to speed on some of these specialty bars.
Recent update: January 2018
---
---
Table of Contents
---
---
Regarding Collars and Specialty Bars
Almost all specialty bars are made with steel tubing that measures 1.91″ in diameter. Pretty much anything you see on this page with a black powder-coated finish that doesn't appear to be a normal, rotating Olympic sleeve is this type of tubing. You cannot use standard 50 mm Olympic collars on this type of sleeves; you need special collars. These special collars are most commonly referred to as axle collars.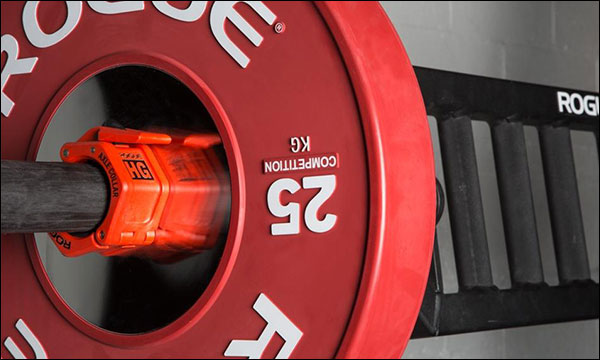 If you don't already own axle collars or some other collars that can be firmly clamped down on a specialty bar, be sure and factor a pair into the price whatever you're looking at. Some select bars do have normal 50 mm sleeves, so watch for that too.
---
---
Heavy Duty Multi-Grip Bars / Swiss Bars
I'm starting with one of my favorites, the multi-grip Swiss Bar. Swiss bars allow you to train with a neutral grip at various widths and sometimes various hand positions (usually parallel, sometimes angled.) Swiss bars are rackable, and they are the tool of choice for powerlifters and athletes who want to train with a neutral grip for increased explosive strength. Multi-grip bars are also a lot easier on the shoulders for some people. The Rogue MG-1 Bar pictured above is one of the better multi-grip bars with it's long sleeves and knurled grip.
Use Swiss Bars for bench press, floor press, lockouts, JM press, shoulder press and a lot more. Add chains and bands, or change up your grip width and you have one very powerful weapon in your bar arsenal with a ton of uses. Swiss bars are truly fantastic tools, but don't forget that most multi-grip bars require special axle collars too.
Other Multi-Grip/Swiss Bars
One of the benefits of the Vulcan Pro Swiss/Football Bar is that it features 50 mm Olympic sleeves, which means your existing collars can be used – no special collars required. The sleeves are also chrome finished rather than powder-coated. The inner grip is angled at 6″ apart, and the outer two grips are parallel at 14″ and 22″. The $245 price includes shipping.
The above pictured Elite Cambered Grip Bar is a neat idea. It allows for deeper benching without the roll associated with straight cambered bars. It can also be flipped to act as a 2″ bench board of sorts. It's a little pricey for having no knurling or any specs listed; even more so than Rogue's fancy multi-grip bars, but that's pretty standard with EliteFTS.
---
---
Farmers Walk Handles
Farmers Walk Handles are for farmers walks; or farmers carries. Tax your grip, upper back, lower body, and increase your general physical preparedness all with one very easy to use tool. Handles are sold in pairs, and each handle is roughly 60″ long with around 11′-12″ of loadable sleeve on each end; but this varies by manufacturer. Sleeves can be loaded with standard Olympic plates (bumper or steel), but standard 50 mm Olympic collars don't work well on specialty bars; you'll need axle or strongman collars.
There are lots of places to buy farmer's walk handles, and prices are all pretty competitive. Check out Vulcan's handles for $169, Rogue's handles for $185, or American Barbell's for $180. Vulcan's are the best deal, as the low price also includes shipping and the handles are knurled. See the technique video below for a demonstration of farmers walks.
For $210 shipped you can have a pair of American-made, dual-grip handles from Gorilla Strength. They are painted black, have a standard grip and an alternate 2″ grip, and they have 13″ sleeves. It's a neat idea; that 2″ grip is probably brutal.
Also, Spud Inc offers Traveling Farmer Walk Handles that are a much cheaper alternative to classic metal handles. Made of 8′ long nylon straps, each handle can handle up to 300-pounds of steel plates. They are made in the USA, and take up literally no space to store when not in use. That said, feedback on these isn't great so it's probably worth spending the money on steel handles if you plan to truly incorporate carries into your training.
---
---
Oscillating Kinetic Energy Bars
Oscillating Kinetic Energy (OKE) bars, or what are better known as the "bamboo bars", are a flexible line of barbells that are designed help strengthen the stabilizer muscles called on during big compound lifts; for instance, the rotator cuff when bench pressing. The excessive give in the shaft combined with weights that are hung from the sleeves creates for a rather unstable lift that you, the lifter, must then stabilize.
The whole of bamboo bars are brilliant, and ever since acquiring one myself I have worked it into my program many times a week. It's used in my gym more than any other accessory bar. You can read my review on the E-Maxx here.
---
---
Trap Bars
The Trap Bar's hex design and neutral, knurled grip make it the perfect tool for performing deadlifts that put less stress on the lumbar spine. With trap bars the load is centered rather than being off axis like with traditional, barbell deadlifts. The trap bar is great for beginners and athletes with pre-existing back issues and can also be used for many other movements like heavy shrugs.
Dimensions vary from trap bar to trap bar. Some have multiple grips, some are not knurled, and some are rackable. If you own bumpers, make sure to get a unit with long sleeves (15-16″+).
Vulcan has two trap bar options; a shorter, lighter-duty Vulcan High Hex Trap Bar, and their feature-loaded Pro High Hex Trap Bar. The Pro version has true Olympic sleeves with 16″ loadable length, dual-handles that are both knurled, and a good price for such a nice piece. Rogue also sells two units; the TB-1 Trap Bar, and the TB-2 Trap Bar. The TB-1 is the old school design with only one set of handles, and the TB-2 is more like the Vulcan Pro trap bar with double, knurled handles.
There are a couple versions of this rotating handle trap bar like the Valor unit above. It's not a bad idea, and reviews seem decent, but I question how strong this thing really is. Maybe this is fine for lightweights, but veteran lifters should probably stick to classic, fixed-handle trap bars simply for their own personal safety. Also, the sleeves look pretty short to me.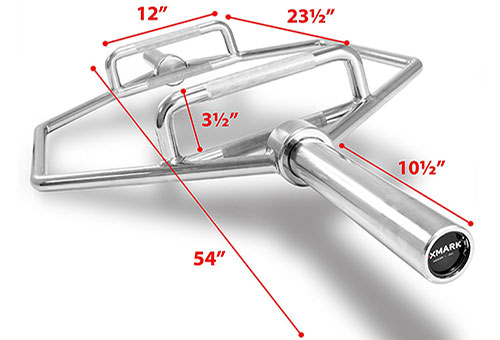 As a general rule, be careful about box-store quality specialty bars. A $100-150 price tag on a trap bar seems appealing, sure, but think about why real trap bars cost $200-400. Maybe because they are for deadlifts; a movement that sees large amounts of weight loaded. Take the above XMark for example; it looks decent enough, but it has super short sleeves, barely any distance between handles, and a low max capacity. You get what you pay for.
---
---
Olympic EZ Curl Bars
The EZ curl bar is a great accessory bar for standard curls, reverse curls, and various tricep extensions. The cambers take the pressure off the wrist that you experience when using a straight bar. Curl bars are far more versatile than tricep bars, but unless you're fascinated with your guns you could probably live without it. If you have an injury that makes curls with straight bars just impossible, this is a must-have specialty bar.
The two best curl bars on the market right now are the Vulcan EZ Curl Bar at $139, and the Rogue Curl Bar for $195. They're both very similar in terms of quality, design and feel. The Rogue is made in the USA so comes at a higher price, but the Vulcan has features that the Rogue does not. I have actually reviewed both of these EZ bars here on Garage Gyms, you can see the Rogue Curl Bar review here and the Vulcan Curl Bar review here.
There are other curl bar options, of course, including rackable curl bars. Actually there are options galore, but avoid super cheap models like CAP and Marcy as they truly are inferior products, and usually hollow. Yes, hollow.
---
---
Buffalo Bars
The Duffalo Bar (buffalo bar) is an arched power bar intended for squats and the bench press. The curve reduces stress on the shoulders, biceps, and back, while also enabling scapular retraction and superior joint centration. For any athletes looking to focus on form and performance while reducing muscle fatigue and injury risks, this is a great option.
There are multiple buffalo bar options out there, but the Duffalo is clearly the leader of the pack. It has a 195k PSI shaft, 30 mm shaft, oil-impregnated bronze bushings, 17″ sleeves, and even an optional attachment for hanging chains and resistance bands. It's expensive as hell, but it's one of a kind. $595 + $85 for chain attachment (bolts right into collars).
---
---
The Safety Squat Bar (SSB)
The safety squat bar makes it possible for athletes with shoulder injuries or recent shoulder surgery to still squat, because the handles allow them to keep their arms and shoulders in a more neutral position. That said, the SSB is also a very popular bar for those with no injury to speak of because the weight distribution is so unique; falling between the front squat and the high-bar back squat.
Training with a SSB bar is known to tax your anterior chain, and is a safer option for intense squat progressions or maximum load lifts. The safety squat bar is thought to increase your maximum working weight when compared to the traditional back squat. It's simply another great tool to have in your arsenal; injury or not.
For about $395 you can pick up the Rogue Safety Squat Bar – a very nice bar indeed. For only $260 there is the Vulcan Safety Squat Bar, which doesn't have the same nice, fancy vinyl pads as the Rogue, but does have true Olympic sleeves and a much more affordable price tag. American Barbell also offers a SSB for $399, and it has unique, versatile handles to accommodate those with serious shoulder issues. As per usual, there is no shortage of SSBs on Amazon, but be mindful of maximum loads, quality, and so forth.
---
---
Branch and Beam Bars & Axle Bars
Both of these fat bars are designed to improve forearm and grip strength while adding a challenging new dimension to pulls and deadlifts. They both weigh about 40 pounds and can handle up to about 550 pounds of plates on the 14″ sleeves. The Branch (the round bar) is 3″ in diameter and The Beam (the square tube) is 3″ x 3″. The grip area on both bars is 38.5″. These bars are not knurled so keeping these thick bars in your hands is all on you.

While the Branch and the Beam are basically just axle bars, they are 1″ fatter than standard axles making them even more challenging to work with. For standard 2″ diameter axle bars, your options are endless. Try Vulcan's Axle for $119, Rogue's Axle for $125, or there's even a knurled version by CFF Fitness for $179. American Barbell has one that's only 1.5″ thick that's currently priced at only $85.
---
---
Tricep Bars
First let me say that you don't need this bar. If you have wrist or elbow issues this may be helpful, but otherwise you probably have zero reason to own this. If you desire a specialty bar for tricep extensions and such, I strongly recommend that you purchase either an EZ curl bar, or a Swiss Bar; both of which are discussed in this article.
The Tricep Bar is intended for doing tricep extensions in its various forms in a manner that is less confining to the wrists. It can also be used for hammer curls and a few other random accessory exercises. There are dozens of versions of this bar available on Amazon, some Olympic, some standard; some knurled and some with this grip padding; but all cheap. You won't find these sold by the big-boy barbell manufacturers like Rogue.
---
---
Log Bars
If you are already into strongman training, this specialty bar will be no mystery to you. This giant 10″ diameter log bar has one purpose, and that is training for maximum strength.
The neutral grip of log bars is easier on the shoulders for all the pressing movements. Use logs for pressing, cleans, jerks, benching and rows. The Rogue LB-1 pictured above weighs 72-pounds unloaded and can handle up to 1000 pounds in additional weight. There is also 51-pound, 8″ diameter LB-2 Log and the 134-pound, 12″ diameter LB-3 Log (image below).
The Slater Logs are the original log bars. Available in three options; the Bootcamp Log that weighs between 60-80 pounds and is not loadable, the Original Pine Log that weighs up to 100-pounds and is loadable, and the Original Oak Log that weighs 120-pounds and also is loadable. Each of the Slater Logs are 10″ in diameter. Hardcore!
---
---
Videos of Specialty Bar Use
Rogue Multi-Grip Bar
Rogue Trap Bar
Rogue Safety Squat Bar
Farmers Walks Technique
There are many variations of all the bars I've mentioned. I saw many versions of the multi-grip bar, trap bar, and the "arm" bars online, but they are more or less the same save for some quality differences. You should be able to recognize almost any barbell and identify its use with no problem now. If you feel I overlooked something critical, please comment below. Merry Christmas!
---