I started my garage gym about seven years ago; the very day that I moved into my current house in fact. I can clearly remember placing my very first equipment order for a bar, power rack, and a set of bumper plates from Rogue immediately after closing on the house. I was so enthusiastic about leaving my global gym and having my own garage gym that I actually ordered all that equipment weeks before my move-in date just so I'd have it all on the day I received my keys. Oh yes, I was ready.
Well as you might imagine my garage gym has been growing and expanding ever since – I have acquired a ton of new gym equipment over the years;  items both big and small. I own more plates, more bars, multiple benches, a dumbbell set, leverage gym, and a million and one little accessories like belts, collars, cable attachments, knee sleeves, wraps, chains, hip circles, Slingshots, resistance bands, and so on.
Now finding solutions for storing larger items like bars and weights is fairly straight-forward, but what about all of those smaller items? Well I've had a couple Fast Track rails for years that have helped with items like belts, bands, chains, and the other longer items that could be hung vertically,  but with the small items like bar collars and odd shaped items like cable attachments, I've basically just tossed that stuff in bins or piled it up on my little gym desk.
Well thanks to Joe Gray, I was turned on to a product called Wall Control; a modular, metal pegboard system that functions much like the old wood fiber-boards; only the entire system is made of steel so it can not only handle heavier items (like say gym equipment), but it will actually last. It's quite literally the perfect storage solution for garage gym accessories.
My Wall Control has allowed me to get the bulk of my cable attachments, collars, Powertec accessories, and even my tools in one place; nicely stored on a section of wall that was not previously being used. It was simple to install, it looks clean and professional, and it wasn't even very expensive.
Rather than just talking the Wall Control system up, let me go over its many features, cost, and discuss the pros and cons of this product.
If you're interested, you can see Joe's video review at the end of this article.
---
Wall Control Metal Pegboard – Features
Offered in 16″ x 32″ panels (both horizontal and vertical configurations) for standard applications, and a couple of long, narrow panels for tighter spots.
Any number of panels can be installed side-by-side to create a continuous pegboard.
Panels are made of 20-gauge steel and are 10 times stronger than a traditional fiber board pegboard.
All installation hardware is included for studs and drywall (the blue Tapcon screws are recommended for concrete installs.)
Multiple scratch-resistant, vibrant, powder-coated colors are available.
Wall Control boards have both 1/4″ holes for standard pegs, and vertical slots for Wall Control's own line of hooks, shelves, and other accessories (also available in multiple colors.)
Lifetime warranty.
Made in the USA.
---
Wall Control Metal Pegboards – Installation
Installing multiple Wall Control panels side-by-side is straight-forward and easy. The vertical panels are 16″ wide; clearly designed for the more common 16″ stud spacing found in most homes. If you're able to identify the precise location of each stud with a stud finder then you will be able to pair up panels on a single stud.  Look at the image below to see what I mean by pairing up on the same stud.
If you don't have the standard 16″ stud spacing, or you just can't seem to locate the center of your studs, simply use the included drywall anchors when needed. If you use nothing but drywall anchors to hang your pegboards you're still going to have a secure pegboard. Only if you plan on hanging say hundreds of pounds worth of chains or something from a single panel should you maybe be concerned about finding studs for most mounting screws.
Note: I'm assuming someone who didn't know how to properly measure (or just didn't give a damn) helped build my house, because on one section the stud was not centered on 16″ from the two studs on either side of it. I had to use drywall anchors. Even with a handful of screws in drywall anchors, my Wall Control board is incredibly secure. Don't sweat it if you have to use a combination of screws in studs and drywall.
---
Wall Control's Patended Hooks and Accessories
Wall Control offers a load of different hooks and other accessories that are designed to lock securely into place using the vertical slots on the board. There are hooks of varying lengths and shapes, brackets of varying sizes and shapes, multiple shelves, bins, trays, and even a paper tower holder.
You can buy the panels and hooks independently if you have a decent idea of which hooks you'd want to use for your garage, or you can buy a package that contains multiple panels and a collection of various hooks and accessories to play with. There are also multiple hook and accessory packs that allow you get a little more bang for your buck (assuming that you would use all of the included components.)
Here is a partial list of Wall Control's hooks and accessories to give you an idea:
Standard Slotted Hook w/ 7/8″ Reach

These hooks have a 3/8″ tip to prevent items from falling off and are available in four scratch-resistant colors. These are sold in packs of (6). Standard hooks of varying sizes make up the bulk of what I use on my Wall Control.

$5.99 for (6)

Standard Slotted Hook w/ 2-7/8″ Reach

These hooks have a 1/2″ tip to prevent items from falling off and are available in four scratch-resistant colors. These are sold in packs of (4). Standard hooks of varying sizes make up the bulk of what I use on my Wall Control.

$6.99 for (4)

 

Medium 90-Degree Bend Slotted Hook w/ 1″ Reach

These hooks stick out 1″ from board, turn 90º for 1″, and have a 1/2″ tip. They are sold in packs of (4). I found these to be of limited usefulness in my own garage gym.

$6.99 for (4)

 

Curved Tip Slotted Hooks w/ 3-1/2″ Reach

These hooks have a 3/4″ curved tip rather than a 90º tip. They are sold in packs of (4) and are available in four different colors. There may be situations where these would be preferred over a standard hook.

$6.99 for (4)

 

Extended Reach Slotted Hook w/ 9″ Reach

These hooks extend 9″ from the board and have a slightly curved tip. They are sold in packs of (2) and are available in four different colors. These longer hooks will have their uses (there is a 6″ hook as well.)

$7.99 for (2)

 

16″ Slotted Metal Shelf Assembly in Various Depths

Wall Control offers four different 16″ long shelves; a 4″-deep shelf, a 6″-deep shelf, a 9″-deep shelf, and a 12″-deep shelf. All shelves are made with strong 14-gauge steel and come in the same four colors. I've found these to be quite useful for certain items.

Prices vary

Paper Towel Holder w/ Dowel and 4″ Shelf

This is actually one of my favorite accessories, as I really do keep a roll of paper towels in the gym. Even better, it comes with a 4″ shelf. Worth it!
There are at least a dozen more hook styles and accessories available, but a great number of them appear to be very specific and of limited usefulness in a gym. The ones that I chose to show you guys are the ones I found to be the most useful for typical gym equipment, but I don't know what you intend to hang on your board. You'll want to take a close look at all of your options before making a purchase.
You may also want to check Wall Control's website and compare their prices to Amazon. It was my experience that complete packages were cheaper from Amazon (and 2-day Prime delivery), but many of the more costly accessories were cheaper direct from Wall Control.
---
Using Traditional Pegs for your Wall Control System
Traditional 1/4″ pegs of varying lengths can indeed be used with Wall Control panels, but I personally do not care for them. The reason I don't like the traditional pegs is because they are designed to fit 3/16″-thick (about 5 mm), fiber-board pegboards. In order to make these work with the Wall Control panels (which are only about 1 mm thick), you have to bend and manipulate the shape of the hooks in order to get them to sit perpendicular to the pegboard.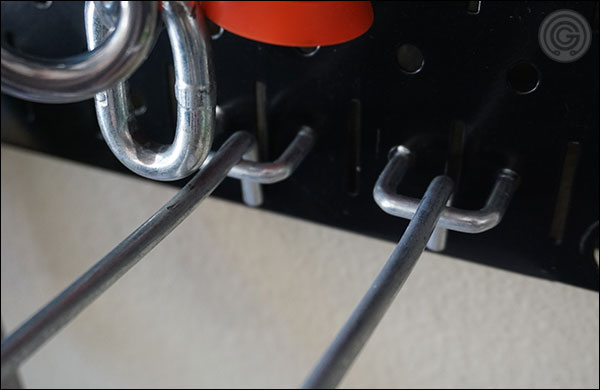 If you already have traditional pegs then by all means bend them to make them work, but if you do not already own some then just try to fill out your board using Wall Control's hooks and accessories. They are more expensive, but they're stronger and they lock into place.
I recommend buying one of the complete packages that come with the panels and a large sample of hooks and shelves and such, and then buying only the specific extra hooks and accessories that you need to hang your equipment and gear.
---
The Wall Control System – Pros and Cons
I said I'd do a pros and cons list for Wall Control, but truthfully this system is all pros. I mean I suppose I could say that it costs more than cheap fiber-board pegboards and that the Wall Control hooks cost more than traditional pegs, but Wall Control's product is just superior, so I don't feel that the cost is a con.
Here are some of the pros of the Wall Control system.
Wall Control panels have a 3/4″ flange that keeps the hooks away from your walls.
That flange is rounded; there are no sharp edges to cut yourself on.
There is no need to build a frame to attach the panels to like with fiber-board. This means you can also use 100% of the holes and slits for hooks and accessories.
Wall Control won't warp due to excessive moisture like fiber-board pegboards do.
Wall Control is infinitely stronger than fiber-board. Heavier items won't tear up the panels.
The panels are steel so magnetic products may be used with Wall Control.
Wall Control is modular so virtually any size or shape of pegboard is possible.
Prices are actually quite reasonable; especially when packages are purchased.
Wall Control warrants this system for life, and customer service is actually quite impressive.
Panels can be ordered in eight different colors, and hooks can be ordered in four different colors.
---
Wall Control Review Summary
I'm 100% satisfied with every aspect of this product. I have a couple of weird hooks that will likely never get used on my board, but then again maybe they will some day!
I have literally no issue recommending Wall Control to any garage gym owner with a bunch of equipment and gear that is currently just lying around the gym. Clean that mess up!
---
Wall Control Video Review by Joe Gray of Gray Matter Lifting
Thanks, Joe! Great find and great review.
---