I decided to throw a couple pieces of storage equipment into the Garage Gyms review mix, and I wanted to start with the Rep Fitness Bar & Bumper Plate Tree; a very popular vertical weight tree that I have gotten a surprising number of inquiries and questions about over the last couple months.
Why is there so much interest in a basic plate tree? It's pretty simple actually – the Rep Bar & Bumper Tree is much less costly than the usual alternative; the Rogue Vertical Plate Tree 2.0. When there is a 50% price difference (~$120 vs ~$180) between two products that are effectively the same product designed to perform the same task, people just want to know if the less costly model will be sufficient for their needs, or do they need to pay that difference for the more expensive version.
In this review I'll go over the specifications of the Rep Fitness Plate Tree, I'll compare those specs to the Rogue Plate Tree 2.0, and answer pretty much every question I've been asked so far including: are there any major differences between the two? is one significantly better than the other? is there a reason to spend $180 versus $120? and so on. As always, if I fail to answer a question that you have, ask it below in the comments.
And in case you were wondering what other storage equipment reviews I'm working on, I'm wrapping up a Wall Control review as well, so watch for that!
---
Rep Fitness Bar & Bumper Plate Tree – Specifications
3 tiers of plate storage pegs; each tier compatible with full-size, 450 mm discs
pegs are chrome-plated and roughly 8¼" long
2 plastic-lined barbell storage sleeves
base dimensions: 24″ x 24″; height: 50″
maximum capacity: 850 lbs
price: $119 plus shipping
---
Rep Bar & Bumper Plate Tree – Assembly
Rep's plate tree ships unassembled and takes about 10-15 minutes to put together. It ships with instructions and comes with a simple, stamped tool for tightening down bolts (though I suggest you use your own socket and wrench to speed things up).
I had no issues with the assembly; it's all very straight-forward. I do suggest that you avoid tightening the bolts down completely until you're finished with assembly and have it placed where you intend to keep it. Once in its permanent location, get everything leveled and then torque down the bolts.
---
Rep Fitness vs Rogue Fitness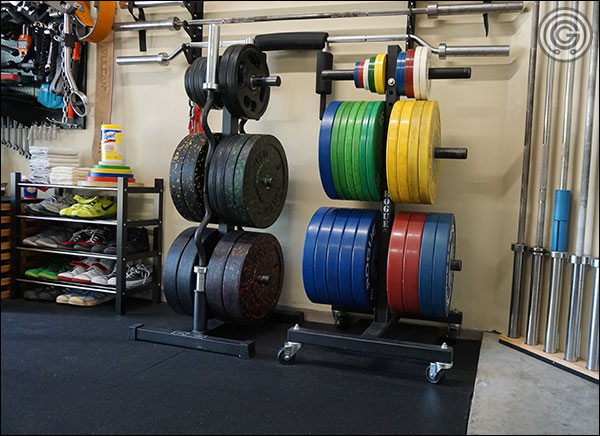 I do own both the Rogue Vertical Plate Tree and the Rep Plate Tree. While I do not own the 2.0 version of the Rogue, the only functional difference between the 1.0 that I have and the updated 2.0 is that the original 1.0 did not accommodate 450 mm plates on the top tier; that top tier was basically for change plates.
I like the Rep Bar & Plate Tree and it does its job well. Here is a list of the things that I really dig about this product:
The price, obviously. At $119, it is $60 less than Rogue's Vertical Plate Tree. It does not hold as much weight as the Rogue 2.0 (which I'll discuss below), but it holds more than enough for the typical garage gym owner.
The pegs are chrome plated rather than being powder-coated. The powder-coated pegs of the Rogue tree can and will chip and flake away with use, leaving bare steel sections of the pegs that can look unsightly to some, and may even rust.
The Rep Tree has rubber feet which can help with stability while the Rogue Tree has no rubber feet. If you do not add a wheel kit to the Rogue unit (+$31) you may experience some rocking. I had this problem with my Rogue Tree and I ultimately bought the wheel kit simply to level out and stabilize my tree.
Rep's tree can hold two barbells, whereas Rogue's holds only the plates. This is kind of a big deal when you consider that most home gyms only have one or two bars anyway. This feature eliminates the need to buy an additional storage solution just for bars.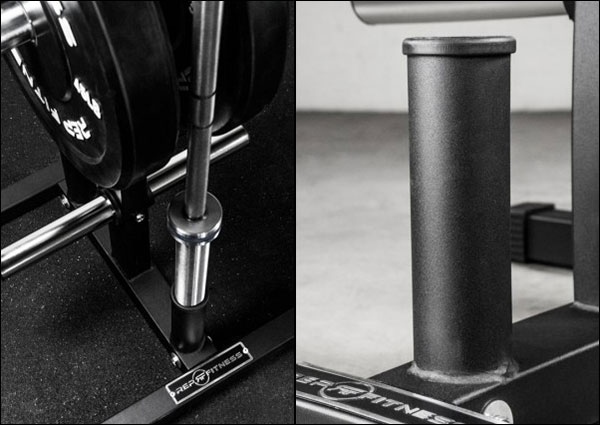 Having said all that, when compared to the Rogue Vertical Plate Tree there are a few things that the Rep Plate Tree could do better as well. Here are a few of the things that I like more about the Rogue variant:
The Rogue Vertical Plate Tree has pegs that are about 50% longer; or 12″ versus about 8″. This can equate to a lot more weight being stored on the Rogue Plate Tree, though this matters little if you're storing comp-style powerlifting discs or cast iron weights.
Rogue's tree has the option to add wheels. The ability to move the tree around the gym isn't going to be a big factor for most garage gym owners, but it may be for some. That said, a fully-loaded Rogue Plate Tree is not easy to move; especially on rubber flooring.
The reinforced triangle plates that attach the post to the base of the Rogue Tree makes for a much more stable unit. No matter how much weight is stacked on Rogue's tree the whole thing feels rock solid. Rep's tree isn't going to fall apart or anything, but it doesn't feel the same as Rogue's.
Finally, the pegs on the Rogue Vertical Plate Tree are passed through the vertical post and then welded into position. There is no play whatsoever. Rep's tree has these posts passing through much the same way but are then just pinned into position using a bolt, not welded. There is some minor play.
---
Rep Bar & Bumper Plate Tree – Review Summary
The Rep Fitness Bar & Bumper Plate Tree is a great deal at $119. At the time of this writing the product page has 33 total reviews with a 5-star average; that's 28 full 5-star reviews and five 4-star reviews. The most frequently mentioned complaint is that the pegs could stand to be longer (basic bumpers are fairly thick after all). Second to that is that those black, plastic end caps in the end of the pegs tend to pop out when plates are slid off of the tree (which is easily remedied with a little super glue by the way.)
Technically the Rogue Vertical Plate Tree 2.0 is a fancier option because of the longer pegs and more stable, fully welded tree portion, but I think only those with the funds to spare and an excessive amount of weights (or those who require wheels) need to consider making the $60 jump to the Rogue version. I think that Rep's chrome plated pegs, rubber feet, dual bar holder, and better price make the Rep Bar & Bumper Tree a near auto-buy for most garage gym owners.
I'd personally give this product a 4½-star rating myself with the ½-star loss coming from the shorter pegs, but if I didn't have the Rogue to compare it to and didn't know the pegs were shorter I'd probably give it a solid 5-star rating. It does what it's supposed to do, does a little more buy storing two bars, and it does all this for a reasonable amount of cash.
The Rep Bar & Bumper Tree is a solid product and I have no problem recommending it.
---